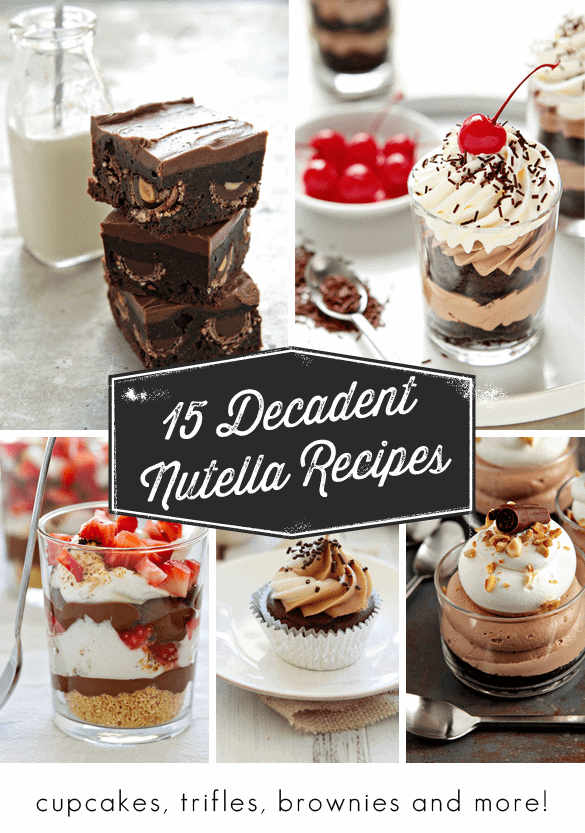 Nutella. I've reignited my love affair with with this chocolate hazelnut spread. Honestly, the stuff might just be running through my veins at this point. If you've read MBA for any length of time, you are well aware of the fact that I go through phases with food. Spreads are no different – from cookie butter to natural peanut butter – I adore them all, but at this moment, this girl is all about Nutella.
I'm a big fan of smearing it on toast and topping it with chopped raspberries – oh, so good. And it can totally pass as breakfast since there is bread and fruit involved, right? And then there's my recent obsession with warming it just a tad and dipping fresh strawberries and marshmallows in it. Addictive. I'm telling you guys, I am officially obsessed with the stuff. Have you ever used it in place of chocolate on a s'more? If not, try it immediately – you can thank me later.
Since I love Nutella so much, I thought you might too, so today I'm sharing 15 Incredible Ways to Make Nutella More Awesome. From Nutella Cheesecake Trifles to Nutella Milkshakes, I'm pretty certain there's something for every Nutella lover out there.
What's your favorite way to enjoy Nutella? I'd love to hear all about it!