Like I said a couple of weeks ago, Brian and I don't really get into the whole Valentine's Day thing. Because of that, it's doubtful that you'll ever see a slew of pretty pink confections gracing the pages of MBA. Not that I have anything against cutesy or pink – it's just not me – so I'll leave it to bloggers like Sweet Adventures of Sugarbelle and Confessions of a Cookbook Queen, whose deliciously adorable Valentine's Day desserts will make just about anyone feel like they've been struck by Cupid's arrow.
But hey, I'm never one to pass up an excuse to make yummy things. I thought I'd still create a couple of homemade treats that are a little more my speed – like truffles. In my opinion, they are the perfect dessert for pretty much any occasion. They're bite-size, sweet, decadent and the perfect foundation for just about any flavor combination imaginable.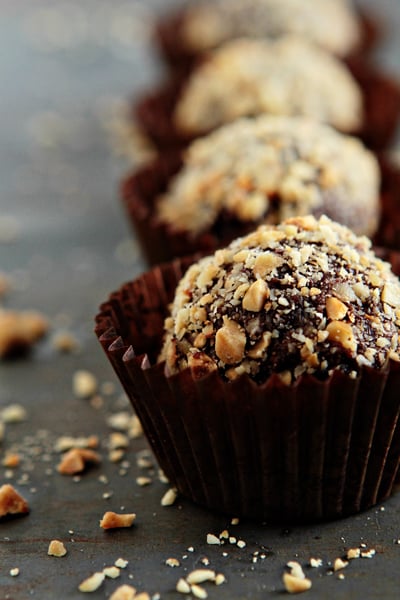 Rich, dark chocolate is infused with Nutella and Frangelico, then rolled in toasted, chopped hazelnuts to create a simple, yet stunning Valentine's Day treat for your sweetie and you. And I guarantee you, these truffles are cheaper and far more indulgent than anything you'll find on the drugstore shelves. Who knows how long those heart shaped boxes sit in storage, right?