Orange shortbread cookies couldn't be easier or more delicious. Pair them with a mug of tea and your afternoon is complete!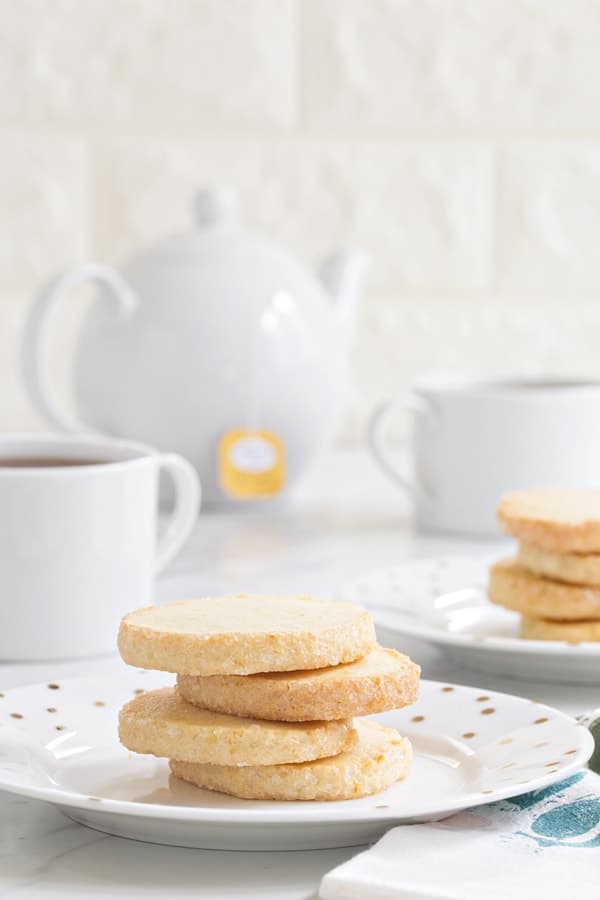 This is a sponsored post on behalf of Twinings. All opinions are my own. Thank you for supporting the brands that continue to make My Baking Addiction possible.
Being that I am a food blogger, I sometimes get caught up in the hype of making making over-the-top desserts like Double Chocolate Salted Caramel Cake and Coca-Cola Cupcakes and I forgot about the simple things like shortbread cookies.
I've always had a special place in my heart for shortbread cookies because of my Nana. Now, I don't remember Nana ever making shortbread cookies, but she often had a blue tin of them on hand during the holidays.
And of course, my faves were the one ones with the extra sprinkling of coarse sugar. I've also always had an affinity for Trefoils over any other cookie from the Girl Scouts.
As a kid I loved dunking them in a glass of ice cold milk and as an adult, I love them paired with a mug of hot tea.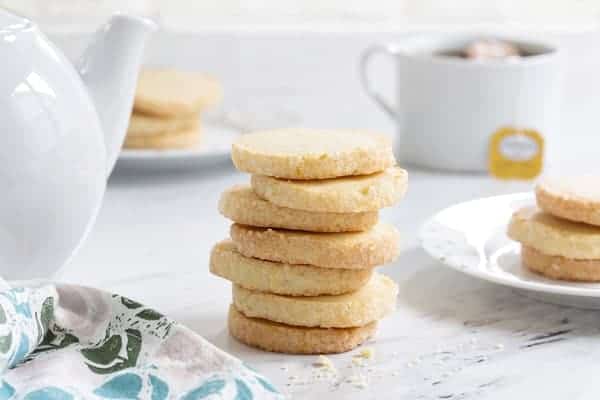 Shortbread cookies are one of the most simple and delicious cookies you'll ever make. And since they require only a handful of ingredients, you probably won't even need to make a special trip to the market.
You really only need butter, sugar, flour, and an egg. I mean, it doesn't get much easier than that.
Using those basic ingredients, you can make crispy, buttery cookies that are perfect for just about any occasion. Or, you can kick things up a notch by adding in extract, citrus zest and even herbs to take your shortbread cookies to a whole new level.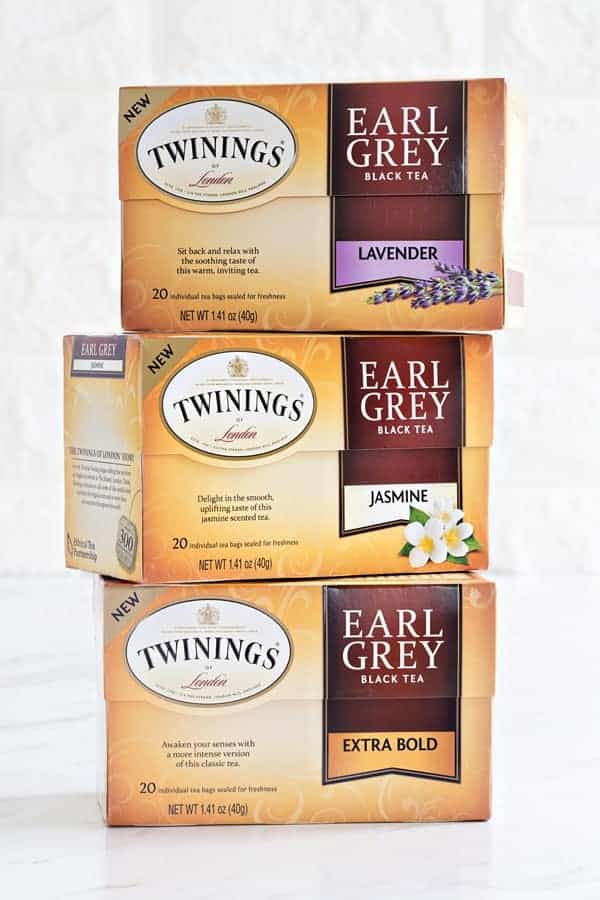 When the lovely folks at Twinings contacted me to create a recipe to pair with one of their new blends of Earl Gray teas, my mind immediately thought of shortbread. But not just any shortbread.
I decided to take cue from my friend Emily's recipe for Rosemary Lemon Shortbread and add in loads of fresh orange zest. This butter citrus combination paired perfectly with Twinings Extra Bold Earl Gray which was only enhanced by the natural orange flavor in the orange shortbread cookies.
If you know anything about tea, you know Twinings. They've been in business for more than 300 years! Earl Grey Tea actually came about when the Prime Minister in 1831, Charles Grey, asked Richard Twining to replicate a tea he had been given by a Chinese Mandarin.
It's pretty awesome that a tea blend created over 186 years ago is still going strong, and in fact, growing. Twinings has three new blends of bergamot-flavored tea; Jasmine Earl Gray, Lavender Earl Gray, and my personal favorite, Extra Bold Earl Gray.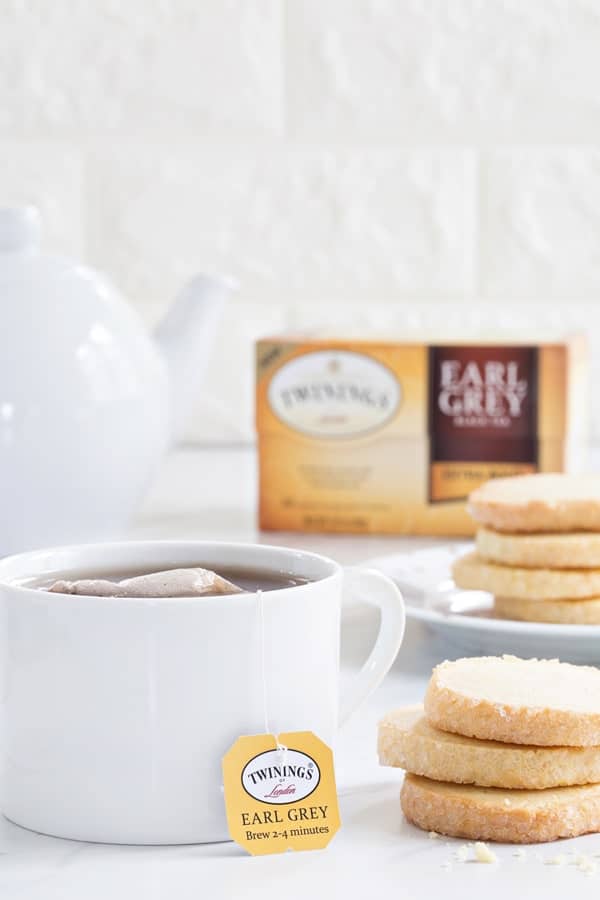 If you're not familiar, bergamot is a citrus fruit similar to an orange, but more like a lemon in flavor. I'd love to get my hands on some to make more baked goods with them, because I'm obsessed with the flavor in tea. But, since bergamots certainly aren't going to grow in too-cold-for-its-own-good Ohio, I'm simply going to relish a steaming mug of Extra Bold Earl Grey like five times a day. Kidding not kidding.
Because it's a citrus fruit, pairing it with other citrus is a no-brainer. These Orange Shortbread Cookies are delightful and just perfect for dipping and nibbling while you sip any one of these new varieties of Earl Grey tea.
Now let me tell you how to make a perfect cup of Earl Grey tea. Start with fresh, cold water. I prefer to use an electric kettle for boiling water. My friend Amber convinced me to buy one years ago, and I've never looked back. If you're British and reading this post, you're probably thinking, "Um, yeah, duh, who doesn't own a kettle?!", but they're not commonplace in the U.S. I think they should be.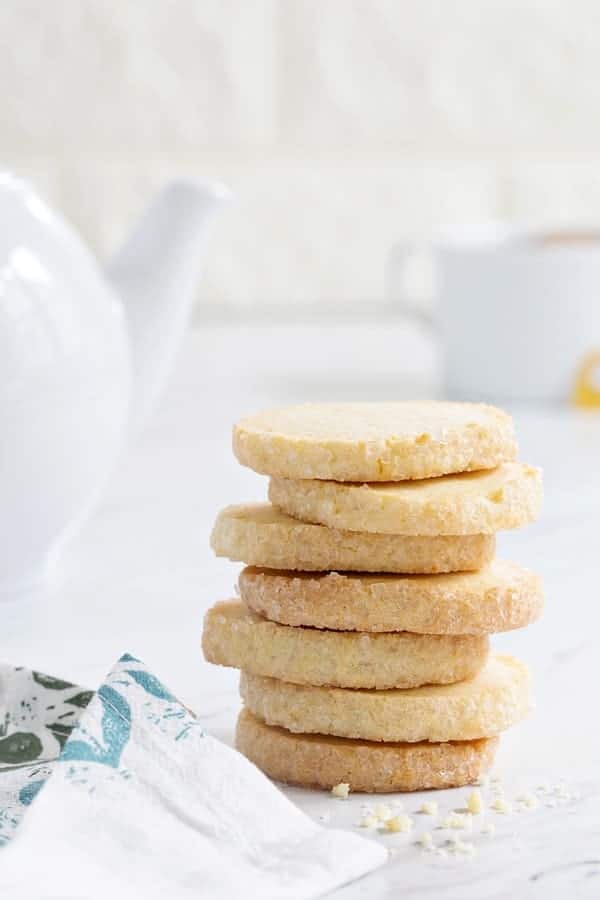 Boil water in a stove-top kettle or electric kettle. Do not use the microwave. It makes tea taste funny (to me, anyway).
When the kettle is just boiled, add a tea bag – Extra Bold Earl Grey for me, thanks! – to your tea cup, and pour water over it. Don't over-boil the water, it can make the tea taste flat once brewed.
Allow the tea to steep for 2-4 minutes, but no longer. Any longer and you might end up with a cup of tea that tastes bitter and overdone.
Sometimes I prefer my Earl Grey with a bit of milk, or if I'm feeling extremely decadent, half and half. You can add a bit of sugar now too, but the cookies also provide plenty of sweetness if you eat them together.
I'm here to tell you there's not much more restorative on a cold day than a steaming mug of tea. Except maybe a steaming mug of tea and some Orange Shortbread Cookies!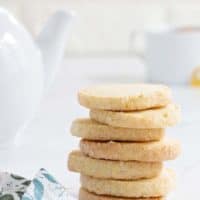 Orange Shortbread Cookies
Total Time:
1 hour
38 minutes
Orange shortbread cookies couldn't be easier or more delicious. Pair them with a mug of tea and your afternoon is complete!
Ingredients
3/4 cup sugar
zest from 2 large oranges
2 sticks unsalted butter, softened
1 1/2 teaspoons pure vanilla extract
1 egg
2 1/2 cups all purpose flour
3/4 teaspoon salt
coarse sugar for rolling, optional
Instructions
In a medium bowl, combine the sugar and orange zest. Use a fork to work the zest into the sugar until the sugar becomes moist and fragrant.
In the bowl of a stand mixer fitted with the paddle attachment, or in a large bowl with a hand mixer, cream together the butter and sugar until light and fluffy. Add vanilla and egg and beat until incorporated.
In a medium bowl, whisk together the flour and salt.
With the mixer on low, gently add dry ingredients into the butter mixture. Mix until ingredients are well combined and a stiff dough is formed.
Cut two large pieces of plastic wrap. Divide dough in half placing one half of the dough on each piece of plastic wrap. Use your hands to form two 1 ½-inch diameter logs. Open the plastic wrap and sprinkle logs with sanding sugar (if using) and roll a bit more to coat the logs well in the sugar. Wrap logs tightly in the plastic wrap, place on baking sheet and freeze logs for 1 hour or until firm.
Preheat oven to 375°F. Line two baking sheets with parchment paper.
Remove dough logs from the freezer and remove the plastic wrap. Slice dough into ¼ inch thick slices and place on prepared baking sheets 1 inch apart.
Bake until cookies are just golden at the edges, about 16-18 minutes. Allow cookies to cool on wire racks.
Store cookies in an airtight container for up to 4 days.