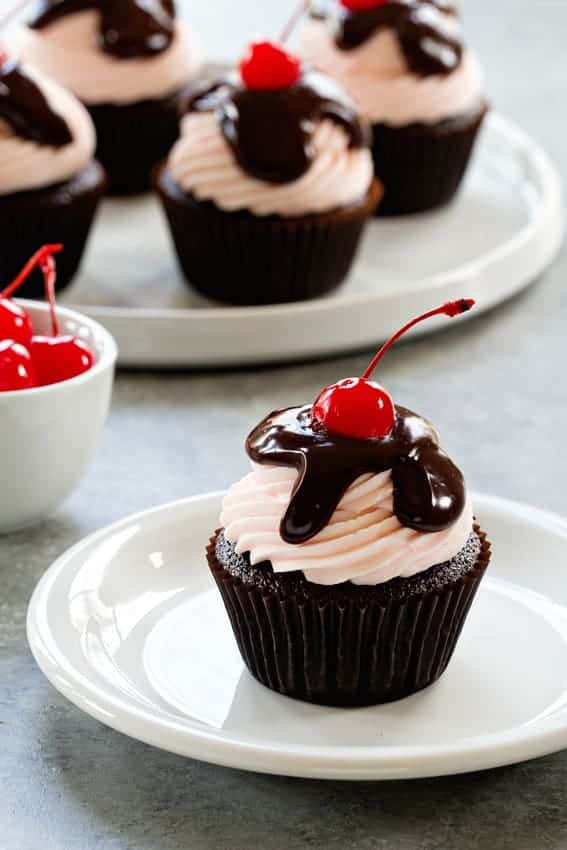 Coca-Cola Cupcakes are rich, chocolately and totally fun! Top them with a swirl of cherry infused buttercream and you have a treat the whole gang will love.
This is post is sponsored on behalf of Keurig® Kold™ and Coca-Cola®. Thank you for continuing to support the brands that make My Baking Addiction possible.
Ever since we've moved near family, we've kind of become the it house for all types of occasions. From Easter and Halloween to the Cavs' season opener and everything in between, there's really not a week that goes by where we're not having family over. And we love every minute of it.
Only problem is, we have a pretty picky family, so cooking and entertaining can sometimes be a bit tricky. We have meat lovers and meat haters, vegetable adorers and vegetable loathers. And the same goes for beverages, everyone likes something different.
You should've seen our extra refrigerator for our Halloween party – literally busting open due to being filled with different sodas, bottled water, sparkling water, etc. In fact, I'm pretty sure we could sustain life for a few weeks on the soda cans alone. Kind of a problem considering we also use that fridge to hold other important items like butter and bacon.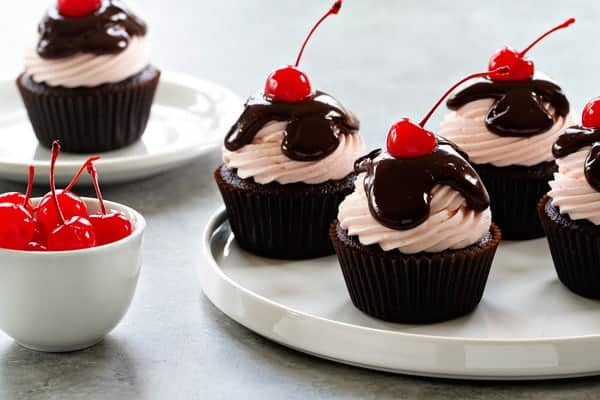 Enter the Keurig® Kold™. If you haven't seen this new appliance yet, it's pretty darn amazing. It's everything you love about your Keurig® coffee system, but with a totally new, cool twist. It's kinda like the Jetson's version of making Coke® at home. With just a touch of a button, you'll have a perfectly chilled and carbonated Coke®. No need for ice cubes or a bulky CO2 canister. How awesome is that?
We're all lovers of fountain Coke® and the Keurig® Kold™ is about as close as we can get to the real thing in the comfort of our own home. You can even make perfectly chilled craft sodas, seltzers, iced teas, sports drinks and more. All at the push of a button. With so many options, everyone will be able to select and make their favorite beverage in a snap. And I can keep all the little pods neatly organized in my pantry instead of all the cans in our fridge.
Anyone who's ever met my husband knows he has a love affair with Coca-Cola®. We can be at the fanciest restaurant, and it's a Coke® for him every time. Simple, sweet pleasures are what life's about, he'd tell you. The fact that he can now have a fresh, fizzy fountain-like Coke® by pressing a button? I may has well have told him we'd won the lottery. That's how happy he is about the Keurig® Kold™.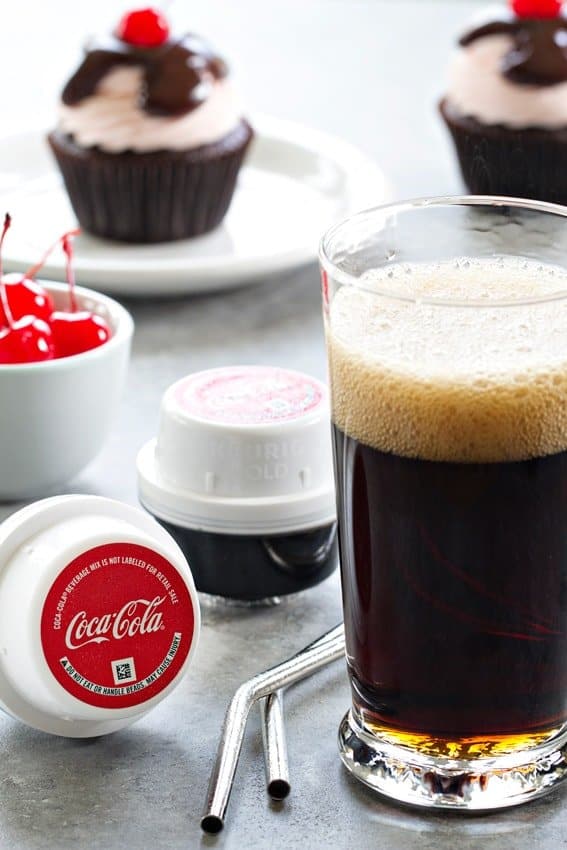 Our Keurig Kold™ is now the hit of our house and surpassed the ridiculously large stuffed pony toy as the number one conversation piece. You should have seen us at our recent cookout with Keurig Kold™ on full display for everyone to use. It was super fun to introduce MY family to the future.
Introduce your friends and family to the future of carbonated beverages, and show them how easy it is to make a Coke® at home. Whether it's family game night, movie night in, college game day, or a Jetsons marathon, you can make it more memorable with fun glasses, straws and fruit garnishes.
We've been joking that we could start our own in-house soda fountain now, and that's what inspired these delectable cupcakes. They're made with Coke® from the Keurig® Cold™, which makes them both moist and sweet. Then they're topped with a luscious cherry buttercream, to mimic my personal favorite soda fountain treat, a Cherry Coke®. Pop a cute, festive straw in each one to give homage to the soda fountain, and have your own 50's sock-hop party at home. So fun!
Looking for more cupcake recipes? Be sure to check out my Chocolate Peppermint Cupcakes, Homemade Funfetti Cupcakes, and Pumpkin Spice Cupcakes.