I have been baking for a long time and kinda consider myself a cookie connoisseur, so when my mom mentioned Potato Chip Cookies, I may have had a little tantrum about her never mentioning these before, and mentioning them now like I should have known all along about their sweet and salty perfection. Doesn't my mother know I relied on her for my culinary education?
Let me explain our chip situation to you. Yes, it is indeed a situation. Ya see, Brian has a thing for chips: whether they're Doritos, Ruffles, or Tostitos, he's all about them. But he's only into them the day he opens the bag. It's kinda his "thing" and he won't touch a chip out of a previously opened bag. Needless to say we have countless opened-yet-only-half-eaten chip bags.
So as we were cleaning out the "Chip and Fruit Roll-Up Cupboard" (yes, there is a small cupboard dedicated to the chips and fruit snacks), I came across a half eaten bag of Lays.
Instead of tossing them into the trash, I decided to give these Potato Chip Cookies a whirl.
These Potato Chip Cookies remind me very much of Pecan Sandies. They're crumbly, shortbread-like texture and salty undertone make them irresistible. Dip 'em in little semisweet chocolate and add a tiny pinch of sea salt, and you'll pretty much have one of the best tasting and simplest cookies you'll ever make.

Potato Chip Cookies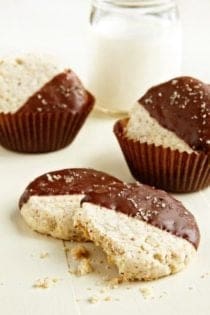 Ingredients:
1 cup butter, softened
3/4 cup granulated sugar
3/4 cup crushed potato chips (ridged or regular)
1/2 cup ground pecans
1 teaspoon pure vanilla extract
2 cups all-purpose flour
1/4 cup confectioners' sugar
Directions:
1. Preheat oven to 350 degrees and line a baking sheets with parchment paper.
2. In the bowl of a stand mixer, fitted with the paddle attachment, or with a hand mixer in a large bowl, cream together the butter and granulated sugar until light and fluffy; about 3 minutes. With your mixer on low speed, add in potato chips and pecans and mix on low speed until fully incorporated. Add vanilla and mix until thoroughly combined. Stir in flour and mix the flour is just combined; do not over-mix.
3. Using a medium cookie scoop (1 ½ tablespoons) scoop dough into 1 inch balls. Place dough balls 2 inches apart on prepared baking sheets.
4. Slightly flatten each dough ball with a glass dipped in confectioners' sugar.
5. Bake in preheated oven for 12-15 minutes or until lightly browned. Allow cookies to cool on the baking sheet for 5 minutes before removing to a wire rack.
6. If desired, garnish cooled cookies with a drizzle of melted chocolate and a sprinkling of fine sea salt.
All images and text ©
Follow Jamie on Instagram. We love to see what you're baking from MBA! Be sure to tag @jamiemba and use the hashtag #mbarecipes!