These Pumpkin White Chocolate Chip Cookies are soft, cake-like and loaded with fall flavors.
When you work from home, the days all kind of merge together. I often find myself 2-3 days ahead or behind reality, but let me tell ya, I feel like I blinked and October passed me right by.
Um, hello – today is Halloween – the last day of October. And the lovely Target cashier informed that there are only 8 more Fridays until Christmas.
No. Stop. My brain cannot process this information. It just can't.
As much as I love the holiday season, I'm just not ready. It's like I need another October.
My step-mom called me last week and wanted me to be on the lookout for 3-foot tall My Size Elsa doll at Target. Apparently it's already sold out everywhere and it's on her niece's wish-list.
Wait. Sold out – already? You mean to tell me people are Christmas shopping in October?
Needless to say, there were no life size Elsa dolls at our Target. When I inquired with an employee, she looked at me all doe-eyed and said "Ma'am, those have been gone for weeks."
I could've cared less about Elsa at that moment, the girl just called me ma'am – ma'am?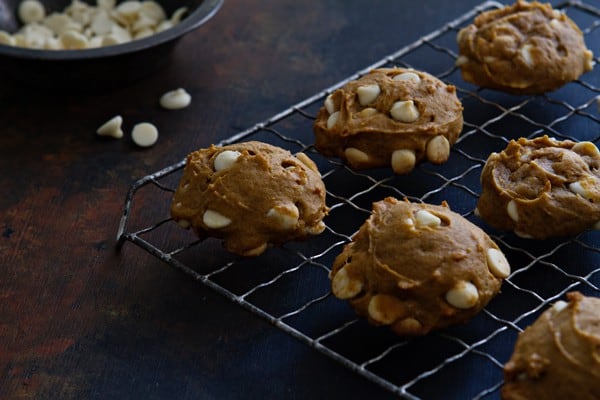 I have absolutely zero clue why this got to me as much as it did. I am typically not that vain to let a comment made by a 17-year old bother me so much.
Maybe it's in correlation with the gray hairs peeping through along my hairline or the beginning signs of wrinkles around my eyes. Who knows, but you better believe I grabbed a new bottle of eye cream before heading the checkout.
It was even the pricier name brand kind. And it remains unopened on the bathroom sink.
The one thing I have been prepared for during October is baking all the pumpkin things. Armed with a massive container of Homemade Pumpkin Pie Spice, this girl has been on a non-stop pumpkin baking extravaganza!
From Mini Pumpkin Cheesecake with Salted Caramel Sauce to Pumpkin Bars with Cream Cheese Frosting I've done my best to give that bright orange gourd its due.
Last week I posted these Pumpkin White Chocolate Chip Cookies over on Food Fanatic.
They've got just the right amout of spice and sweetness and they're cake-like texture is super dreamy. Plus, they're perfect for eating your feelings after being called ma'am and buying pricey eye cream that you'll never use.
Just sayin'.
So tell me, have you started your holiday shopping yet? Fair warning, if the answer is yes, we may not be able to be friends anymore.