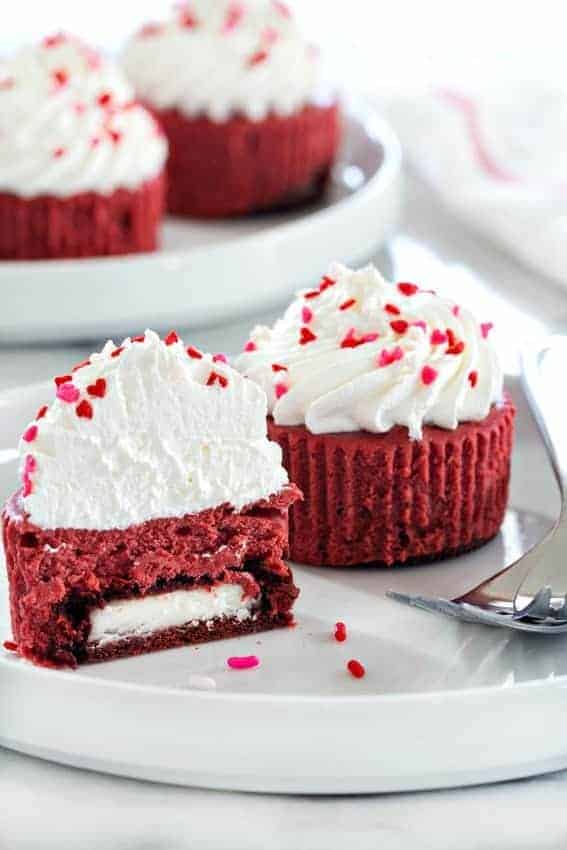 Red Velvet Oreo Cheesecakes are a sweet treat for your Valentines. They bake up quick and easy, and are just so darn festive!

I kind of consider myself an Oreo cookie connoisseur. And I may or may not make a special trip to the store when a new limited edition flavor is released. Sometimes I'm even lucky enough to get a preview of the new flavors a couple of weeks early. Blogging does have its perks, folks! Although I think working in my pajamas may just trump preview Oreos by a smidge.
Some people think baking Oreos into other things is slightly ridiculous; however, I'm all about it. Last year I whipped up Red Velvet Oreo Bark and Red Velvet Oreo Cupcakes all while packing up a house and complaining to guys every single step of the way.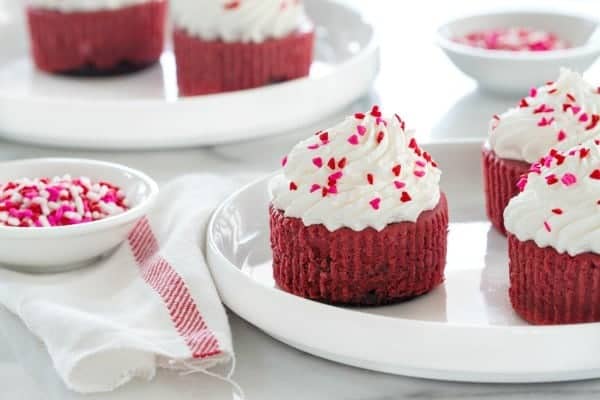 Last year's cookies were good, but I swear they've changed something with this release – which by the way, is rumored to be permanent. They taste better and I swear there's just a little more filling in the center of each cookie, which always a good thing.
One of the coolest things about Oreos is that they fit perfectly into the bottom of a standard muffin/cupcake tin – making them a great crust for mini cheesecakes or cupcakes. There's no food processor involved to turn the cookies into crumbs or need to press tiny bits of cookies into the muffin cups.
You simply place an Oreo into the bottom of muffin tin lined with paper liners, scoop in that pretty red velvet cheesecake filling, bake them up for about 20 minutes and you've just become a Valentine's Day dessert rock star – all in less time than it takes to watch an episode of The Bachelor.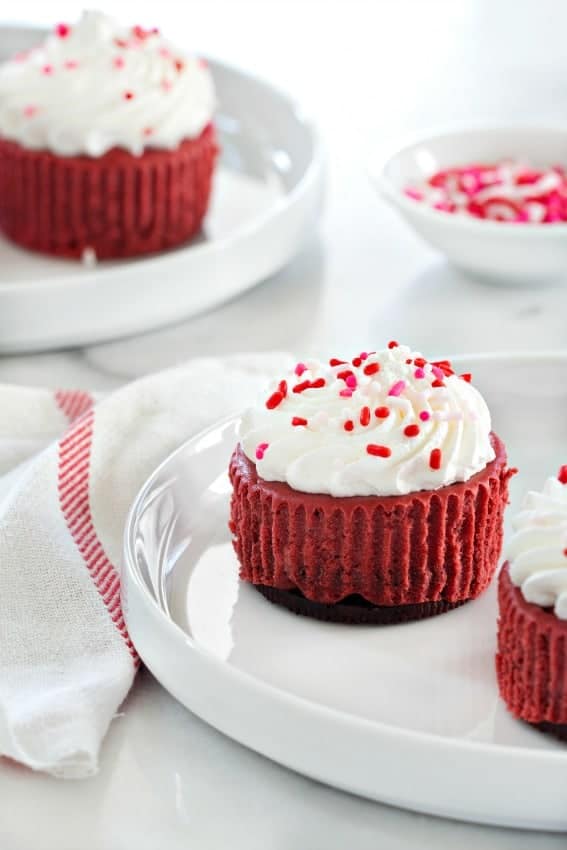 Sounds pretty easy, right? Here's what's not easy. Cleaning red food coloring off your toddler's hands after she sneaks into the pantry, grabs it off a shelf and wants to pour it into a bowl, and on the floor, and on your less-than-a-year-old leather ottoman. Here's a pro tip: Hide your food coloring.
Whether you're whipping up this Red Velvet Oreo Cheesecakes recipe for a work potluck or for your little sweetie, they're sure to be a hit. Top them with a little whipped cream and festive sprinkles to make them extra special. While you're at it, you should probably make these Oreo Cookie Balls too!