Oreo Bark is the simplest treat you could ever make. Just be careful not to eat the whole tray!
I feel like I've been talking to you guys about boxes for eleventy million years. First it was filling them. Then unpacking them. Everywhere we looked in the new house, there were boxes. Opened, unopened, half full, empty and waiting to be broken down. And now they're almost all gone and I couldn't be happier.
We're finally settling into our new home and it's just starting to feel as though we actually live here. For weeks, it felt like we were staying at a rented vacation home. Only instead of a gorgeous beach view, we're staring at a construction site with mounds of dirt, rocks and lots of mud.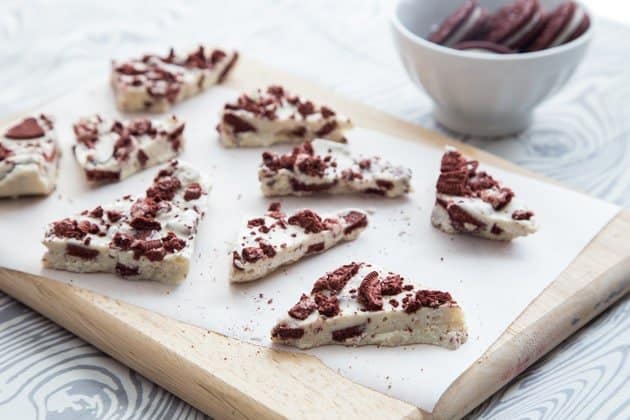 One of the best things about moving is that we're so close to family. My dad is super happy because he's able to get his daily Elle fix, home-cooked meals and delicious stuff like this Oreo Bark.
If I'm totally honest with you, the inspiration for this bark came simply from needing to use up a few bags of white chocolate chips and the rest of a pack of Red Velvet Oreos I bought (or over-bought, as the case may be). If you can't get your hands on Red Velvet Oreos, really any Oreo will flavor will do. I'm kinda daydreaming about a milk chocolate and peanut butter Oreo combo – just sayin'.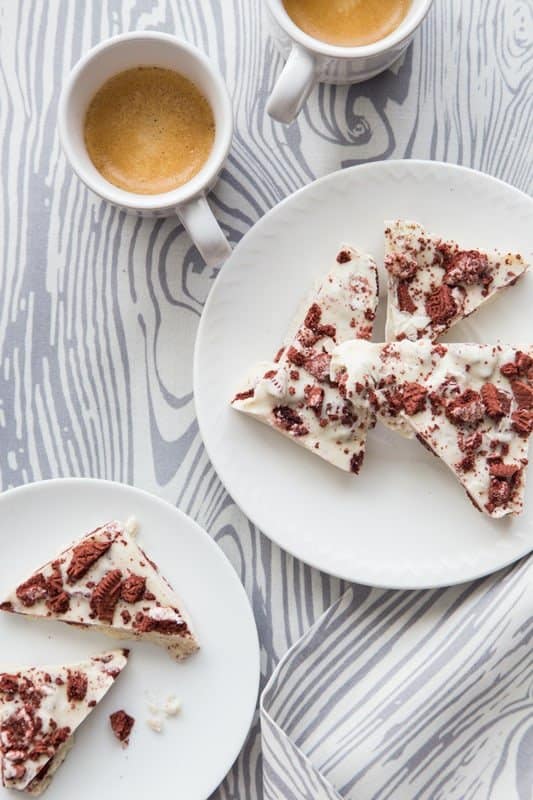 That's literally all there is to this recipe – white chocolate and Oreos make a crisp, crunchy-yet-melty satisfying treat that any Oreo fan will adore. You can whip it up in a matter of minutes, and then just pop it in the fridge for a while. It'll be ready for an after dinner dessert, or with your coffee break tomorrow afternoon.
It's simple sweets like this that are easy to make on the fly when family stops by and starts raiding the kitchen for a sweet treat. I have a feeling it's going to take me a hot minute to get used to the new kitchen too, so you may see some simple desserts in the coming weeks while I get my bearings!
Photo Credit: Emily Caruso of Jelly Toast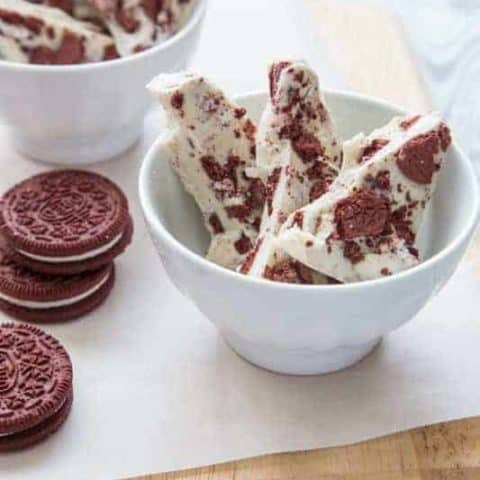 Oreo Bark
Oreo Bark is the simplest treat you could ever make. Just be careful not to eat the whole tray!
Ingredients
11 ounces high quality white chocolate chips
24 chopped Oreo cookies, divided use
Instructions
Line a 9x9-inch pan with parchment paper.
Melt white chocolate in a double boiler or a heatproof bowl set over a pan of simmering water, stirring constantly until the chips are just melted and smooth.
Stir in 20 chopped Oreo cookies and spread mixture evenly into the prepared pan. Top with remaining 4 chopped Oreos.
Place pan into the refrigerator and allow the bark to harden for a few hours.
When you are ready to serve the Oreo Bark, use a sharp knife to chop the bark into pieces.
Notes
You can also melt the chocolate in a microwave. Just be sure to use a microwave safe bowl and 50% power. Stir the chocolate every 30 seconds until melted and smooth.
Nutrition Information
Yield

16
Amount Per Serving
Calories

185
Total Fat

10g
Saturated Fat

5g
Trans Fat

0g
Unsaturated Fat

4g
Cholesterol

4mg
Sodium

88mg
Carbohydrates

24g
Fiber

0g
Sugar

19g
Protein

2g