Strawberry Cinnamon Roll Muffins
Strawberry Cinnamon Roll Muffins are everything you love about a fruity, sweet cinnamon roll, but in a fraction of the time.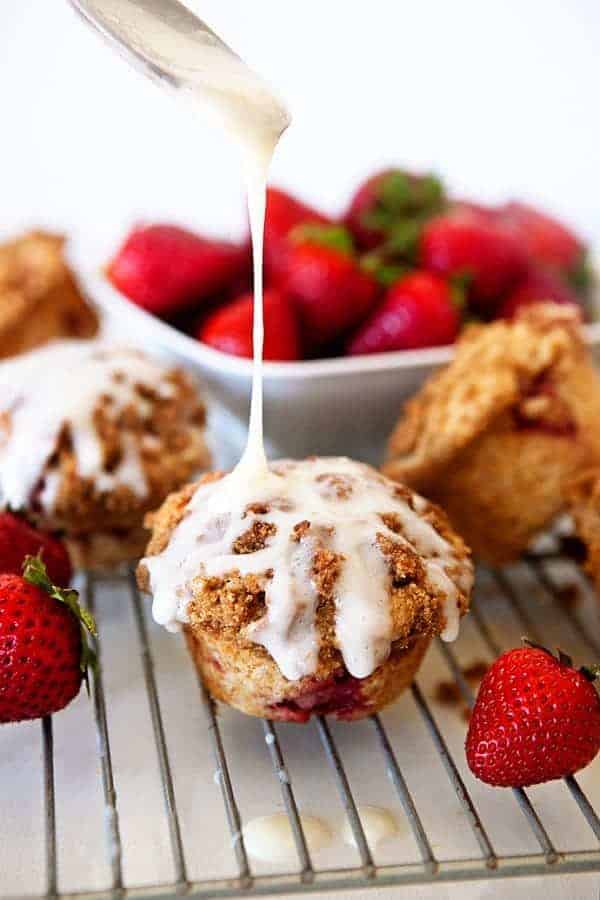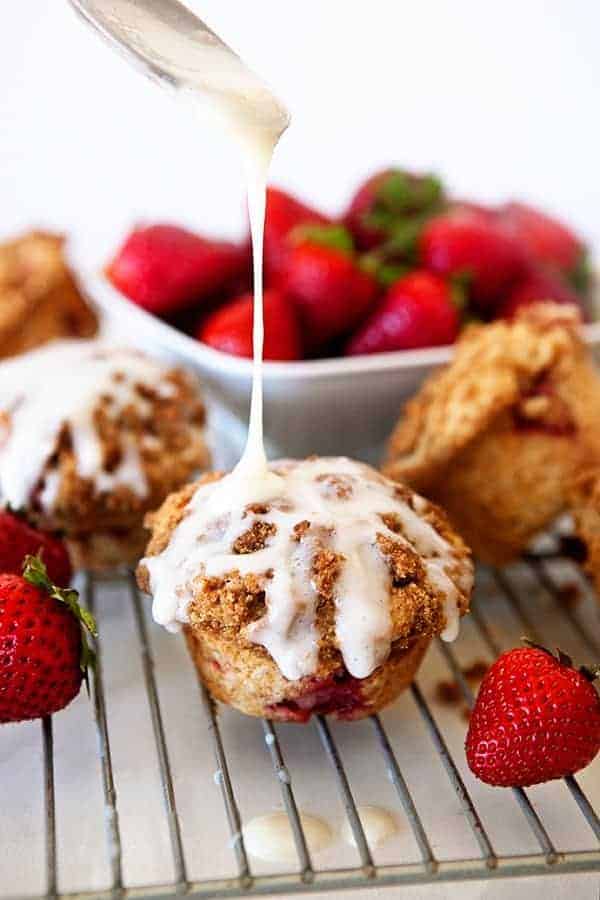 Hello! I'm Allison from Some The Wiser and I'm guest posting here on My Baking Addiction today to share a recipe for delicious Strawberry Cinnamon Roll Muffins.
I've had a loving, if not obsessive, relationship with homemade muffins for a long time now. Hardly a week goes by that I'm not whipping up a quick dozen Whole Grain Banana Muffins for a breakfast on the run.
They are my go-to snack for the kids' lunchboxes and my favorite treat to drop by a friend's house when they need a bit of cheering up. Yep, muffins and I go way back.
But last December I outdid myself. In an effort to simplify our favorite holiday treat, I attempted to turn grandma's cinnamon roll recipe into muffin form. My Cinnamon Roll Muffins were a huge success!
Sweet, tender, and full of cinnamon and spice, the muffin version of cinnamon rolls is delicious and so much easier than working with yeasted dough!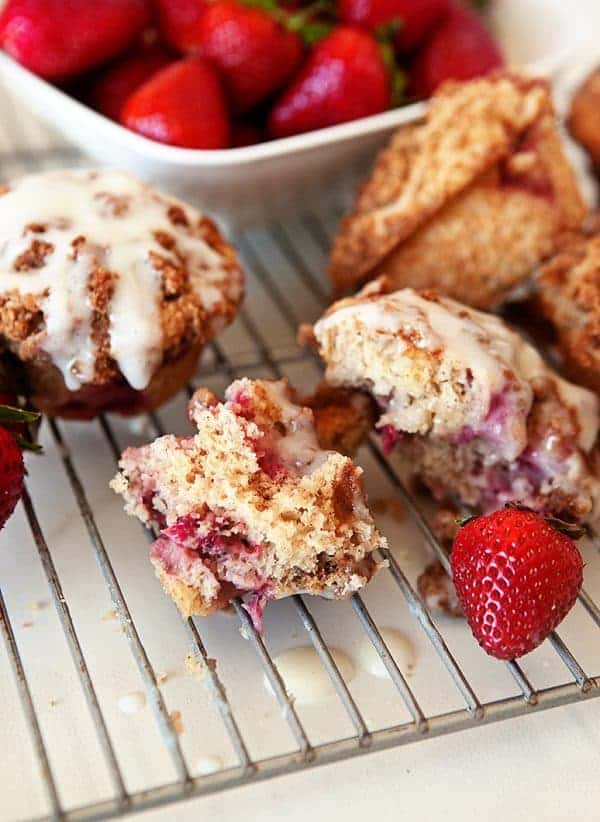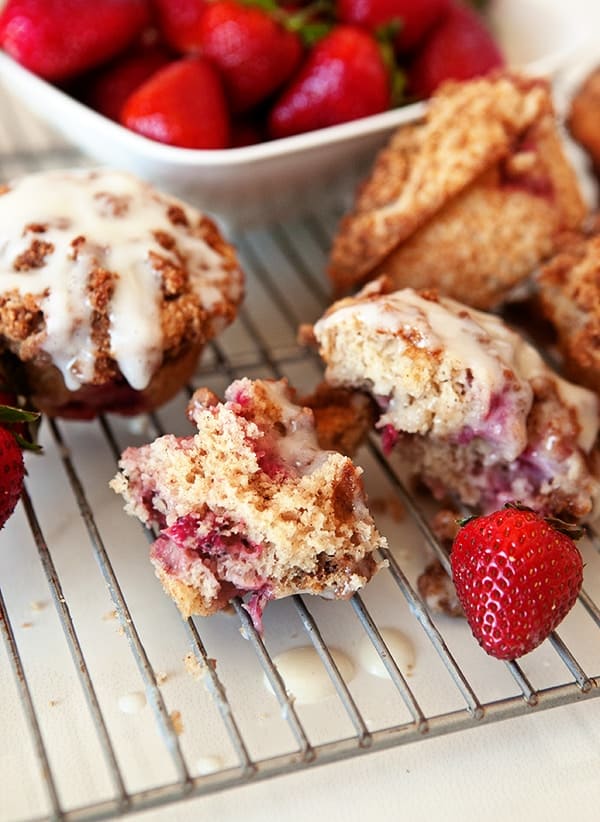 Now that the weather is warming up and I'm seeing fresh strawberries pop up at the farmer's market, it's time for a new muffin recipe.
Inspired by spring, I worked fresh strawberries and hint of lemon into my muffin recipe for these crazy good Strawberry Cinnamon Roll Muffins. The strawberries in these muffins bake into warm, gooey pockets of jammy sweet fruit.
With a hint of lemon in the batter, and a cinnamon streusel topping, these are my new favorite muffins! They're a perfect addition to any brunch spread or dessert table and I even put them at the top of my Mother's Day menu this year. They are a real show stopper!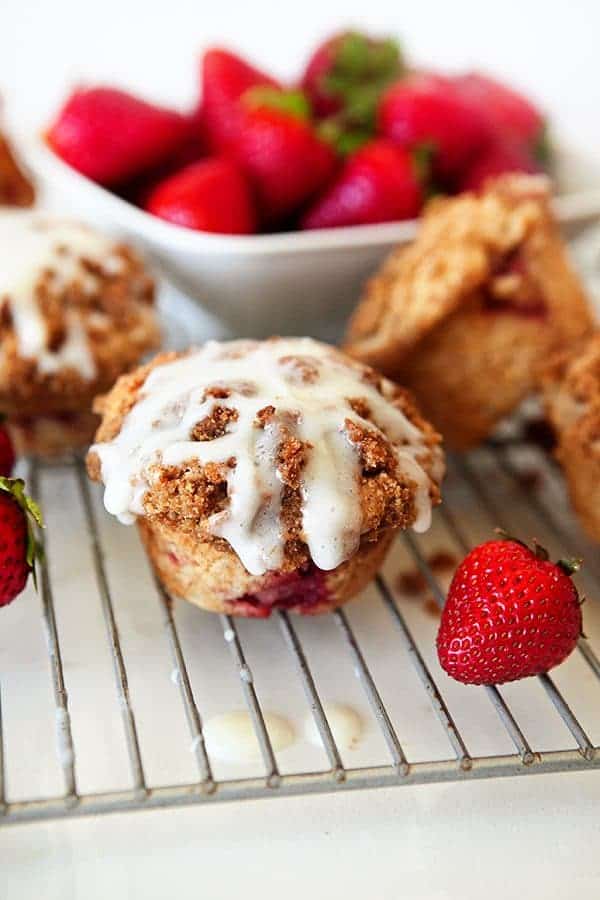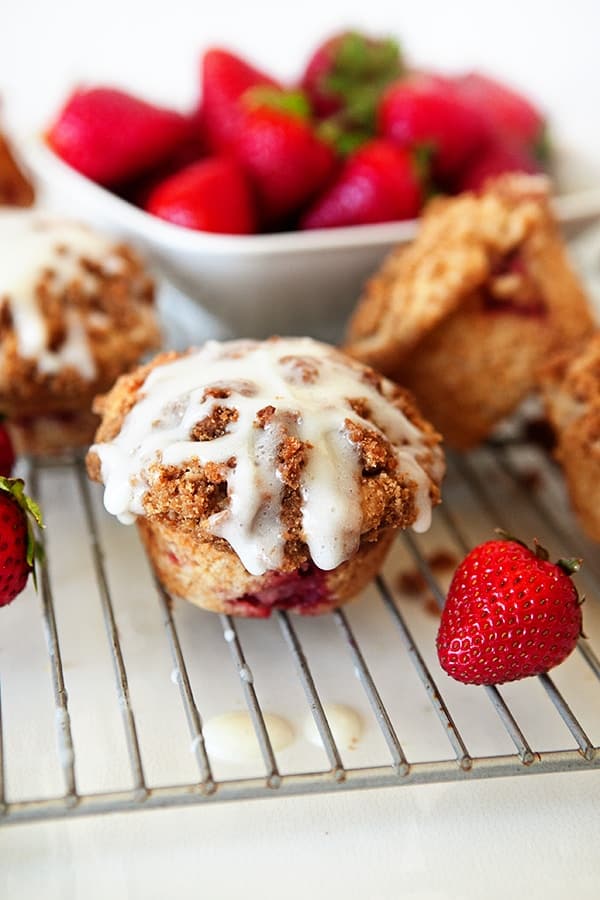 These aren't exactly the healthy, whole grain kind of muffin that you should eat for breakfast every day. That being said, they are so simple and so delicious that you'll have a hard time talking yourself out of eating them whenever you can get your hands on some good ripe strawberries.
For more delicious muffin recipes, be sure to check out these Olive Oil Banana Walnut Muffins and Jelly Donut Muffins here on My Baking Addiction.
Strawberry Cinnamon Roll Muffins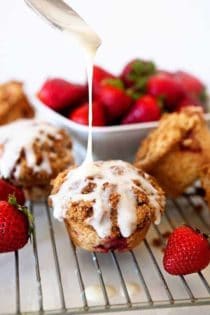 Ingredients:
For the Muffins:
2 cups all purpose flour
3 teaspoons baking powder
½ teaspoon salt
1/3 cup sugar
1 teaspoon cinnamon
3 tablespoons melted butter, cooled slightly
1 egg
¾ cup milk (plus more as needed)
Juice of half a lemon
1 teaspoon lemon zest
1 ¼ cups fresh strawberries, hulled and chopped
For the Streusel Topping:
½ cup brown sugar
½ cup all purpose flour
1 teaspoon ground cinnamon
4 tablespoons cold butter
6 to 8 drops lemon oil, or to taste
For the Frosting:
2 ounces cream cheese, softened
1 cup powdered sugar
1 tablespoon milk
dash of vanilla
Directions:
Preheat oven to 400°F. Generously grease a standard 12 cup muffin tin.
In a large bowl, sift together the dry ingredients. In a separate bowl, whisk together the wet ingredients until well combined. Make a well in the center of the flour mixture and add the egg mixture, stirring only until just combined. Gently fold in the strawberries.
Combine all the topping/filling ingredients. Use your hands to work the mixture into a coarse crumble.
Spoon the muffin batter, about ¼ cup, into each muffin tin. Top with streusel, pressing it gently down into the top of the muffin batter in each cup. Bake at 400 degrees for 12 to 15 minutes, or until muffins spring back when pressed lightly. Remove from oven. Cool slightly, then transfer carefully to a wire rack.
Whisk together all of the frosting ingredients. Drizzle over the top of the muffins and enjoy every single delicious bite.
All images and text ©
Follow Jamie on Instagram. We love to see what you're baking from MBA! Be sure to tag @jamiemba and use the hashtag #mbarecipes!

This post may contain affiliate links. We are a participant in the Amazon Services LLC Associates Program, an affiliate advertising program designed to provide a means for us to earn fees by linking to Amazon.com and affiliated sites.