This grinder sandwich is the absolute best sub sandwich you've ever had. The secret to this amazing sandwich is the tangy dressing that goes on top, as made famous on TikTok!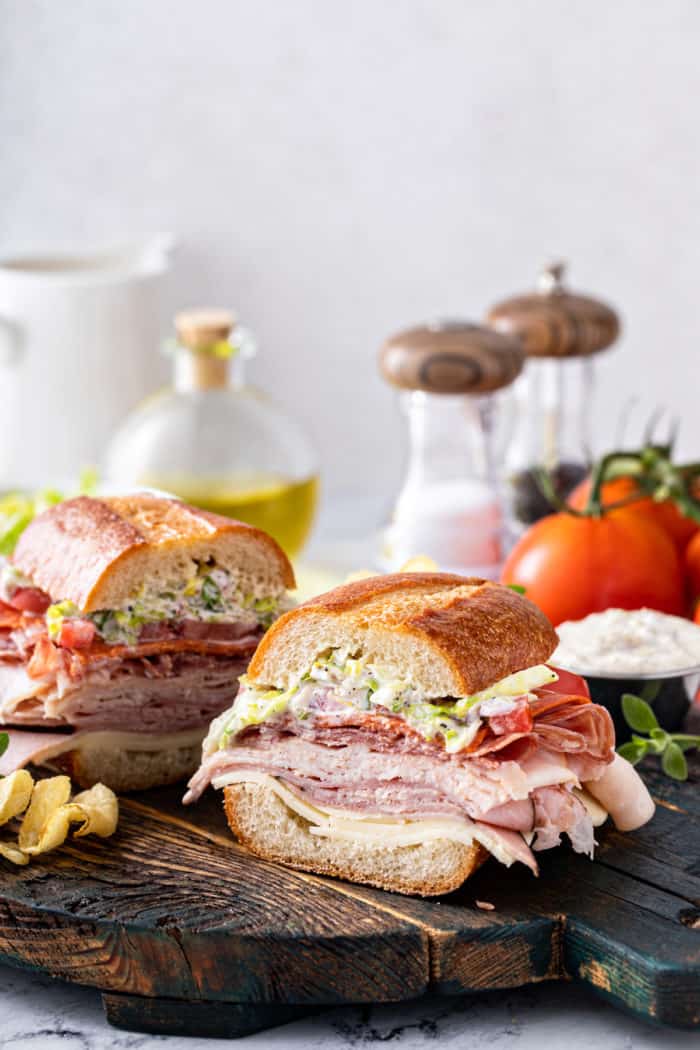 You all know how much I love scrolling through TikTok when I get a free moment.
I usually find myself on the app at night, but occasionally I'll get a few minutes to scroll through my FYP while I drink my coffee in the morning.
My FYP is full of makeup and food videos. And aside from being a good time waster and way to zone out when my brain needs a break, it sometimes sparks my creativity in the kitchen.
You'll remember that I recently had to give the viral TikTok cinnamon rolls with heavy cream a try and they did not disappoint. And my easy strawberry cake came about after scrolling through the app as well.
This time, the viral grinder salad sandwiches kept popping up on my feed and making me hungry. So I had to get in the kitchen and whip one up.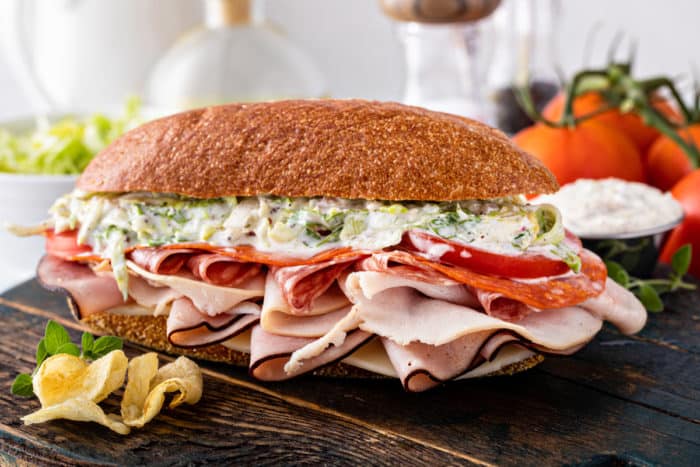 WHAT IS A GRINDER SANDWICH?
Even though grinder sandwiches are having a moment because of TikTok, grinders have been around for way longer than social media.
Along the East coast, sub sandwiches go by a variety of names: sub (or submarine sandwich), hoagie, hero, and grinder are some examples.
Most of these are typically served cold, but – according to the internet – the "grinder" is popular in New England and can be served cold or hot. While deli meats and cheese are the most common fillings, other meats (such as homemade meatballs) can be used as well.
It seems that the grinder sandwich got its name from the type of bread that is used. Grinders are made with Italian bread that's chewy on the inside and crusty on the outside and requires a lot of "chewing" or "grinding" to eat.
What made the TikTok grinder sandwich go viral is the focus on the tangy dressing that tops the sandwich. And honestly, I think it's the best part of the sandwich!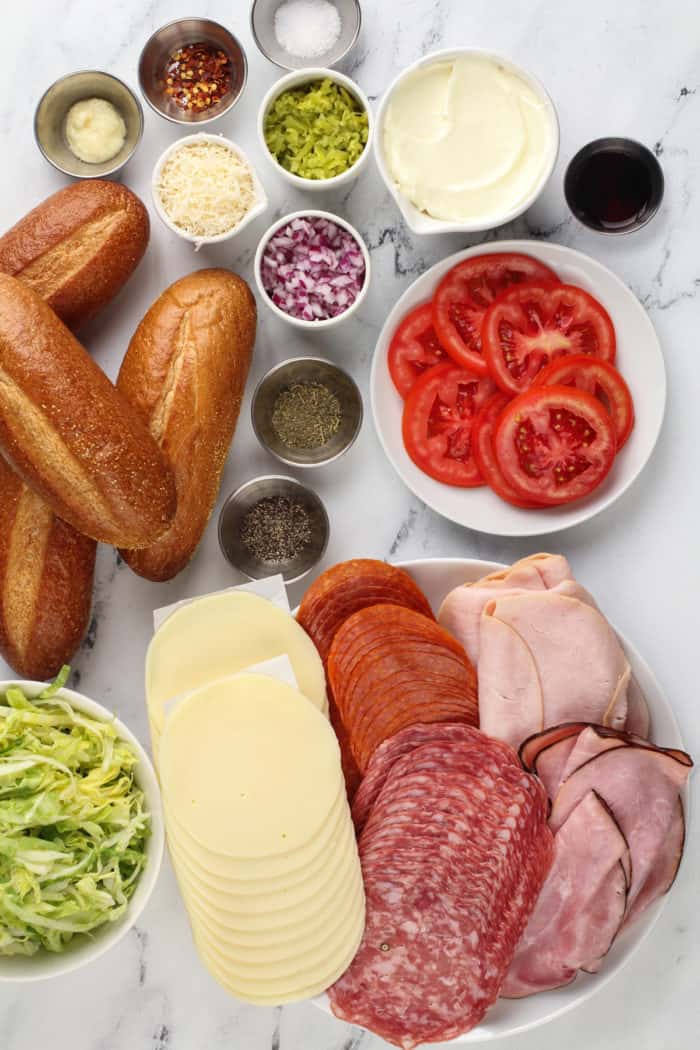 HOW TO MAKE THE FAMOUS TIKTOK GRINDER SANDWICH
These sandwiches are large and in charge and make for a great easy dinner or super filling lunch. You could easily feed a crowd with this recipe!
Grinder sandwich dressing
The dressing is the best part of this sandwich, if you ask me.
I mean, I love homemade ranch dressing and blue cheese dressing, but this is something else entirely.
It's creamy and tangy and zesty and would be great on everything from this grinder sandwich to a big ol' chopped salad to a simple BLT.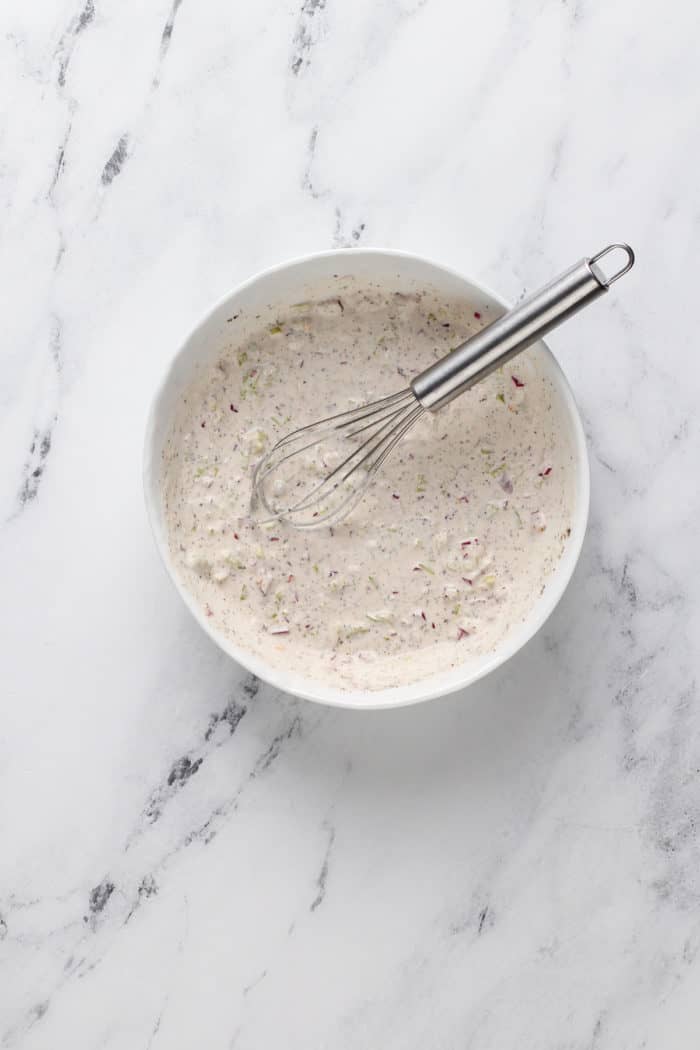 For the dressing, you will need:
1 cup mayonnaise
3 tablespoons red wine vinegar
2-3 garlic cloves, grated
½ teaspoon salt
½ teaspoon black pepper
½ teaspoon crushed red chili flakes
½ teaspoon Italian seasoning
Heaping ¼ cup pepperoncini peppers or pickled cherry peppers, finely diced
Heaping ¼ cup finely diced red onion
¼ cup freshly grated parmesan cheese
Whisk all of the dressing ingredients together and store in an airtight container until ready to use.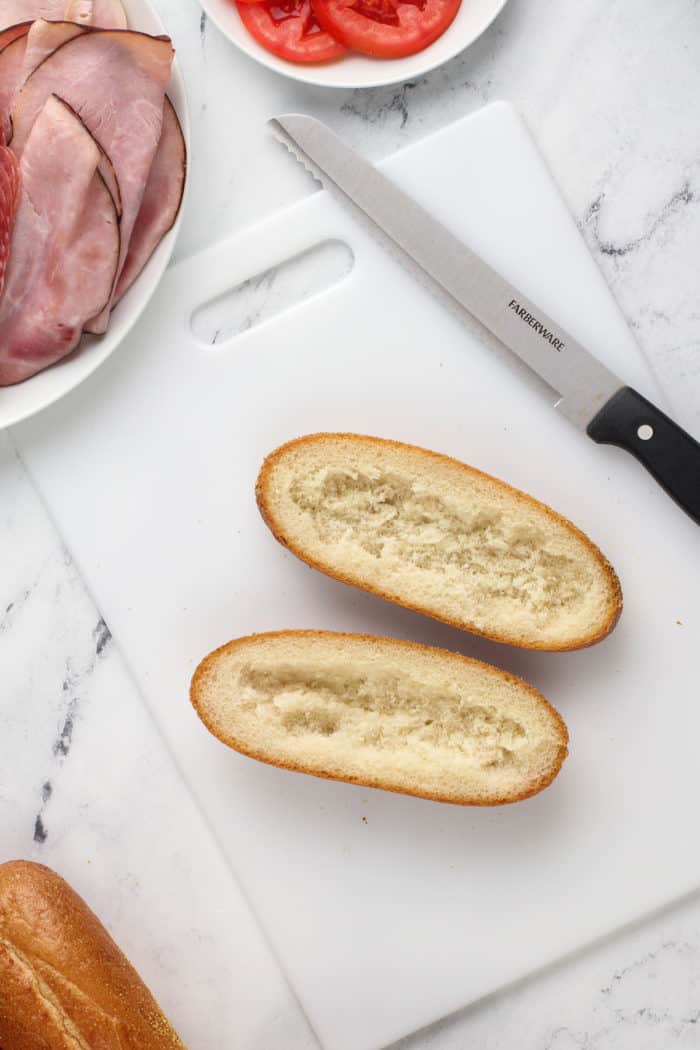 What bread to use?
To keep with grinder tradition, this sandwich should be made on a crusty Italian sub sandwich bread.
Depending on where you live, it may be tricky to find just the right kind of bread for this.
This recipe makes enough dressing for two large loaves of bread, but you could use 4 decent-sized hoagie rolls instead. Just try to find something that isn't super soft – you want the bread to have some chewiness to it.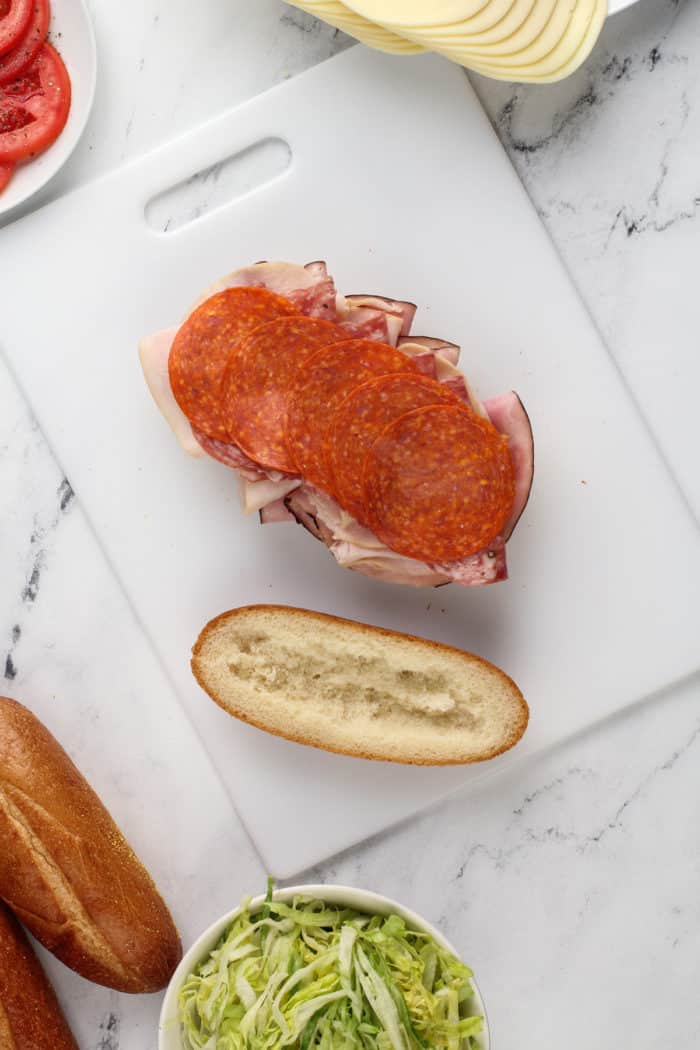 What else goes on this sandwich?
I kept with the Italian cold cuts tradition for my grinder sandwiches and used:
Deli turkey
Deli ham
Sliced sopressata
Sliced deli pepperoni
Provolone cheese
Sliced tomato
Shredded iceberg lettuce
Some versions of this sandwich will include thinly sliced red onion. I chose to put the red onion in my dressing instead, but you could still add some to your sandwich if you want extra!
If you don't like the cold cuts I used, you could use other meats such as pastrami, roast beef, or whatever else sounds good to you! Make this sandwich your own.
Just make sure you use shredded iceberg lettuce if you want to keep with tradition.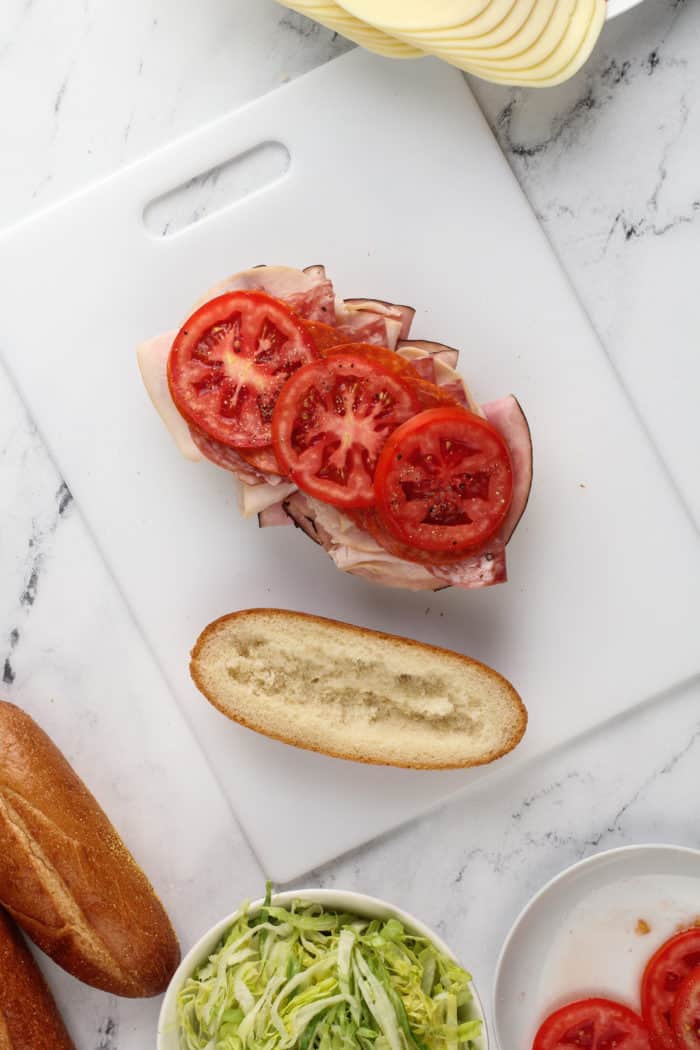 Assembling this sandwich
To put the grinder sandwich together, slice the bread in half lengthwise. Scoop out some of the bread from each side to make room for the toppings.
Layer the bottom of the bread with slices of the cheese and meats to your liking. Season the tomato slices with salt and pepper and add those to the sandwich.
Toss the shredded lettuce with some of the dressing in a bowl, then add it on top of the sandwich, followed by the top bun.
Cut the sandwich into pieces with a large serrated knife and serve with extra dressing if desired. (Trust me, you'll want it!)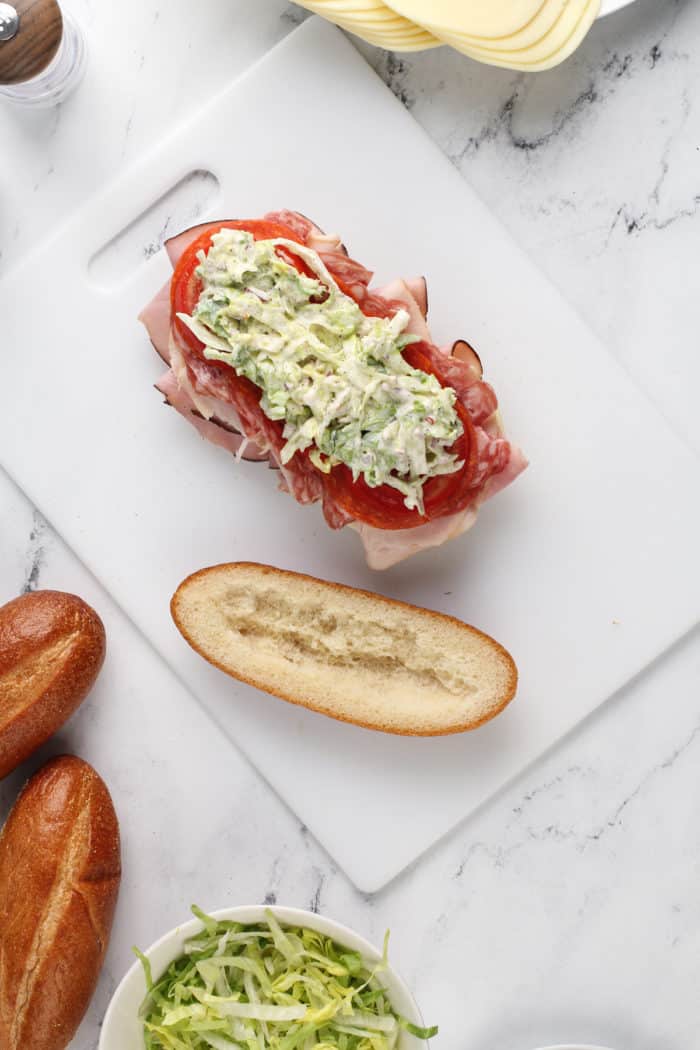 RECIPE VARIATIONS
As I mentioned above, you could swap out the deli meats I chose – turkey, ham, sopressata, and pepperoni – for your favorite sandwich meats. You could even try using homemade meatballs instead of cold cuts!
One of my favorite ways to change up this sandwich, though, is to heat it up.
To serve your grinder sandwich hot, layer the meats and cheese onto the bottom bun with the cheese on top. Place the sandwich on a baking sheet next to the top bun, set cut-side up.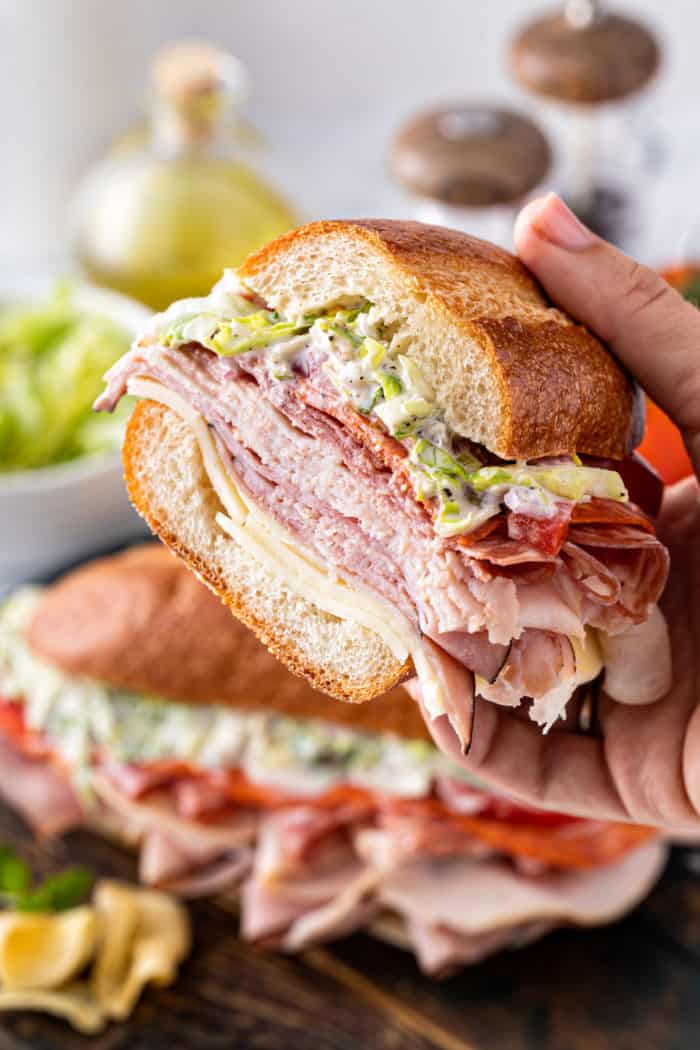 Place the baking sheet under the broiler until the cheese is melted, the meats are heated through, and the top bun is toasted.
Once the sandwich is hot, you can add the seasoned tomato slices and salad and serve it up.
No matter how you choose to serve it, this TikTok grinder sandwich is sure to be a simple meal that you'll want to make again and again!