I read that Super Bowl Sunday ranks second only to Thanksgiving in regards to food consumption. And if you are at all like me, you ate your face off yesterday and now you're feeling the ramifications of overindulging.
Although I tried to exercise restraint while grazing the dishes that were strewn throughout my kitchen, I failed and quite miserably. I blame it all on the bacon wrapped jalapeno poppers – yep, it's their fault, which is why I only make them about twice a year.
I religiously use My Fitness Pal to log my daily caloric intake and exercise, but once I hit 1,800 calories yesterday, I considered the day a wash and stopped adding in tablespoons of cream cheese and half strips of bacon. It almost seems wrong to post cookies the day after such a feast, but hey, this is My Baking Addiction – it's what I do.
The base for these Toffee Almond Cookies is from the New York Times and has been featured on MBA in numerous posts because I find it to be pretty much flawless. In my opinion, it's the perfect framework for a myriad of flavor combinations like Heath Toffee Bits and toasted, chopped almonds or caramel bits and pecans. In our house, it's pretty much cookie perfection.
Whether you're still in a food coma or ready to get your cookie on, I'm pretty certain these will be devoured, just be sure to have an ice cold glass of milk on hand – the cute, stripy straw doesn't hurt either!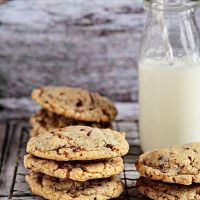 Toffee-Almond Cookies
Yield:
1 1/2 dozen 5-inch cookies
Ingredients
2 cups minus 2 tablespoons cake flour
1 2/3 cups bread flour
1 1/4 teaspoons baking soda
1 1/2 teaspoons baking powder
1 1/2 teaspoons kosher salt
2 1/2 sticks unsalted butter, softened
1 1/4 cups light brown sugar, packed
1 cup plus 2 tablespoons sugar
2 large eggs
2 teaspoons pure vanilla extract
1 8-ounce bag Heath English Toffee Bits
1 cup toasted almonds, finely chopped
Instructions
1. Sift flours, baking soda, baking powder and salt into a bowl. Set aside.
2. Using a mixer fitted with paddle attachment, cream butter and sugars together until very light, about 5 minutes. Add eggs, one at a time, mixing well after each addition.
3. Stir in the vanilla. Reduce speed to low, add dry ingredients and mix until just combined, 5 to 10 seconds.
4. Drop Heath English Toffee Bits and almonds into dough and gently combine.
5. Press plastic wrap against dough and refrigerate for 24 to 36 hours. Dough may be used in batches, and can be refrigerated for up to 72 hours.
6. When ready to bake, preheat oven to 350 degrees. Line a baking sheet with parchment paper or a nonstick baking mat. Set aside.
7. Scoop 6 3 1/2-ounce mounds of dough (the size of generous golf balls) onto baking sheet
8. Bake until golden brown but still soft, 18 to 20 minutes. Transfer sheet to a wire rack for 10 minutes, then slip cookies onto another rack to cool a bit more.
9. Repeat with remaining dough.
Notes
-For regular sized cookies, use a heaping tablespoon and bake for approximately 12 minutes.
- Store cookies in an airtight container at room temperature for up to 3 days.
Recipe adapted from Jacques Torres and The New York Times