I try to not to make lofty claims when it comes to the recipes you see here on MBA. I'm certainly known to wax poetic about my latest creations, but I try not to toss around words like best, perfect, etc. too often. That's simply because I know tastes vary and what pleases my palette, may simply not entice you at all.
Then one day I created these Turtle Cookies. I used my favorite chocolate chip cookie dough base and added caramel bits and chopped pecans into the mix. After one taste of the dough, I knew I had something amazing sitting in my KitchenAid. I impatiently waited for the dough to chill, rolled it into balls and threw them into oven. Then I gawked at them through the oven door while crossing my fingers hoping that the caramel pieces wouldn't do something funky to the cookies.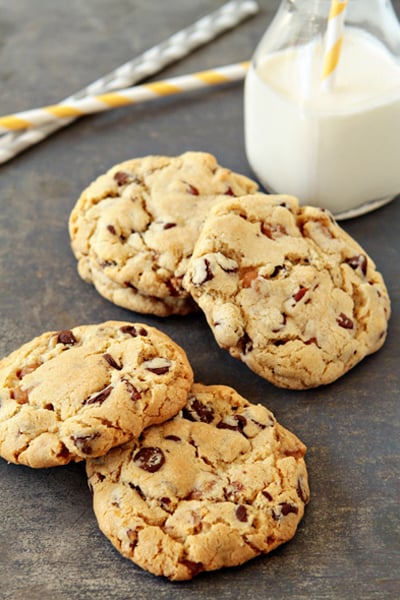 They baked up perfectly – the caramel pieces melted a bit and created an an incredible, buttery, flavor within the cookies. Once they cooled, the caramel bits turned into slightly crunchy little nuggets of toffee – which paired perfectly with the pecans and dark chocolate chips.
I was proud of these cookies and knew if I kept them in the house, I'd devour them – one after another until I ended up in a cookie induced coma. So I packed them up and dropped them off to my dad and John, my mom's boyfriend. Within a few hours I received a text message from my mom and a phone call from my dad declaring these babies to be, "the best cookies ever".
I really think I've got cookie nirvana here, but I'd love to know what you think. Although these cookies call for a 24 hour chill time, I guarantee you'll think they are worth every single minute!