I try to not to make lofty claims when it comes to the recipes you see here on MBA. I'm certainly known to wax poetic about my latest creations, but I try not to toss around words like best, perfect, etc. too often. That's simply because I know tastes vary and what pleases my palette, may simply not entice you at all.
Then one day I created these Turtle Cookies. I used my favorite chocolate chip cookie dough base and added caramel bits and chopped pecans into the mix. After one taste of the dough, I knew I had something amazing sitting in my KitchenAid. I impatiently waited for the dough to chill, rolled it into balls and threw them into oven. Then I gawked at them through the oven door while crossing my fingers hoping that the caramel pieces wouldn't do something funky to the cookies.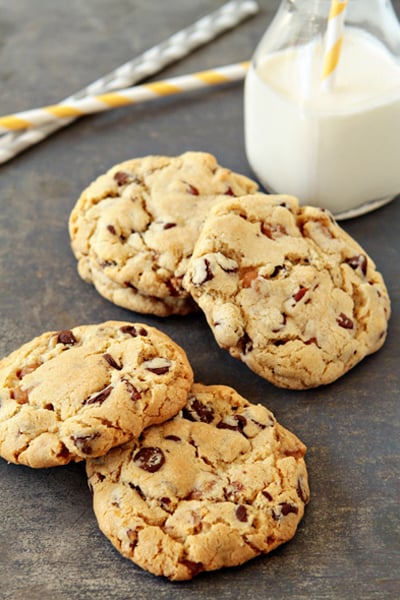 They baked up perfectly – the caramel pieces melted a bit and created an an incredible, buttery, flavor within the cookies. Once they cooled, the caramel bits turned into slightly crunchy little nuggets of toffee – which paired perfectly with the pecans and dark chocolate chips.
I was proud of these cookies and knew if I kept them in the house, I'd devour them – one after another until I ended up in a cookie induced coma. So I packed them up and dropped them off to my dad and John, my mom's boyfriend. Within a few hours I received a text message from my mom and a phone call from my dad declaring these babies to be, "the best cookies ever".
I really think I've got cookie nirvana here, but I'd love to know what you think. Although these cookies call for a 24 hour chill time, I guarantee you'll think they are worth every single minute!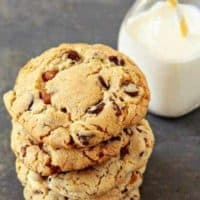 Turtle Cookies
Yield:
1 1/2 dozen 5-inch cookies
Ingredients
2 cups minus 2 tablespoons cake flour
1 2/3 cups bread flour
1 1/4 teaspoons baking soda
1 1/2 teaspoons baking powder
1 1/2 teaspoons kosher salt
2 1/2 sticks unsalted butter
1 1/4 cups light brown sugar
1 cup plus 2 tablespoons sugar
2 large eggs
2 teaspoons pure vanilla extract
2 cups dark chocolate chips
1 cup chopped pecans
Instructions
1. Sift flours, baking soda, baking powder and salt into a bowl. Set aside.
2. Using a mixer fitted with paddle attachment, cream butter and sugars together until very light, about 5 minutes. Add eggs, one at a time, mixing well after each addition.
3. Stir in the vanilla. Reduce speed to low, add dry ingredients and mix until just combined, 5 to 10 seconds.
4. Drop chocolate pieces, caramel bits, and pecans into dough and gently combine.
5. Press plastic wrap against dough and refrigerate for 24 to 36 hours. Dough may be used in batches, and can be refrigerated for up to 72 hours.
6. When ready to bake, preheat oven to 350 degrees. Line a baking sheet with parchment paper or a nonstick baking mat. Set aside.
7. Scoop 6 3 1/2-ounce mounds of dough (the size of generous golf balls) onto baking sheet
8. Bake until golden brown but still soft, 18 to 20 minutes. Transfer sheet to a wire rack for 10 minutes, then slip cookies onto another rack to cool a bit more.
9. Repeat with remaining dough.
Notes
-For regular sized cookies, use a heaping tablespoon and bake for approximately 12 minutes.
-I used Caramel Bits from King Arthur Flour, but I have seen the Kraft variety at my local market - although I can not attest to how they perform in this recipe.
-Recipe adapted from Jacques Torres and The New York Times.