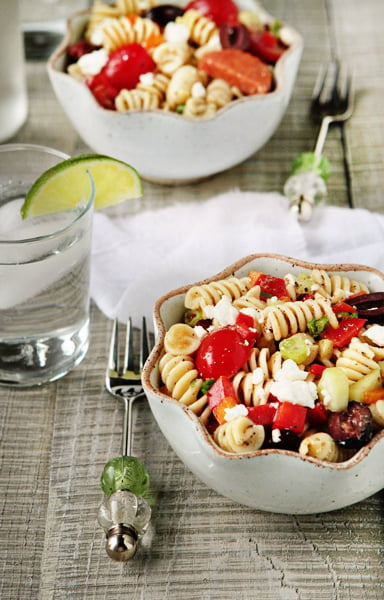 If you follow my nonsense on Facebook, you may have caught my post this morning asking which recipe you'd like to see tonight. The choices were this Greek Pasta Salad or a Ricotta Cheesecake.
I sat back and started to write the post for the Ricotta Cheesecake because I figured that would be the hands-down winner. By the time I got back from lunch, the verdict was in and for the first time in my life – I was wrong. Okay, I'm exaggerating… it's more like the fifth time.
Clearly, you guys are looking for a simple and delicious recipe for the 4th of July weekend. If that's the case, never fear! I've got you covered with this flavorful Greek Pasta Salad recipe.
I'm not going to lie – I was a bit shocked to see a savory recipe win over a sweet one. Especially given this site is called My Baking Addiction. But it's a nice change, and I'm totally ready to roll with it.
The ingredient list for this recipe may seem a little bit long, but the beauty about pasta salad recipes is that you can totally adapt them to meet your taste or the ingredients that you have on hand. And if you have a garden, you're golden because it's full of fresh vegetables.
Pasta salad is one of those great side dishes because you can make it ahead and just leave it until you're ready for party time. The longer it sits, the better the flavors get.
The true star of this salad is the incredible homemade Greek salad dressing that pulls all of the flavors together. It creates what is, in my opinion, the best pasta salad you'll ever eat.
Definitely make it the night before you are going to serve it because it just gets better when the flavors have time to develop, or even a day before.
Go crazy with the veggies, but for the love of Pete, don't forget the Feta. Feta cheese makes everything better, and you NEED it in this pasta salad in all its salty glory.
I hope this Greek Pasta Salad recipe is a last minute addition to your 4th of July barbecue. It truly is a showboat of a side dish, and your whole crew will love it!
If you're a cheesecake lover, I'll be posting the Ricotta Cheesecake recipe tomorrow afternoon.
Greek Pasta Salad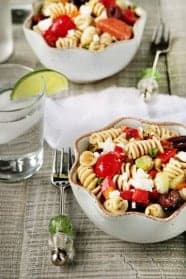 Ingredients:
For the Dressing
1 cup olive oil 3/4 cup red wine vinegar 2 teaspoons garlic powder 2 teaspoons basil dried basil 2 teaspoons dried oregano 2 teaspoons
Za'atar
* 1-1/2 teaspoons freshly ground black pepper 2 teaspoons granulated sugar
For the Salad
1 pound rotini pasta cooked according to package directions 1 pint cherry tomatoes, cut in half (you can also sub in grape tomatoes) 1 large cucumber, seeded and chopped 1 red bell pepper, chopped 1 green bell pepper, chopped 4 green onions, thinly sliced 3/4 cup Kalamata olives 1-1/2 cups crumbled feta cheese 1 7-ounce
pepperoni stick
, sliced
Directions:
1. In a a large Mason jar or other sealable container, combine olive oil, vinegar, garlic powder, basil, oregano, Za'atar black pepper, and sugar. Shake well to combine. 2. In a large bowl, combine cooked pasta, tomatoes, cucumber, bell peppers, green onions, olives, feta cheese and pepperoni. 3. Separate and reserve ½ cup of dressing in the refrigerator. 4. Toss the pasta salad with the rest of the dressing until evenly coated. Cover, and chill overnight. 5. Right before serving, freshen the salad with the reserved dressing, tossing to coat.
Notes:
- Pasta salad is best made the night before it is served. Reserve about ½ cup of dressing in the refrigerator and freshen the salad before serving. - This Greek Pasta Salad recipe is totally customizable. If you aren't a fan of something on the ingredient list, substitute it with another vegetable. I have added mushrooms, artichoke hearts, and banana peppers to this recipe with great results. - I highly recommend finding Za'atar. It's such a great spice (a blend of sumac, sesame seeds and herbs) to have on hand. I love the brand
Urban Accents
because it's flavorful and readily available at my local market.
39 Responses to "Greek Pasta Salad"
Trackbacks/Pingbacks