Since I've been pregnant, our mealtimes have become pretty monotonous. Like I've said before, our Crock-Pot is a permanent fixture on the counter and I feel like we rotate the same breakfasts, dinners and snacks every single week. Even down to the cookie dough that I make Eric – every week, it's the same ol' same ol'.
I'm slowly getting my big-bellied self back into the kitchen and within the last week or so, we've been trying to mix up mealtime. Seriously, you can only eat Crock-Pot pulled pork and chocolate chips cookies so many times before their deliciousness turns into blah-ness.
Last week, we actually took some time to develop a meal plan (thank you, Pinterest) which included a new pasta dish, soup and of course a new dessert/snack recipe in the form of Almond Butter Cookies. With a little planning and working together in the kitchen, we were out of our mealtime rut in no time.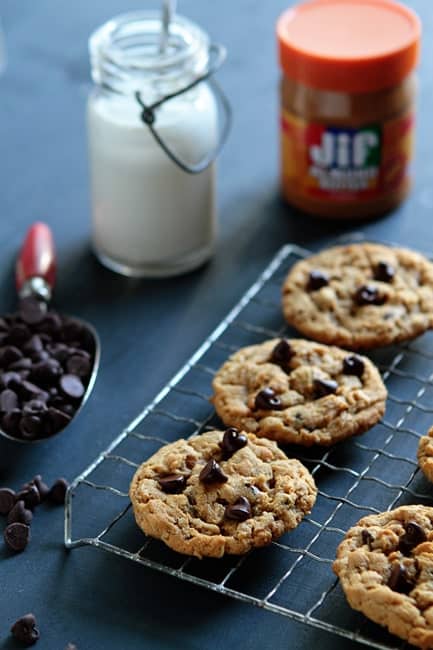 The star of our weekly meal plan was definitely this recipe for Almond Butter Cookies. Crunchy Jif Almond Butter paired perfectly with oatmeal and semisweet chocolate to create a deliciously chewy, slightly crunchy, satisfying cookie. They're perfect for dessert, a lunchtime treat or a 3:00AM snack with an ice cold glass of milk – just sayin'!
Tips for Mixing Up Mealtime
– Use food blogs, Facebook, Pinterest and sites like Jif.com to get a little inspiration. Jot down, Pin or bookmark your favorite recipes to save them for later.
– Get your family in on the planning and cooking action. Get their recipe input and then put them to work in the kitchen – you're sure to make some amazing memories.
– Scan store shelves for exciting new products like no-stir nut butters from Jif. They're delicious and a great alternative to peanut butter on everything from toast to apples.
– For more inspiration, visit Jif.com or find them on Facebook and Pinterest.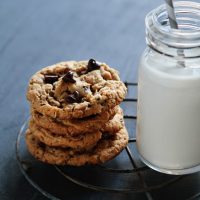 Almond Butter Cookies
Total Time:
3 hours
30 minutes
Ingredients
1 cup (2 sticks) unsalted butter, softened
1 cup sugar
1 cup lightly packed light brown sugar
1 1/2 cups Jif Crunchy Almond Butter
2 large eggs
2 teaspoons pure vanilla extract
1 3/4 cups all-purpose flour
2 teaspoons baking soda
1 teaspoon salt
1 1/2 cups quick cooking oatmeal
2 cups semisweet chocolate chips
Instructions
In the bowl of a stand mixer fitted with the paddle attachment or in a large bowl with an electric mixer, cream butter, sugar, brown sugar and almond butter until light and fluffy - about 2 minutes.
Beat in eggs one at a time and add vanilla extract, mixing until incorporated.
In a large bowl, sift together flour, baking soda and salt.
Gradually add the dry ingredients to the mixer until they are thoroughly combined. Mix in oats and chocolate chips.
Cover and chill dough for at least 3 hours or up to 2 days.
When ready to bake, preheat oven to 350 degrees and line baking sheets with parchment paper.
Using a medium cookie scoop (1 1/2 tablespoons), scoop cookie dough onto prepared baking sheets.
Bake in preheated oven for 12 - 15 minutes, or until edges are golden brown.
Allow cookies to cool on cookie sheets for 5 minutes before transferring to wire racks to cool completely.
Notes
Store cooled cookies in an airtight container at room temperature for up to 3 days.
Disclosure: My Baking Addiction has teamed up with Jif to develop recipes using their new no-stir nut butters. This is a sponsored post written as part of that program. All opinions about Jif are my own.