Candy Cane Snowball Cookies are a must-add to your holiday cookie tray. Buttery sweet shortbread, peppermint and vanilla candy melts make for holiday flavor perfection.
This post is sponsored by Challenge Butter.
It's the most wonderful time of the year – Cookie season, that is. Every excuse you could ever need to bake, eat, and share your favorite cookie recipes. This has long been my favorite time of year, because well, duh, baking! And girlfriend can get down on some cookies.
Especially cookies with the quintessential flavors of winter – buttery shortbread, bright peppermint, and smooth vanilla. Was there ever a trilogy of flavors that made you happier? I'm going to go ahead and guess no.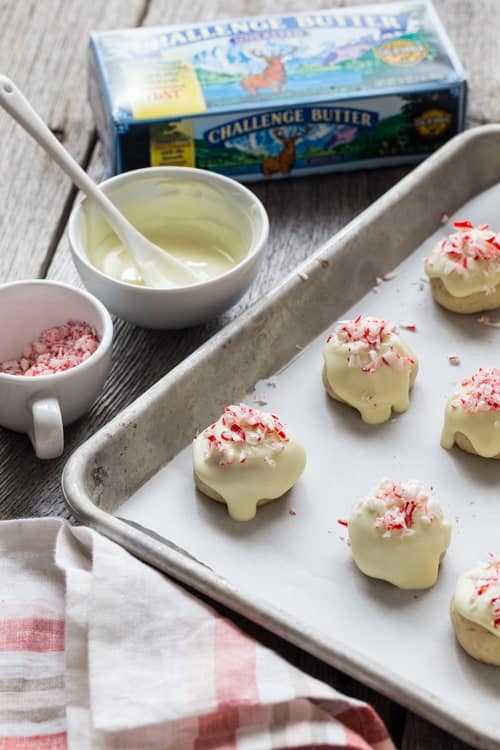 I love Snowball Cookies in general, but the addition of vanilla candy coating and peppermint makes these Candy Cane Snowball Cookies something special. There's a little extra effort in melting the vanilla candy melts and topping them with crushed candy canes, but it is SO worth it.
Traditional Snowball Cookies feature pecans or walnuts and powdered sugar – a super simple flavor combination that people have loved for generations. You might think to skip walnuts here, because of the crunch from crushed candy canes, but I beg you not to do it. Walnuts add a warmth and depth of flavor to the shortbread that would be lacking otherwise.
This recipe makes a lot of small cookies – enough to eat and share in delicious homemade cookie boxes you can give to family and friends. Trust me, you'll have goodies for everyone you love.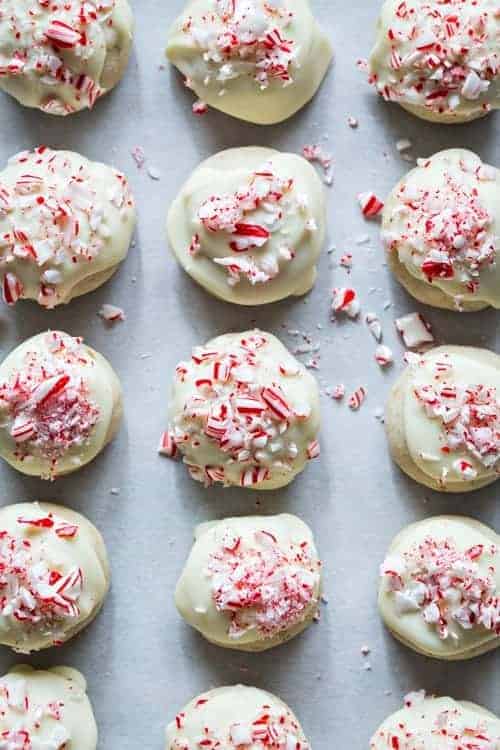 I made these cookies using my favorite butter, Challenge Butter. If you've never tried it, you most definitely should. It's made with 100% real cream and nothing else – nothing artificial here! The cream comes from cows not treated with the Growth Hormone rbST. While the jury is still out on that whole situation, I prefer to err on the side of caution, especially where my daughter is concerned. So I'll reach for that label every single time.
I can feel good about making recipes with Challenge Butter, and its quality can't be beat. It's the perfect butter for baking!
I'm pretty confident that these are your new favorite Christmas cookie. They certainly are at our house!
Happy holidays from mine to yours!
Looking for More Peppermint Recipes?
Disclosure: This post is sponsored by Challenge Butter; however, the views and opinions expressed on My Baking Addiction are my own, and based upon my experiences with Challenge Butter. Thank you for supporting Challenge Butter and the brands that continue to make My Baking Addiction possible.