Cherry Coconut Chocolate Chip Cookies?! Sign me up! Hey guys – while I'm moving and unpacking my kitchen over the next few weeks, several friends are popping in to share recipes with you. Show them some love, will ya? And thanks, Kristan, for taking the time to share this awesome recipe!
Hey guys! I'm Kristan from Confessions of a Cookbook Queen and today I am giving you cookies!
Actually, you have to make them yourselves, I'm just giving you the recipe. Sorry about that! But I have faith that one day, technology will evolve to the point that cookies will come out of our iPads. And if I think it's hard to get my toddler away from the iPad NOW, I can only imagine what kind of mess I'll have on my hands then.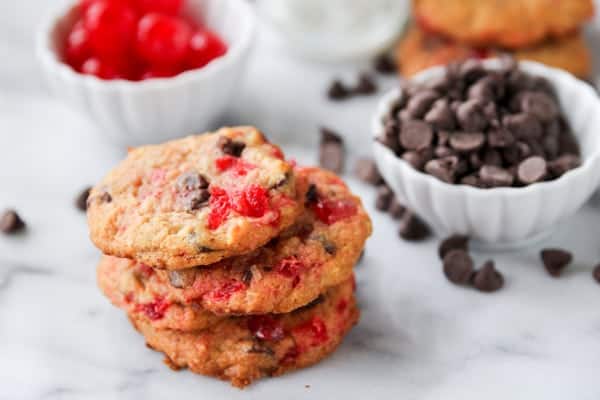 Jamie and I have been friends for several years now – we both love desserts and make-up and have frilly little toddler girls who we love to fuss over. My Lucy is about a year older than Elle, so I take a lot of pleasure in updating Jamie on what is to come. And by updating, I mean warning. Because two-year-old girls are not a joke, people. They are complex, dramatic creatures who demand to be taken seriously. I would know – I spent my afternoon putting a Barbie doll in the corner because she supposedly hit Lucy in the head.
Yes, you heard me. When your toddler demands that you punish her Barbie doll, you just do it. It's a lot less exhausting than the alternative, which involves a lot of crying and flopping around on the ground (her, not me, although I am sometimes driven to that point).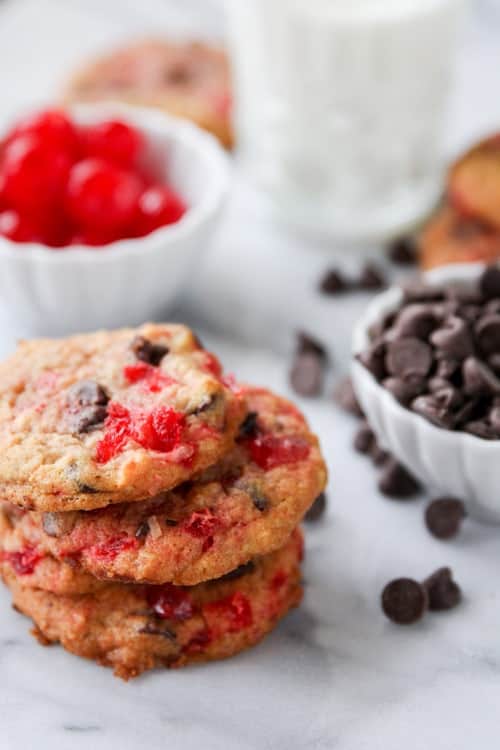 One thing that always gets us through the day are cookies. They are just a universal love language. One of these days, someone is going to smarten up and make a romantic comedy about cookies, because, duh. Kids love them, adults love them, they are easy to eat and tuck into lunchboxes and also they don't feel like they have a lot of calories, unlike cake, which just screams, "YOU'RE BREAKING YOUR DIET!!". Cookies have a gentler way about them. They say, "Hey, it's just a little snack, no guilt here."
I love the combination of chocolate, cherry, and coconut, so these cookies are absolute perfection. The dough is even better if you let it chill for a few hours so the flavors can mingle, so if you've got the time, I highly recommend it!