Chocolate Chip Muffins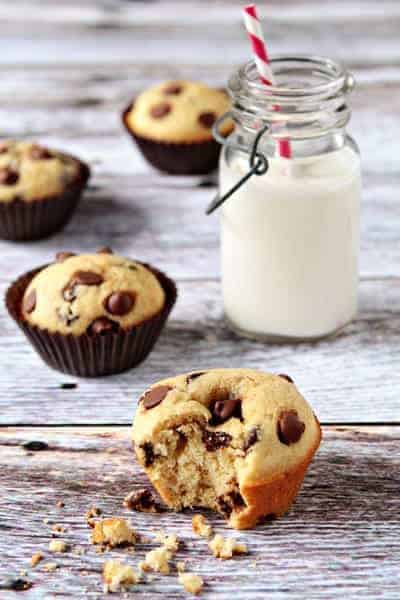 I like things to be easy – recipes that allow me to toss everything together within minutes are amongst some of my favorites. There's definitely a time and a place for gourmet ingredients and fancy techniques, but that place is not a Saturday morning when a little girl has a hankering for a breakfast studded with her favorite sweet treat.
My friend's daughter has an affinity for all things chocolate – from Milk Duds to Homemade Hot Cocoa, she definitely swoons for sweets. She also loves helping out in the kitchen – in fact, I think she cracks eggs better than I do and has recently started photographing our creations on her iPod. Seriously, how adorable is that?
Although she'll happily sample anything that we create in the kitchen, her one true love is pretty simple – milk chocolate chips. She loves them in pancakes, cupcakes, or pulled straight out of the bag and popped directly into her mouth.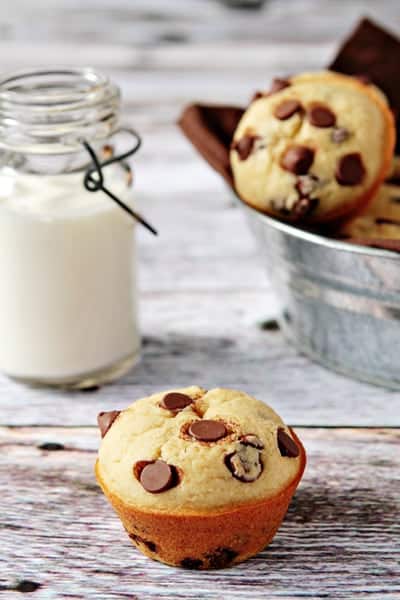 Last weekend I decided to switch up her usual weekend breakfast of scrambled eggs and pancakes for scrambled eggs and chocolate chip muffins. Let's just say they were a raging hit and I was deemed "the best cook ever" for about the 1,000th time – which I'll totally take.
Whether you're baking for a chocolate loving tween or just looking to brighten someone's day with a little muffin love, I hope you enjoy these Chocolate Chip Muffins as much as we did.

Chocolate Chip Muffins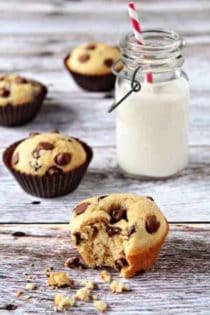 Ingredients:
2 cups all-purpose flour
1/3 cup light brown sugar, packed
1/3 cup granulated sugar
2 teaspoons baking powder
1/2 teaspoon salt
1/2 cup unsalted butter, melted and cooled
2 eggs, lightly beaten
2/3 cup whole milk
1 1/2 teaspoons pure vanilla extract
1 1/2 cups milk chocolate chips
Directions:
Preheat the oven to 400 degrees F. Line 12 muffin cups with paper liners or spray the wells of the pan with non-stick cooking spray.
In a large bowl, whisk together flour, sugars, baking powder, and salt. Set aside.
In medium bowl, whisk together melted butter, eggs, milk, and vanilla, mixing until well combined.
Make a well in the center of the dry ingredients and pour the liquid ingredients into the well. Stir until ingredients are just combined – do not over mix the batter. Fold in the chocolate chips.
Evenly divide the batter into the prepared muffin pan wells. Bake for 17-20 minutes or until a toothpick inserted into the center of a muffin comes out clean.
Remove muffins to a wire rack and cool for at least 5 minutes. Serve warm or at room temperature.
Notes:
These muffins were best served the day they are made; however, leftovers can be stored in an airtight container at room temperature for up to two days. I recommend warming them in the microwave for about 30 seconds before serving. Wrapped airtight, they can be frozen for up to two months.
My Baking Addiction slightly adapted from food.com
All images and text ©
Follow Jamie on Instagram. We love to see what you're baking from MBA! Be sure to tag @jamiemba and use the hashtag #mbarecipes!
This post may contain affiliate links. We are a participant in the Amazon Services LLC Associates Program, an affiliate advertising program designed to provide a means for us to earn fees by linking to Amazon.com and affiliated sites.