Chocolate-Coconut Rice Krispie Treats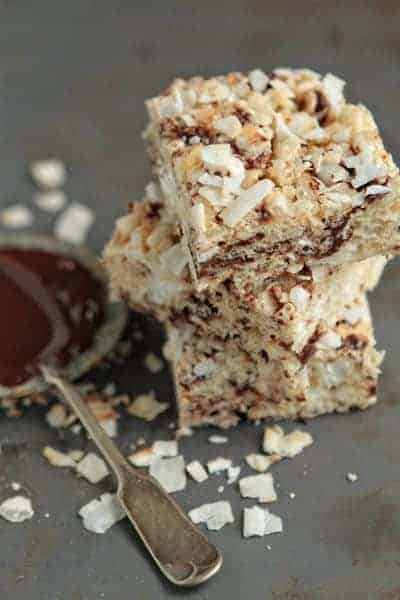 {Hey MBA Friends! I'm participating in a little photo contest for Le Creuset! If you're on Pinterest, I'd love for you to head over and "like" my photo (if it's your fave). If I win the contest, I'll be giving away some pretty fantastic prizes! If you've already checked it out and "liked" the photo, thanks so much! The contest ends at the end of the month!}
Last week I was strolling through Walmart, which happens to be one of my least favorite stores on the planet. The dim lighting and lack of decent produce coupled with a maximum of 3 open lanes stacked 10 people deep is enough to make me stay away – forever. However, I was on a mission to find a specific item for a cupcake idea.
A mission that was fully provoked by Amber, who led me on a wild goose chase via the phone. After asking several employees and Amber's diligent Googling from New Jersey, I still came up empty handed. It appears that we Ohioans are a little late to the Orange Creamsicle Oreo scene.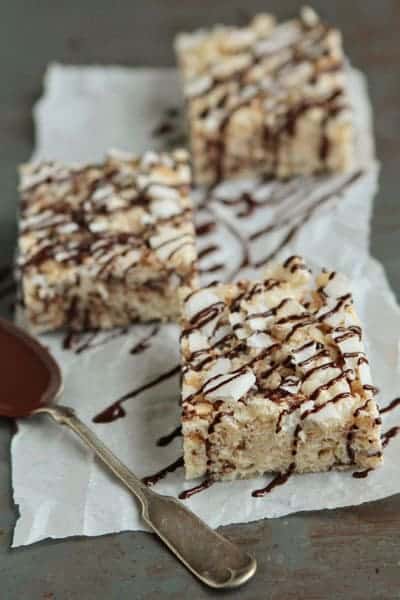 Instead of fleeing at that moment, I decided to do what any baker would do, I went to assess their baking aisle where I stumbled upon a lonely bag of Toasted Coconut Marshmallows. Being that I love coconut, especially of the toasted variety, and marshmallows, I immediately snatched them up along with a giant box of Kellogg's Rice Krispies. Hello, Toasted Marshmallow Rice Krispie Treats!
I wanted to love these marshmallows – I really did. However, I can only equate the experience to eating a marshmallow that's been coated in coconut flavored sand. Not the best mouth feel in the world and sandy Rice Krispie Treats sound less than delicious. Lucky for me, I had a full bag of plain miniature marshmallows stashed away in the pantry, so I created my own version of Toasted Coconut Rice Krispie Treats and added a little chocolate into the mix just to kick things up a notch.
The result? Oooey, gooey crispy marshmallow goodness enhanced by the subtle flavor of coconut and flecks of chocolate. A definite win and totally worth waiting 15 minutes in line at Walmart for the inspiration.
[pinit]

Chocolate-Coconut Rice Krispie Treats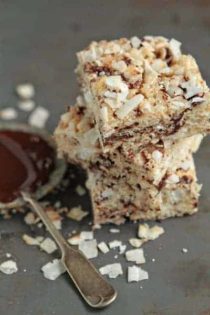 Ingredients:
3 tablespoons unsalted butter

4 3/4 cups miniature marshmallows; divided use

1/4 teaspoon coconut extract

6 cups crisped rice cereal (Kellogg's Rice Krispies)

1 1/2 cups sweetened shaved coconut, toasted (see note below)

3/4 cup miniature semisweet chocolate chips
Directions:
1. Line a 9 x 13 x 2 inch baking pan with foil and spray with nonstick cooking spray.
2. In large saucepan melt butter over low heat. Add marshmallows and stir until completely melted. Remove from heat and stir in coconut extract.
3. Add crisped rice cereal; stirring until well coated. Fold in toasted coconut, miniature chocolate chips and reserved 3/4 cup marshmallows
4. Using buttered spatula, press the mixture into the prepared pan. Cool. Cut into 2-inch squares.
Notes:
- Chocolate-Coconut Rice Krispie Treats are best if served the same day they are made.
- To Toast Coconut: Preheat oven to 350 F. Spread shredded, flaked, or shaved coconut on a rimmed baking sheet. Bake in preheated oven, stirring often, until golden brown - about 5 to 10 minutes.
- I drizzled my bars with melted chocolate before serving.
Adapted from Kellogg's
All images and text ©
Follow Jamie on Instagram. We love to see what you're baking from MBA! Be sure to tag @jamiemba and use the hashtag #mbarecipes!
This post may contain affiliate links. We are a participant in the Amazon Services LLC Associates Program, an affiliate advertising program designed to provide a means for us to earn fees by linking to Amazon.com and affiliated sites.