Chocolate Rice Krispie Treats are the perfect no-bake treat for any chocolate lover. These soft, gooey cereal treats, packed with Cocoa Krispies and chocolate chips, will take you back to your childhood with just one bite!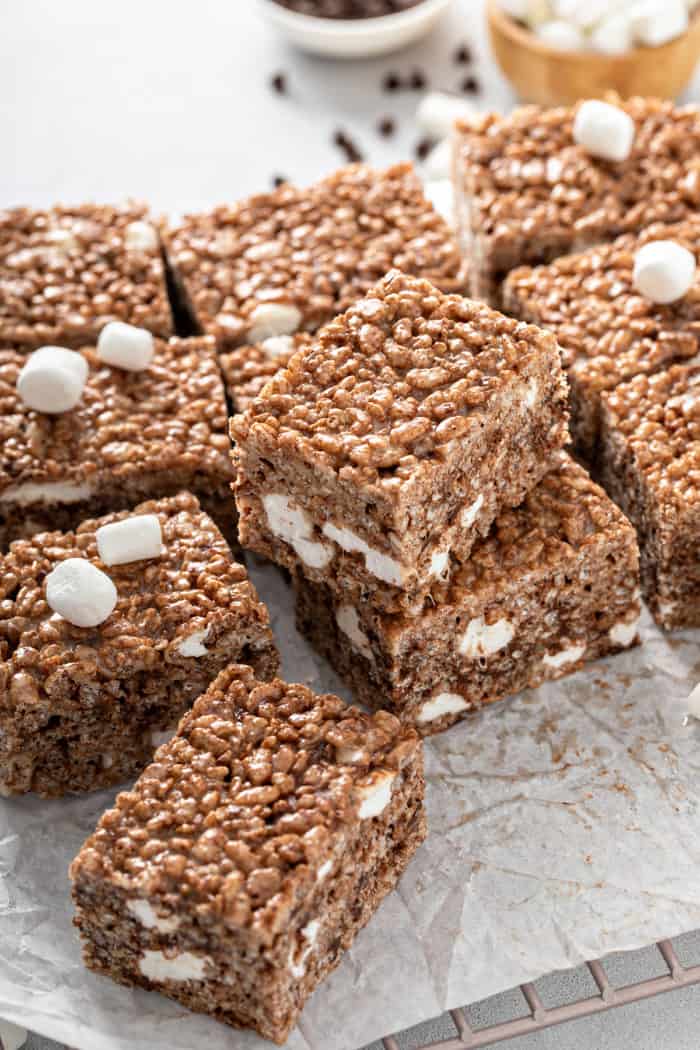 Elle is reaching a great age for helping in the kitchen. She has always been a great helper, but now that she's a bit older, it's easier for her to do some things on her own.
She loves making recipes by herself (with me close by to supervise when there is heat involved, of course). Rice Krispie Treats are some of the first things I remember making all by myself as a kid, and they're something Elle loves making, too.
These Chocolate Rice Krispie Treats are a current favorite at our house. They're soft and gooey and fun for Elle to make to share with her friends or teachers!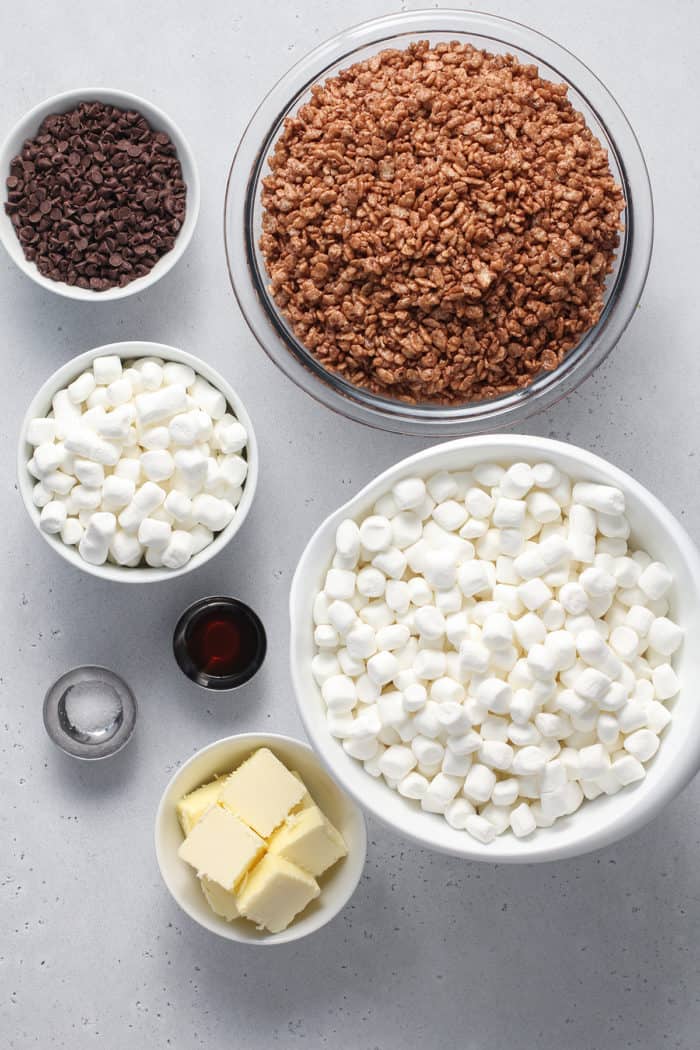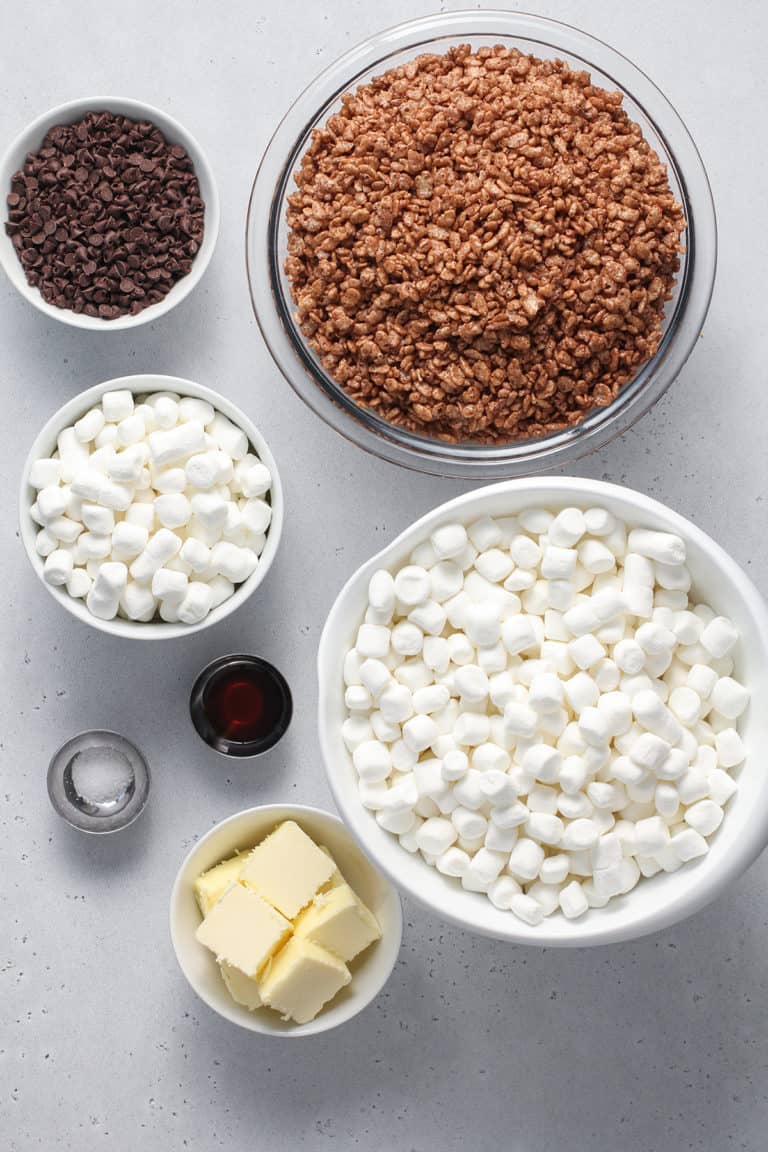 WHAT ARE CHOCOLATE RICE KRISPIE TREATS?
As much as my family loves Classic Rice Krispie Treats, sometimes it's fun to change things up a little and add some other flavors into the mix. We love Strawberry Rice Krispie Treats and Brown Butter Rice Krispie Treats, but I decided this time I was craving some chocolate.
But I still wanted to keep things simple. After all, the beauty of a crispy treat is that they're so easy that my kid can make them.
These Chocolate Rice Krispie Treats meet all of those criteria. They're as soft and gooey as the classic treats are but are full of chocolate flavor from both Cocoa Krispies and mini chocolate chips.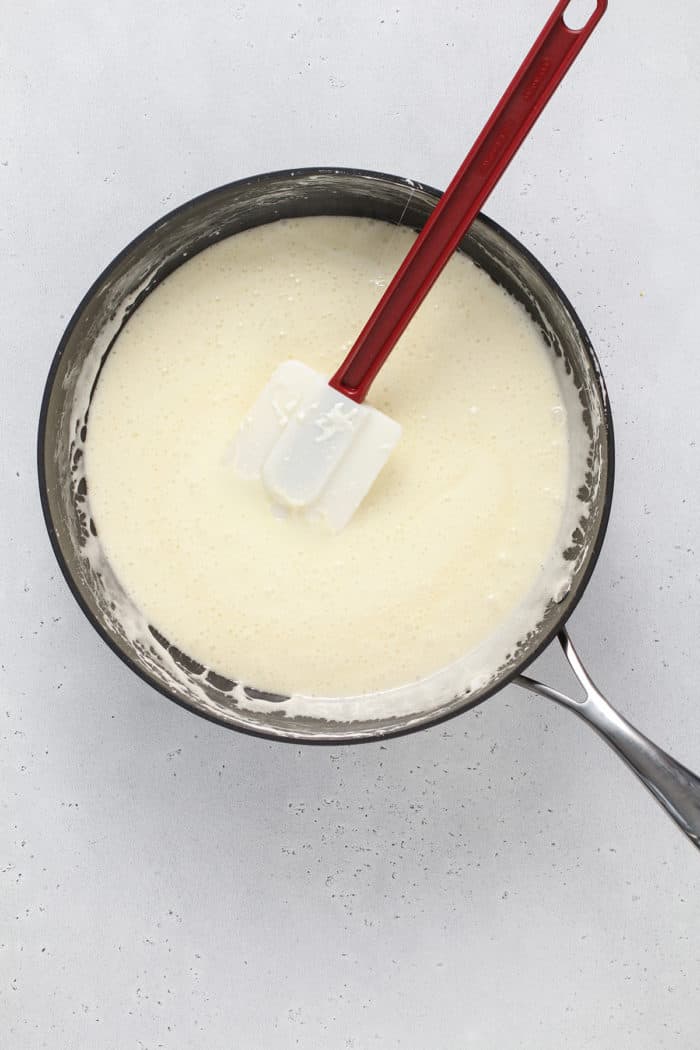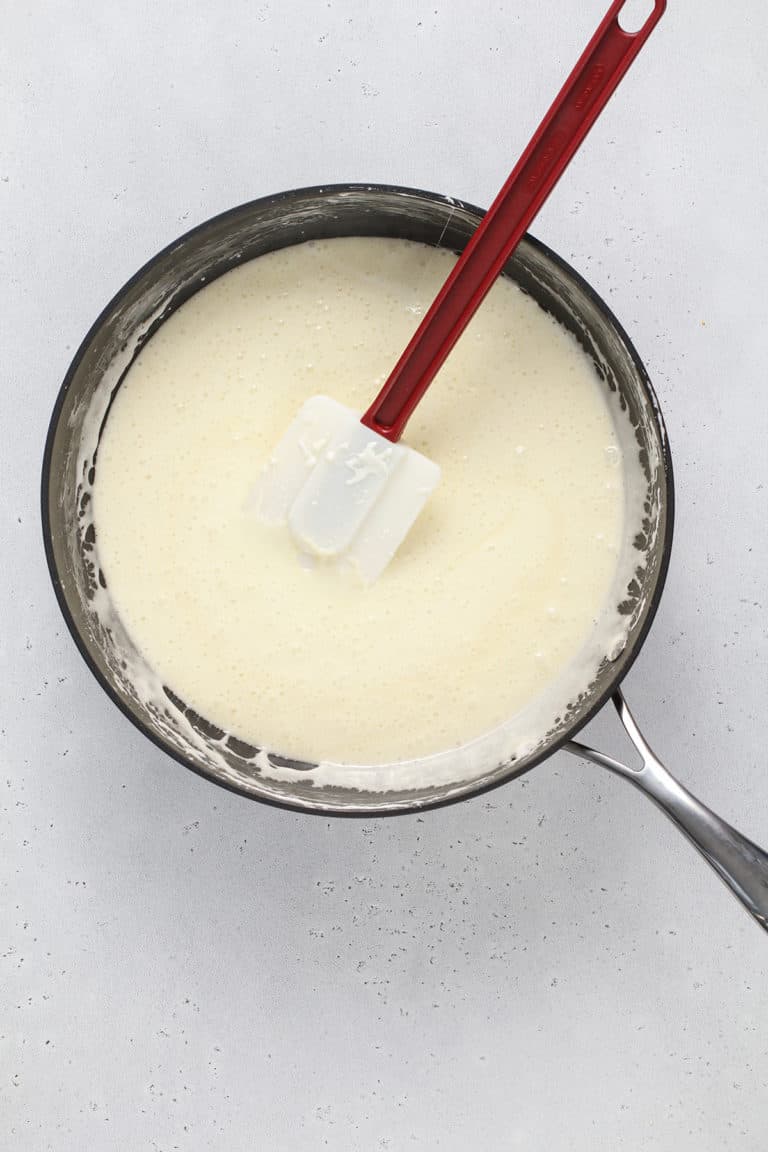 ARE THESE CEREAL TREATS GLUTEN FREE?
Did you know that Kellogg's Rice Krispies aren't gluten free?
The name-brand Rice Krispies that are made by Kellogg's contain malt, which is made from barley, so they are not gluten free. This applies to the flavored Rice Krispies – including the Cocoa Krispies – as well.
If you make these Chocolate Rice Krispie Treats with the name-brand Cocoa Krispies, they won't be gluten free.
That said, you can find other brands of cocoa crispy rice cereal that do not contain malt and are gluten free. Just be sure to check the label if you need these treats to be gluten free!
Marshmallows do not naturally contain gluten, but make sure to check the label closely if you need a brand that is certified gluten free so that you know it's free of any cross contamination.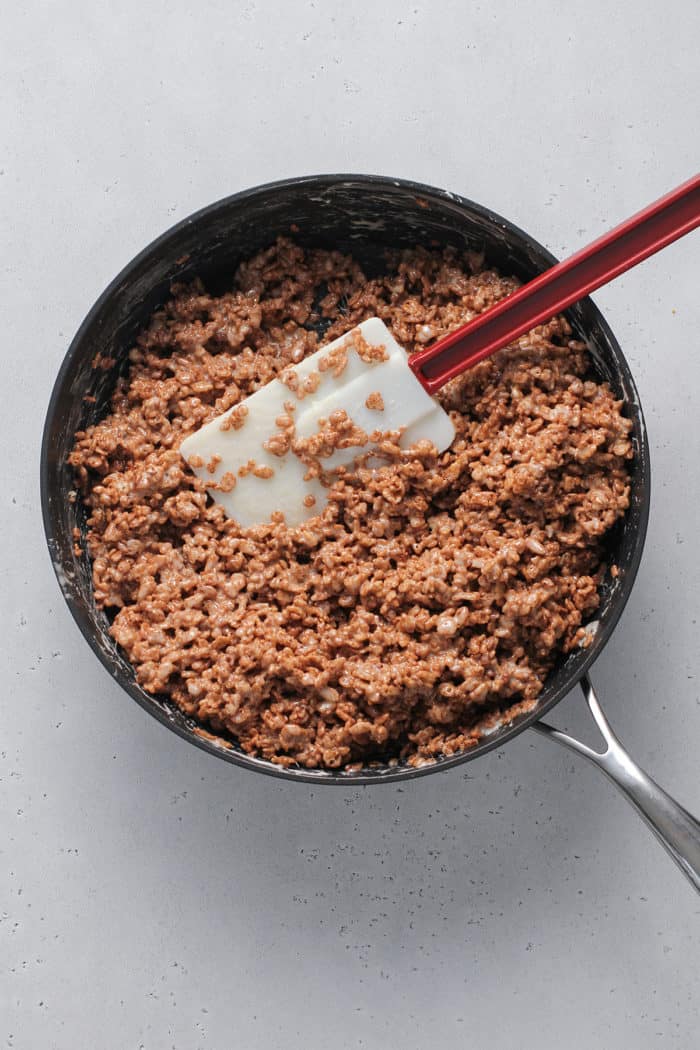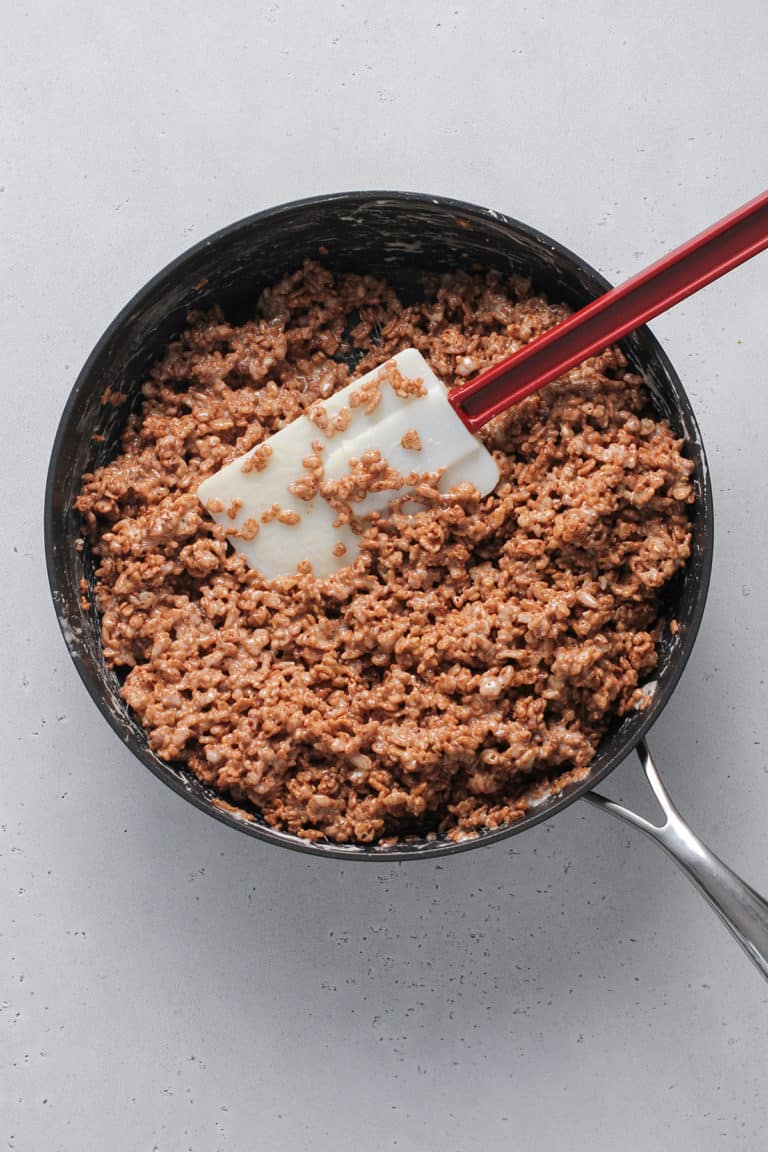 HOW TO MAKE CHOCOLATE RICE KRISPIE TREATS
This Chocolate Rice Krispie Treats recipe is so easy to make. Let's dive in!
Ingredients You'll Need
All of the ingredients for this recipe are easy to keep on hand so you can make these treats whenever the mood strikes you:
½ cup (1 stick) unsalted butter
2 10-ounce packages mini-marshmallows, divided use
pinch sea salt
1 teaspoon vanilla extract
8 cups Cocoa Krispies or other cocoa crispy rice cereal
1 cup mini semisweet chocolate chips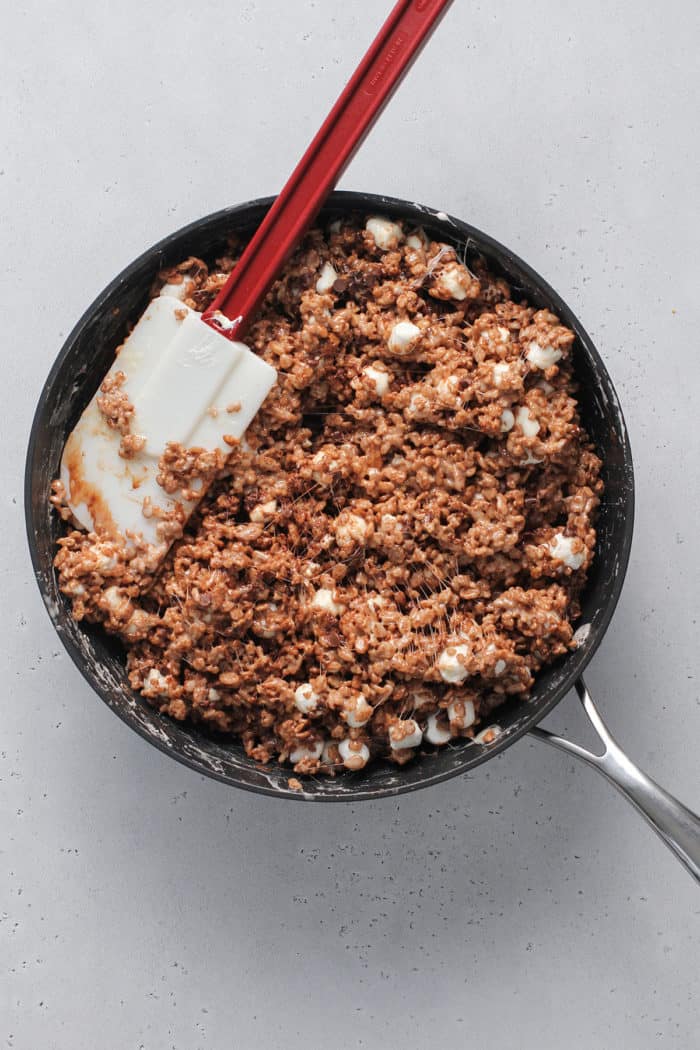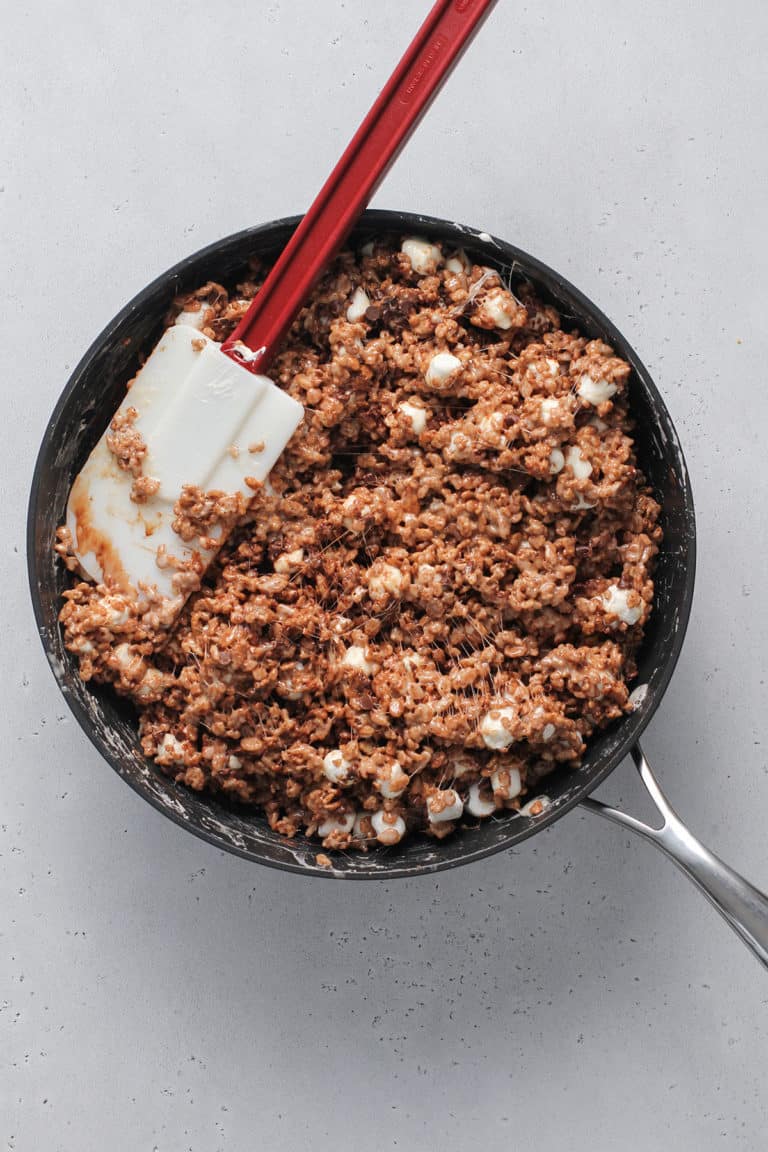 Tools You'll Need
You don't need any fancy equipment to make these chocolate crispy treats, but you will need a couple of basic tools:
Large saucepan or dutch oven
Wooden spoon or silicone spatula
9×9-inch baking
Parchment paper or foil
Nonstick spray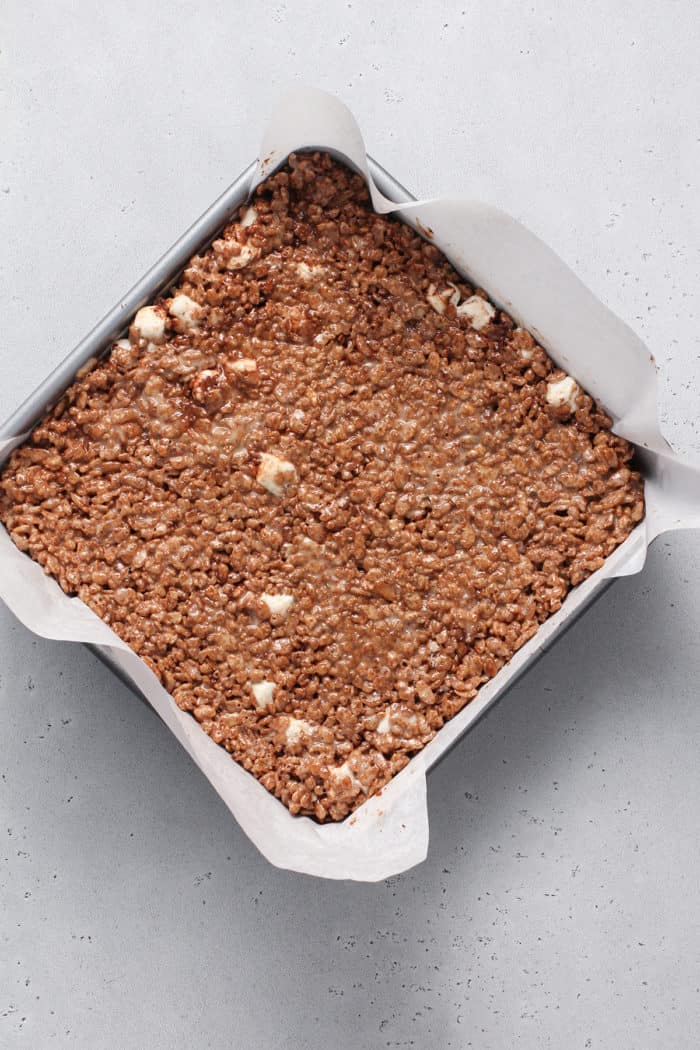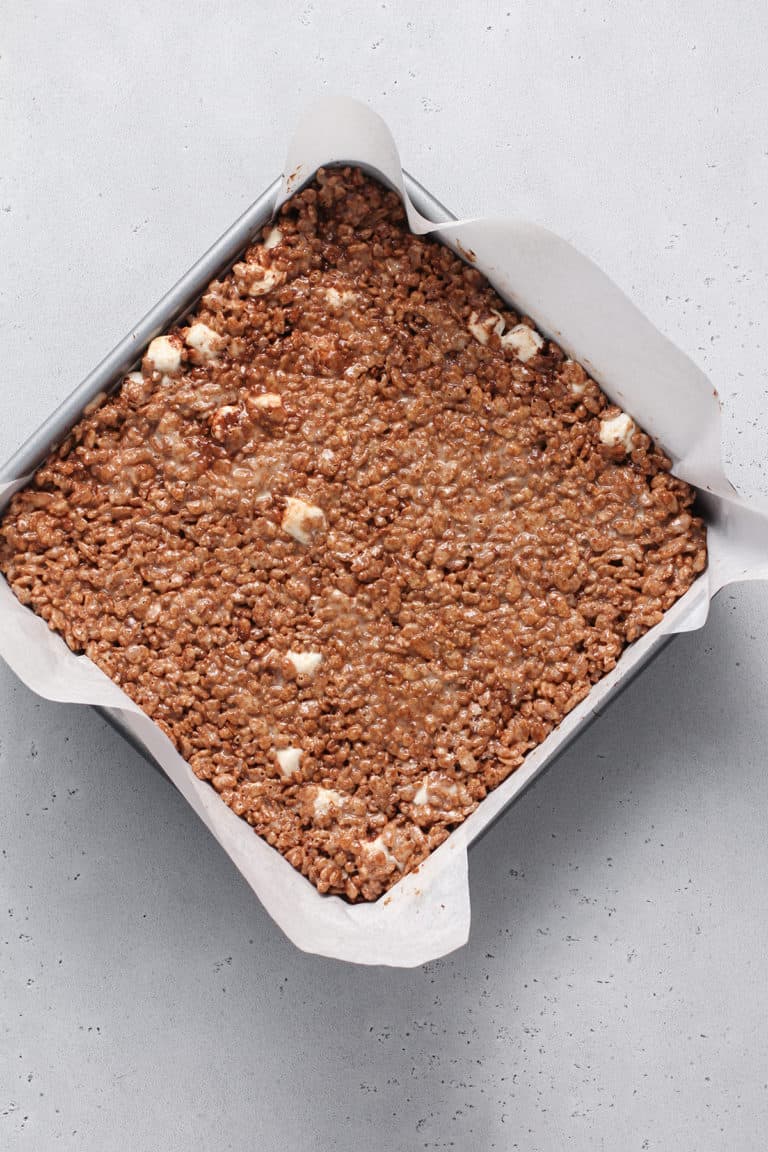 Making this Recipe
Start by preparing your pan. Line your 9×9-inch baking pan with the parchment paper or foil and spray it with nonstick cooking spray. This will ensure that the treats come out of the pan later!
Measure out 2 cups of the mini marshmallows and set them aside.
Grab your favorite large saucepan or dutch oven and melt the butter over low heat. Add the remaining marshmallows and stir until the marshmallows are completely melted.
Move the pan off the heat and stir in the salt and vanilla, then gradually add the Cocoa Krispies. Stir until the cereal is fully coated with the marshmallow mixture.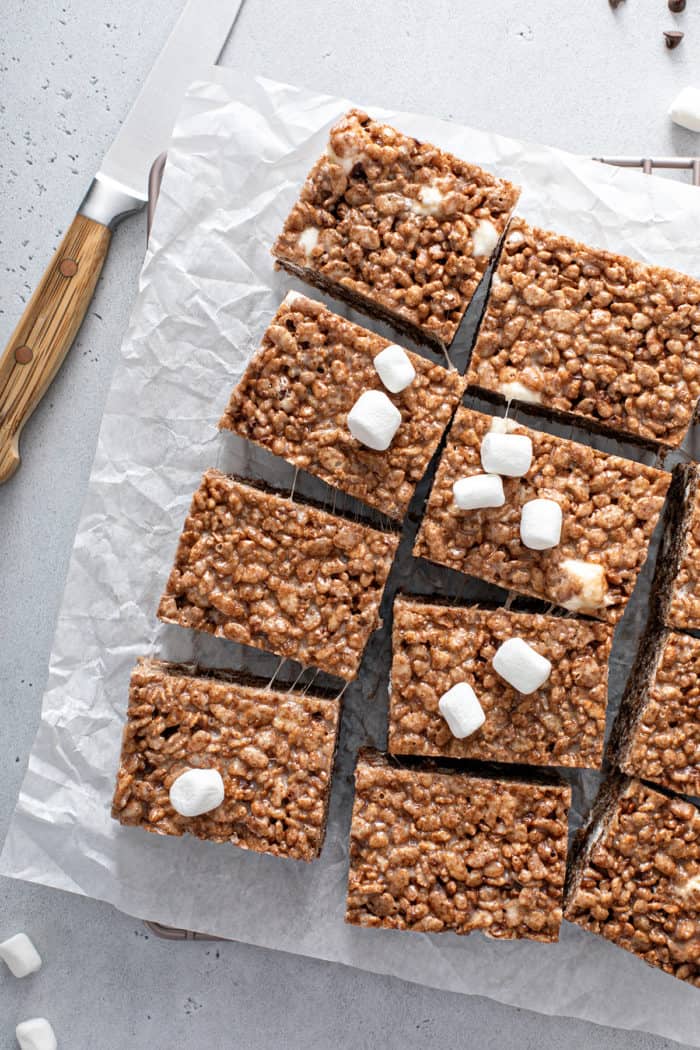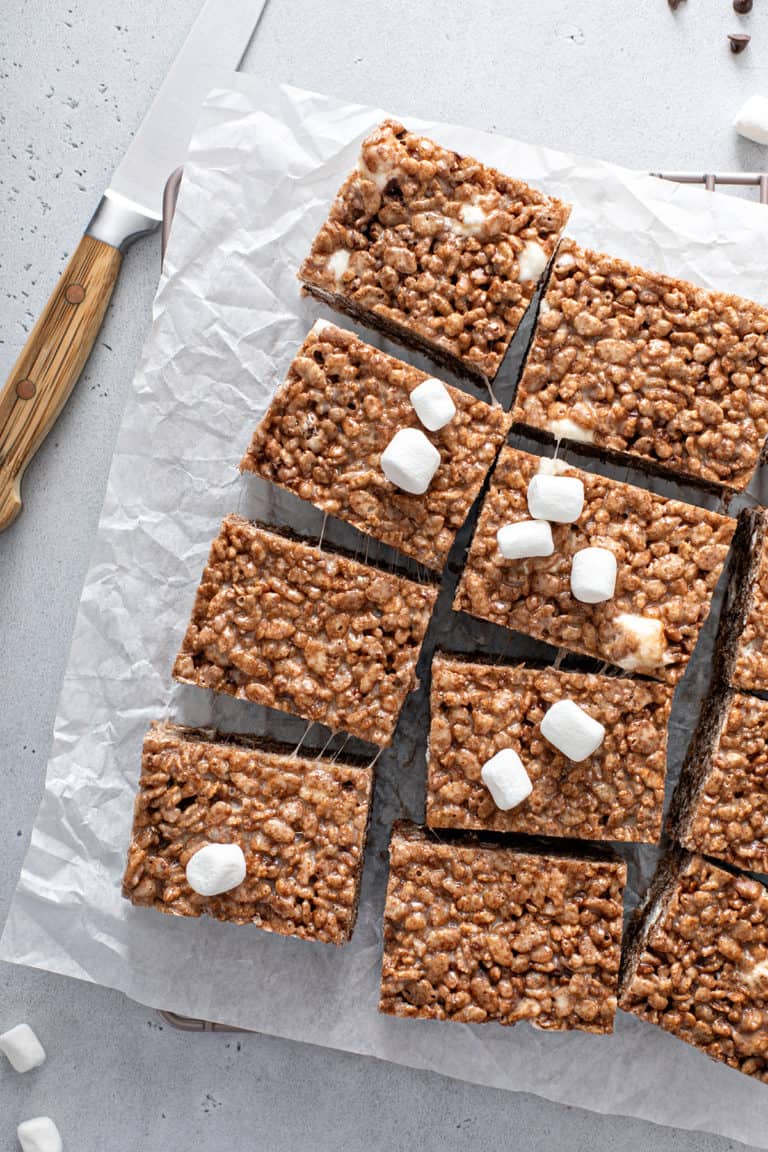 Add in the reserved marshmallows and the mini chocolate chips until they're evenly combined throughout the treats. The chocolate chips and some of the marshmallows will get nice and melty – this is exactly what we want!
Pour the mixture into the prepared pan, then use a greased spatula or even clean hands sprayed lightly with cooking spray to very gently press the mixture into the pan.
Be careful not to press the mixture into the pan too tightly – you want soft, gooey Chocolate Rice Krispie Treats!
Let the treats cool completely before cutting and serving.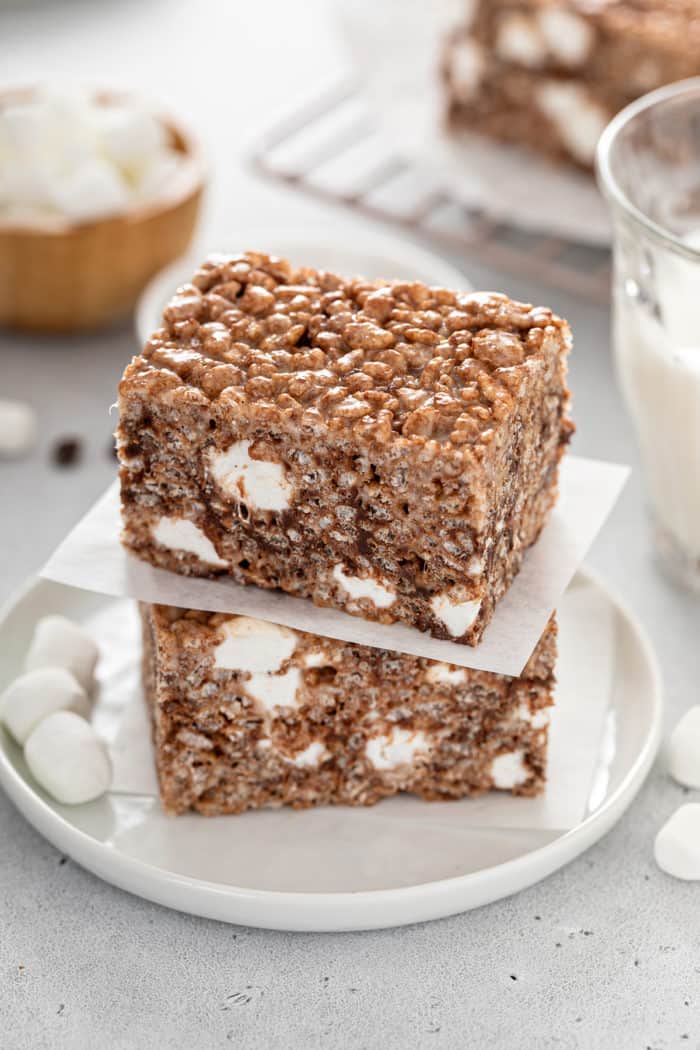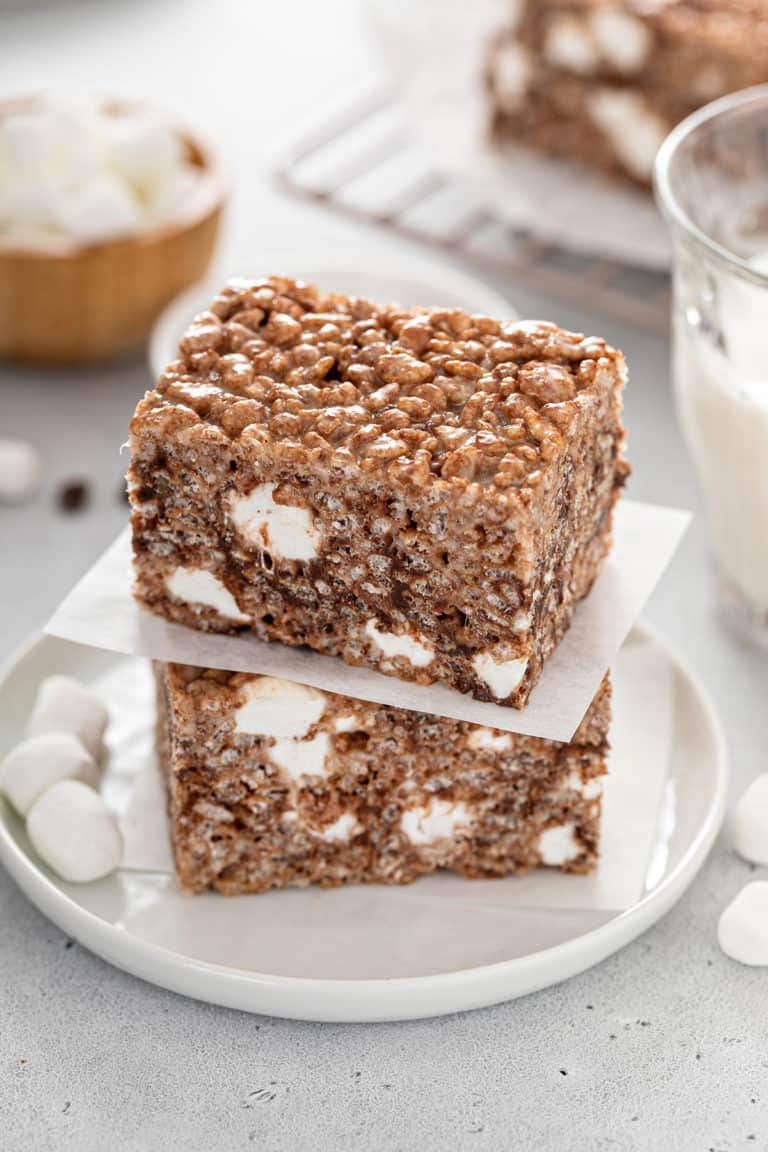 Recipe Tweaks
Using a 9×9-inch square pan for this recipe makes these treats super thick, like bakery-style krispie treats. For thinner treats, gently press the mixture into a lined 13×9-inch pan instead.
If you don't want pockets of unmelted marshmallow throughout your treats, simply melt all of the marshmallows together with the butter instead of reserving the 2 cups for later.
If you want to be really fancy, drizzle the tops of the cooled treats with chocolate ganache and maybe even add some sprinkles.
Change up the cereal to Golden Grahams and you've got golden graham s'mores!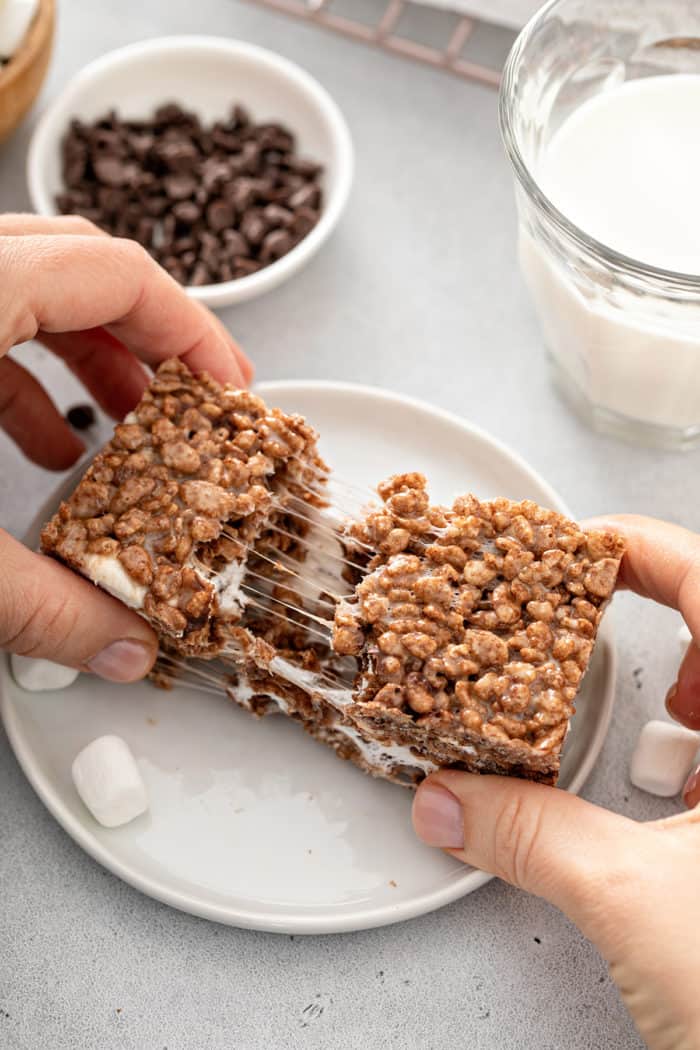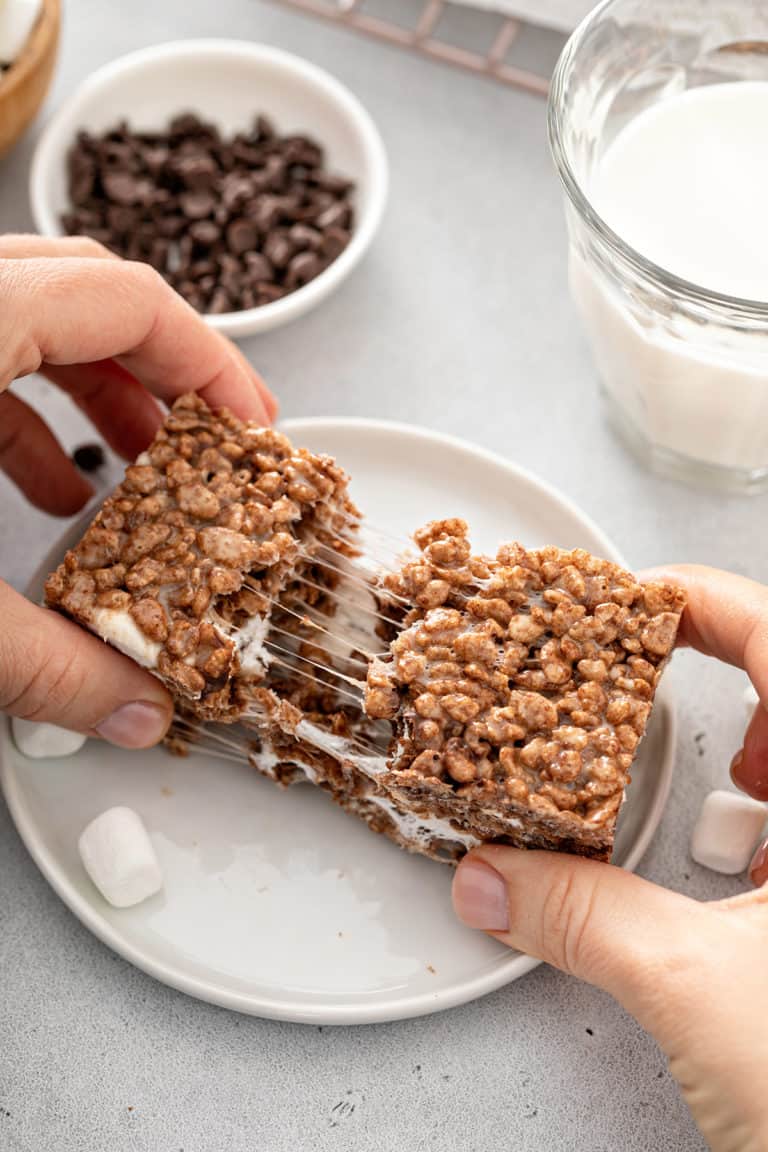 STORAGE TIPS
Chocolate Rice Krispie Treats will keep for about a week when stored in an airtight container at room temperature. Because we didn't pack the mixture in too tightly when making them, they will stay nice and soft for several days.
Freezer Storage
You can freeze crispy treats if you want to. Wrap each cooled treat in plastic wrap and store them in a zip-top freezer bag in the freezer for up to a month.
That said, I don't necessarily recommend freezing these Chocolate Rice Krispie Treats if you want them to stay nice and soft. Plus, they're so quick and easy to throw together, you can really make them any time you crave them – and I bet your friends and neighbors would be happy for you to share!