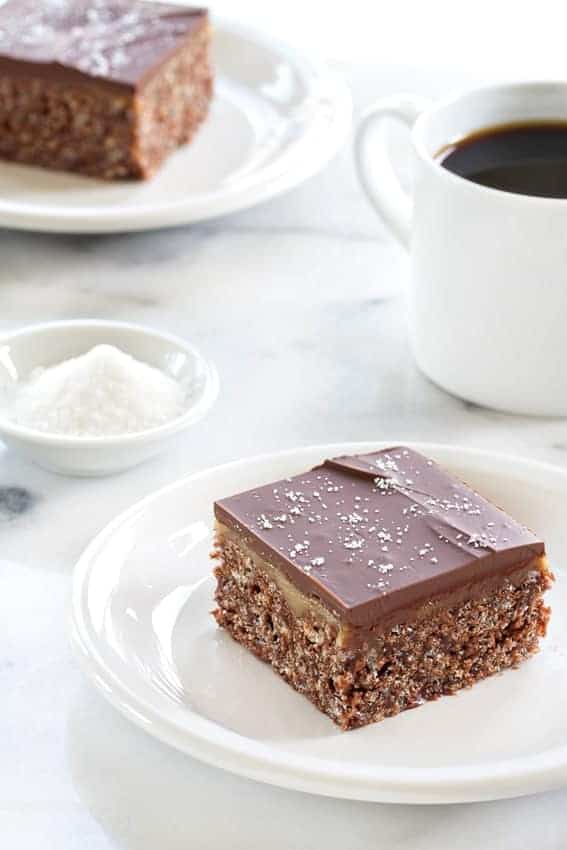 Chocolate Salted Caramel Scotcheroos are made extra special with a layer of gooey salted caramel. They're simple to whip up, and even easier to devour!
This is a sponsored post on behalf of Karo® Syrup as a Bake a Little Extra Blog Ambassador. Thank you for continuing to support the brands that make My Baking Addiction possible.
How long has it been since you had a Scotcheroo? If the answer is longer than a few weeks, it's been too long, my friend. You might even be asking yourself, "what the heck IS a Scotcheroo?", which makes me very sad.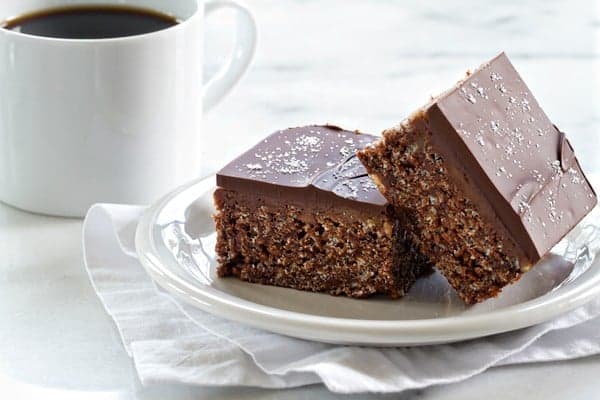 The original recipe was created in the 1960's and it featured rice cereal, chocolate and peanut butter. And I think no one could argue that flavor combination is an absolute classic, which is why I like Karo® Syrup's Chocolate Scotcheroos.
But if you think I wouldn't mess with a classic, clearly you don't know me by now. Which makes me worry for our friendship – so here, let's make a bar dessert together and it'll all be fine.
I can't just leave well enough alone, not with such versatile ingredients. Especially with Valentine's Day coming up. I have two sweethearts in this house, and they both love everything that goes into this recipe. So we're taking salted caramel hazelnut spread, and swapping it in for the peanut butter. Have you tried this stuff?! Better buy two jars, because you'll eat one on the way out of the parking lot back to your house.
Then, we're not just doing a layer of chocolate – oh, no. There's also a layer of gooey, scrumptious homemade caramel. If a Crunch Bar, Twix bar, and Ferrero Rocher got together and made a baby, it would be these Chocolate Salted Caramel Scotcheroos, is what I'm saying. A delicious, delicious baby.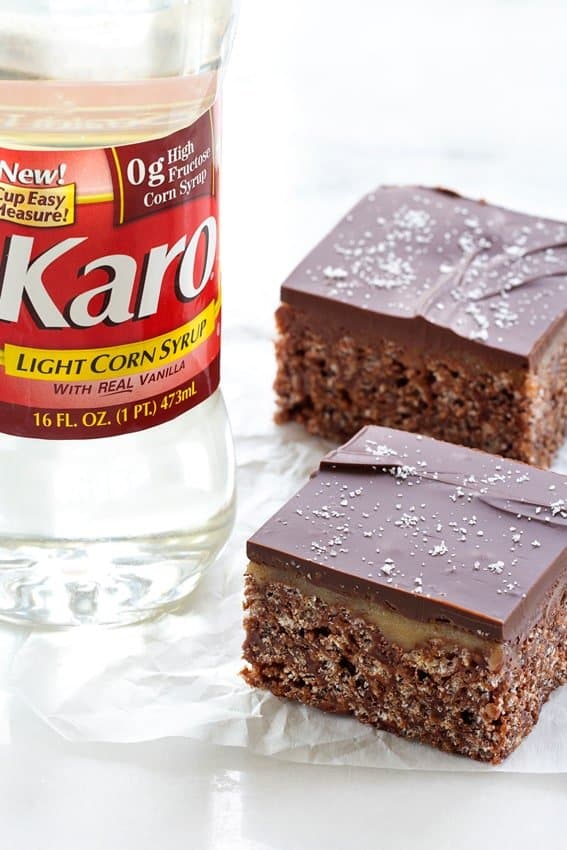 You don't have to bake a thing with this recipe, though you will need a couple of saucepans (or one that you wash halfway through the recipe, but ain't nobody got time for that). All you've got to do is cook together the sugars and Karo® Syrup in a saucepan and let it get all melty. Then you'll mix in the hazelnut spread off the heat. Karo® Syrup adds just the right amount of sweetness and allows the hazelnut spread flavor to shine through.
When it all looks like the most delectable chocolaty sauce you could ever hope to eat, gradually mix in your rice cereal. You'll press that into the baking pan, (I recommend coating your hands with non-stick spray to mitigate mess and stuck-on cereal), and then get to work on your caramel.
Homemade caramel doesn't have to be hard. Sweetened condensed milk does most of the work, with some butter and a little more Karo® Syrup. No candy thermometers required! This is the sort of caramel you'll want to make all the time for putting on baked desserts or simply for an ice cream sundae. The Karo® Syrup makes it super easy.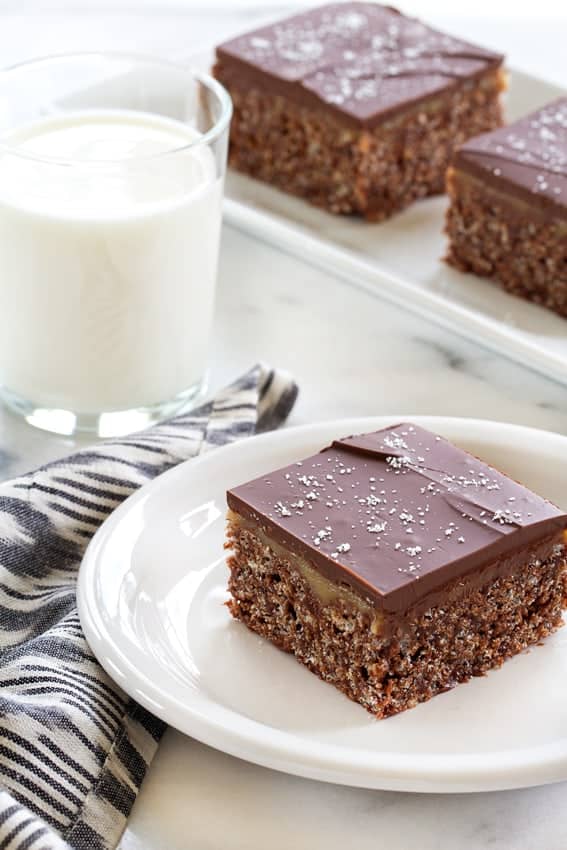 Once you've slathered that caramel onto the cereal base, you'll make a simple chocolate topping with melted chocolate chips. If you'd like the top to be shiny, add just a little vegetable or coconut oil. Let that entire, beautiful pan of goodness set up for an hour or two and you're on your way to scotcheroo bliss. If you're feeling especially festive, you could top the chocolate with Valentine's Day sprinkles, but it's by no means necessary. I skipped the sprinkles and went for a light dusting of sea salt which really enhanced the sweet and salty flavors.
These sweet Chocolate Salted Caramel Scotcheroos were so loved by my two Valentines that I've already been asked to make them again before the big day. Elle asked for lots of sprinkles, but Daddy says they're perfect as they are. These bars are sure to be a hit, so be sure to bake a little extra for all the sweethearts in your family – and yourself. You deserve it!