Coconut Caramel Pecan Cookie Bars are a quick and easy treat thanks to refrigerated cookie dough. Crunchy pecans, shredded coconut and gooey caramel make them irresistible.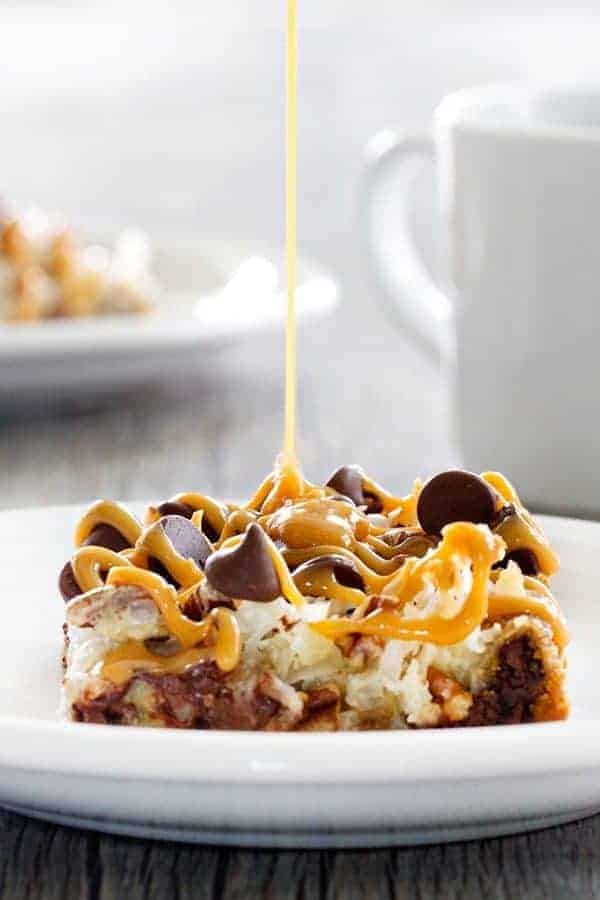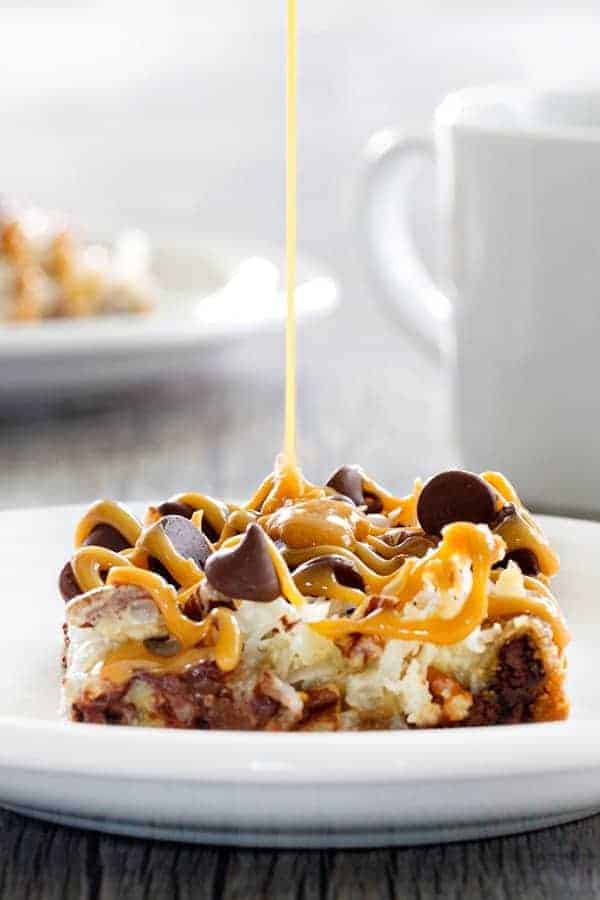 This post is sponsored by NESTLÉ® TOLL HOUSE®. All thoughts and opinions are my own. Thank you for continuing to support the brands that make My Baking Addiction possible.
It's that time of year when we start finding our rhythm again. Elle has resumed her fall activities and Eric and I are adjusting to a more structured work schedule. Not that I don't love summer, it's just that we tend to fly by the seat of our pants for those three months, which is definitely not my comfort zone.
If you know me at all, you know that I'm a lover of lists. After spending a couple of days writing countless lists and planning posts for My Baking Addiction, I feel like I'm in a great spot to start creating and sharing fall content.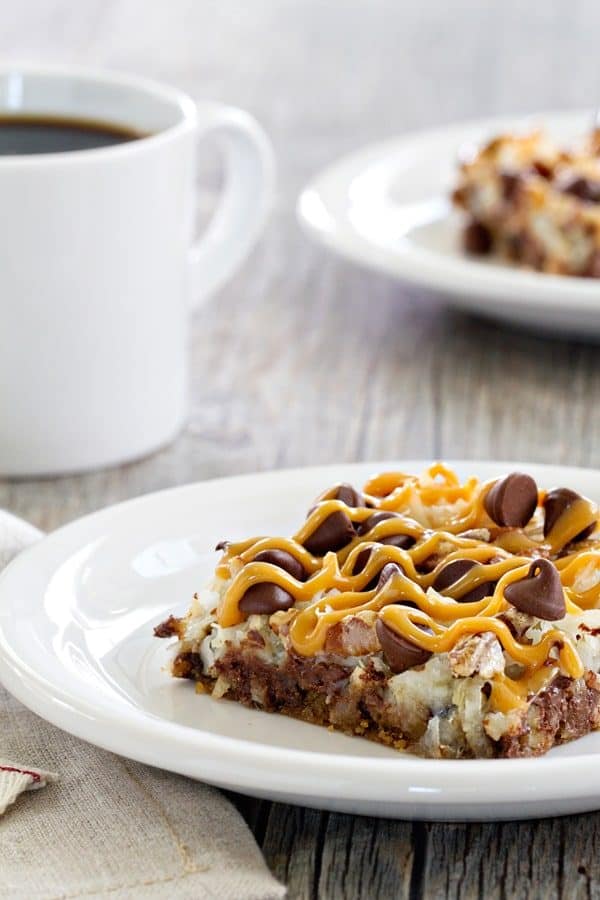 Fall is definitely the season that inspires me the most in the kitchen, so I've been brainstorming loads of sweet treats and comfort food dishes to share with you.
I'm guessing that many of you might still be finding your rhythm as well, because I've received SO many requests for simple dessert and dinner ideas. And since I'm totally here for you, I started sharing our favorite dinners and I'm even including a mini review of each recipe.
I'm also going to be sharing some super easy dessert recipes with you that may include a few shortcuts along the way. Not only will these shortcuts like refrigerated cookie dough and brownie mixes save you time, but they also taste delicious. I promise you, you're going to love the desserts I'm serving up – starting with these Coconut Caramel Pecan Cookie Bars.
They start with a layer of NESTLÉ® TOLL HOUSE® Refrigerated Chocolate Chip Cookie Bar Dough. You might think it's weird that I always have that on hand, as a baking blogger, but I do. We all need the help of a shortcut or two now and then, and I keep a few packages in the freezer for recipes like this, or those late night cravings when I've given away all the day's baked goods.
There's nothing like a warm chocolate chip cookie, and one of the reasons the cookies from NESTLÉ® TOLL HOUSE® Refrigerated Chocolate Chip Cookie Bar Dough are SO good is that the dough was made in advance. All the best cookies on my site, in my opinion, start with a dough that gets to sit around in your refrigerator for at least a day. I get cookies with that amazing flavor without having to wait that day by using NESTLÉ® TOLL HOUSE®'s doughs.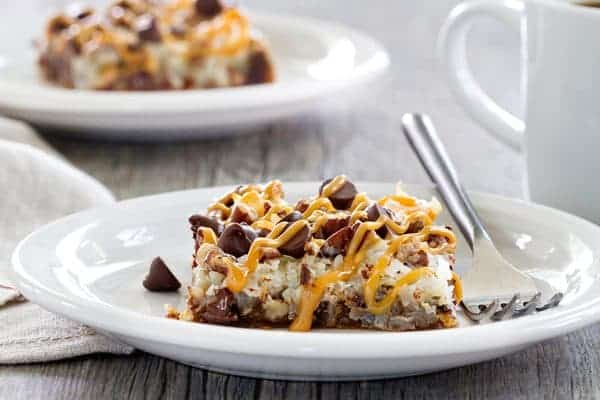 So you start with that NESTLÉ® TOLL HOUSE® Refrigerated Chocolate Chip Cookie Bar Dough base, and you'll sprinkle on crunchy pecans, shredded coconut and a drizzle of sweetened condensed milk. And of course, more NESTLÉ® TOLL HOUSE® Semi-Sweet Chocolate Morsels are a must.
The Coconut Caramel Pecan Cookie Bars bake up to golden perfection and then you'll drizzle them with sweet, gooey caramel while they're still warm to create chocolatey-caramel perfection with loads of delicious texture.
Whether you're baking these Coconut Caramel Pecan Cookie Bars up for an after-school treat or a way to celebrate that chill in the air, you'll love that they come together in minutes thanks to that shortcut hanging out in your refrigerator. If I were you, I'd make sure a crowd is around to help you enjoy these babies, because let me tell ya – there's no way you'll eat just one!