This hot Corn Dip is packed full of flavor from jalapeño, chile lime seasoning, and pepper jack cheese. Perfect for scooping up with tortilla chips, this dip will be a hit at your next gathering!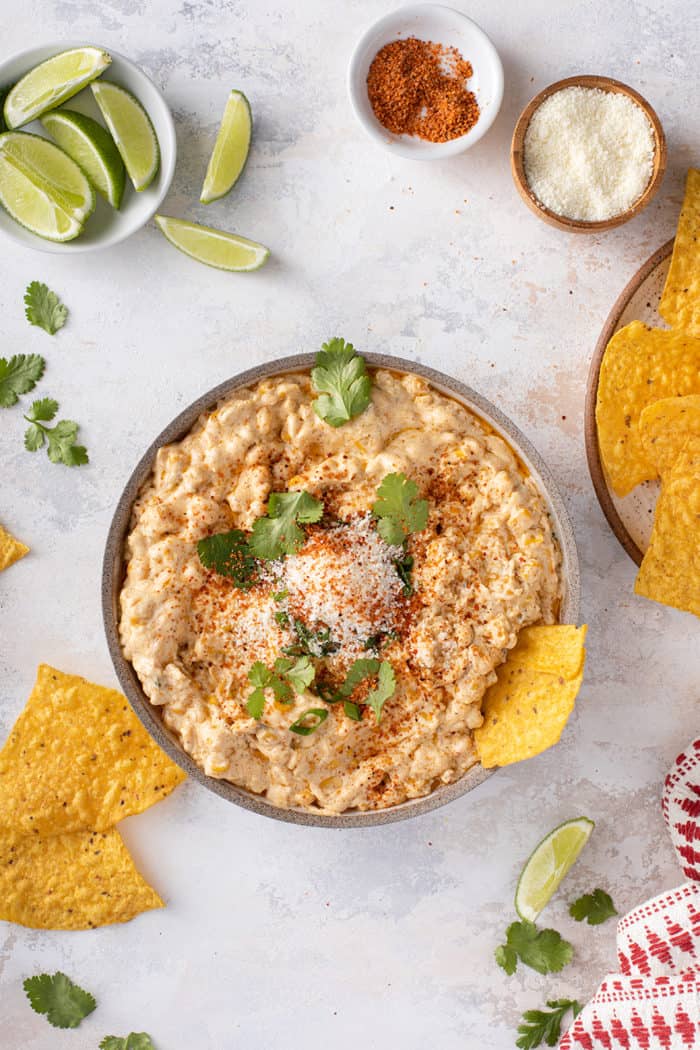 Ever since my obsession with Mexican street corn salad a couple of summers ago, I've been thinking about ways to bring those flavors into other dishes.
If you've been around here for any length of time, you know that my love of dips runs strong. Everything from buffalo chicken dip to homemade ranch dip to spicy sausage dip is fair game.
So of course I had to see if I could make a corn dip with some of those street corn flavors!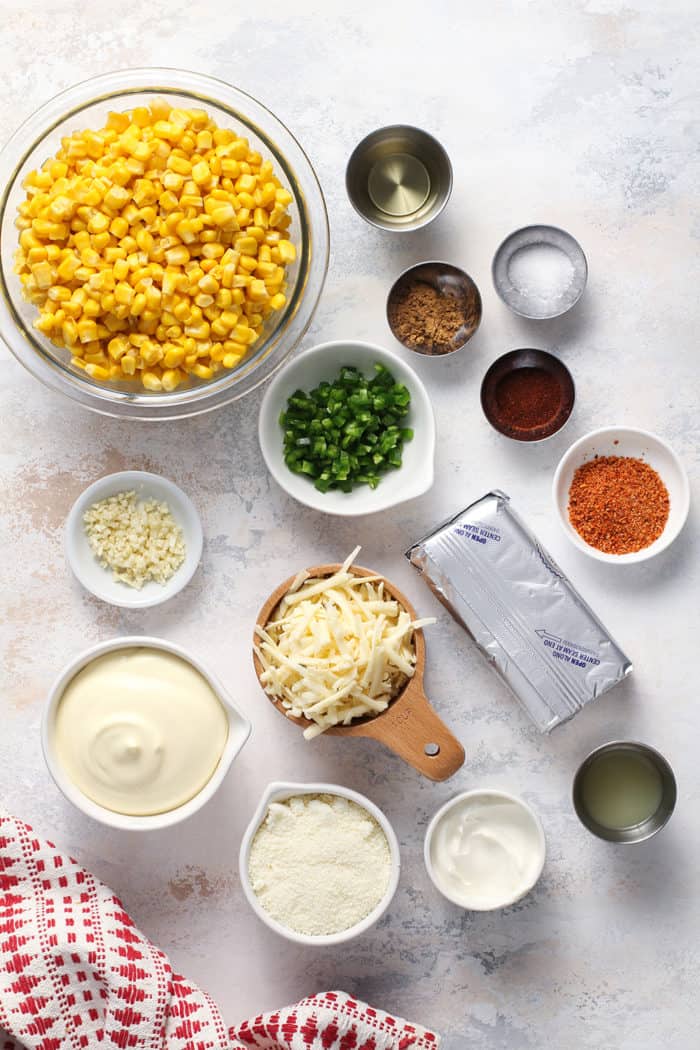 CORN DIP INGREDIENTS
To make this Corn Dip super creamy and flavorful, I used a combination of classic street corn ingredients paired with some creamy cheeses.
The ingredients for this dip include:
Corn
Jalapeño
Garlic
Tajín (or chile lime seasoning)
Cumin
Chili powder
Cream Cheese
Mayonnaise
Sour cream
Pepper jack cheese
Cotija cheese
Lime juice
Since this dip is inspired by elotes (aka, Mexican street corn), I made sure to include plenty of mayo, cotija cheese, and Tajín and chili powder.
Tajín is a chile lime seasoning that can be found at most grocery stores these days along with cotija cheese, but you can also pick both of these ingredients up at your local Mexican grocery store. That's where you'll find the best tortilla chips around, too!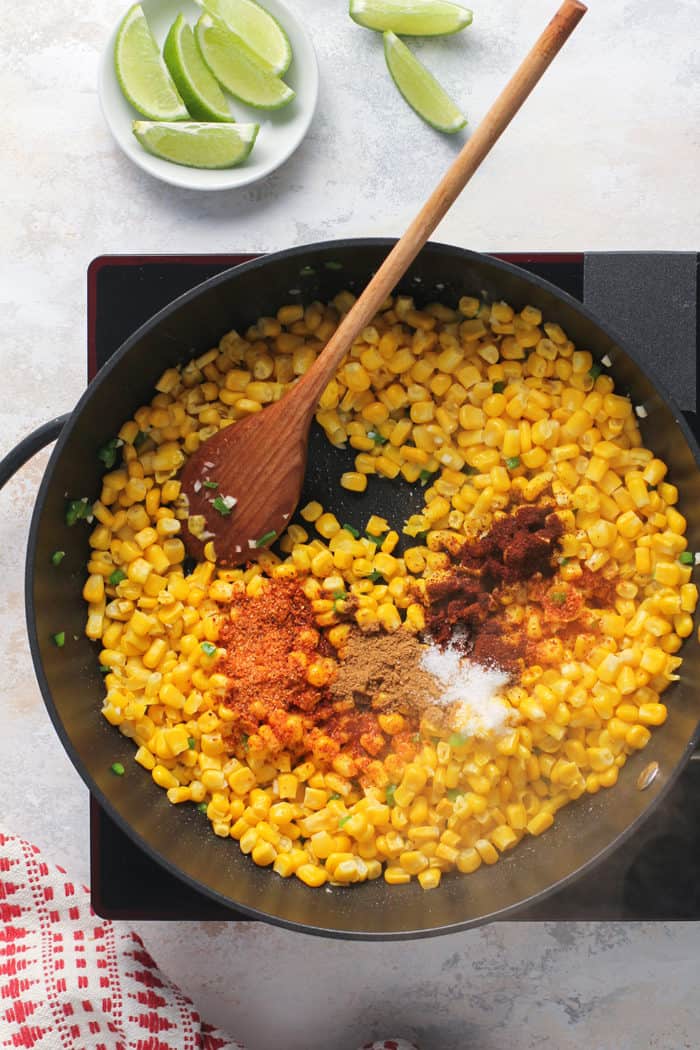 HOW TO MAKE HOT CORN DIP
Since this Corn Dip is best when served hot, it comes together easily in a skillet on the stove.
Start by heating some vegetable oil in a large skillet. Add the corn, diced jalapeño and garlic to the pan once the oil is hot and cook for about 3 minutes.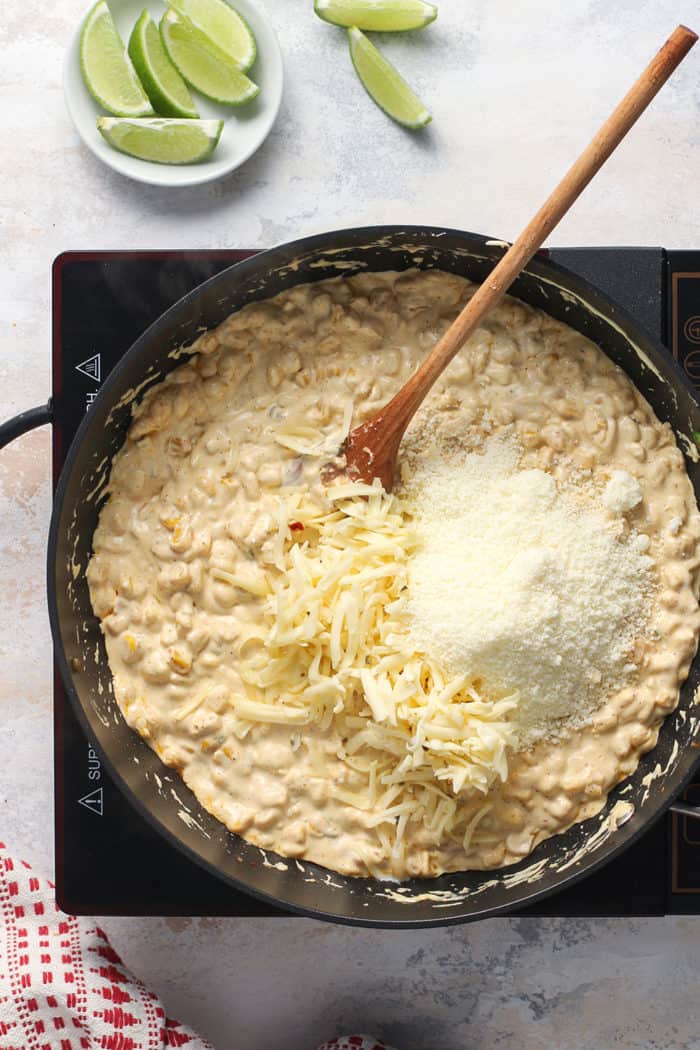 Add the seasonings and continue cooking to allow the flavors in the spices to bloom.
Stir in the cream cheese with the corn mixture until melted, then add the mayonnaise and the sour cream. Add the pepper jack and cotija cheeses, mixing until the pepper jack cheese is melted.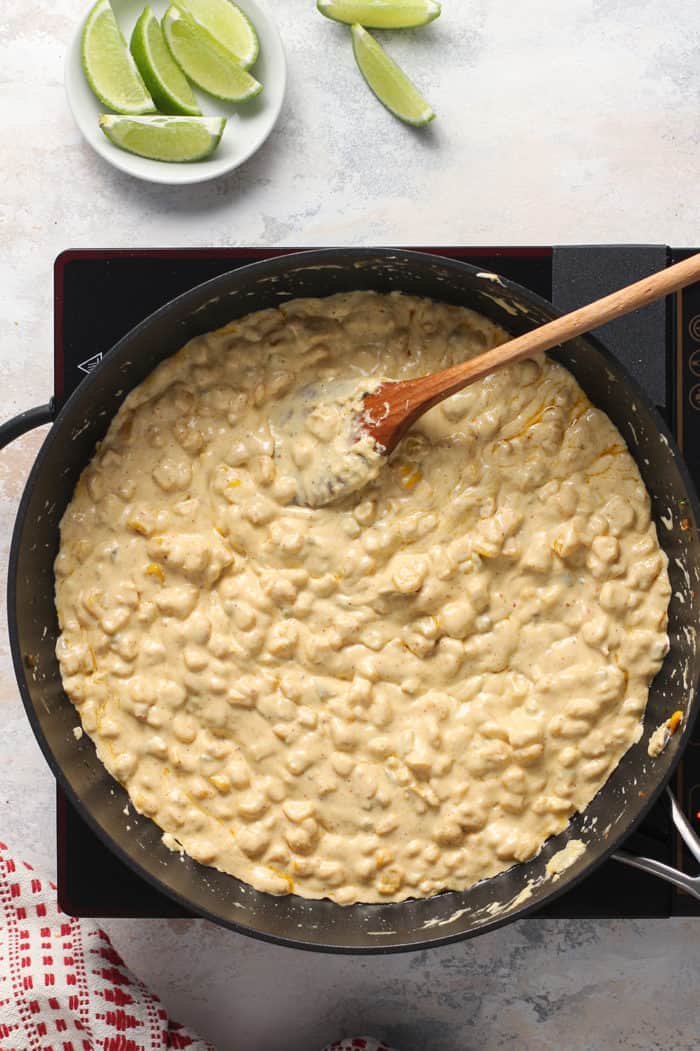 Finish by adding in the juice of 1 lime. Give the dip a taste for seasoning and add more salt, black pepper, and/or lime juice if needed.
I like to garnish my Corn Dip with some additional cotija cheese, chile lime seasoning, and some cilantro or thinly sliced green onions. You can also top it with pickled red onions or fresh or pickled jalapeño if you like.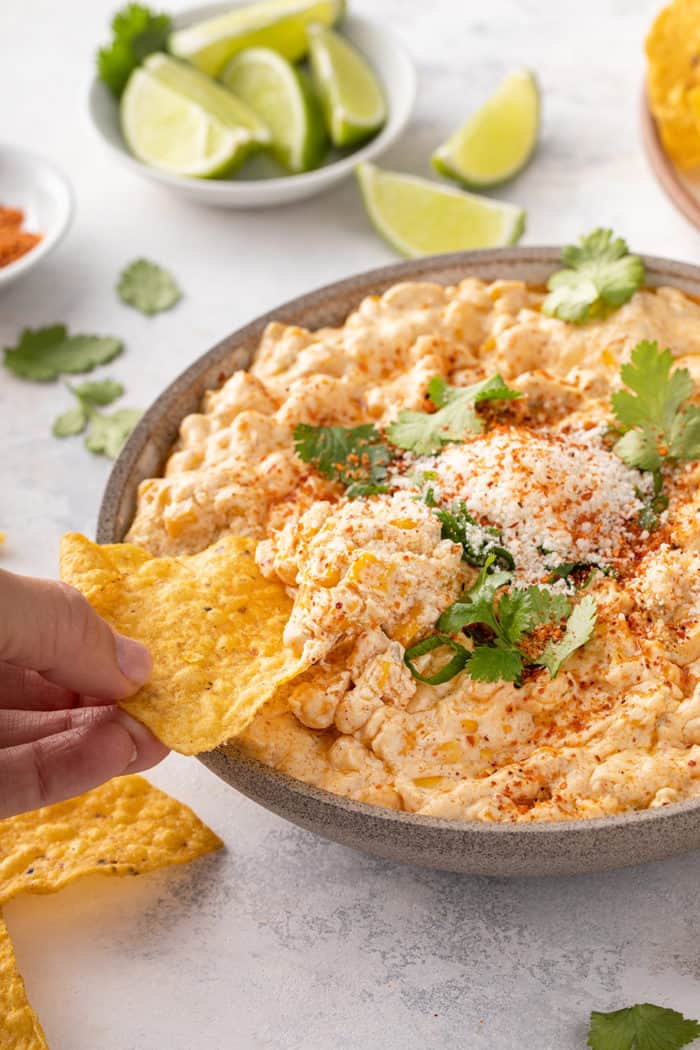 MAKE-AHEAD TIPS
This Corn Dip recipe only takes about 20 minutes to make, so it's easy to throw together right before a party or gathering. But you can also prep it ahead of time if you'd like!
To make this recipe ahead of time, just make it following the directions. Allow it to cool and store it in an airtight container in the refrigerator for up to 3 days.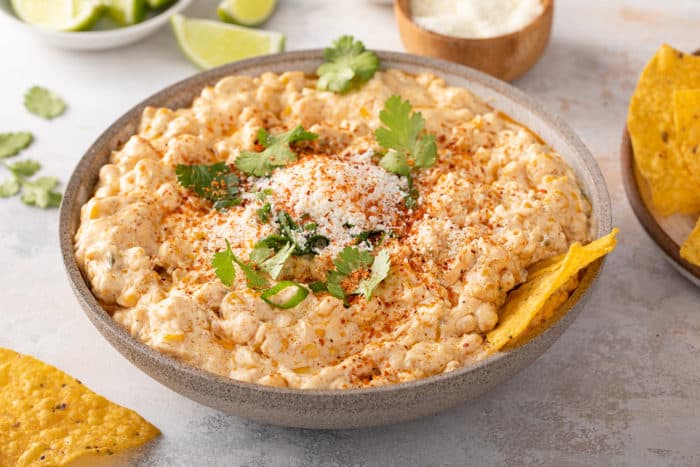 When you're ready to serve the dip, reheat it in one of three ways:
Reheat the dip in a skillet on the stove over low heat, stirring frequently.
Warm the dip in the microwave, stirring it every 30 seconds. Depending on your microwave and how much of the dip you are heating, it will likely need anywhere from 1-3 minutes to warm through.
Add the dip to a small slow cooker on low. Stir frequently while warming the dip through, then turn the slow cooker to warm to keep the dip hot during a party.
Whether you're serving this dip at a big party or a small get-together, make sure you grab some extra tortilla chips because it is sure to disappear fast!