These soft and chewy gluten-free lemon thumbprint cookies are sure to perk up your day!
I'm so over winter come December 26th. It's dark and gloomy and once the glow of Christmas is over and done with, I need something to brighten my mood. Bright and cheery lemon goodies always do the trick!
These cookies are great on their own but the lemon curd sends them over the top. There's lemon extract and zest in the cookie dough but the real lemony kick comes from the puckery lemon curd.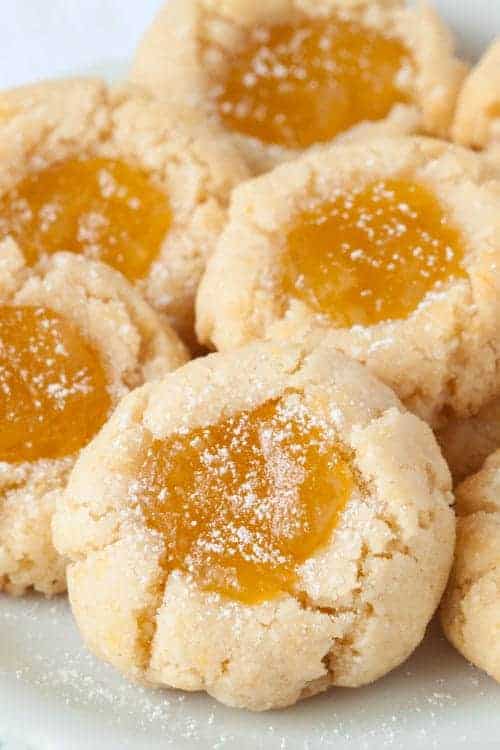 In some of the cookies, I used this homemade lemon curd and in a few I used store bought lemon curd that was more translucent and jam-like looking. Both were delicious so feel free to use either one! Jam would also work well here, but make sure to use jam and not jelly, which isn't nearly as thick. I'm thinking that raspberry jam would be amazing!
I'm pretty excited to play around with the zest and extracts in this recipe. Lime zest, lime curd and coconut extract are sounding pretty good right now. Hand me a tropical drink and I'll be set! Or if you want something more typically wintry – orange zest, extract and curd.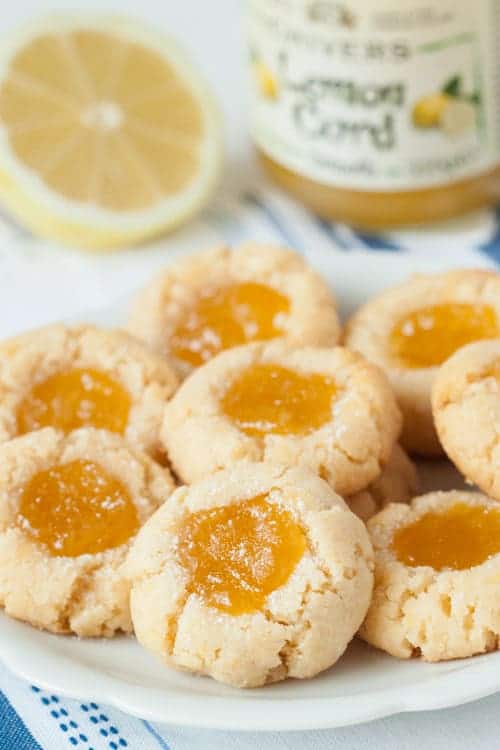 I used a combination of almond and coconut flours to create a soft and chewy texture that rivals any all-purpose flour cookie. If you only have almond meal on hand, you can use that, but your cookies will have little brown flecks of almond skin. And as always with coconut flour, there's no substitute. If you eat gluten-free, you should definitely pick some up to try it out – and to make these cookies! You won't regret it.
If these cookies aren't enough to convince you to buy coconut flour, how about Jamie's lemon cheesecakes in a jar? They look absolutely glorious and can also be made gluten-free if you use gluten-free graham crackers.
So what are you doing to combat the post-Christmas winter blues? I'd love to know!