Greek Pasta Salad is loaded with fresh vegetables, feta cheese, and a homemade Greek dressing to create the best pasta salad you'll ever eat. Make it for lunch or serve it as a side with dinner.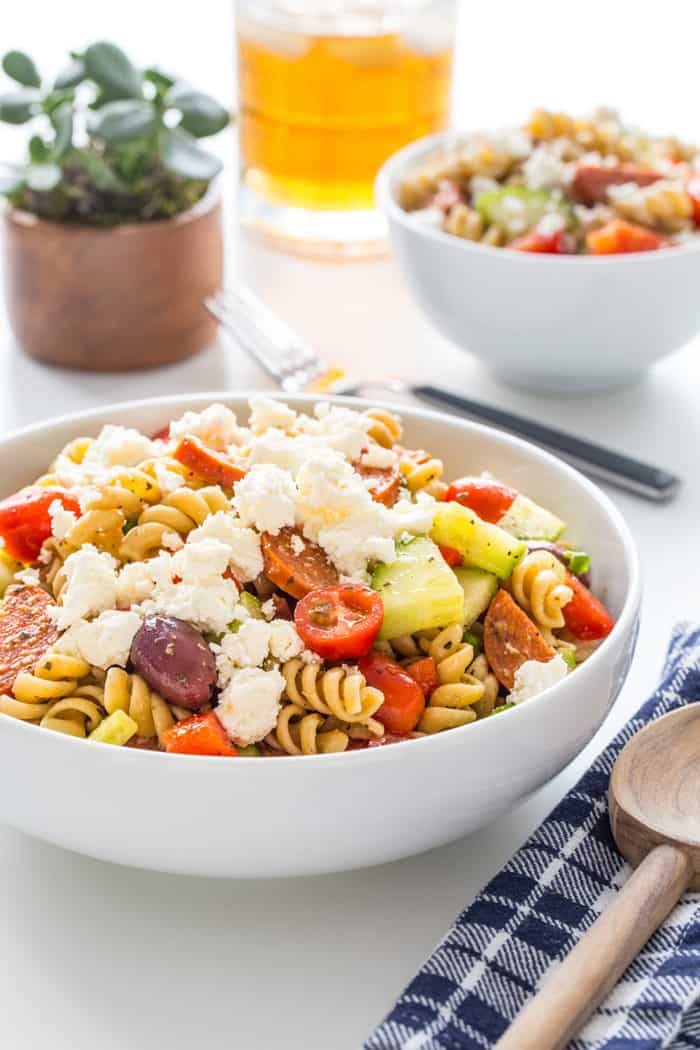 I don't know about you, but I love having a small list of go-to recipes every season that I can can whip up for just about any occasion.
This Greek Pasta Salad is my go-to salad for birthday parties, barbecues, or even just a random Tuesday night.
Serve it up with a side of grilled chicken and you have the perfect summer weeknight dinner.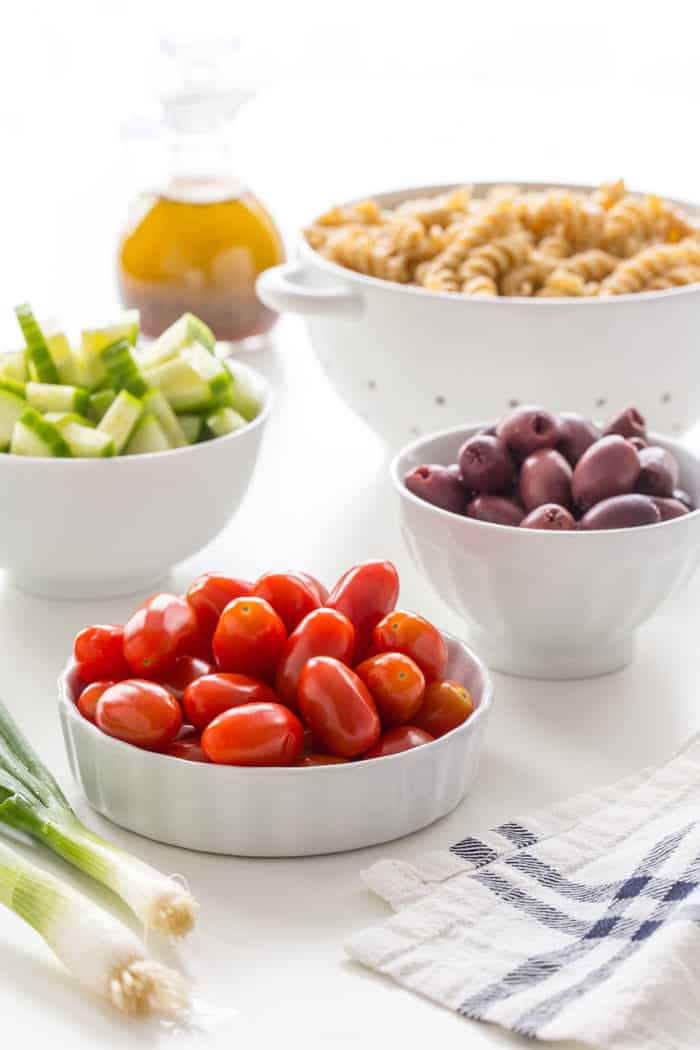 MY FAVORITE GREEK PASTA SALAD RECIPE
I love pasta salads for lunch. Whether it's Greek Orzo Salad, Tortellini Pasta Salad, this Greek Pasta Salad, or any other pasta-and-dressing combo, I'm into it.
I love this particular pasta salad for so many reasons, but my favorite thing about it is that it feeds a crowd. So whether you want to prep a week's worth of lunches or feed a family on a warm summer night, this pasta salad is perfect for you.
The ingredient list for this recipe may seem a little bit long, but the beauty about pasta salad recipes is that you can totally adapt them to meet your taste or the ingredients that you have on hand.
And if you have a garden, you're golden because this one is full of fresh vegetables:
Cherry or grape tomatoes
Cucumbers
Red and green bell peppers
Green onions
Go crazy with the veggies, but for the love of Pete, don't forget the Feta. Feta cheese makes everything better, and you NEED it in this pasta salad in all its salty glory.
And no, I know. Pepperoni is not traditional in a Greek salad. You can totally leave it out if you want! But I love the flavor it adds.
If you want, you could even swap out the pepperoni for some shredded rotisserie chicken.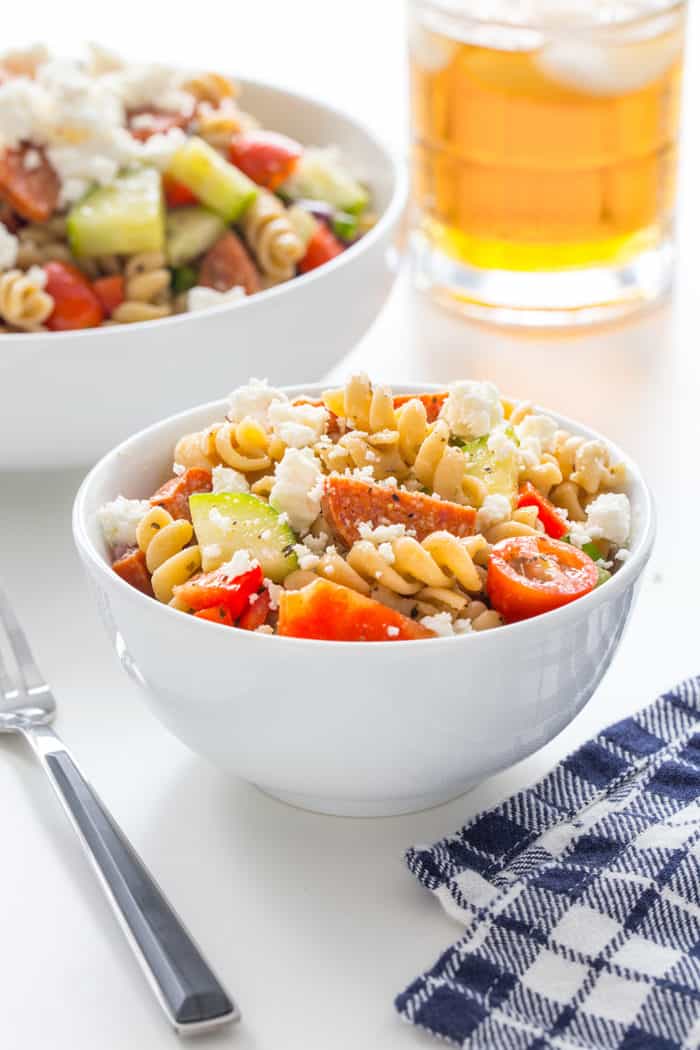 EASY GREEK PASTA SALAD DRESSING
The true star of this salad is the incredible homemade Greek salad dressing that pulls all of the flavors together. It creates what is, in my opinion, the best pasta salad you'll ever eat.
To make the dressing, you'll need:
1 cup olive oil
3/4 cup red wine vinegar
2 teaspoons garlic powder
2 teaspoons dried basil
2 teaspoons dried oregano
2 teaspoons Za'atar
1-1/2 teaspoons freshly ground black pepper
2 teaspoons granulated sugar
Just add all of the dressing ingredients to a mason jar, pop on the lid, and give it a shake.
This dressing is so good that you might just want to make it and serve it over green salads, too! Save the recipe and add it to your repertoire of homemade salad dressings along with homemade blue cheese dressing and homemade ranch dressing.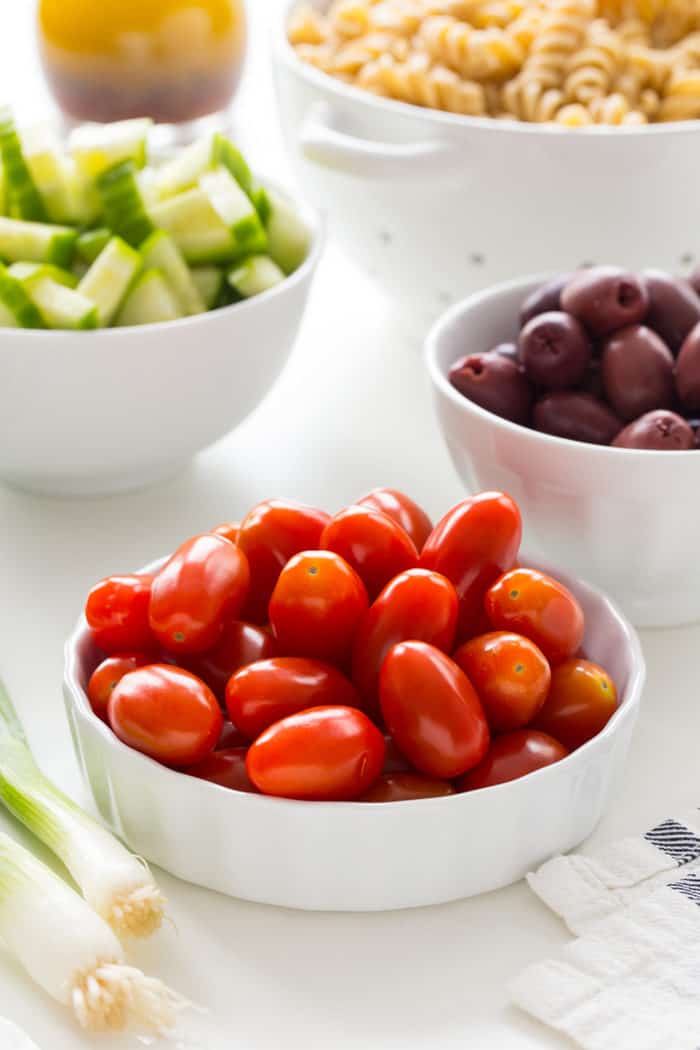 WHAT IS ZA'ATAR?
Za'atar is a blend of spices such as sumac, dried oregano, sesame seeds, and more.
It is very common in Mediterranean and Middle Eastern cuisine and is delicious on eggs, chicken, hummus, labneh, and just about anything else you can think of.
Since its uses go way beyond this salad dressing, definitely take the time to pick some up for this recipe.
If you can't find za'atar in the spice section of your grocery store, check at any Mediterranean grocery stores or specialty spice shops in your area. (You can also buy it online.)
But since za'atar does contain sesame seeds, be sure to check with your friends for any sesame allergies before serving it to them.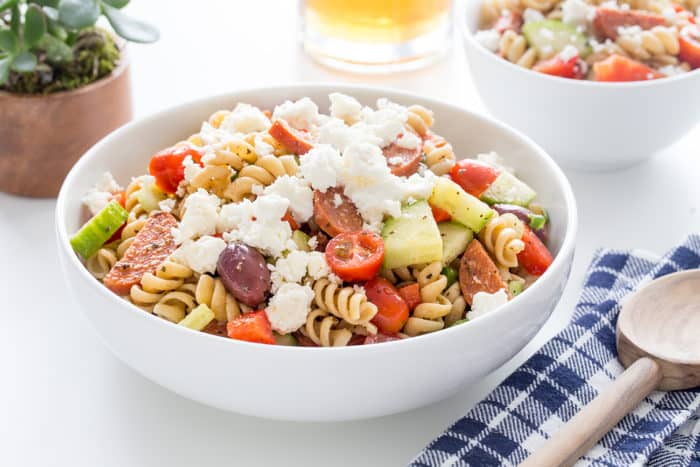 CAN YOU MAKE THIS PASTA SALAD THE DAY BEFORE?
Pasta salad is one of those great side dishes because you can make it ahead and just leave it until you're ready for party time. The longer it sits, the better the flavors get.
Definitely make this Greek Pasta Salad the night or day before you are going to serve it because it just gets better when the flavors have time to develop.