Marshmallow treats are given a Halloween twist and served on paper straws to create a sweet and festive dessert worthy of any Halloween celebration.
I am most definitely a last minute person when it comes to holiday planning. Which is pretty ironic considering I'm a list-driven, over-planner in most other aspects of my life. Holiday shopping? You'll find me online on December 20th paying for overnight shipping, so I'll have time to wrap everything in cute paper and coordinating bows.
Holiday food? Yep, I'll be making that last minute too – you'll find me prepping Thanksgiving stuffing at 2am, then pleading with Eric to run to the 24-hour Kroger to get butter because I thought I had 5 pounds in the freezer. Fueled by coffee and deviled eggs, (which are a holiday must) I always manage to pull off pretty epic meals.
Halloween is no different. This past weekend, my dad and stepmom hosted an amazing Trick-or-Treat party. Which was even more special because it was Elle's very first Halloween. Even though my stepmom continuously stated, it's not a party, it's just trick-or-treat – a party it most definitely was. She planned a delicious spread complete with punch with floating eyeballs, meringue bone cookies, crockpot pulled pork and that's just naming a few items. Of course, I volunteered to bring a dessert – shocking, right?
Between prepping our little cupcake's Halloween costume, blogging deadlines and the other random 200 things we had going on, I totally forgot that I needed to make a dessert for the "not a party." While most people can get away with store-bought cookies or cupcakes, this baking blogger most certainly cannot, so I scoured the kitchen and decided to whip up Halloween Marshmallow Treats.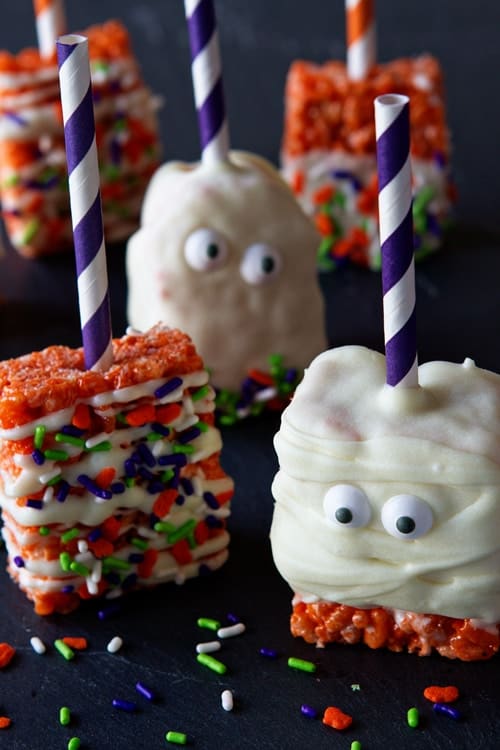 For these Halloween Marshmallow Treats, I decided to use Campfire® Marshmallows Hallow Mallows. I thought the orange hue of the pumpkin-shaped marshmallows would make the treats a little more festive – as if the googly eyes weren't enough, right? Popping them on paper straws and adding cute sprinkles made them worthy of any Halloween celebration. And not to brag or anything, but they were the first item to disappear off the dessert table. Proving once again that anything on a stick simply tastes better!
As you may remember from my Ambrosia Salad post, I'm partnering with Emily from Jelly Toast and Campfire® Marshmallows. You'll see more recipes from us, and hopefully even more exciting stuff during the holiday season.
Be sure to check out Emily's post for Ghost Marshmallow Treats – they're pretty darn spooktacular!
We even created a Marshmallow Madness Pin Board where we'll pinning loads of delicious marshmallow recipes from our favorite food sites.
For more information about Campfire® Marshmallows, find them on them on Facebook and Twitter.
Disclosure: My Baking Addiction has teamed up with Campfire® marshmallows to share recipes using their products. This is a sponsored post written as part of that program. All opinions about Campfire® marshmallows are 100% my own.