This giveaway is brought to you by Craftsy. The views and opinions expressed are my own.
If you've followed My Baking Addiction for any length of time, you're probably well aware of the fact that I am pretty much obsessed with cupcakes. From Chocolate Peppermint Cupcakes drizzled with ganache to Vanilla Bean Cupcakes piled high with rich, delicious buttercream, they're one of my absolute favorite desserts to make and share. And let's be honest, who doesn't love a good cupcake? I'm fairly convinced that a pretty and delicious cupcake will bring a smile to almost anyone's face – this includes your grumpy officemate and your Aunt Martha with the perma-scowl.
One of the reasons that I adore cupcakes so much is that they're portable, which makes them the perfect dessert for holiday parties. Whether it be Christmas Eve with the family, or a holiday pot-luck at work, cupcakes are always my go-to dessert. Another thing that I love about cupcakes is that they're so adaptable. Plain vanilla cupcakes can easily become the most festive treat on the dessert table with the addition of holiday themed liners and matching sprinkles. And not to toot my own horn or anything, they're always one of the first desserts to disappear.
Cupcakes are always one of the most requested and most popular recipes here on MBA; however, they also come with quite a few questions. I think a lot of new bakers are easily intimidated by beautifully baked cupcakes with swirls of gorgeous, fluffy frosting. And although I can try to explain the process in words via comment replies, I think most people are visual learners, so I wanted to share The Perfect Cupcake – an online class with Craftsy.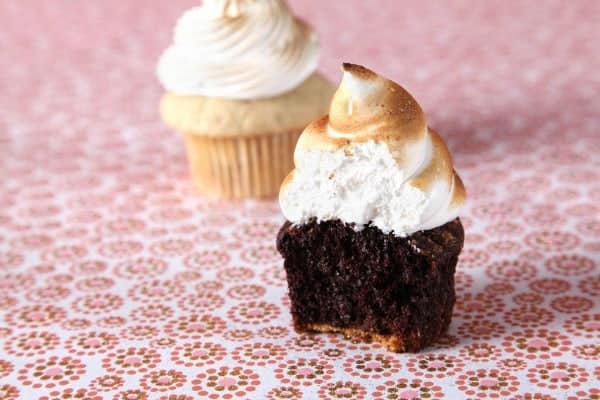 If you're not familiar with Craftsy, it's pretty much my favorite place to learn just about anything – from making the perfect pizza to sharpening your knife skills, Craftsy has the class for you. The amazing thing about Craftsy is that you can learn at your own pace with easy-to-follow video lessons presented by amazing instructors – just like baker and cupcake shop owner Jennifer Shea.
Jennifer will teach you to take your cupcakes to the next level by adding real fruit flavor and even a little texture with the addition of crusts. Jennifer will also show you how to fill your cupcakes with mouth-watering caramel, a sweet and tart lemon curd and a refined lavender pastry cream. And then you'll learn tips and techniques for my favorite topic – frosting and decorations! Jennifer even delves into showing you techniques for high-hat cupcakes and crème brûlée cupcakes, complete with a baked custard layer topped with crisp caramelized sugar! Seriously, how can you go wrong with crème brûlée cupcakes? Ya can't.
Are you ready to take your cupcake baking skills to the next level? Well, you're in luck because you can enter to win The Perfect Cupcake Online Class with Jennifer Shea at Craftsy.
Head over to Craftsy and enter to win, so you too can learn to make amazingly delicious cupcakes from the comfort of your couch!
Giveaway closes on December 25th at 11:59pm MST. One winner will be chosen and notified via email.
Disclosure: My Baking Addiction has partnered with Craftsy to share a variety of classes with my readers. This post is sponsored by Craftsy; however, the views and opinions expressed on My Baking Addiction are my own, and based upon my experiences with the Perfect Cupcake Class.