I'm pretty convinced that people are as passionate about their pizza as they are chocolate chip cookies. From thin crust to deep dish, everyone has their own version of pizza perfection. In my family, it's pretty difficult to meet everyone's pizza wishes simply by picking up the phone and dialing the local chain.
To put it frankly, we're a picky bunch – I like them fancy-schmancy – think caramelized onions and blue cheese, while Eric and my brother are pizza purists loving their pizza pies with no more than pepperoni and extra cheese. And don't even get me started on my dad's well done calzones without ricotta – which should totally be a crime.
The holidays often mean lots of impromptu get-togethers with family and friends. And with our pending move and the typical hustle-bustle of the season, impromptu get-togethers are going to equal a lot of pizza. But instead of dealing with 50 million specialty pizza orders, we're making them at home with the help of Craftsy and Peter Reinhart.
You too can Learn How to Make Perfect Pizza at Home with this FREE online Craftsy class. Yep, it's totally FREE once you create an account on the Craftsy site.
If you're not familiar with Craftsy, it's pretty much my favorite place to learn all the things. The amazing thing about Craftsy is that you can learn at your own pace with easy-to-follow video lessons presented by amazing instructors – just like Peter Reinhart.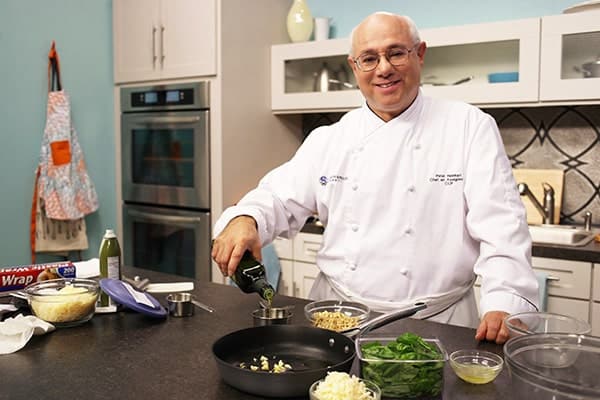 You can access your classes on your computer and mobile device anytime – forever. Craftsy classes are loaded with tons of great information, so it's invaluable to be able to bookmark your favorite tips and tricks and return to them as often as you want. Plus, you can learn how to make pizza from the comfort of your couch and that's pretty much my version of the best Saturday night ever.
Peter Reinhart will walk you through the pizza process from creating, stretching and folding different dough types to choosing your toppings and garnishes. Peter even provides you with a bonus lesson that is focused on gluten-free pizza!
Pizza is such a crowd pleaser, especially when everyone can make their own custom pies. With the help of Craftsy, what would you put on yours?
Head over to Craftsy and sign up to Perfect Pizza at Home with Peter Reinhart for FREE.
Disclosure: My Baking Addiction has partnered with Craftsy to share a variety of classes with our readers. This post is sponsored by Craftsy; however, the views and opinions expressed on My Baking Addiction are my own, and based upon my experiences with Craftsy classes. Thank you for supporting Craftsy and the brands that continue to make My Baking Addiction possible.