Get perfectly cooked meatballs using your air fryer! Air fryer meatballs have a crisp crust on the outside and a moist, tender texture inside. These flavorful meatballs are great for pasta night, using in sliders and sandwiches, or even using as an appetizer!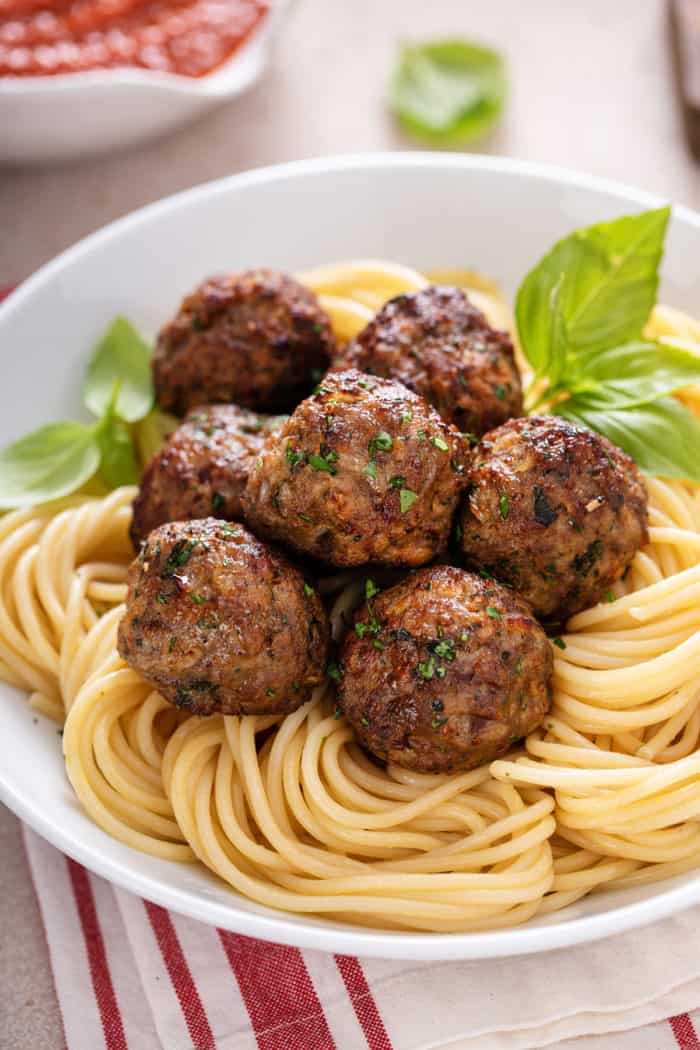 This post contains affiliate links.
This is the time of year in the Midwest when we all just want winter to be over. Unfortunately, we still have at least a couple more months to go.
My solution when I can't stand the gray winter days any more is to make lots of comfort food dinners. Things like crockpot Mississippi pot roast, homemade sloppy joes, chicken and wild rice soup, and spaghetti and meatballs.
There are so many ways to make and cook meatballs, and one of my favorites is to cook them in the air fryer. Air fryer meatballs are crisp on the outside, moist and tender on the inside, and so versatile to use!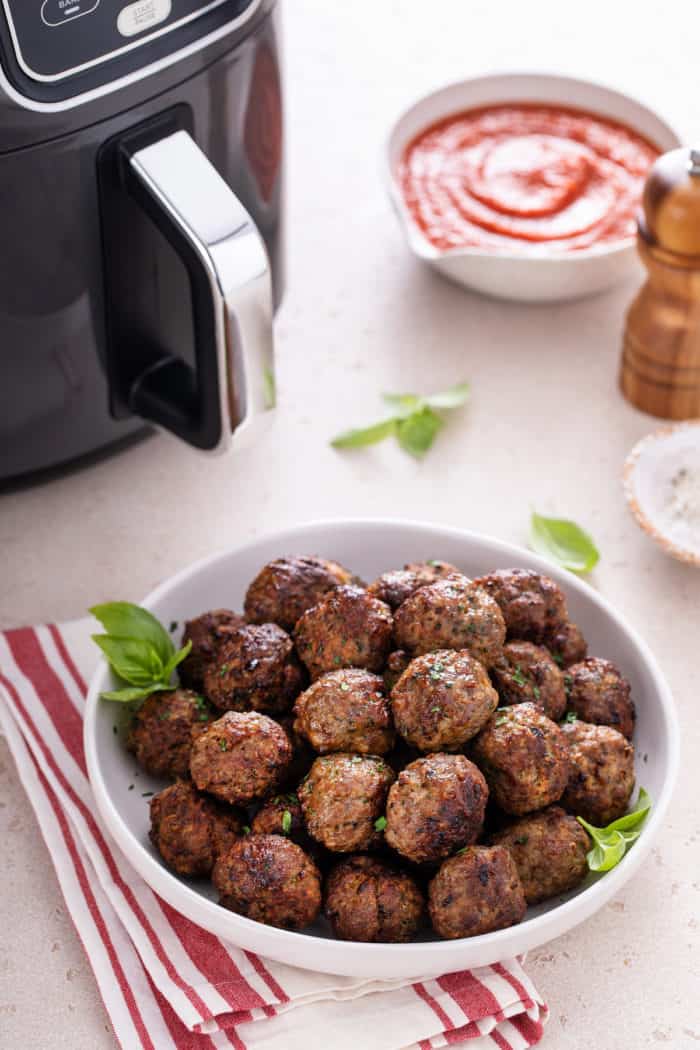 CAN YOU AIR FRY MEATBALLS?
Is there anything more comforting than a big plate of spaghetti and meatballs?
If you've ever made homemade meatballs, you know that the most delicious, traditional way to cook them is to fry them. The browned, crispy crust that forms on the outside just can't be beat!
The only problem is that frying meatballs is a real pain in the neck. I feel like my entire kitchen is covered in a fine layer of oil after frying a batch of meatballs. But baking them in the oven just isn't the same.
If you have an air fryer, you might have wondered if you can just air fry your meatballs to get that crispy exterior without the mess.
The answer is: yes, you totally can!
Just like when we make air fryer chicken tenders, air frying gets us the same gorgeous, crispy results as frying – it's just a whole lot easier and less messy.
If you haven't invested in an air fryer of your own, I can guarantee you that you'll get tons of use out of it. We use ours all of the time!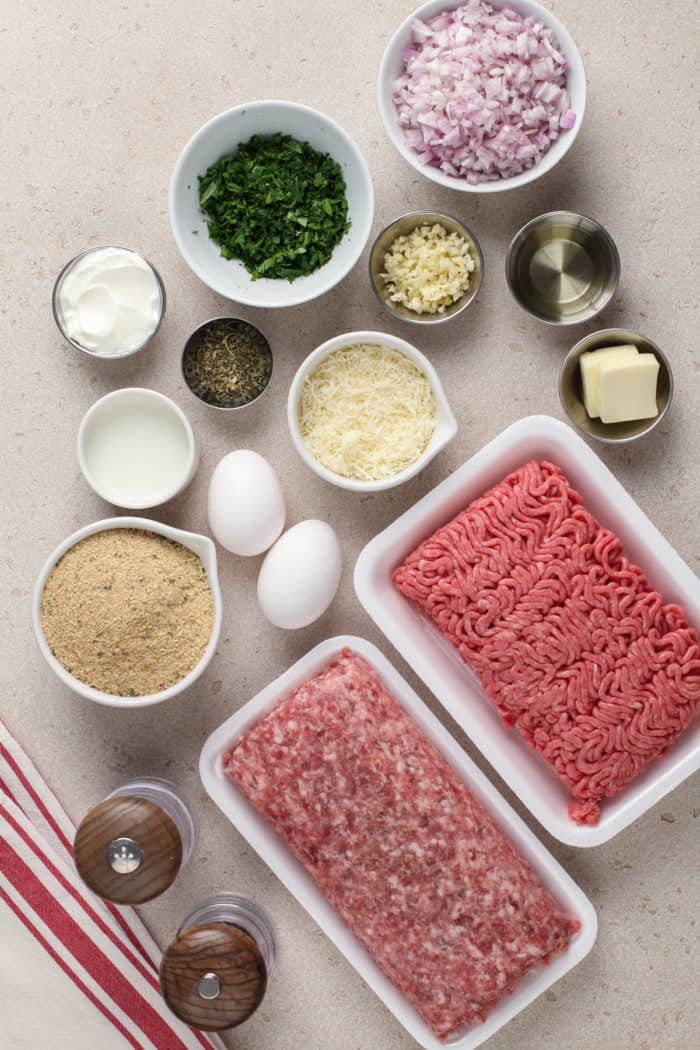 HOW TO MAKE AIR FRYER MEATBALLS
When making air fryer meatballs, you can use any meatball mix that you like. I'm going to share the recipe for my favorite meatballs, but you can use any other that you already love!
Ingredients you'll need
To make my meatball mix, you will need:
2 eggs
2 tablespoons sour cream or ricotta cheese
¼ cup milk
1 cup Italian-seasoned breadcrumbs
2 tablespoon unsalted butter
1 tablespoon olive oil
2 shallots, finely diced
3 cloves garlic, minced or grated
1 pound ground beef (I recommend using 80/20 ground beef)
1 pound ground pork
1/3 cup freshly grated Parmesan cheese
⅓ to ½ cup finely minced fresh parsley
1 teaspoon Italian seasoning
Salt and pepper to taste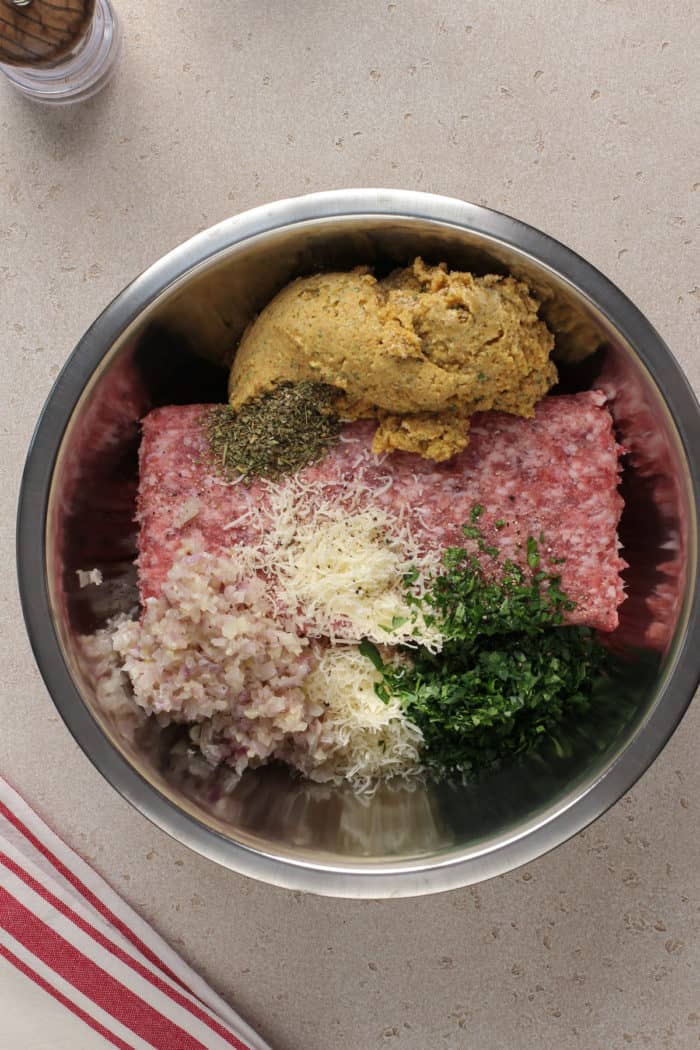 If you don't like or can't have pork, feel free to substitute the ground pork in this recipe with a second pound of ground beef instead.
Some grocery stores will also carry a "meatball mix" or a "meatloaf mix" that contains a pre-mixed combination of ground beef and ground pork (and occasionally ground veal as well). You can use this instead if you like; you will need 2 pounds.
If you want less of an Italian spin on this recipe, use plain breadcrumbs in place of the Italian-seasoned breadcrumbs, leave out the Italian seasoning, and reduce the amount of parsley or omit it altogether. I personally would still include the Parmesan cheese because I like the nutty saltiness that it adds.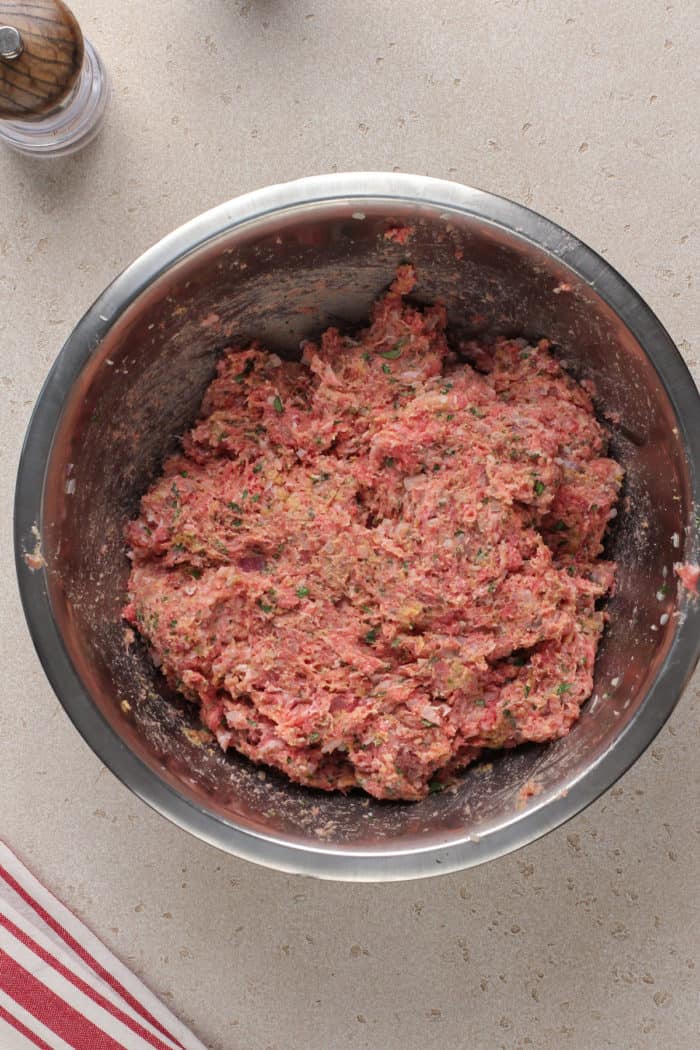 Making this recipe
If you are using my meatball mix recipe, start by whisking the eggs, milk, and sour cream or ricotta together. Add the breadcrumbs and let the mixture soak for 20 minutes.
Meanwhile, cook the shallots in the butter and olive oil until softened, then add the garlic and cook for 1 more minute. Remove this from the heat and set it aside to cool.
In a large bowl, use your hands to mix the ground meat, parmesan, parsley, soaked breadcrumbs, Italian seasoning, and the cooked shallots with a few generous pinches of salt and pepper. Once combined, let this mixture sit in the fridge for 20 minutes to help with portioning.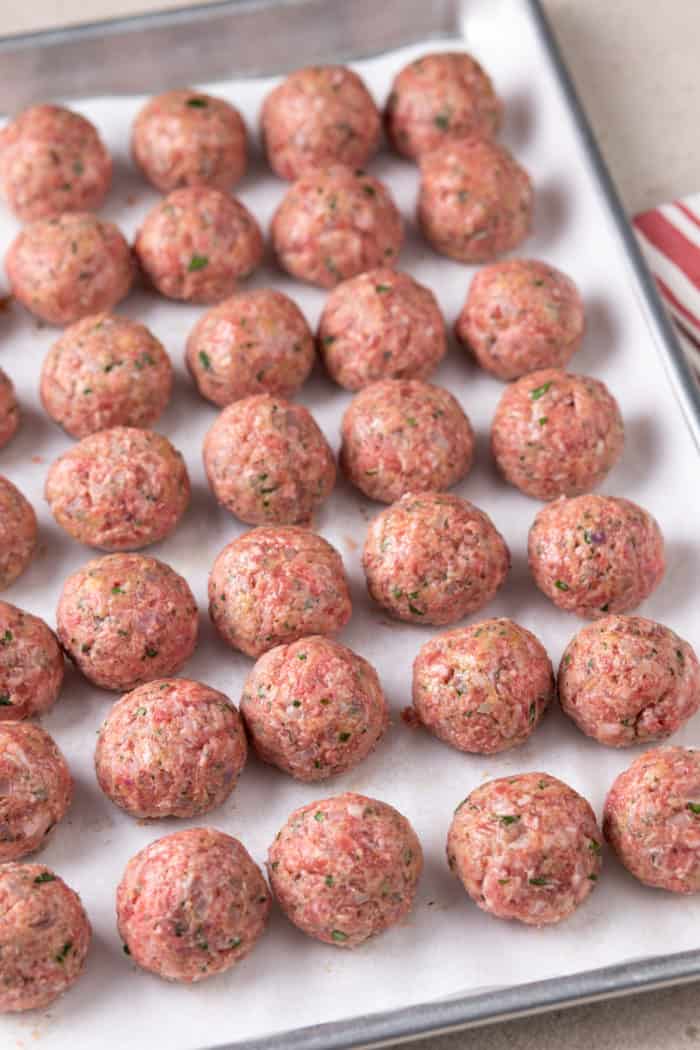 While the meatball mix chills, take about 1 tablespoon of the mixture and pat it into a small patty. Sear it in a skillet and taste for seasoning. Add more salt and pepper to the remaining mix if needed.
Portion the chilled mix into 1.5-to-2-tablespoon portions onto a lined or greased baking sheet. Once all of the mix is portioned, coat your palms in olive oil and roll the meatballs between your palms.
Try not to squeeze the mix too tightly or else the meatballs will become very dense.
Once the meatballs are all rolled, you're ready to cook!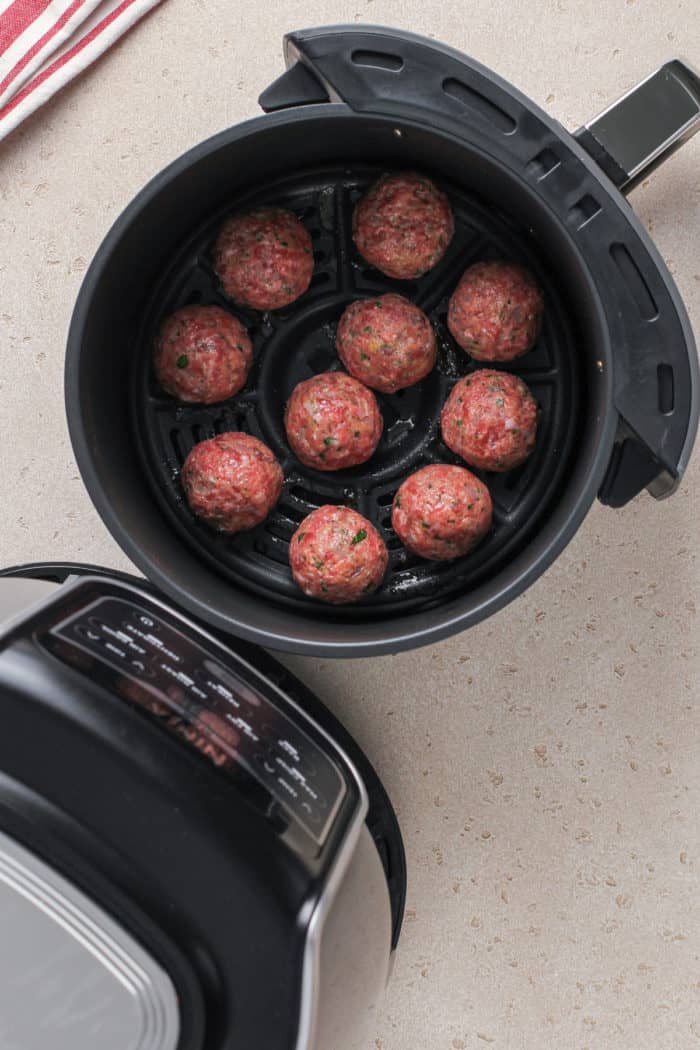 Cooking the meatballs
When all of the meatballs are rolled, give them a light spray with some cooking spray or olive oil. This will help encourage them to brown nicely.
When ready to cook, preheat your air fryer to 400°F for 5 minutes.
Depending on the size of your air fryer basket, you will likely need to work in batches. Make sure you don't overcrowd your air fryer or the meatballs won't cook evenly.
Add the meatballs to the basket of your air fryer. If you're worried about sticking, brush or spray the basket with olive oil or avocado oil. Don't spray it with cooking spray, though, as that can degrade the nonstick coating if sprayed directly onto it.
Cook the meatballs at 400°F for 10 minutes, flipping them halfway through.
Add the cooked meatballs to your favorite pasta sauce, use in your recipe, or let them cool and freeze them for later.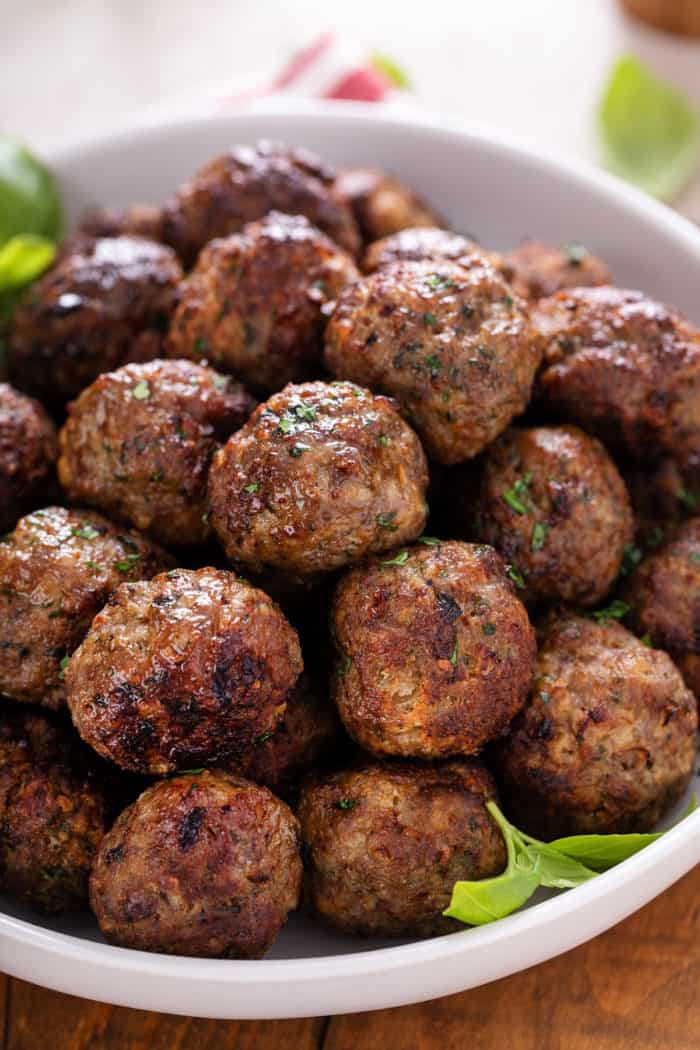 SERVING SUGGESTIONS
Of course you can serve these air fryer meatballs with quick marinara sauce and pasta for a delicious spaghetti dinner.
You can also use them to make meatball subs or even meatball sliders, for more of a game-day snack.
Or pop these meatballs into a sweet and tangy sauce for cocktail meatballs!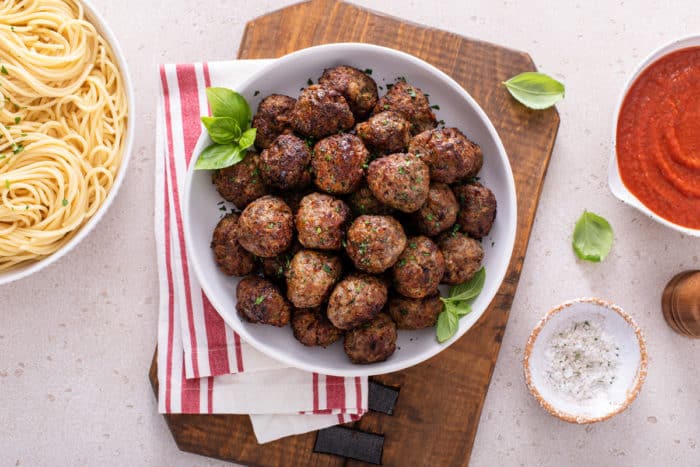 FREEZING INSTRUCTIONS
If you want to prepare air fryer meatballs ahead of time, you have a couple of options.
You can freeze the uncooked meatball mix for later. Portion out and cook as many meatballs as you like, then place the rest of the mix into a zip-top freezer bag.
Push out as much of the air as possible, then freeze for up to 3 months. From there, thaw, roll, and air fry the meatballs according to the recipe directions.
You can also cook all of the meatballs now and freeze the cooked meatballs for later.
Place the cooked meatballs in a zip-top freezer bag and freeze for up to 3 months. When ready to use, you can simmer them in your favorite sauce until heated through or air fry them for about 5 minutes to reheat them.
Whether you enjoy them now or freeze them for quick meals later, these air fryer meatballs are a recipe you'll want to keep on hand all of the time!\