Packed with shredded chicken, vegetables, herbs, and nutty wild rice, this creamy chicken and wild rice soup is everything you need to warm you up on a chilly day. Serve it alongside a salad and some crusty bread for the perfect winter meal.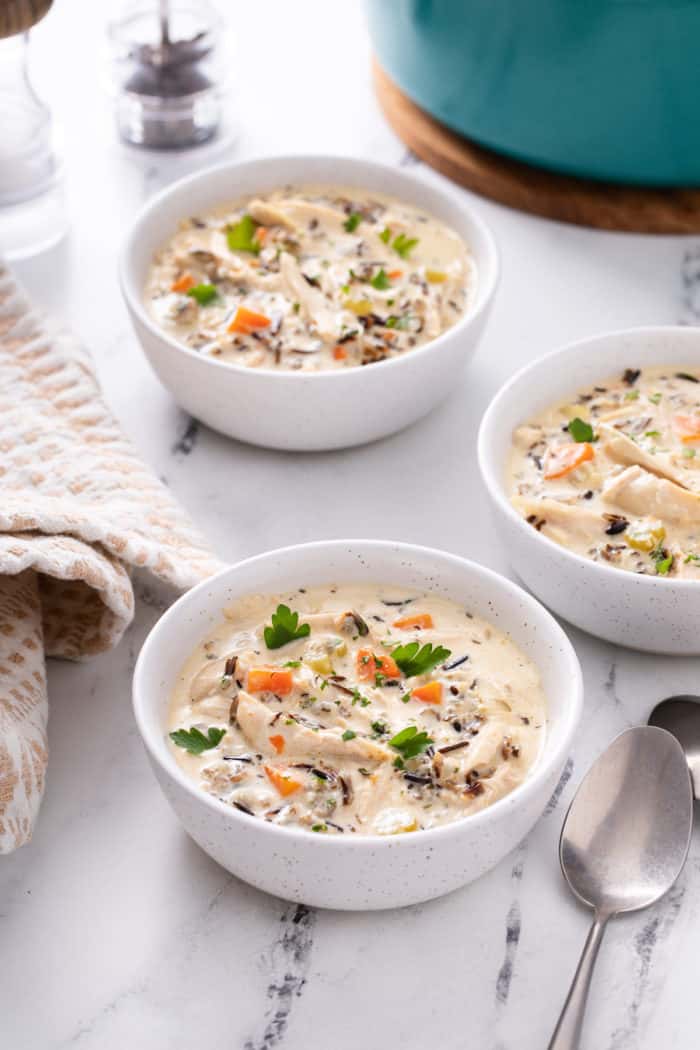 This post contains affiliate links.
It's winter, which means that I am back on my soup nonsense.
This fall, I was especially obsessed with Panera's creamy chicken and wild rice soup. I could not stop eating it. It's so thick and creamy and GOOOOD, you guys.
I know that frequenting my local Panera Bread does add up in the long run, though, so it seemed like it was time to come up with my own recipe.
Since I love how thick and rich Panera's version is, I had to make sure mine was the same way. It's super creamy, has tons of flavor from just the right amount of vegetables and herbs, and is just a little bit nutty from the wild rice.
Add all of the ingredients for this chicken and wild rice soup to your grocery list immediately. You're gonna want to gobble it right up!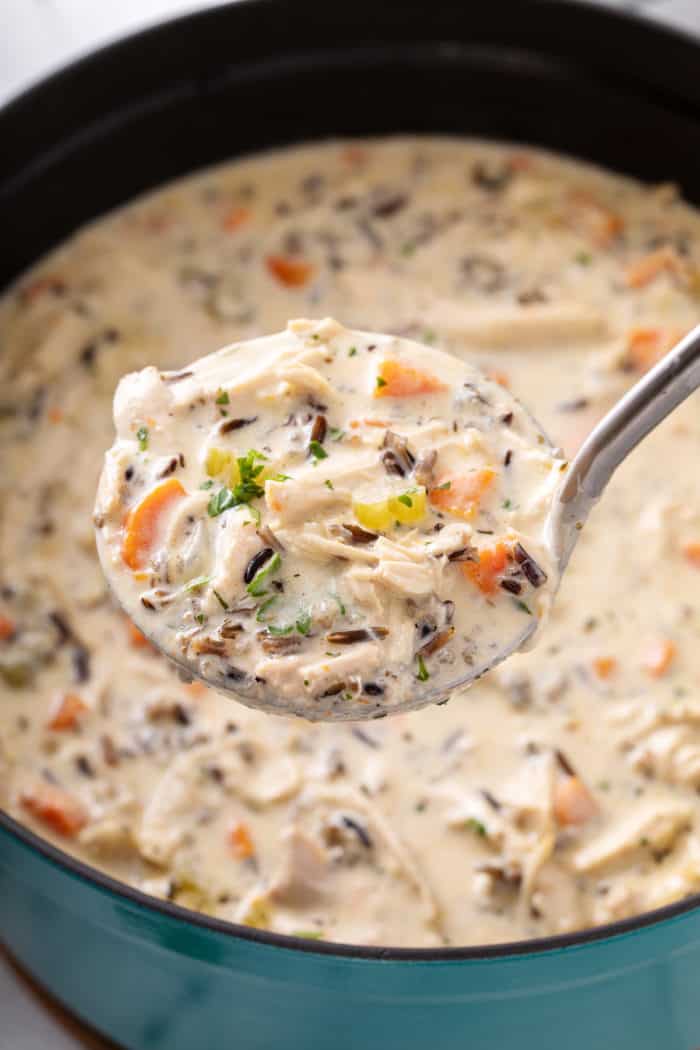 WHAT IS WILD RICE?
Don't let the name fool you: Wild rice isn't technically rice!
Wild rice is actually the grain that is harvested from any of four specific species of grass that grow in shallow water.
Wild rice has a chewy outer layer with a tender inner layer. It has a nuttier, grassier flavor than domesticated rice and is packed with nutrients.
Even though the outside of wild rice is very dark, wild rice is not the same thing as black rice (also known as forbidden rice).
Wild rice can be cooked on its own and served just like any other rice, prepared as part of a wild rice pilaf, or stirred into chicken and wild rice soup.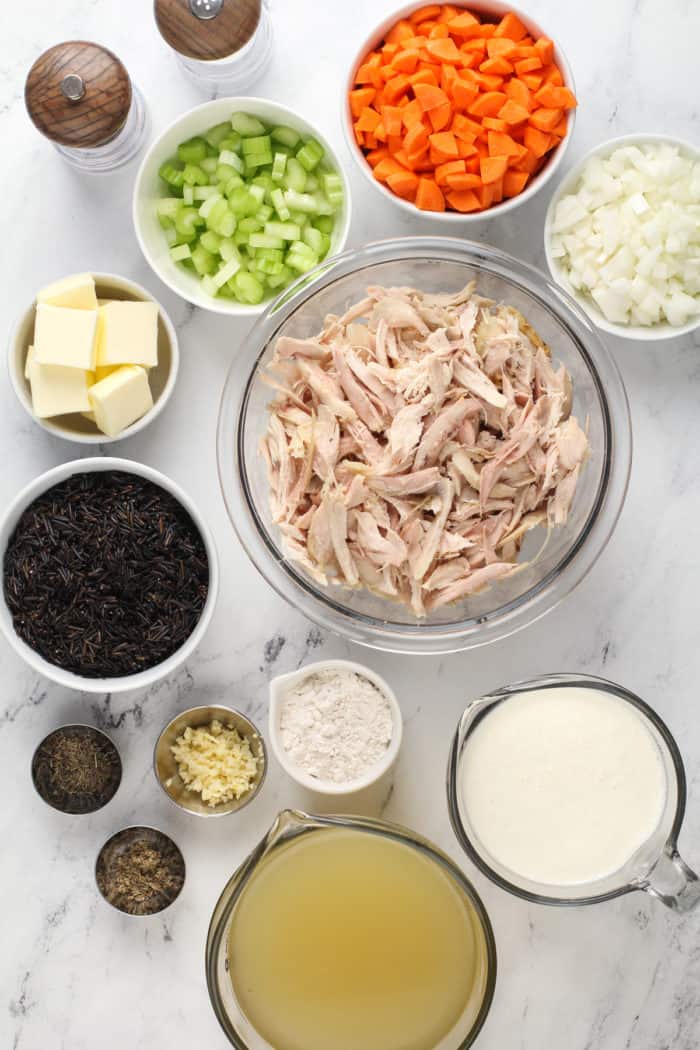 Where to buy wild rice
Depending on where you live, wild rice can sometimes be a bit tricky to find in the grocery store.
If your store carries wild rice, it will be with the other domesticated rice.
There are a lot of wild rice blends out there that combine wild rice with different varieties of domesticated rice. They're absolutely delicious, but be aware that they aren't 100% wild rice!
If you are having trouble finding a package of just wild rice, you can always turn to the internet. Minnesota wild rice is easy to find on Amazon and other online shops.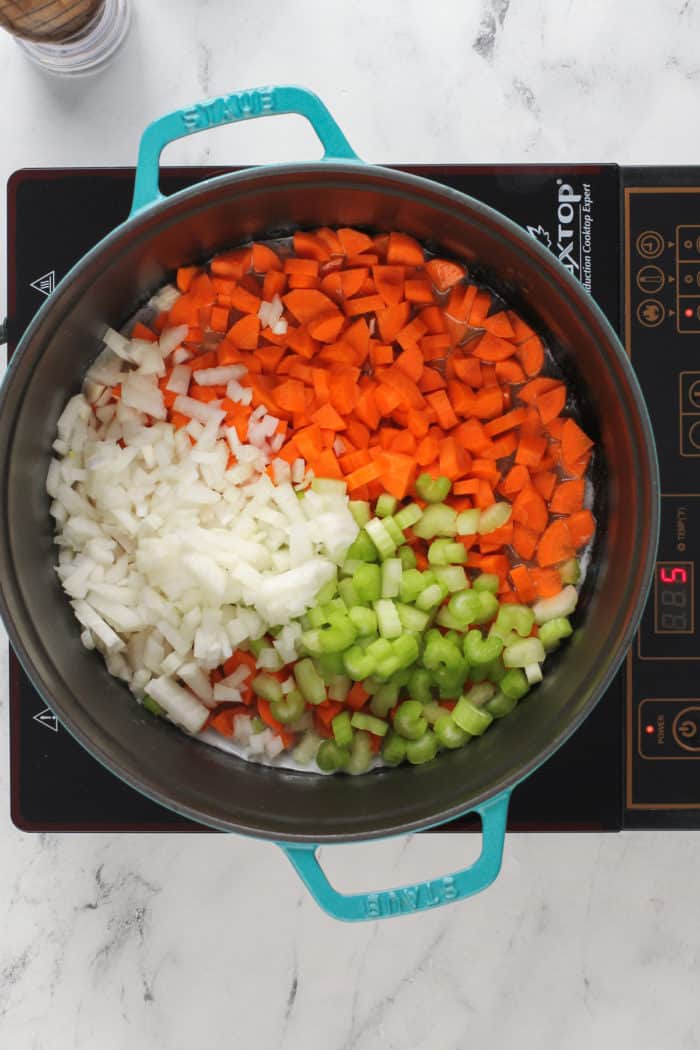 HOW TO MAKE MY CHICKEN AND WILD RICE SOUP
If you've been reading MBA for a while, you probably remember that I love soup. From loaded baked potato soup to zuppa toscana and everything in between, I am totally a soup girlie.
And creamy chicken and wild rice soup? I couldn't be a bigger fan.
I love serving up this filling soup alongside Irish soda bread and a salad topped with homemade blue cheese dressing. But it's hearty enough to keep you full on its own, too!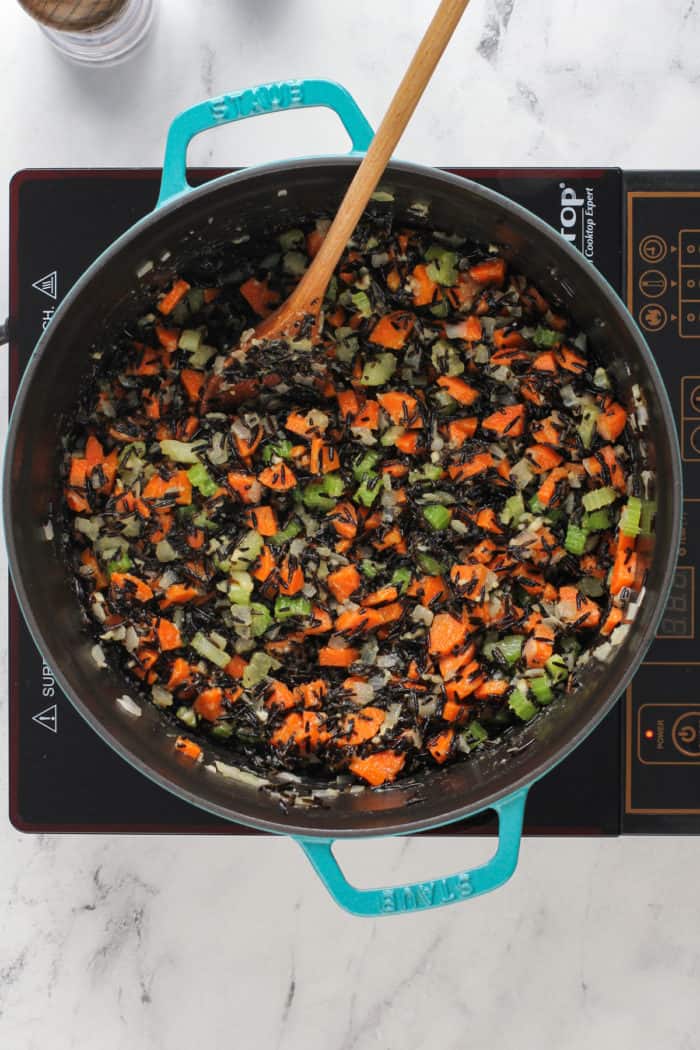 Ingredients you'll need
In addition to nutrient-packed wild rice, this soup is filled with shredded chicken and plenty of veggies. Some of the key ingredients you'll need are:
Carrots, celery, onion, and garlic: These four ingredients give the soup a flavorful, aromatic base. I usually cut the carrots and celery to a medium dice because I love seeing pieces of vegetables in this soup, but you can chop them really finely if you need to sneak them past your kids.
Shredded rotisserie chicken: You know that a store-bought rotisserie chicken is my favorite dinner shortcut. If you already have leftover shredded chicken or turkey from another meal, you'll need about 3-4 cups.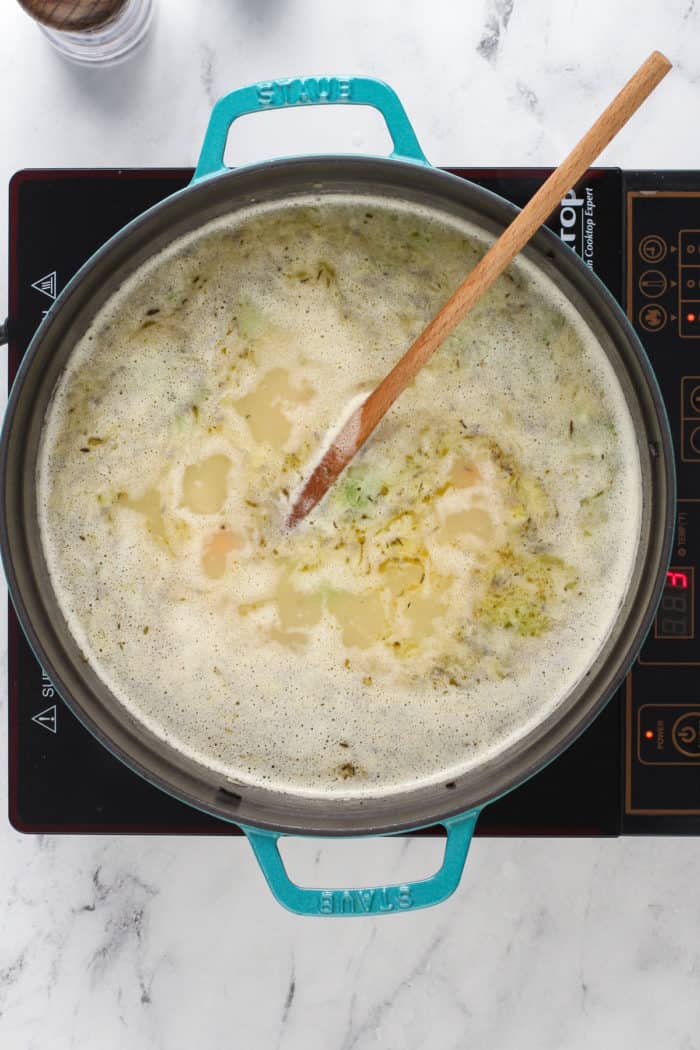 Wild rice: For a true chicken and wild rice soup, use your favorite wild rice instead of a wild rice mix. If you can't find or don't want to use 100% wild rice, you can use the same amount of a wild rice mix for a slightly different flavor and texture in your soup. Note that you may not need to cook it for as long in this case.
Heavy cream: The base of this chicken and wild rice soup recipe is chicken stock, but a couple of cups of cream added at the end give this soup a creamy texture and rich flavor.
Other ingredients you'll need include:
Unsalted butter
Flour
Chicken stock
Dried thyme
Dried sage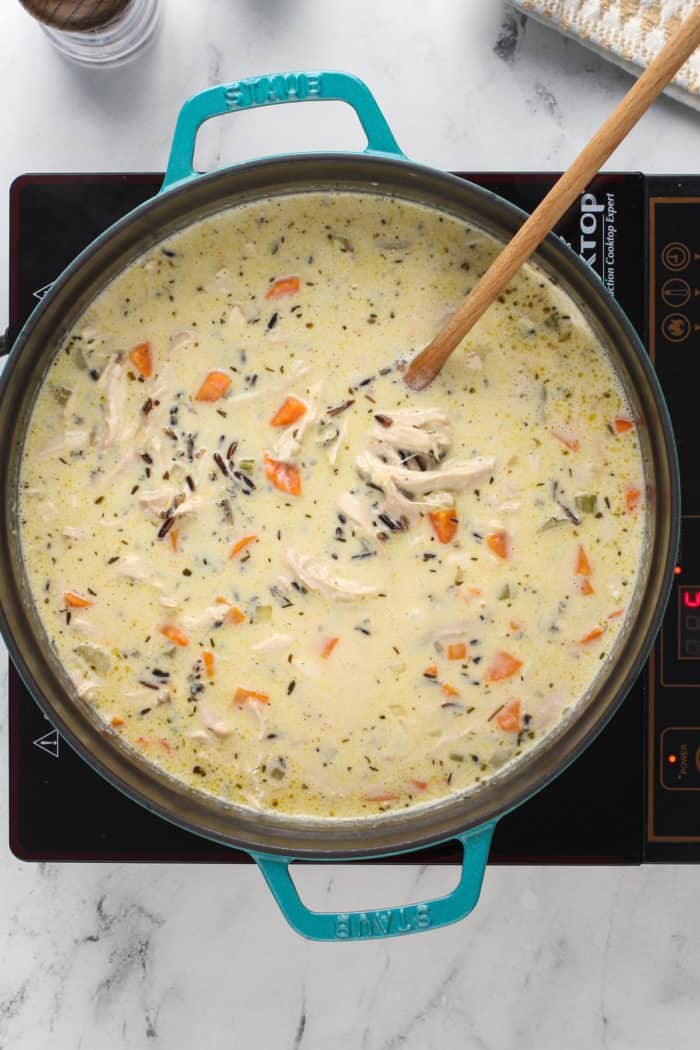 Making this recipe
Because wild rice has a longer cooking time than other rice, the total time for making this soup is also on the longer side. But the majority of that is hands-off time while the soup simmers.
Start by cooking the carrots, celery, and onion in butter with a pinch of salt and pepper until the vegetables start to soften. This will take about 5 minutes.
Add the garlic, the wild rice, and the flour. Let this cook for a couple of minutes to cook off any flour-y taste and lightly toast the wild rice.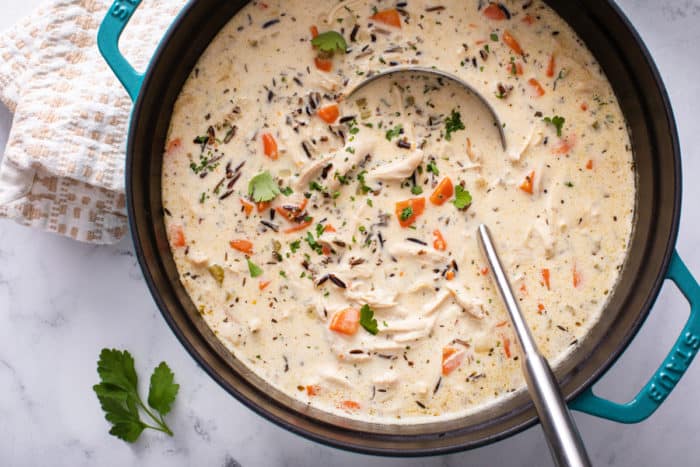 While stirring, slowly add the chicken stock. Toss in the herbs and bring the soup to a simmer.
Cover the soup and let it simmer for 40-45 minutes, until the rice is just shy of being cooked through. While you wait, grab a book to read or throw together a batch of Bisquick biscuits!
Before serving, stir in the shredded chicken and the cream. Cook for another 5-10 minutes to finish cooking the rice and warm the chicken through.
Make sure to give the soup a taste and season it with salt and pepper to your liking!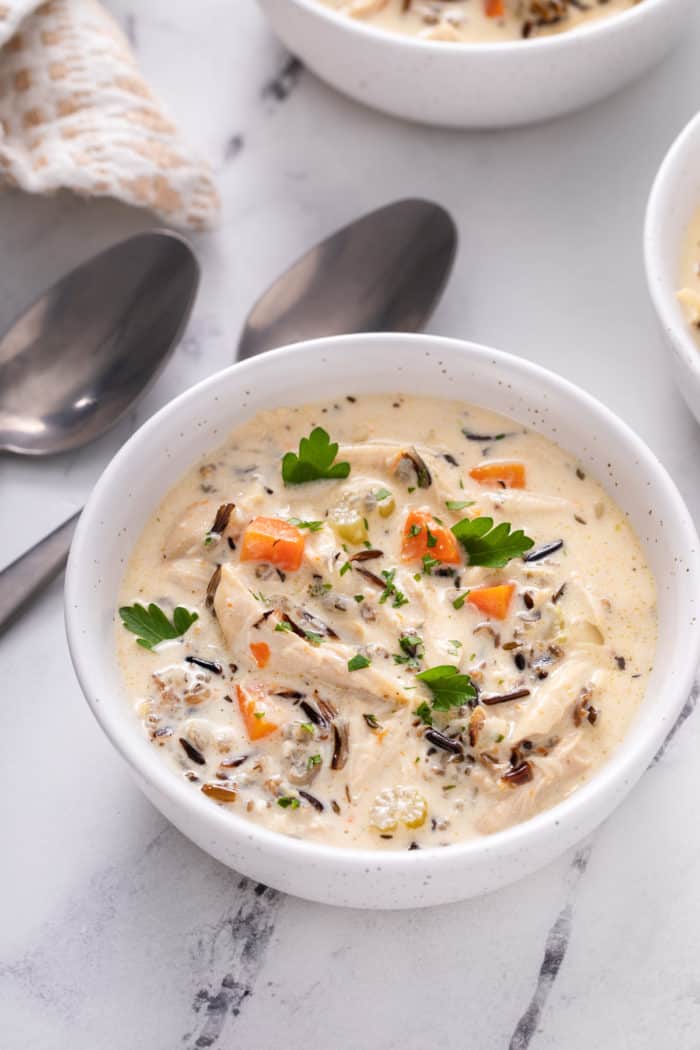 FREEZING INSTRUCTIONS
Want to make a batch of this chicken and wild rice soup to freeze for later?
Cream-based soups can sometimes be tricky to freeze, since they have a tendency to split when they thaw. They are safe to eat and will taste fine when reheated, but the texture might not be just right.
To avoid this, make this recipe as written, up through adding the chicken. Leave out the heavy cream, though!
Let the soup cool, then place it in an airtight container and freeze for up to three months.
After thawing your chicken and wild rice soup, bring it to a simmer on the stove. Add the cream and cook for 5-10 minutes, allowing the soup to thoroughly reheat. Don't forget to season it to taste before serving!