These air fryer chicken tenders are crispy on the outside, moist on the inside, and so flavorful! Make them for dinner or freeze them for quick and easy meals later. The whole family will love these!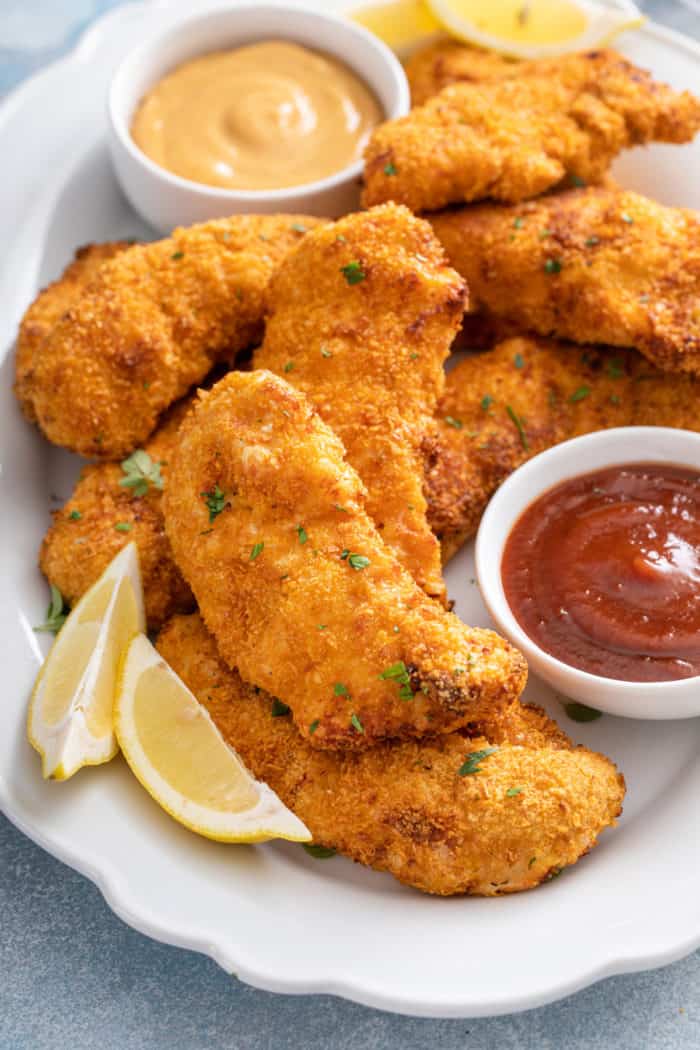 This post contains affiliate links.
I think that as soon as you become a parent, you become an expert on so-called "kid foods."
You know, the typical stuff you'd find on kids' menus at restaurants: mac and cheese, spaghetti, cheeseburgers, and chicken tenders.
But any adult who pretends not to enjoy those things is kidding themselves, ok?
I love one-pot mac and cheese, one-pot spaghetti, cheeseburger sliders, and these air fryer chicken tenders just as much as my kid does!
So whether you're making them for your kids or for yourself, this is a recipe everyone will love. Trust me on this one.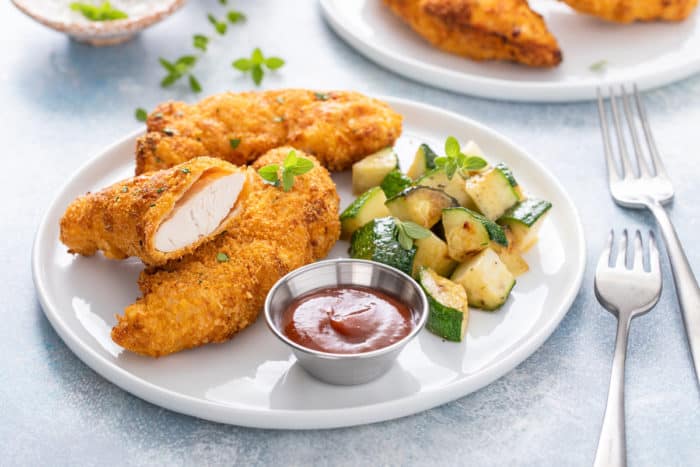 THE BEST AIR FRYER CHICKEN TENDERS
Don't get me wrong, I don't mind picking up a bag of frozen chicken tenders from the store.
They're quick and convenient and easy to throw into my air fryer when we need a simple lunch or dinner around here.
But I also knew that I could make some really amazing homemade chicken tenders using my beloved air fryer.
I wanted to make sure that my homemade tenders were crispy on the outside without getting dry on the inside and super flavorful. Buttermilk, a bit of hot sauce, and some corn flakes crumbs are all a part of making that happen!
And don't worry: you don't need to cook all of the tenders at once! You can cook them right away or freeze them for easy dinners on the fly.
After all, every parent knows that you can't predict when your kids are going to beg you for chicken tenders!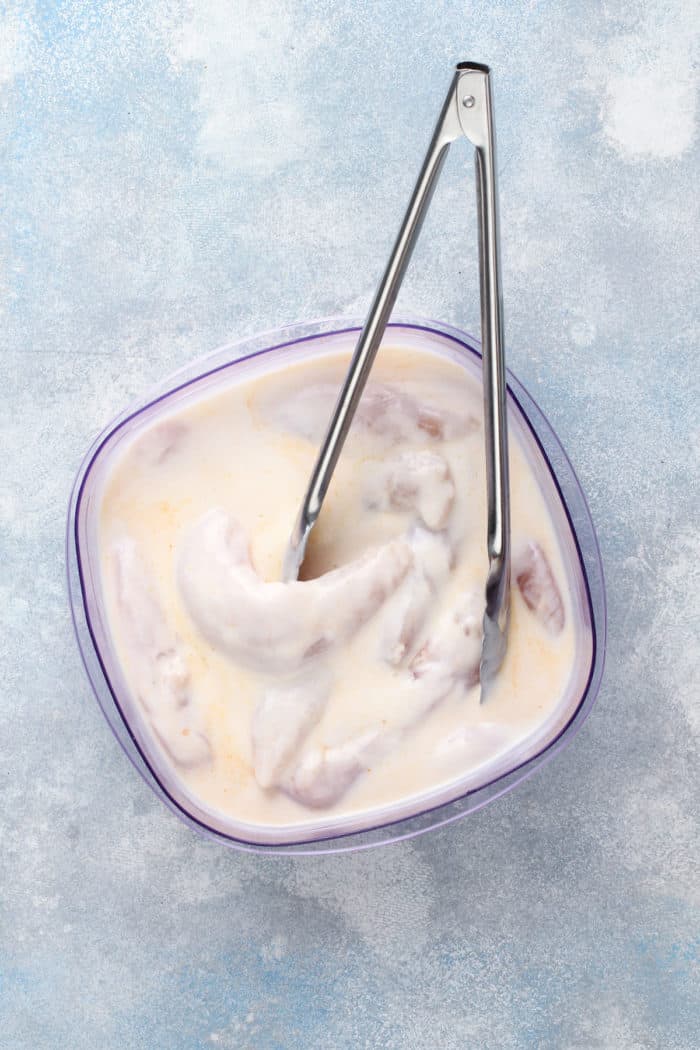 HOW TO MAKE HOMEMADE CHICKEN TENDERS
If you think that making homemade chicken tenders is complicated, think again. These babies are sure to join ritz cracker chicken and honey soy chicken in the list of easy recipes you'll be making all of the time.
Ingredients you'll need
You don't need a long list of ingredients to make perfect air fryer chicken tenders. You'll need:
2 pounds boneless/skinless chicken tenders
2 cups buttermilk
2 tablespoons hot sauce or buffalo sauce
2 cups all-purpose flour
2 tablespoons seasoned salt
2 cups Kellogg's Corn Flakes Crumbs
2 eggs, whisked with a splash of water
Fine sea salt & black pepper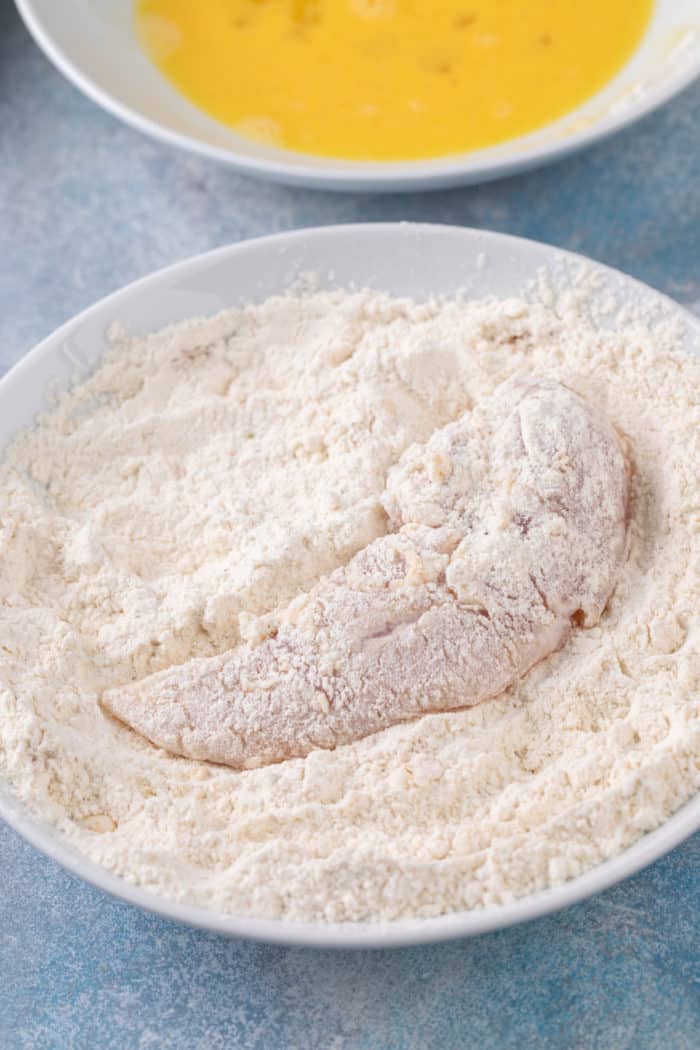 Most grocery stores will have boneless/skinless chicken tenders ready to go. If you can't find them, or don't have them on hand, you can also use 2 pounds of boneless/skinless chicken breasts, butterflied and cut into 1 ½ to 2-inch strips.
There are lots of instances where you can use my buttermilk substitute in place of true buttermilk, but this is not one of them. You really do need to use buttermilk here!
I like to buy a box of corn flakes crumbs to make this recipe super quick and easy, but you could also crush up a box of corn flakes. Just make sure you get them super fine so the breading is nice and even.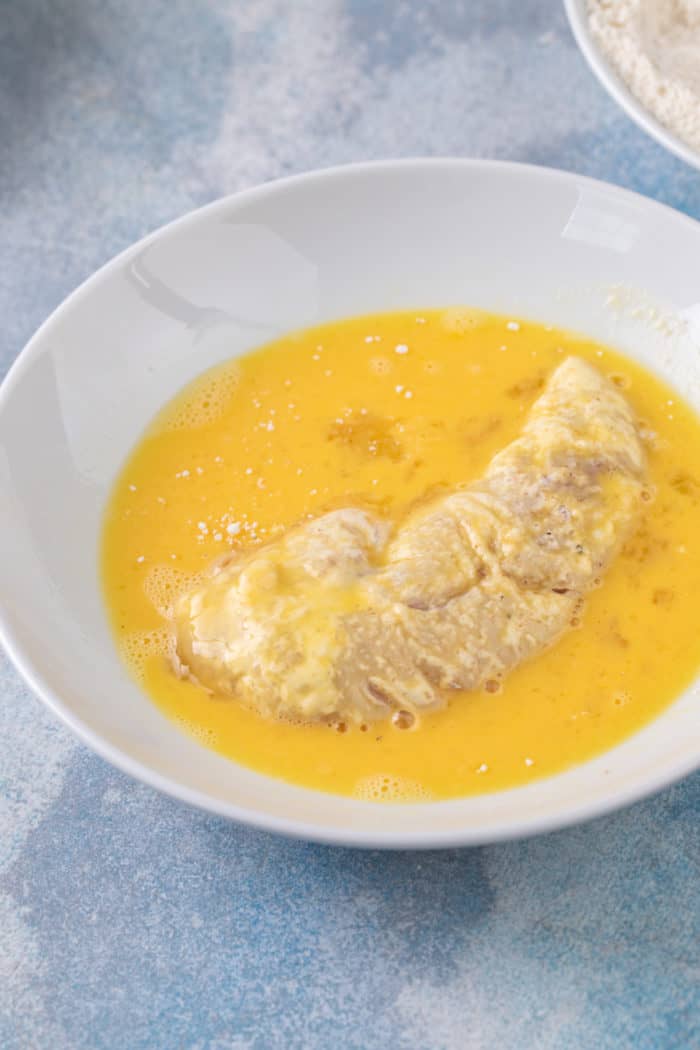 Equipment you'll need
If you're going to make air fryer chicken tenders, obviously you will need an air fryer!
I use mine all of the time, for everything from air fryer roasted potatoes and these chicken tenders to cinnamon tortilla chips.
I also recommend having a lidded container for marinating the chicken, along with 3 large, shallow bowls or pie plates.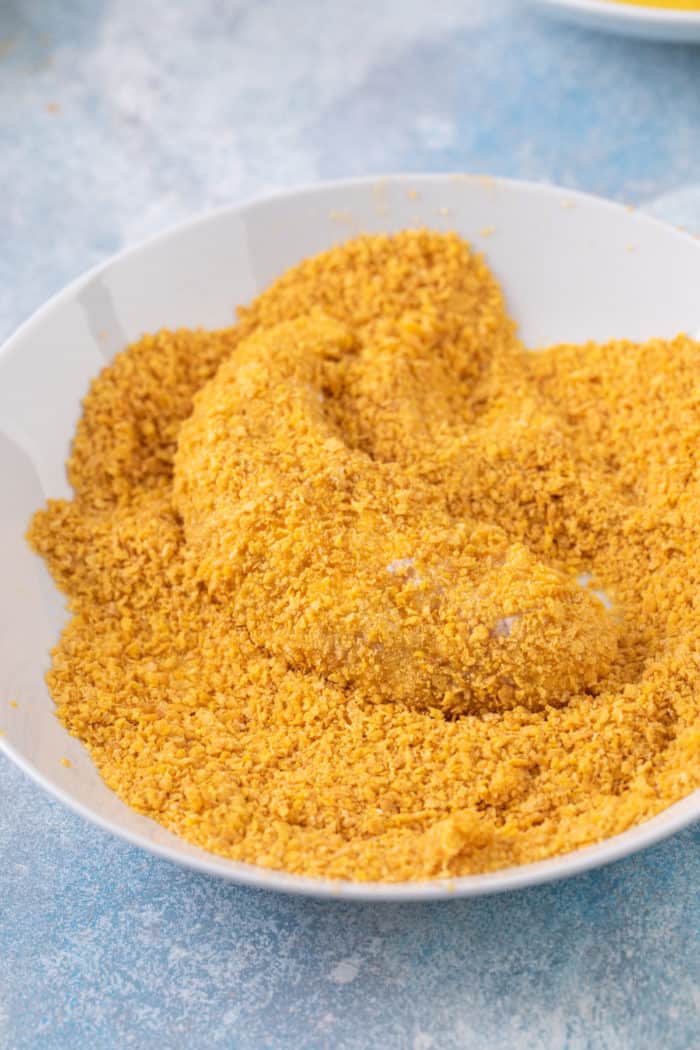 Making this recipe
To help infuse lots of flavor into the chicken and keep it super moist during cooking, we'll start by marinating the chicken in a mixture of buttermilk and hot sauce.
Whisk together the buttermilk and hot sauce in your lidded container. Add the chicken tenders, toss to coat, and pop on the lid. Refrigerate for at least 1-2 hours, but it'll be even better if you let them marinate overnight.
When you're ready to start breading the chicken, drain off the liquid from the tenders.
Next, set up your dredging assembly line with your 3 bowls or pie plates:
In the first one, whisk together the flour and seasoned salt with a big pinch of sea salt and black pepper.
In the second one, whisk together the eggs with a splash of water.
In the last one, place the corn flakes crumbs.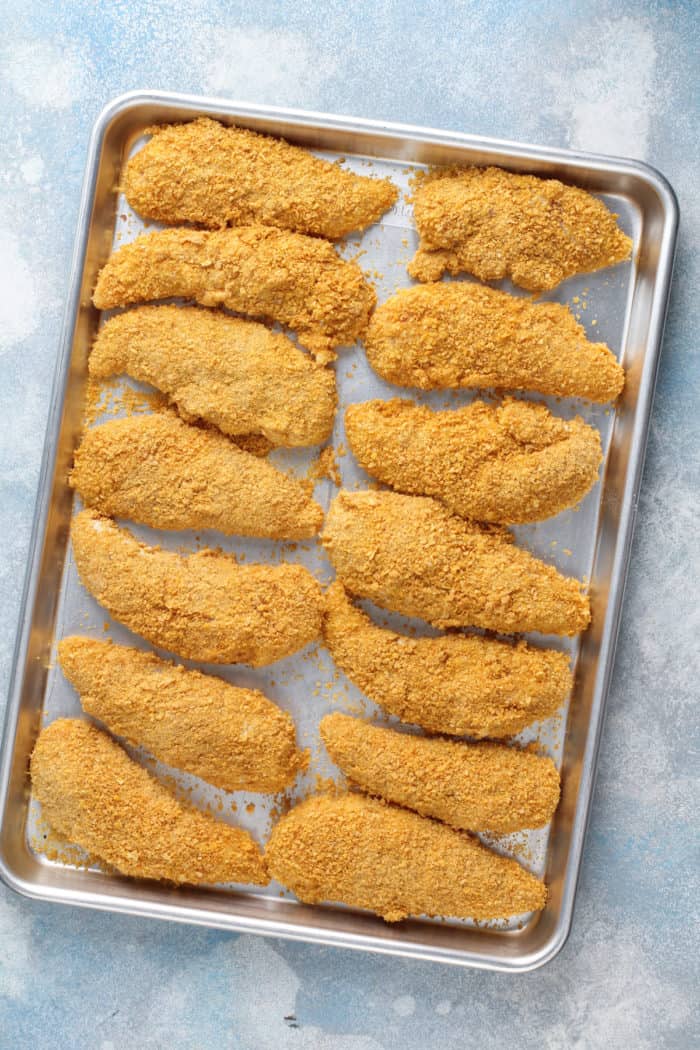 Take each chicken tender and dredge it in the flour mixture, then dip it into the egg wash, and finish by coating it in the corn flakes crumbs. Make sure you cover the chicken thoroughly in each step.
Place the breaded tenders on a baking sheet. While you finish coating the tenders, preheat your air fryer for 10-15 minutes.
Once the air fryer is preheated, place several of the tenders in the basket of your air fryer. How many you can fit at once will depend on the size of your air fryer; make sure not to overcrowd it.
Cook the tenders at 400°F for 8 minutes, flipping halfway through. Continue with another batch of chicken, cooking as many of the tenders as you desire.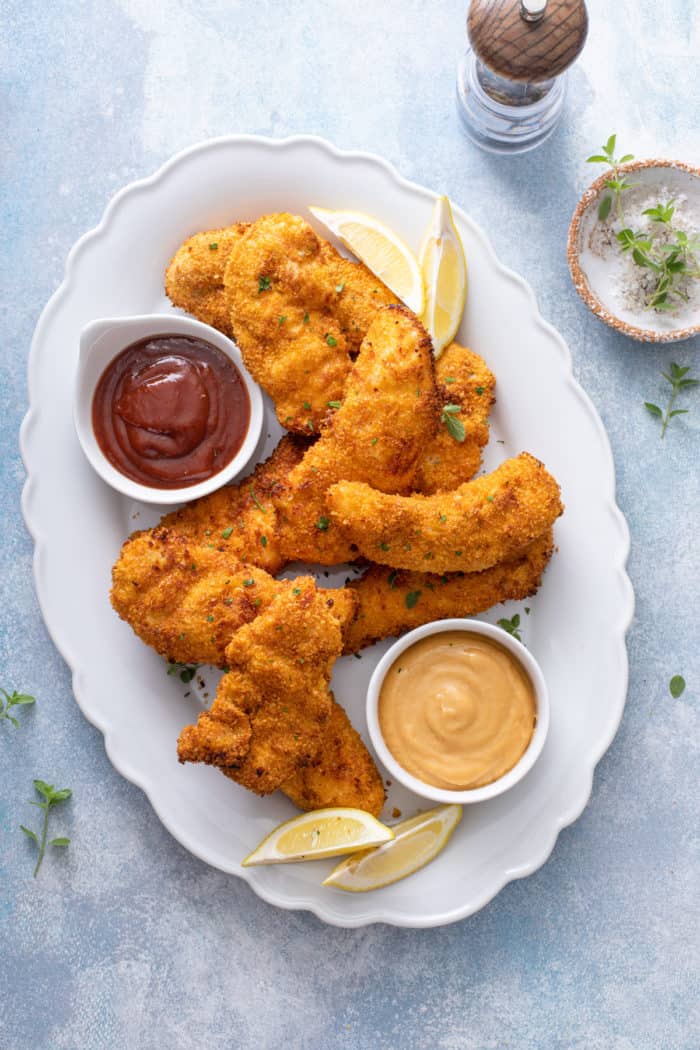 FREEZING INSTRUCTIONS
Remember that you don't have to cook all of the tenders right away! You can freeze as many as you like for later.
If you want to freeze your homemade chicken tenders, place the breaded, uncooked chicken tenders on a parchment-lined baking sheet. Place the baking sheet in the freeze for about 2 hours, until the chicken is frozen through.
Remove the frozen chicken tenders from the tray and store them in a zip-top freezer bag for up to 3 months.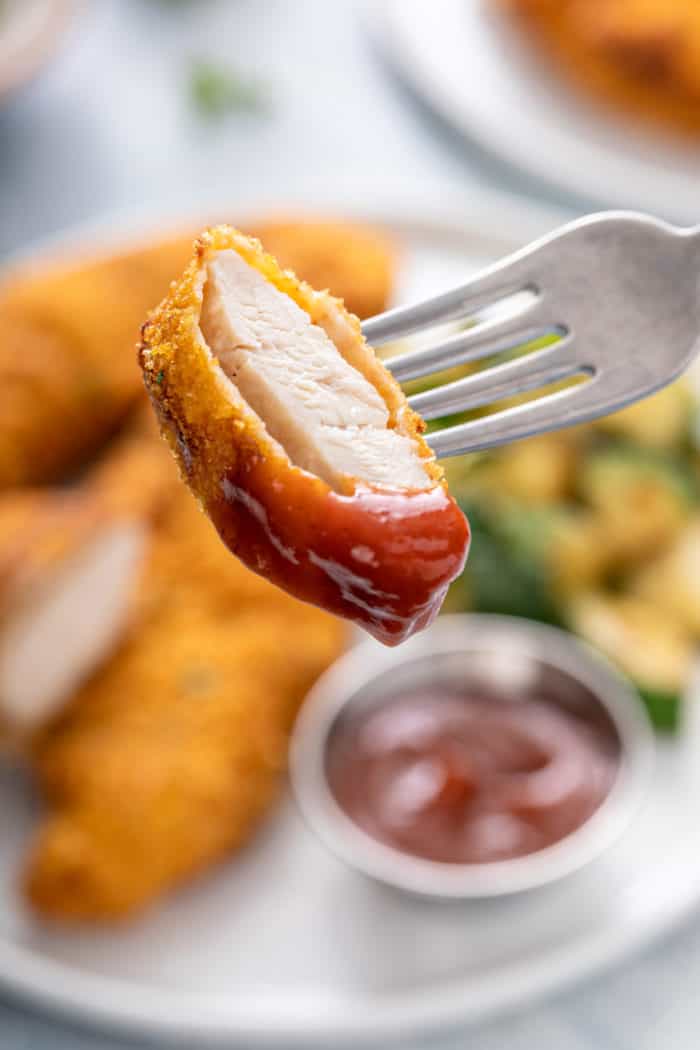 Air frying frozen chicken tenders
When you're ready to cook the frozen chicken tenders, preheat your air fryer, just as you did before.
Place as many of the frozen tenders as you like into the preheated air fryer and cook at 400°F for 8-10 minutes, flipping halfway through.
SERVING SUGGESTIONS
Air fryer chicken tenders are obviously perfect for dipping. Go for the classics with your favorite barbecue sauce, homemade ranch dressing, or copycat Chick fil A sauce, or get fancy with something like cranberry mustard.
But don't stop there! Use these tenders as the base of a chicken sandwich or wrap, douse them in your favorite buffalo sauce, or even use them as a garnish for an epic bloody mary!
There are just so many ways to enjoy them, whether you're a kid or a kid at heart.