Roasted garlic makes your kitchen smell heavenly and is incredible in everything from mashed potatoes to aioli. Learn how to roast garlic so you can add it to all of your favorite dishes.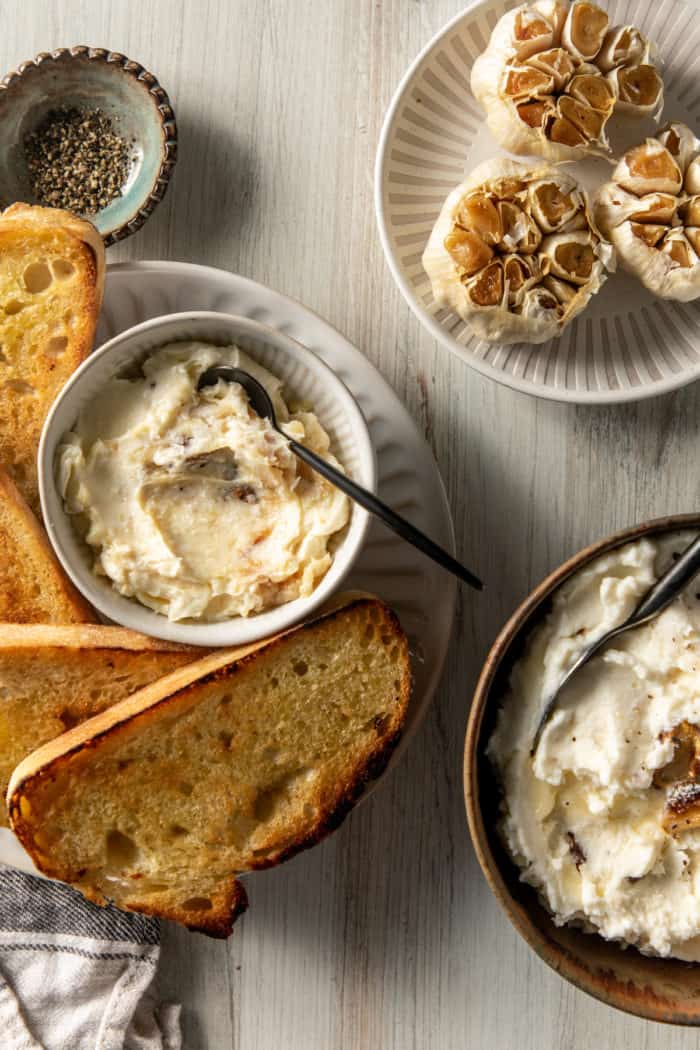 There are a lot of baking tips and tricks out there that are helpful for beginner and advanced bakers alike. Some of my favorites are making a simple buttermilk substitute and knowing how to make powdered sugar.
But there are just as many cooking tips and tricks out there for those of you who love making savory dishes.
We've talked in the past about how to brown butter and how to bake potatoes.
Today, we're going to talk about a simple method for amping up the flavor in just about any dish you make: how to roast garlic.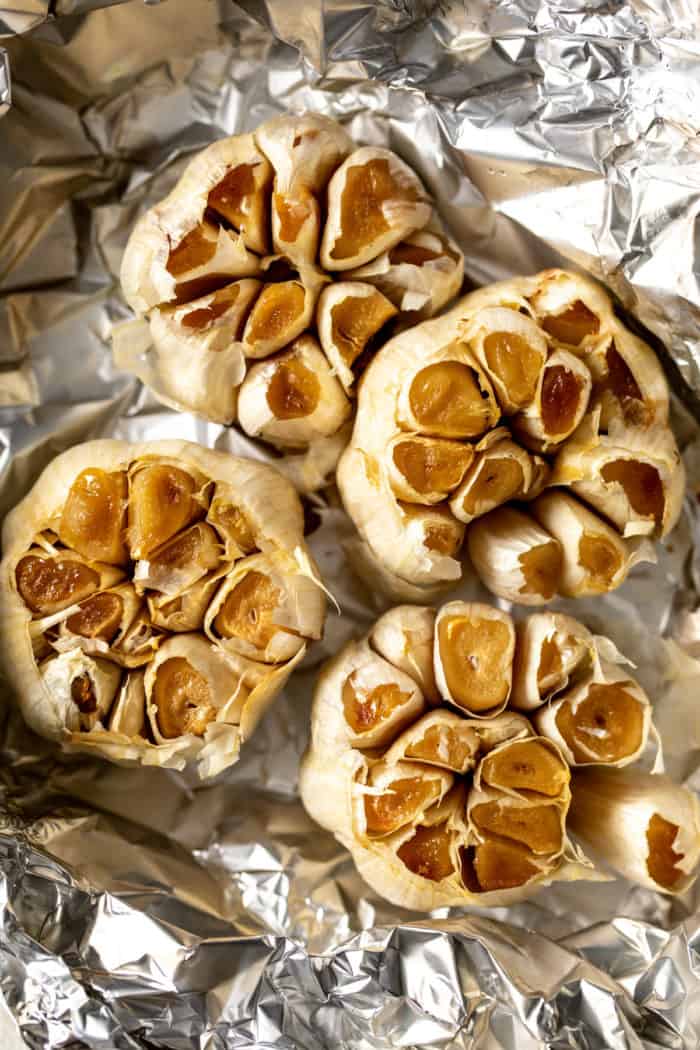 WHY SHOULD YOU ROAST GARLIC?
If you've never tried roasting garlic before, you're in for a treat.
Roasting caramelizes the garlic, giving it a sweet flavor. If you don't like the harshness of raw garlic, you will love the milder flavor of roasted garlic.
The garlic also gets super soft after roasting, making it perfect for stirring into all kinds of dishes or spreading onto bread.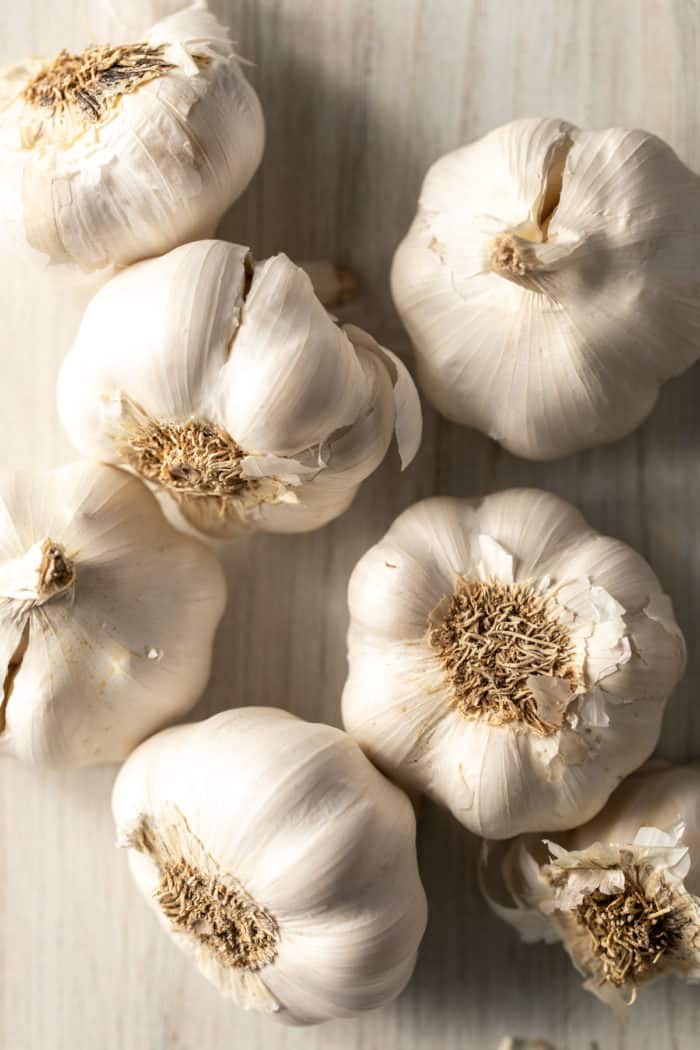 HOW TO ROAST GARLIC: TWO METHODS
The most common way to roast garlic is to roast an entire head of it at once, but you can also roast as many individual cloves as you like.
What you'll need
Whether you choose to roast a whole head of garlic or just a few cloves, you will need:
Fresh garlic
Foil
Olive oil
I prefer to use heavy-duty foil for this, but you can use regular foil as well. You may want to use two layers if you don't have heavy-duty foil on hand.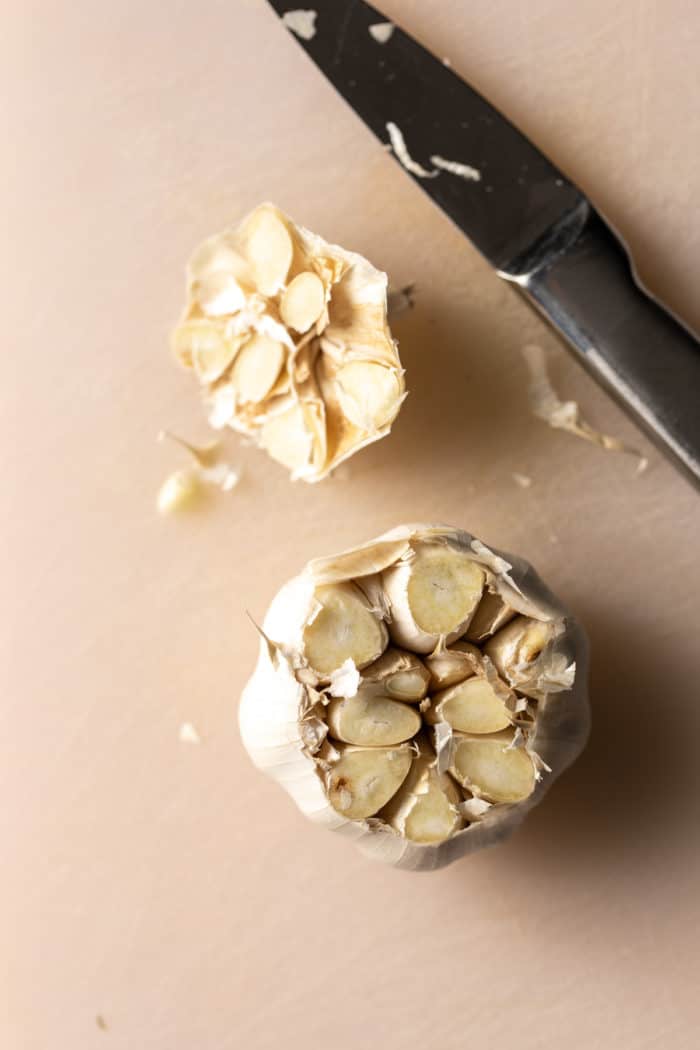 Method 1: Whole head of garlic
Roasting a whole head of garlic is a great way to roast a bunch of garlic at once. Plus, you won't need to bother with peeling the individual cloves!
Start by preheating the oven to 400°F.
To prep the garlic, use a sharp knife to cut ½ inch off the top of the head. This will expose the individual cloves.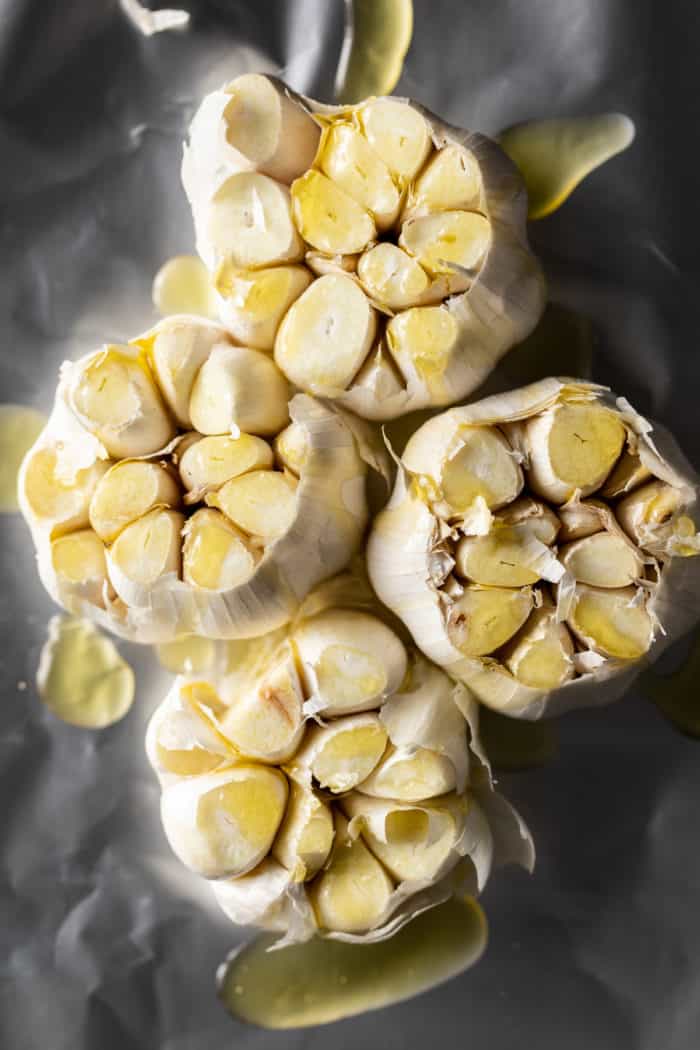 Place the garlic on a piece of aluminum foil big enough to wrap around the head. Drizzle the top of the garlic with some olive oil, wrap the foil around it, and place it in the oven for 35-40 minutes.
The garlic is done when it is soft and caramelized looking.
Let the garlic cool until it is cool enough to handle, then you can use your hands to easily squeeze the softened cloves into a bowl. Now it's ready to use!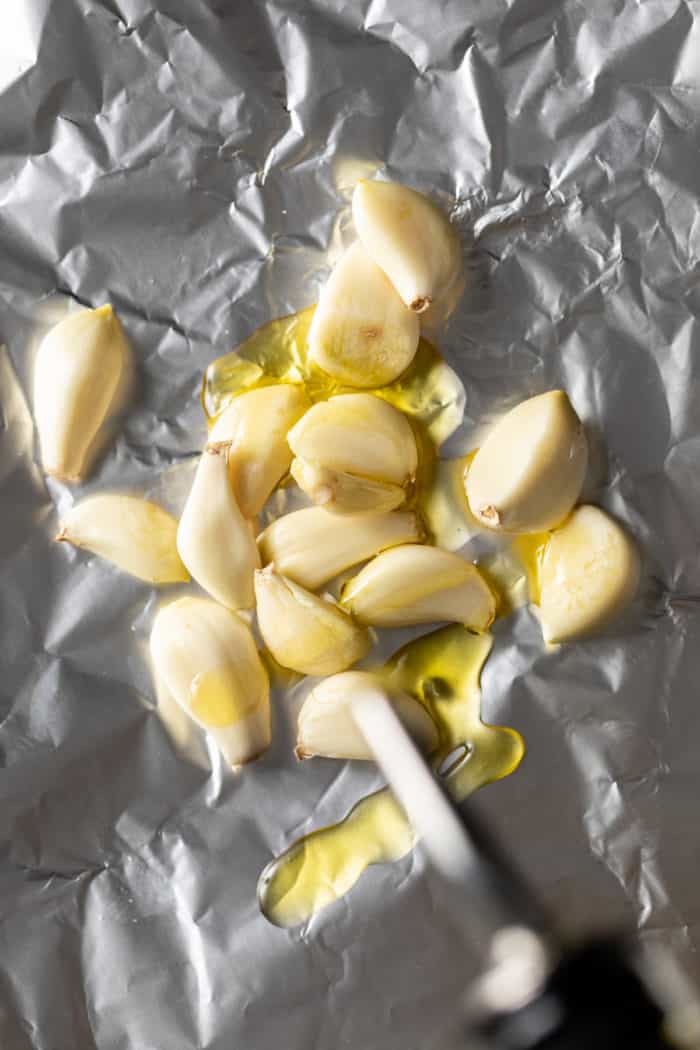 Method 2: Individual cloves of garlic
Just because you can roast an entire head of garlic doesn't mean that you have to. If you need just a few cloves for a recipe, you can just roast those instead!
Again, you'll need to preheat your oven to 400°F.
Peel as many garlic cloves as you need. Place them on a piece of foil and drizzle the cloves with a bit of olive oil.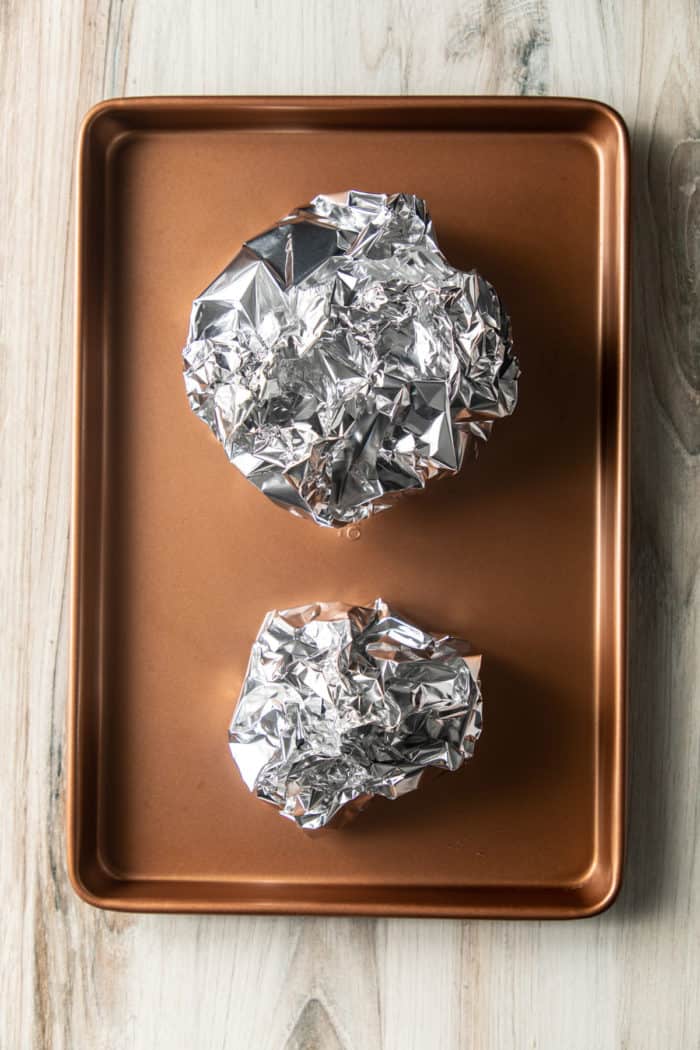 Wrap up the foil, leaving a little bit of an opening at the top of the pouch. Place in the oven for 25-30 minutes.
The garlic is done when the cloves are soft and golden in color.
Let the garlic cool and it is ready to use!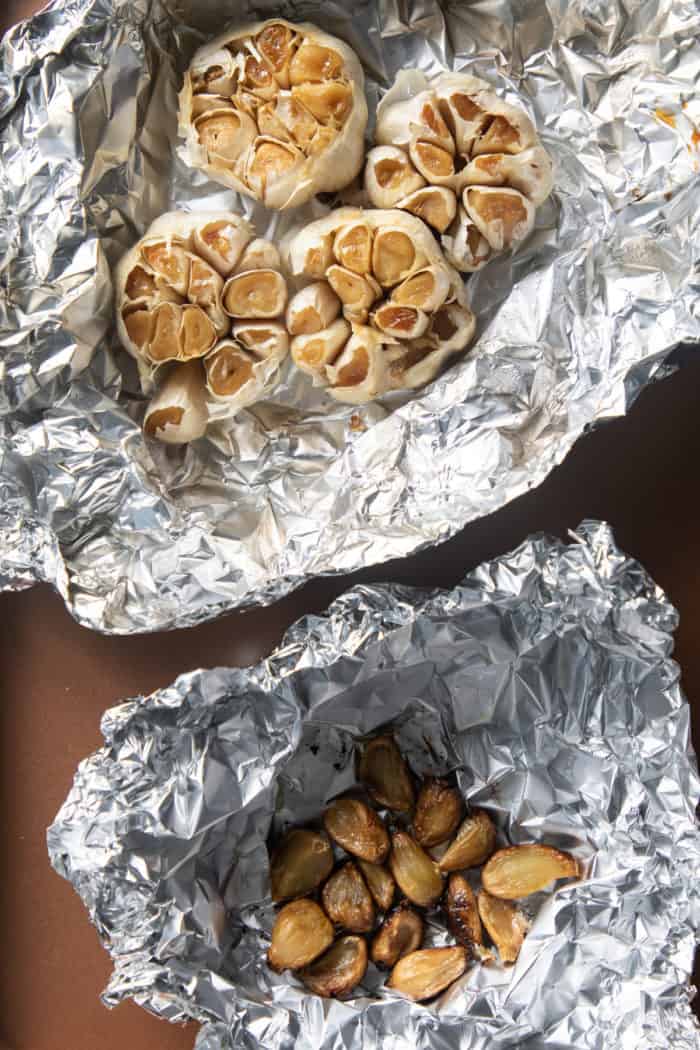 WHAT TO DO WITH ROASTED GARLIC
There are so many ways to use roasted garlic.
It is a great way to add flavor to classic side dishes, such as garlic mashed potatoes. It is also incredible in pasta, especially with cream sauce, such as roasted garlic pasta with adobo cream sauce.
You can even substitute raw garlic for roasted garlic in fresh basil pesto for a bit of a sweeter flavor!
Try spreading it onto 30-minute pizza crust with some olive oil in place of pizza sauce.
Mash it into softened butter for incredible garlic butter.
It's absolutely delicious in so many dips! Add it to french onion dip, tuscan white bean dip, or roasted garlic guacamole.
And don't forget that it can make the best garlic bread you've ever had. Since the garlic cloves get so soft, you can simply spread them on some toasted baguette – they'll spread like butter!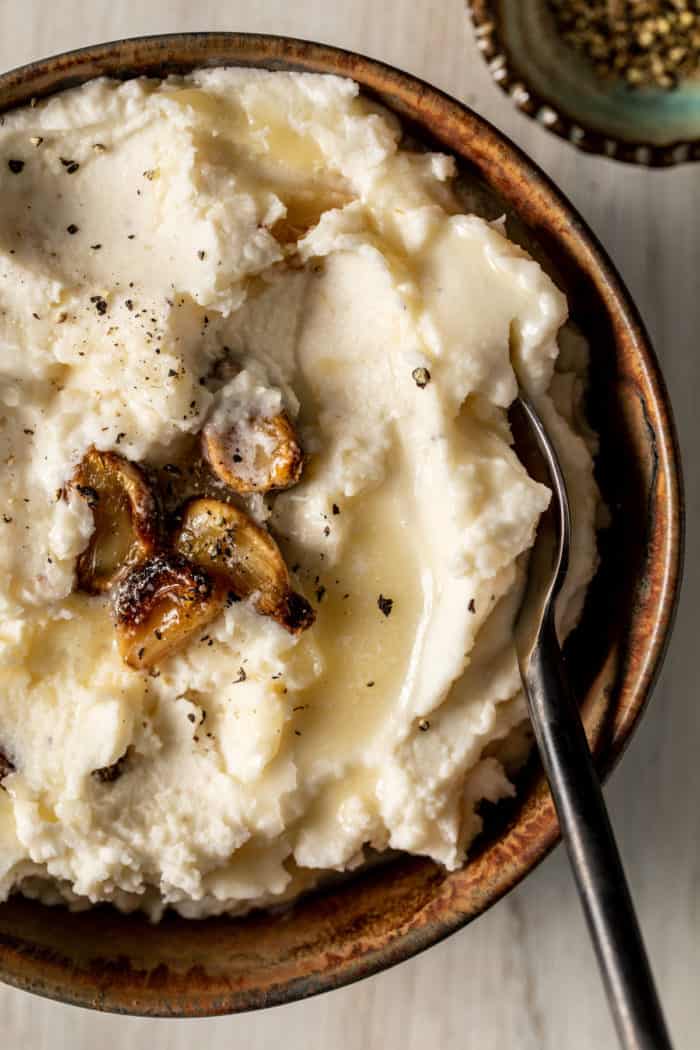 STORAGE
Roasted garlic stores well in the refrigerator, so it's always worth roasting more than you need so you can use it throughout the next couple of weeks!
To keep it in the refrigerator, place the roasted garlic in a small airtight container (I recommend using a glass jar) and cover it with olive oil. Refrigerate for up to 2 weeks.
Psst! Don't throw out that oil when the garlic is gone – use it in a recipe for an extra hint of garlic flavor!
You can also freeze roasted garlic for up to a month. Simply place the cloves in a zip-top freezer bag or airtight container before freezing.