We finally have snow here in Ohio, which made me want to do nothing more than sip hot chocolate and bake cookies – soft, chewy, oatmeal cookies flecked with chocolate covered cranberries.
I was strolling through the candy aisle of the market the other day – strictly for cupcake research purposes, and came across a bag of Cranberry Raisinets. Um, I love Raisinets so how I've failed to notice these little morsels of cranberry goodness is beyond me.
After popping a few into my mouth – again for research – I thought they would be the perfect addition to plain oatmeal cookies. And I just happened to have the exact amount of oats needed to make this recipe, so I went with it. Clearly, these cookies were meant to be.
Digging out the oats made me realize that my pantry is in need of an after the holidays overhaul. Seriously, it's ridiculous and comical all at the same time. Who keeps 1/4 cup of peppermint baking chips and a few tablespoons of walnuts? That would be this girl! Maybe I should toss everything into a big bowl of cookie dough and see what happens. However, I decided the best plan of action was to ignore the pantry and make cookies instead.
These Oatmeal Cookies with Cranberry Raisinets are soft, chewy and have just a touch of tartness from the cranberries. The bag of Cranberry Raisinets that I purchased was 5.5 ounces (about 3/4 cup) which wasn't quite enough, so I decided to supplement the Raisinets with semisweet chocolate chips. Next time – yes, there will be a next time – I'll definitely be sure to pick up two bags of Cranberry Raisinets.
Whether you're snowed in or just craving a good cookie, I hope you'll give these a try and love them as much as we did. Let me know what you think!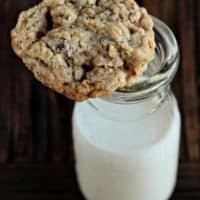 Oatmeal Cookies with Cranberry Raisinets
Ingredients
1 cup butter, softened
1 cup sugar
1 cup packed light brown sugar
2 eggs
1 teaspoon pure vanilla extract
2 cups all-purpose flour
1 teaspoon baking soda
1 teaspoon salt
1 1/2 teaspoons ground cinnamon
3 cups quick cooking oats
3/4 cup chocolate covered cranberries
3/4 cup semisweet chocolate chips
Instructions
1. In the bowl of a stand mixer fitted with the paddle attachment, or in large bowl with an electric mixer cream together butter and sugar until light and fluffy, about 3 minutes.
2. Beat in eggs one at a time and add in vanilla. In a medium bowl, stir together flour, baking soda, salt, and cinnamon. Mix the dry ingredients into the creamed mixture until just combined. Stir in oats, chocolate covered cranberries and chocolate chips mixing until incorporated. Cover, and chill dough for at least one hour.
3. Preheat the oven to 375 degrees F. Line baking sheets with parchment paper or spray with nonstick cooking spray. Use a medium scoop (1 ½ tablespoons) to create dough balls. Place the balls of dough 2 inches apart on prepared baking sheets.
4. Bake for 8 to 10 minutes in preheated oven. Allow cookies to cool on baking sheet for 5 minutes before transferring to a wire rack to cool completely.
Notes
- If you don't have chocolate covered cranberries, these would be equally as delicious with chocolate covered raisins or simple use all chocolate chips.
- Store cooled cookies in an airtight container at room temperature for up to three days.
Adapted from allrecipes