Pistachio Rum Creme Brulee
Pistachio Rum Crème Brûlèe: a unique, indulgent take on a classic French custard dessert.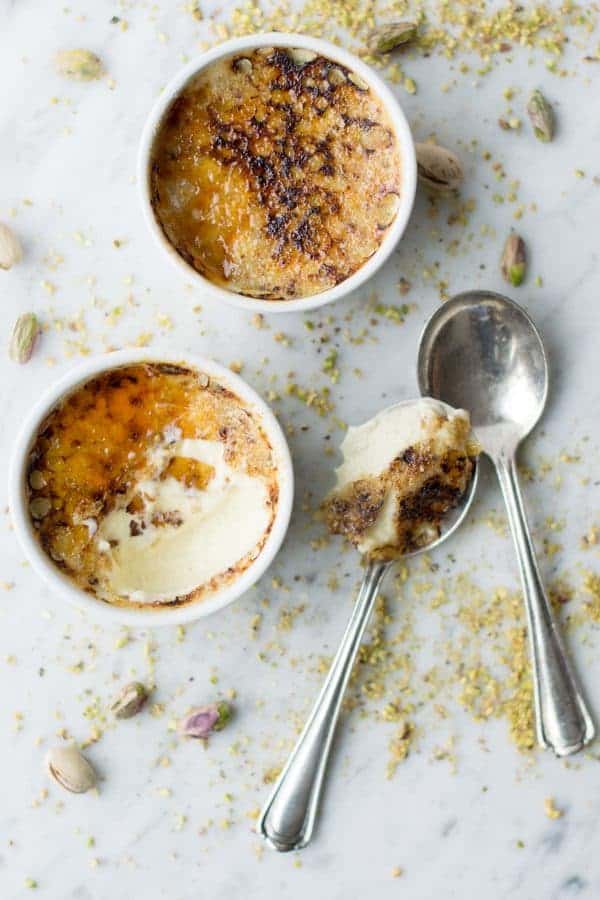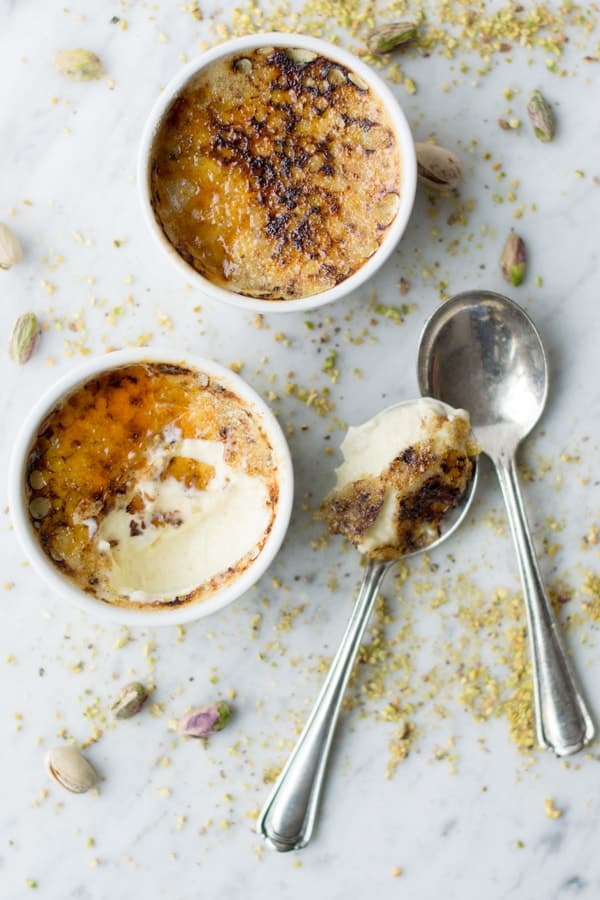 Hello! I'm Keith from Superman Cooks and I'm guest posting here on My Baking Addiction today to share a fun twist on Crème Brûlée.
Crème Brûlée is a traditional French dessert that my daughter has developed quite a liking for. She is not alone. There is something about this rich, creamy custard, topped off with a hard, sugary layer of caramel goodness that appeals to all of us in this house.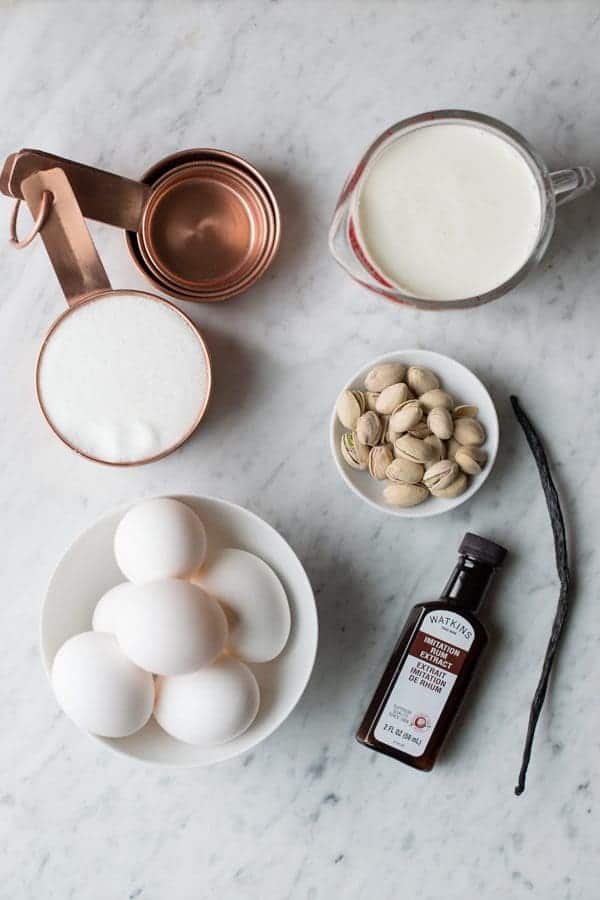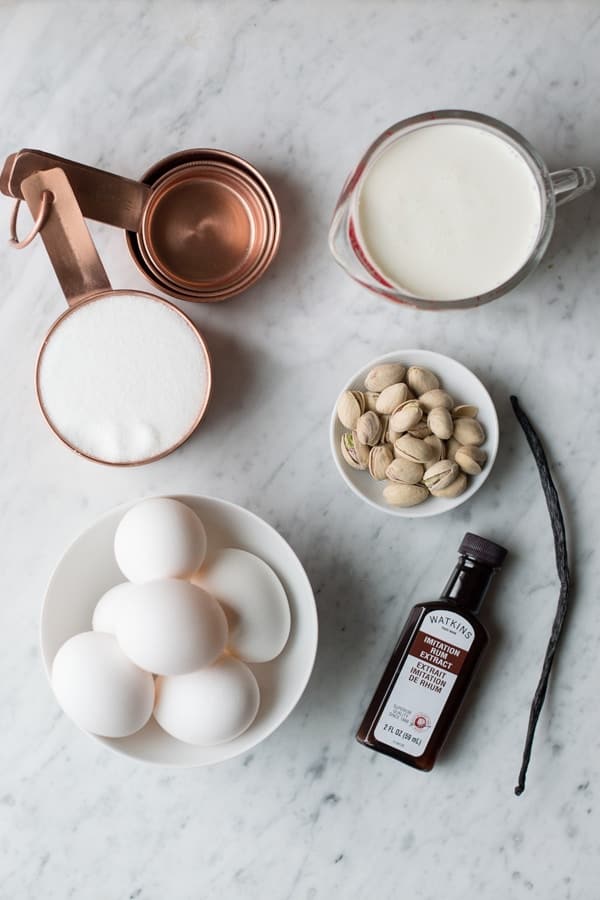 My daughter often asks me to make her favorite desert for her. Since she will be leaving for college soon, I decided to indulge, as my opportunities to do so will decrease exponentially in the coming years. Of course, Jackie and I had to figure out the right way to put a "Superman Cooks spin" on this recipe, as no one could ever accuse us as being "vanilla".
We kind of have a thing for pistachios. They add an instant punch to salads and snacks, and we always have them in our pantry. They were calling our name for this recipe; our Pistachio Rum Crème Brûlée was taking shape. I originally wanted to add pistachio extract, but it proved to be hard to find.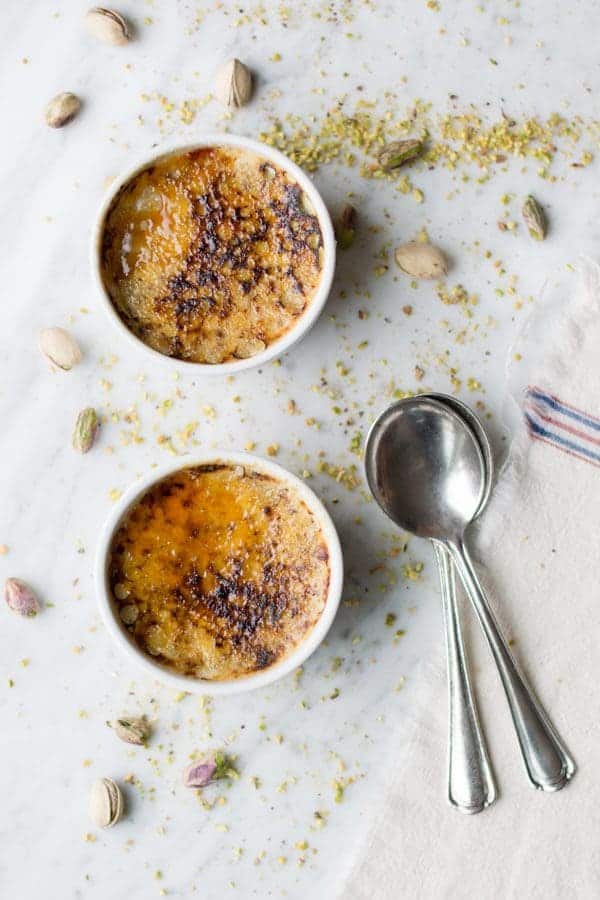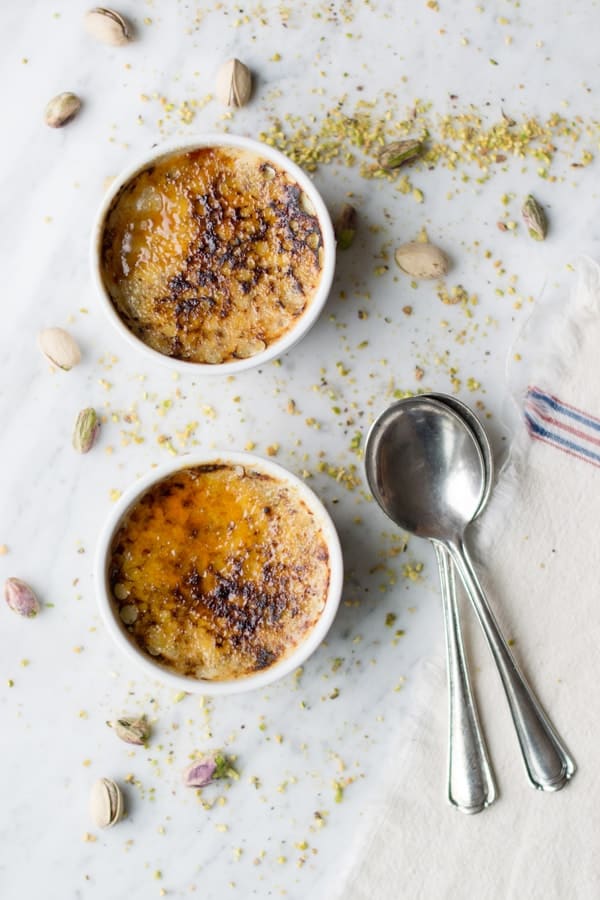 We did have some rum extract left over from a holiday eggnog recipe, and I thought: why not? Jackie agreed. It took a few tries to get the proportions right (which meant several batches of crème brûlée; I heard no complaints), but I think we finally arrived at splendid version of our favorite decadent dessert.
The crunch of the pistachio and the hint of rum flavor make this Pistachio Rum Crème Brûlée quite heavenly. I think I may have found a treat that I can have ready and waiting for my daughter when she comes home for breaks.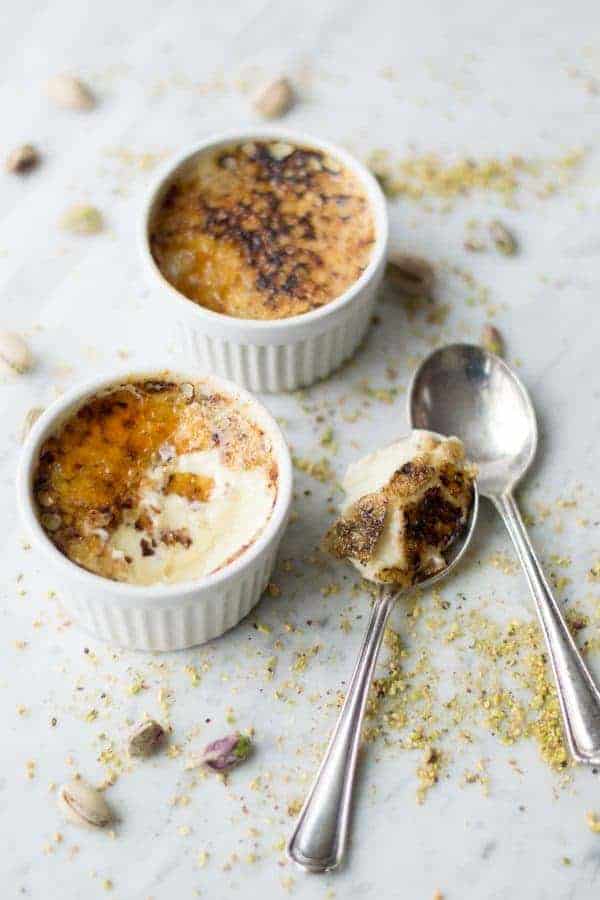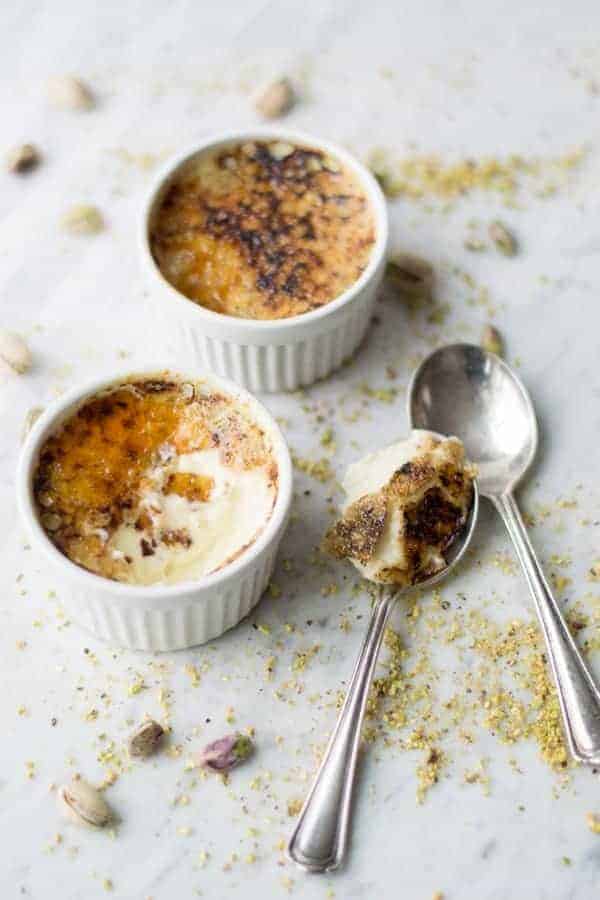 It is nice that they are made in individual serving dishes, as she may even have some to take back. As much as I dread those days, I know it is necessary a part of life. I can only hope that my cooking will always be something she looks forward to coming home to.
For more delicious crème brûlèe recipes, be sure to check out this White Chocolate Crème Brûlèe and Pumpkin Crème Brûlèe here on My Baking Addiction.
Pistachio Creme Brulee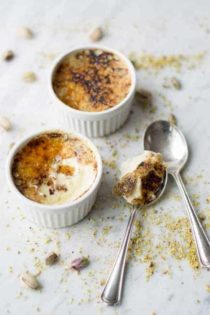 Ingredients:
6 egg yolks
2 cups heavy whipping cream
⅓ cup plus ¼ cup granulated sugar, divided use
1 vanilla bean
¼ teaspoon rum extract
¼ cup chopped pistachios
Directions:
Preheat oven to 350°F.
In a medium sauce pan, heat whipping cream and vanilla pulp scraped from the bean until almost boiling over medium heat.
While cream is heating, take a medium mixing bowl and beat egg yolks and ⅓ cup sugar until light in color (about 5 minutes).
As soon as cream is ready to boil, remove from heat and add about ½ cup of cream to eggs and mix quickly (you do not want the eggs to cook).
Pour egg mixture into cream and mix until well combined.
Add rum extract and pistachios and mix.
Pour mixture into 6 ramekins (we use 6 oz ramekins) and place in 9×13 baking pan and place in oven.
Pour warm water into pan to surround ramekins and bake for 30-40 minutes until slightly set.
Remove from oven and refrigerate ramekins for at least 2 hours or up to 3 days.
Remove from fridge and divide remaining sugar on top of each dish.
Brown sugar using a torch.
All images and text ©
Follow Jamie on Instagram. We love to see what you're baking from MBA! Be sure to tag @jamiemba and use the hashtag #mbarecipes!


This post may contain affiliate links. We are a participant in the Amazon Services LLC Associates Program, an affiliate advertising program designed to provide a means for us to earn fees by linking to Amazon.com and affiliated sites.