Pumpkin Muffins made with Mott's Applesauce are a great way to start the day. A small dollop of cream cheese inside mimics my favorite pumpkin roll flavor, without the extra calories!
This is a sponsored post on behalf of Mott's® Applesauce. All opinions are my own.
Every year when this season rolls around, my mind turns to my Nana's Pumpkin Roll recipe. I love them like, well, like a kid loves cake. But they're not the best option around if you're trying to lose baby weight, is what I'm saying. A once-a-season treat.
But I have to be honest, all the nostalgia, love, and warm feelings Nana's Pumpkin Rolls bring to me makes me want them all season long. Thank goodness for applesauce – I found a compromise!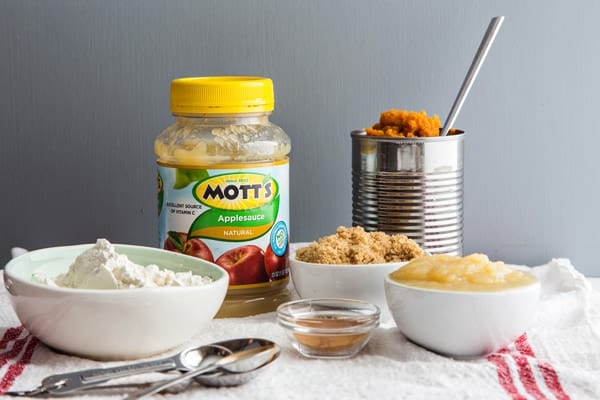 When the lovely people at Mott's® Applesauce asked if I'd like to create a few recipes that swap in better-for-you applesauce instead of oil, I agreed immediately – both because we have their big jars on hand all the time – for baking, for snacking, for feeding Elle, but also because I think it's important to take you guys on my journey too. And right now, my journey is Hey-baking-with-applesauce-instead-of-oil-is-smarter-for-your-body-but-also-ALL-THE-PUMPKIN-ROLLS. Keepin' it real, it's what I do.
These muffins, you guys. These muffins. Light and fluffy, full of homemade pumpkin pie spice and packed full of flavor. With just a dollop of sweetened cream cheese at the center, and a lot less fat otherwise, thanks to the addition of Mott's® Applesauce.
I am seriously impressed with how moist these breakfast-y treats are. Clearly baking with applesauce is the way forward. There's no hint of apple here, pumpkin flavor is heavy handed enough that you'd never know this muffin recipe boasts almost a cup of applesauce. And that's just fine by me – it can be our little secret that I'm finally managing to get a few family members eating something on the healthier end of the spectrum. Just do me a favor and keep it our secret, okay?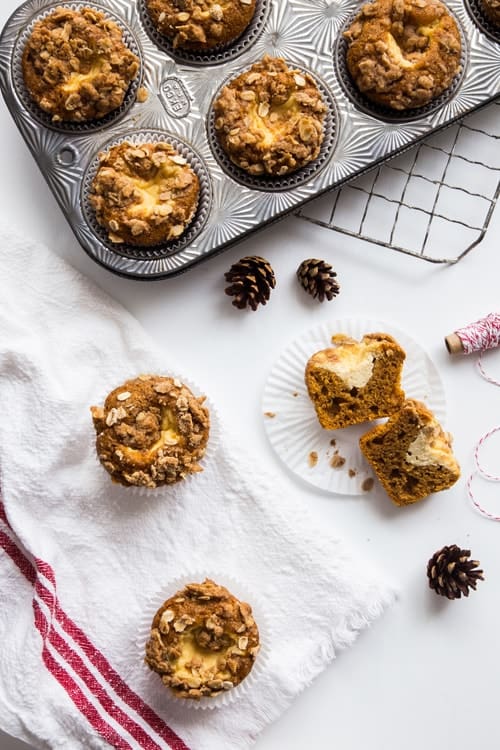 These healthier Pumpkin Muffins with sweetened cream cheese are a fantastic start to a frosty fall morning. Warm them up just a bit in your toaster oven. Trust me on this one. They're magical warmed just enough to take the chill off your fingers. And don't forget the steaming cup o' joe to go with them.
There are lots of ways to bring a healthy twist to traditional family recipes. Mott's® has started a fantastic Bake It Better with Mott's® Pinterest board with all sorts of easy and approachable recipes for the holidays that are made better for you by subbing applesauce for oil, plus plenty of baking tips and tricks. Make sure you check it out, there are so many great ideas!
It's such an easy switch, we should all do it more often, don't ya think? Especially when you end up with moist, light and fluffy muffins like these. I think you'll agree, they're an amazing way to start your day.
The lovely people at Mott's® have put together a baker starter set to help you create delicious holiday breads and muffins, valued at over $150. Use the widget below to enter.
My Baking Addiction's "Thanksgiving Giveaway" starts on Thursday, November 20 at 9:00 a.m. EST and ends on Sunday, November 23rd at 12:00 a.m. (EST), and is open to all My Baking Addiction readers, subscribers, and/or fans 18 years old and older in the continental U.S. No purchase required. One winner will be chosen randomly and announced soon after the ending date. You must leave your contact information to collect your prize. If a winner does not respond within 3 days, a new winner will be chosen. Allow 3-6 weeks for giveaway fulfillment.
Disclosure: This post is sponsored by Mott's® Applesauce; however, the views and opinions expressed on My Baking Addiction are my own, and based upon my experiences with Mott's® Applesauce products. Thank you for supporting Mott's® Applesauce and the brands that continue to make My Baking Addiction possible.