Slimer Cheesecake Parfaits
Slimer Cheesecake Parfaits are layered with vanilla wafers, marshmallow cheesecake filling and pistachio pudding. They're sure to be a huge hit for the Ghostbusters™ lover in your life!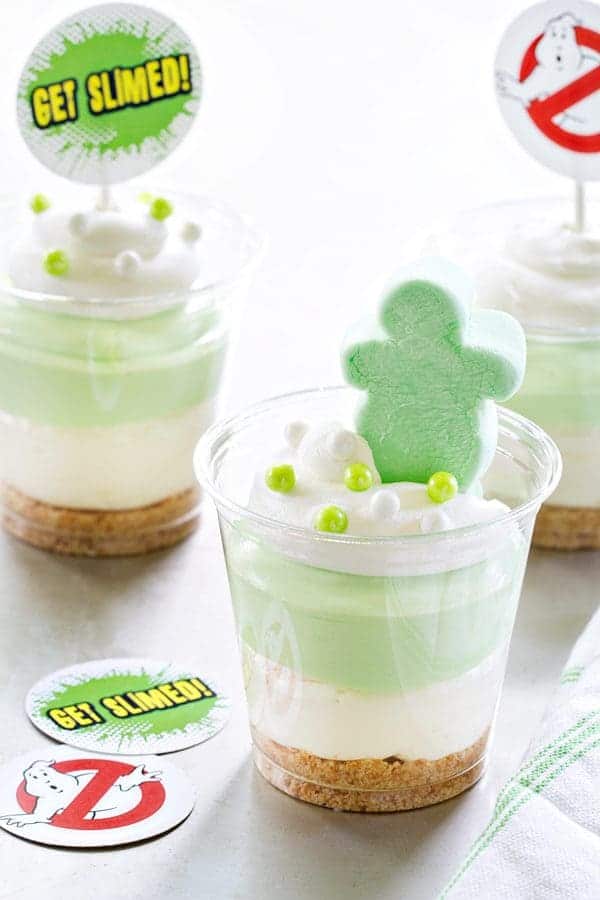 This is a sponsored post on behalf of Campfire® Marshmallows. All opinions are my own. Thank you for supporting the brands that continue to make My Baking Addiction possible.
I was always a big fan of the original Ghostbusters™ franchise. Those cheesy, goofy movies were a huge part of my childhood. And I'm not gonna lie, Venkman's character inspired a little obsession with Bill Murray that lasts to this day. I just adore every movie he's in.
The newest Ghostbusters™ movie brings a new premise, and lots of girl power to the screen, and I have to tell you, it is awesome. As the mama of a powerful little girl, I love so much about this sweet, hysterical movie. I can't wait until she's a bit older and I can show her four powerful women, just makin' stuff happen.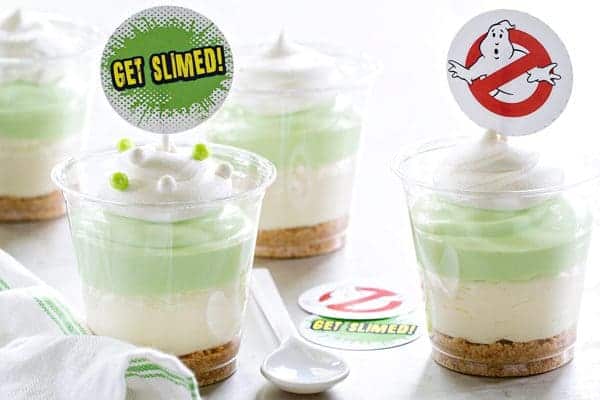 Slimer was obviously my favorite ghost, being the child of the 80's that I am. He makes an appearance in this new film, along with his ghosty girlfriend, and it totally cracked me up. Almost as much as Kate McKinnon, who totally steals the show.
If you read MBA on a regular basis, you know that I have been working with Campfire® Marshmallows for a couple of years to create all kinds of ooey-gooey, delicious recipes. And although I'm pretty much obsessed with every single variety of their marshmallows, I have to say, their newly released Ghostbusters™ Marshmallows might just be my new fave.
Seriously, who could possibly resist Slimer and Stay Puft Man in marshmallow form? They're as adorable as they are delicious. They're perfect for roasting, snacking, or incorporating into fun, playful Ghostbusters™-themed desserts like these Slimer Cheesecake Parfaits.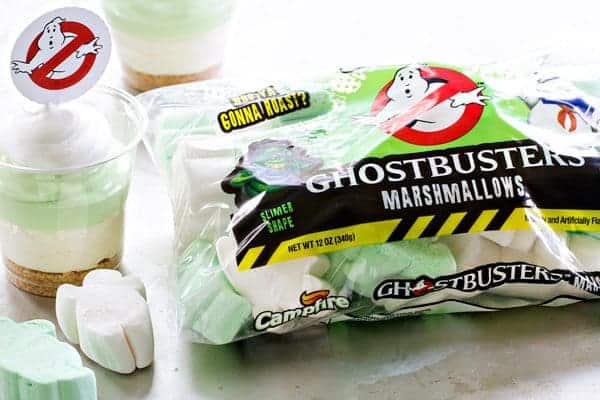 These Slimer Cheesecake Parfaits come together with ease, store beautifully in the fridge, and are all kinds of delicious. The Ghostbusters™ themed tags make them a little more special. You can download them for free directly from Campfire® Marshmallows, by clicking here. Just print them off on white card stock, cut them out, and top all of your Ghostbusters™ dessert creations!
I know it's still summer, but these would be absolutely adorable around Halloween, so make sure you grab a couple of bags now for stashing away.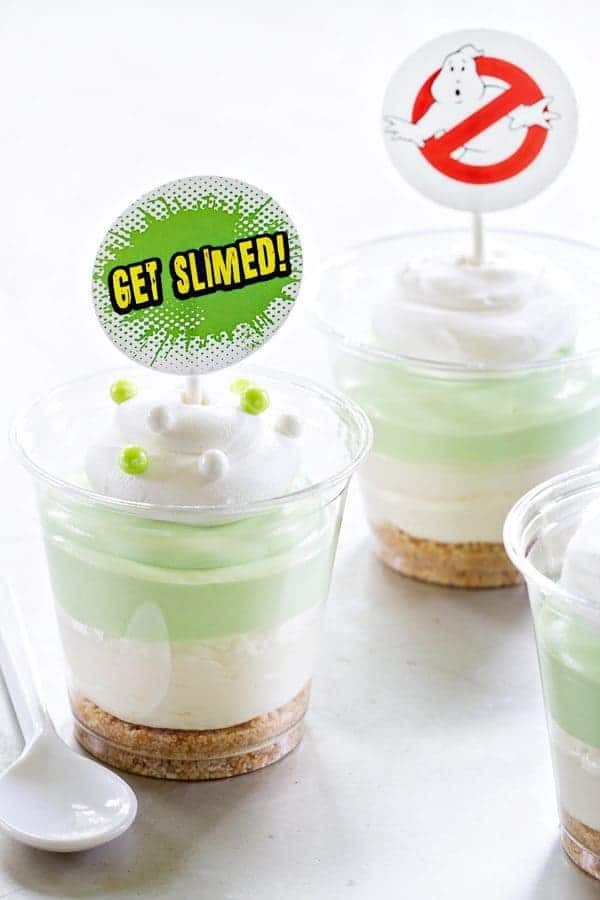 Campfire® is hosting a "Who Ya Gonna Roast" recipe contest featuring their new Ghostbuster™ marshmallows.
You can find the details and submit your recipe here! The grand prize is a Family Movie Night Out for 1 Year! Pretty awesome, right?
I've partnered with Emily from Jelly Toast and Campfire® Marshmallows to create recipes to share with you throughout the entire year.
If you're a marshmallow lover, you'll definitely want to stay tuned for loads of ooey-gooey goodness! You seriously have to check Emily's Slimer S'mores Sundaes, they are so perfect for summer!
We even created a Marshmallow Madness Pinterest board where we've pinning loads of delicious marshmallow recipes that are perfect for any occasion. Like this Ghostbusters™ Party Popcorn and No Bake S'mores Cheesecake.
Slimer Cheesecake Parfaits
Yield: 6 servings
Prep Time: 20 minutes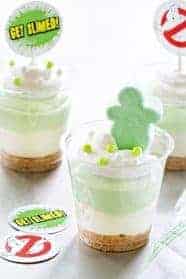 Ingredients:
30 vanilla wafers, crushed into crumbs
3 tablespoons unsalted butter, melt
15 Campfire® Stay Puft Man Ghostbusters™ Marshmallows
8 ounces cream cheese, room temperature
1/2 cup powdered sugar, sifted
1/2 teaspoon vanilla extract
8 ounce container of frozen whipped topping (Cool Whip or TruWhip), thawed (divided use)
1 3.4 ounce package pistachio pudding mix
1 1/2 cups milk
6 Campfire® Slimer Ghostbusters™ Marshmallows
Directions:
In a medium bowl, stir together the vanilla wafer crumbs and melted butter.
Evenly divide the crumbs between 6 individual serving dishes or plastic cups and press into the bottoms to form a crust layer.
Place serving dishes into the refrigerator while you prepare the cheesecake.
Place 15 Campfire® Stay Puft Man Ghostbusters™ Marshmallows in a large, deep microwave-safe bowl. Microwave on high power for 45-60 seconds. Marshmallows will puff up and begin to melt. Use a buttered spatula to stir the marshmallows until smooth. Set aside.
In a large bowl with an electric mixer, whip the cream cheese for about 2 minutes. Add in powdered sugar and vanilla and beat for an additional minute. Use a buttered spatula to scoop the melted marshmallows into the cream cheese mixture and beat for an additional minute.
Use a rubber spatula to fold in half  the whipped topping.
Spoon or pipe the cheesecake filling directly onto crusts and place them back into the refrigerator while you prepare the pistachio pudding.
In a medium bowl whisk together the pudding mix and milk for 2 minutes. Place bowl into the refrigerator and allow the pudding to set up for about 10 minutes.
Fold the remaining whipped topping into the pudding until no streaks remain.
Spoon or pipe the pudding mixture onto the marshmallow cream cheese layers.
If desired, top with additional whipped topping, Campfire® Slimer Ghostbusters™ Marshmallows, and printable tags.
Notes:
If you have a piping bag on hand use it to create the layers, it will go much quicker than spooning them.
I used a fine mesh sieve to remove the tiny pieces of pistachio from the dry pudding mix. This step is definitely not necessary if you don't mind the little flecks in your "slime" layer.
I taped the printable tags to small lollipop sticks before inserting them into the parfaits.

43 Responses to "Slimer Cheesecake Parfaits"