Two brownie recipes within one week? Let me explain. Do you ever get in a funk? Ya know when everyone and everything pretty much annoys you for no apparent reason. Well, I have been in this funk for about a week and the only cure I could come up with was… chocolate.
More specifically rich brownies with a milk chocolate toffee candy bar baked into the center. Yeah, Symphony Brownies will cure a mood like no other.
If you frequent My Baking Addiction on a regular basis, you may recall that I'm not especially fond of chocolate, but there is something about these brownies that makes me swoon. I'm pretty certain that something is the ooey gooey center that is imparted by the Symphony candy bars. These Symphony Brownies couldn't be easier and I'm guessing the only items you'll have to pick up from the market are the Symphony candy bars.
So, here's to a good a week! Have a great day and thanks so much for stopping by!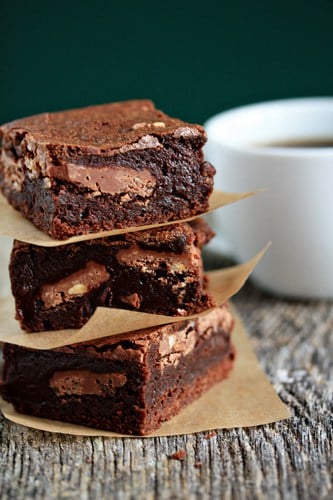 Symphony Brownies
Ingredients
4 ounces unsweetened chocolate; coarsely chopped
3/4 cup butter
1 1/2 cups white sugar
3 eggs
1 teaspoon vanilla extract
¼ teaspoon kosher salt
1 cup all-purpose flour
2 (4.5 ounce) Symphony Chocolate bars; broken into squares
Instructions
1. Preheat oven to 350 degrees. Line an 8×8 inch baking pan with foil and spray with nonstick cooking spray.
2. Microwave chocolate and butter or margarine in large bowl at medium (50% power) for 3-4 minutes or until butter is melted.
3. Whisk until chocolate is melted. Stir in sugar and add in eggs, extracts and salt. Gradually add in flour and stir until just combined.
4. Spread 1/2 the batter into prepared pan. Add an even layer of Symphony Chocolate squares and cover with remaining 1/2 of brownie batter. Bake for 30-35 minutes; do not over bake.
5. Remove to cooling rack. Allow to cool completely before cutting.