Rich and creamy with deep caramel notes, homemade butterscotch pudding is a little spoonful of comfort. This recipe is easy to make and tastes so much better than the store-bought stuff!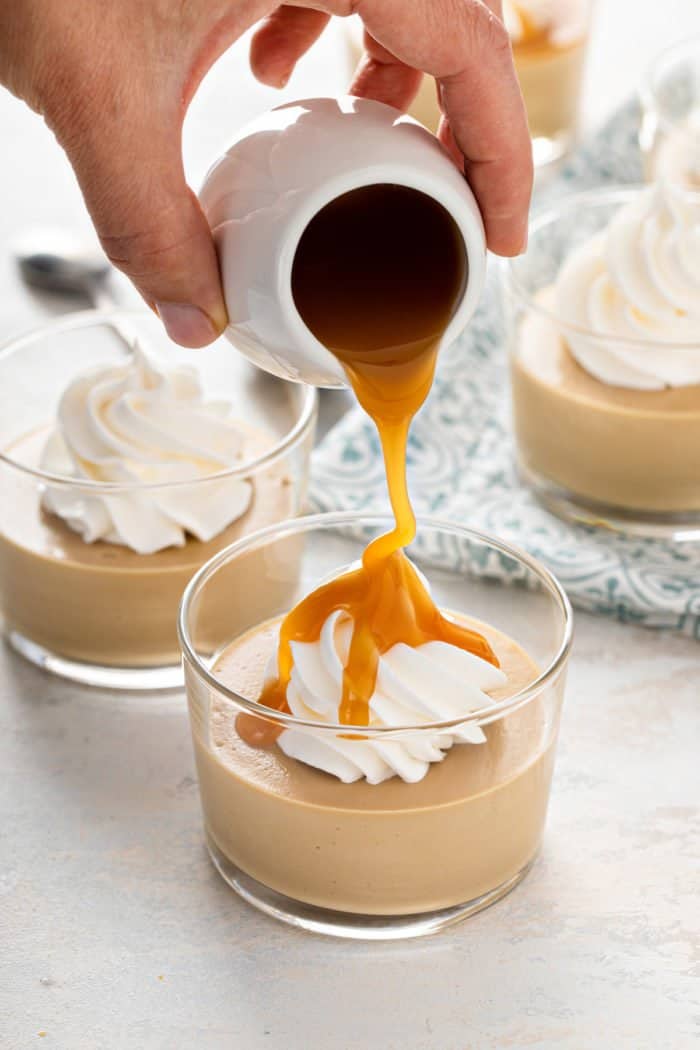 When I was in college, I almost always had pudding cups and a can of Reddi-Wip in my dorm room fridge.
A little pudding up with a bit of whipped cream on top and I had an easy dorm-room-friendly dessert.
Even as an adult, I sometimes will pick up a snack pack of pudding to share with Elle. But while the vanilla and chocolate flavors are acceptable, the butterscotch flavor never cuts it.
I had to make homemade butterscotch pudding to finally understand the deal with butterscotch pudding. Once I made the homemade stuff, I truly got it.
Real butterscotch pudding is rich and tastes like caramel in all the best ways. Thankfully, it's super easy to make, so you can totally give it a try yourself!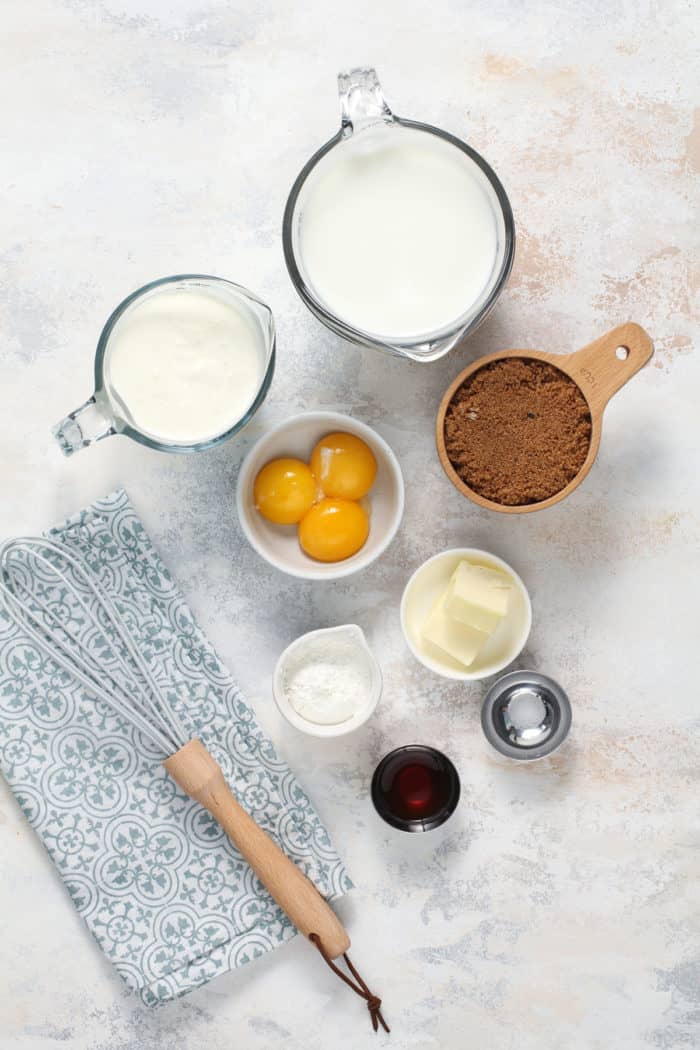 WHAT IS BUTTERSCOTCH PUDDING?
If the word "butterscotch" makes you think of your grandma and crinkly butterscotch candy wrappers…well, you're not too far off.
Butterscotch is a type of candy made primarily from brown sugar and butter. But you don't have to actually make the butterscotch candy to have a butterscotch dessert!
Butterscotch also gets used as a descriptor when the main flavors in a recipe are brown sugar and butter, like with butterscotch pudding.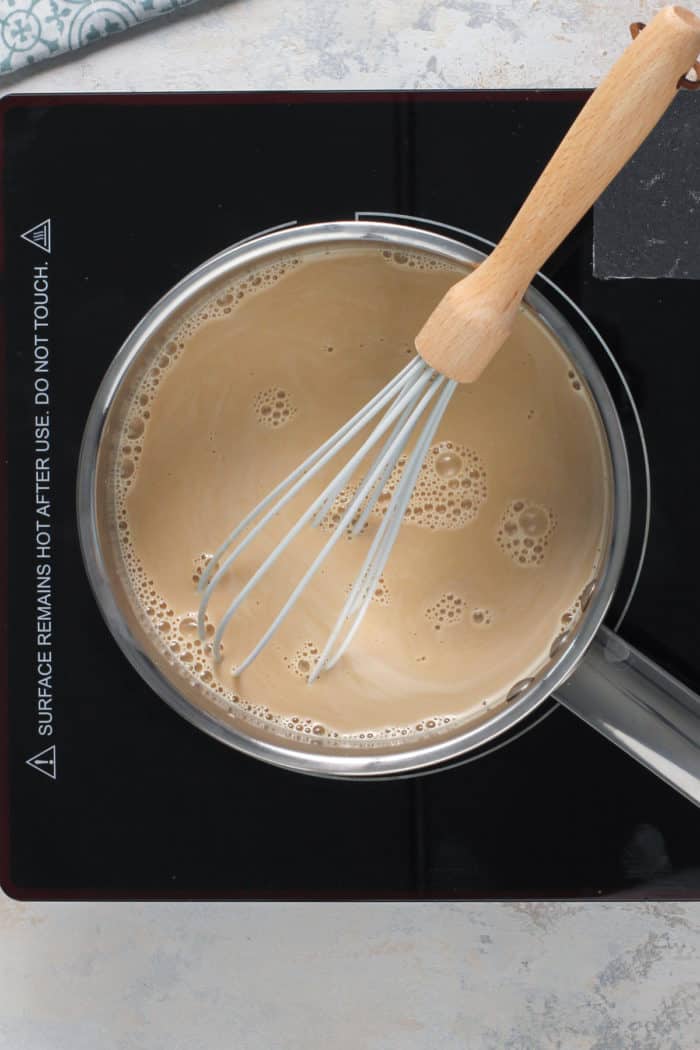 Does butterscotch pudding have whisky in it?
I know the word "scotch" might make you think that butterscotch pudding would have scotch whisky in it, but it actually doesn't!
Turns out, no one really knows where the "scotch" part of the word "butterscotch" comes from. But this recipe is completely alcohol-free!
Although if you wanted to add some bourbon to it, you could do that in the same way that I added Baileys to my homemade chocolate pudding.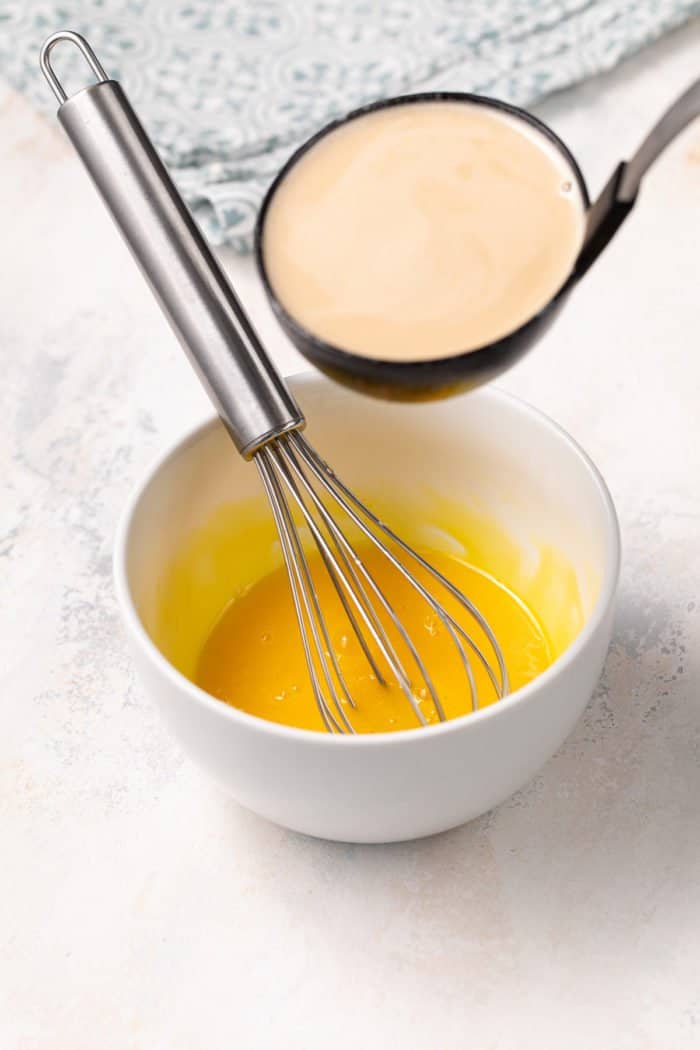 HOW TO MAKE BUTTERSCOTCH PUDDING
This recipe is so easy to make. I adjusted my favorite vanilla pudding recipe to make this one, so you know it's going to be good!
Ingredients you'll need
If you've never made butterscotch pudding before, you might not realize that the ingredients to make it are super simple!
Whole milk and heavy cream: A mixture of whole milk and heavy cream serves as the base for our pudding. You can use only whole milk if you'd like, but your pudding won't be as rich and creamy. I don't recommend using reduced-fat or fat-free milk in this recipe.
Cornstarch: Cornstarch helps thicken the pudding.
Egg yolks: Egg yolks also serve as a thickening agent, and they help give the pudding a super silky, rich texture and mouthfeel.
Dark brown sugar: This is where so much of the flavor comes from in this recipe. Dark brown sugar gives the pudding those deep caramel notes that we associate with butterscotch. If you don't have dark brown sugar on hand, check out how to make a brown sugar substitute to whip some up.
Unsalted butter: The other key player in the butterscotch flavor! The butter also adds a nice silkiness to the pudding.
Vanilla: Vanilla helps round out all of the flavors and pull everything together.
Salt: A small pinch of salt is all we need to balance the sweetness in this pudding.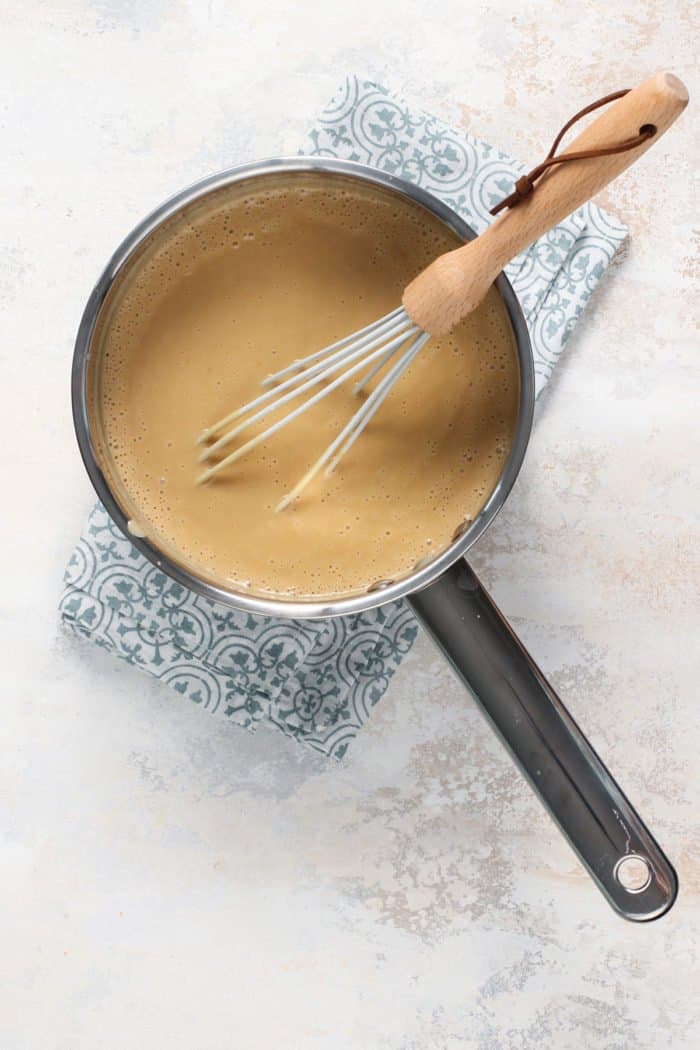 Tools you'll need
Just like the ingredients are straightforward, so is the equipment needed to make this recipe:
Small bowls
Whisk
Medium saucepan
Measuring cups and spoons
Once the pudding is cooked, you can pour it into small serving bowls to portion it out or pour it into a larger container and dish it from there. I like putting it in small serving bowls right away for a pretty presentation.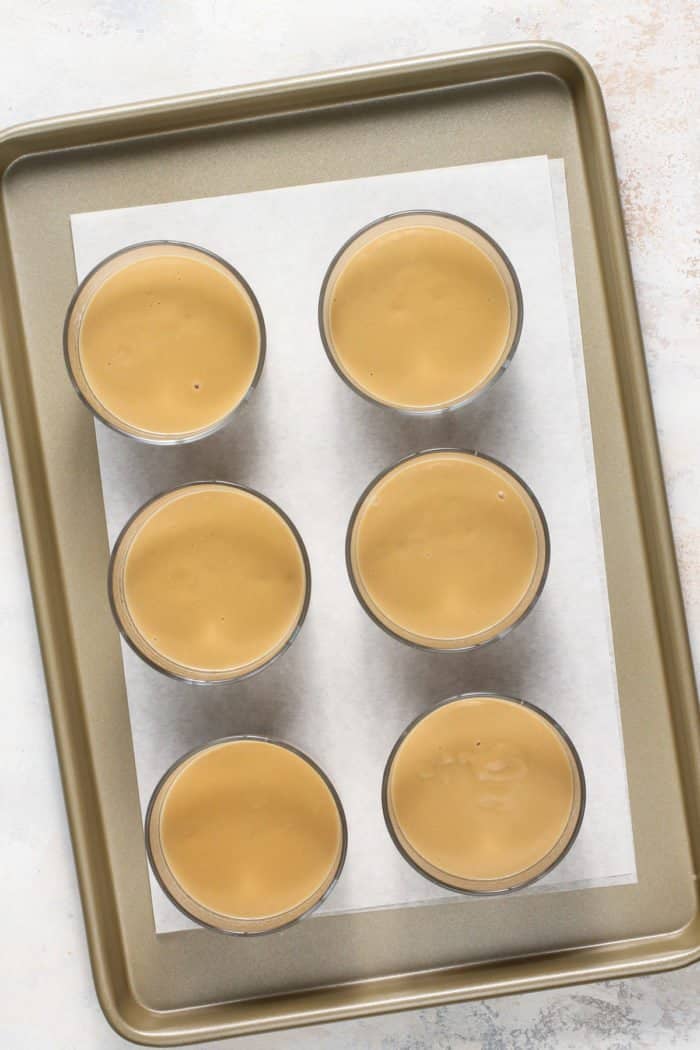 Making this recipe
If you can whisk things together, you can make this pudding recipe!
Start by whisking together ¼ cup of the milk with the cornstarch to make a slurry. We'll add this to the hot pudding later, so set it aside for now.
Add the remaining milk to the saucepan along with the cream, salt, and brown sugar. Whisk this together and heat over medium heat until it is steaming, but don't let it boil.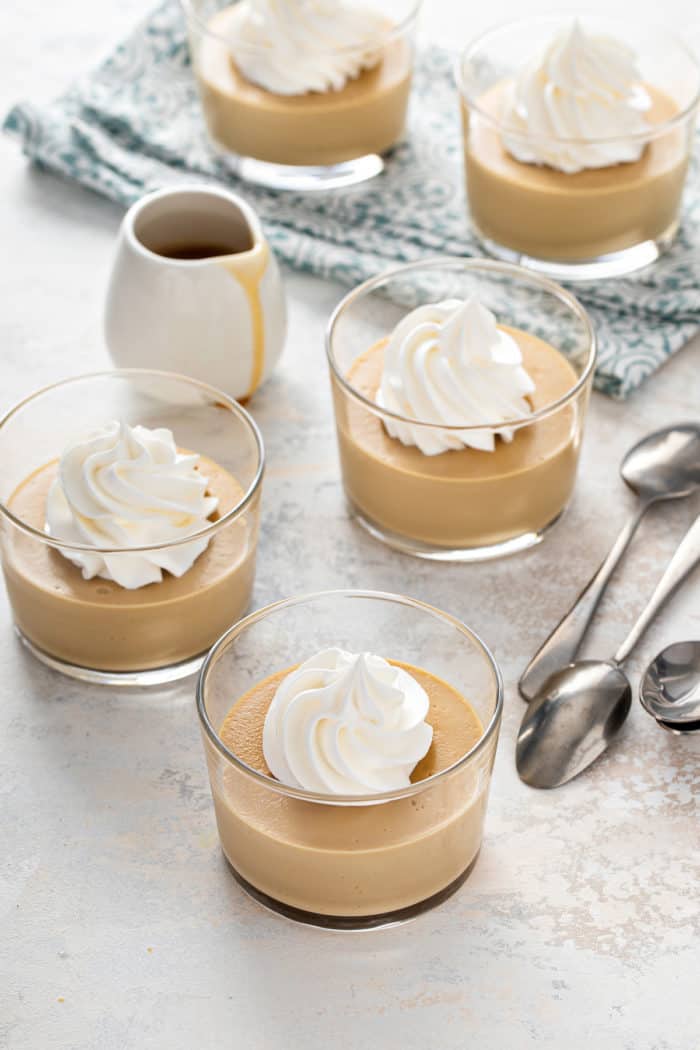 While your milk mixture is heating, whisk together the egg yolks in a small bowl. Once the milk is steaming, temper the egg yolks by slowly streaming ½ cup of the hot milk into them, whisking constantly.
Doing this will bring up the temperature of the yolks so they don't scramble when you add them into the pudding.
Now you'll add the egg yolks to the hot milk, along with the cornstarch slurry you made. Keep cooking the pudding over medium heat, whisking constantly, until it starts to simmer and has thickened.
Take the pudding off the heat and whisk in the butter and vanilla.
Pour the pudding into the bowl or bowls of your choice. Serve the pudding warm or chilled.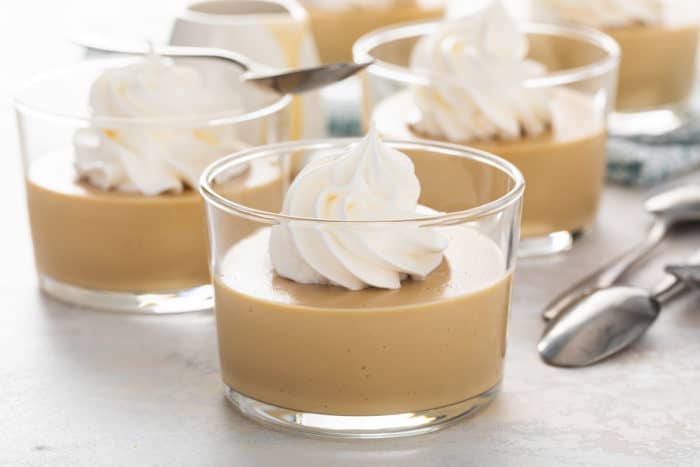 SERVING SUGGESTIONS
I like to serve my butterscotch pudding with a bit of homemade whipped cream. It is also delicious with a drizzle of salted caramel sauce on top.
Divide it into some mini graham cracker crusts and top with whipped cream or Cool Whip for a simple butterscotch pudding pie.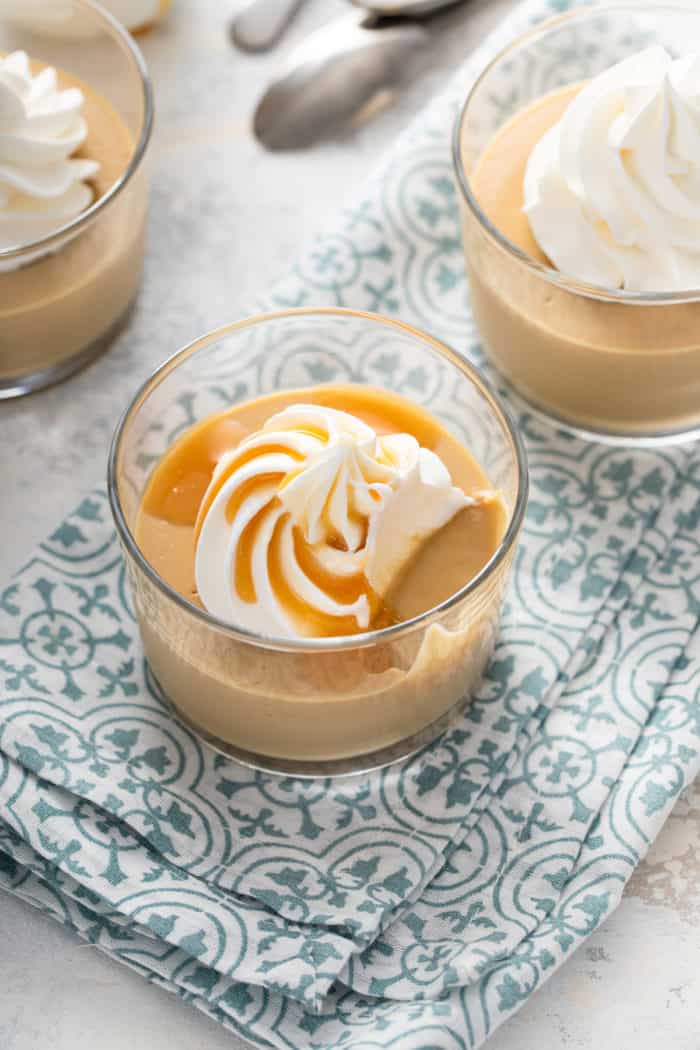 You can even make some simple pudding parfaits with this recipe! Layer some graham cracker crumbs or gingersnap cookie crumbs into small dishes. Layer on the pudding, whipped cream, and caramel sauce.
No matter how you serve it, this easy butterscotch pudding will bring you all of the nostalgic comfort of grandma's house.