Homemade chocolate pudding with Baileys is an easy and elegant 15-minute dessert to make when you're short on time. Chock-full of chocolate and boozy Irish cream flavors, this pudding is smooth, rich, and decadent. A dollop of fresh whipped cream and some chocolate curls or shavings are optional but highly recommended!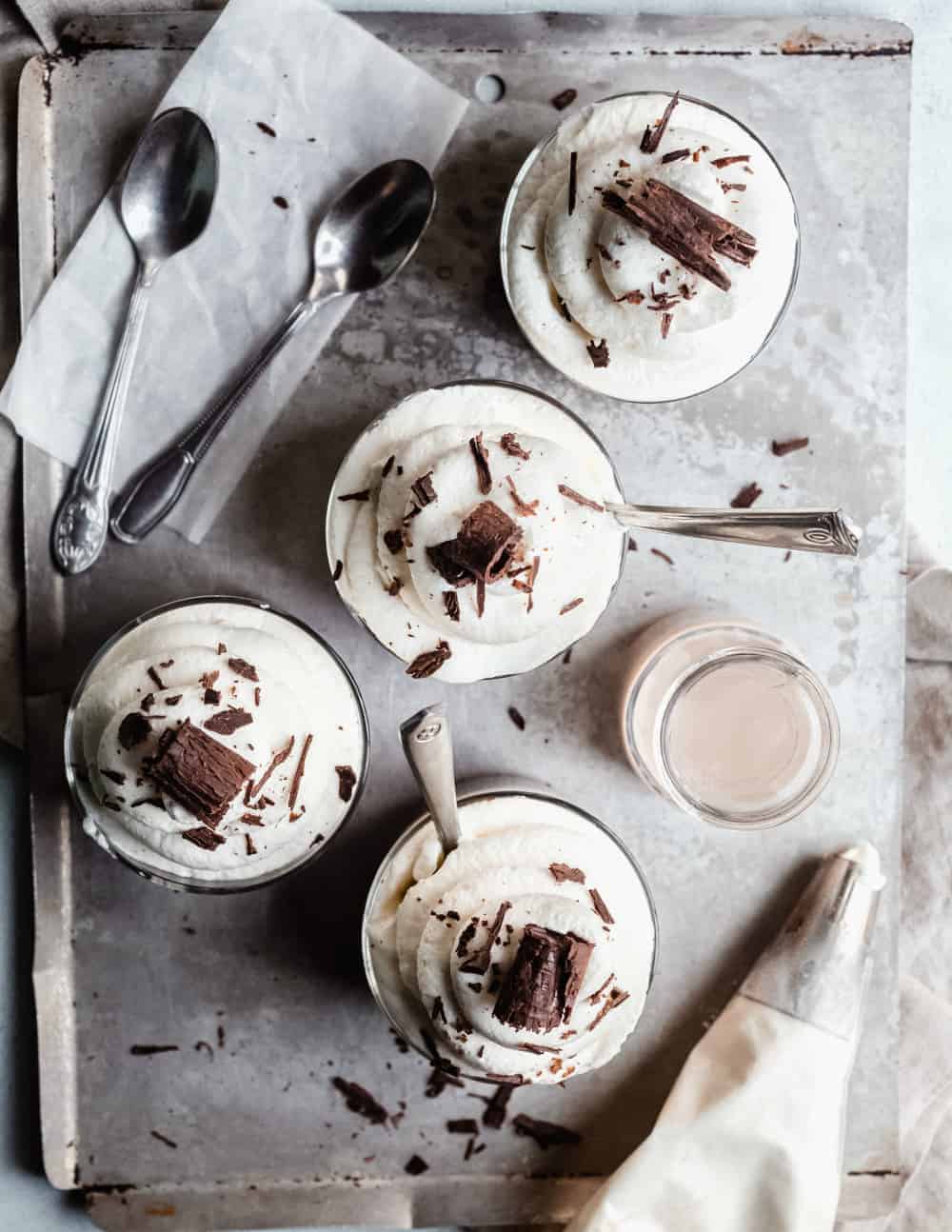 I'm a big fan of pudding but rarely make it myself, so I'm definitely guilty of spooning down Jell-o chocolate pudding snack packs from time to time – even adding a little squirt of whipped cream, too!
I was craving chocolate something fierce recently and decided to make homemade pudding with a little bit of Baileys Irish Cream just to make it extra special. Because, hey! Weekends!
Although I have made homemade pudding in the past, I forgot how easy it is to make. Not only is making homemade pudding incredibly simple, it also tastes amazing and it's a great framework for all types of flavor combinations.
Plus, you'll get a mini workout from all the whisking, so you can feel a little less guilty about eating this decadent treat!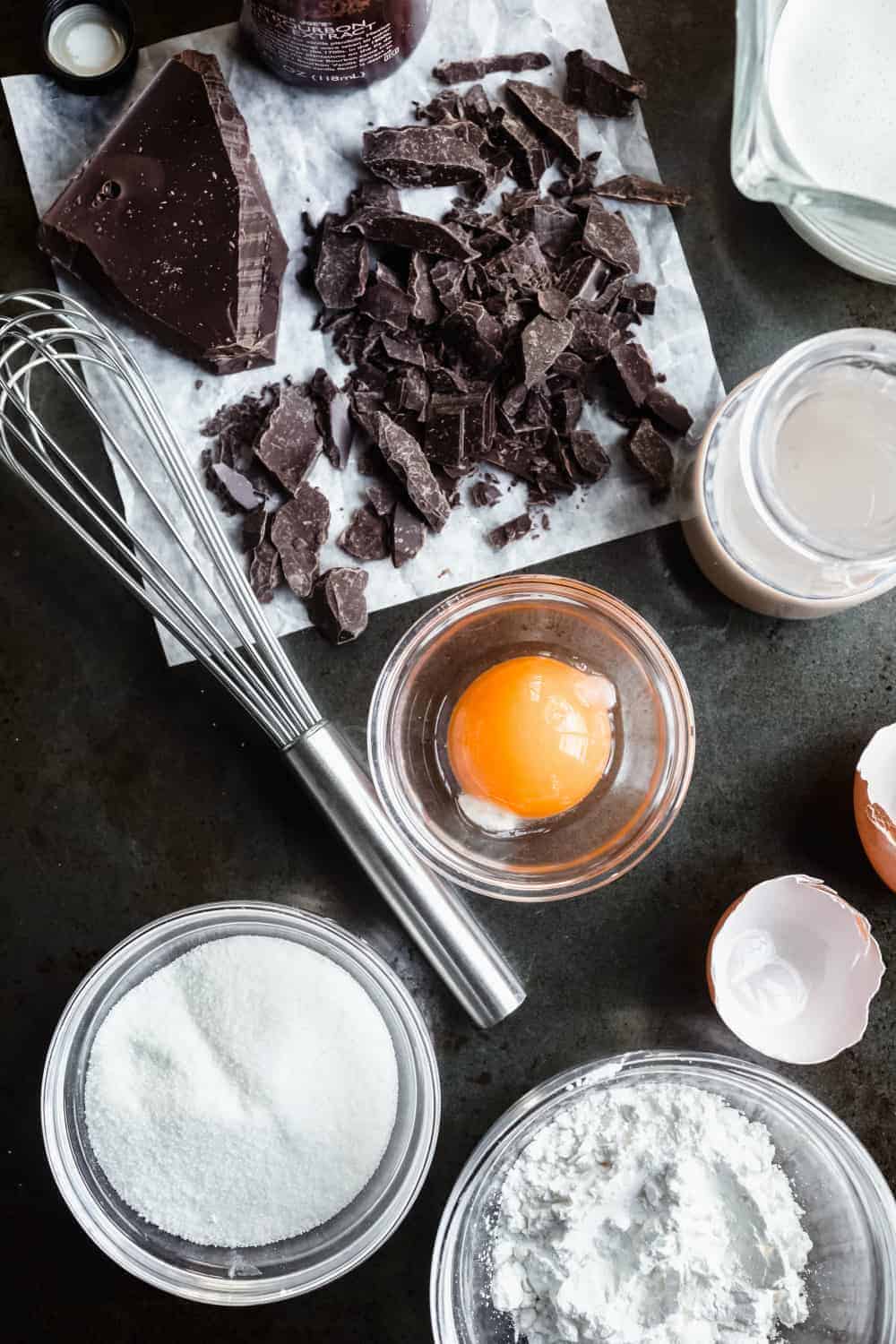 Chocolate Pudding Ingredients
Most basic homemade chocolate pudding recipes, including this one, contain similar standard ingredients:
Granulated sugar
Cornstarch
Milk and/or cream
Eggs
Vanilla extract, and
Chocolate
But I went a step further with an already fantastic pudding recipe when I decided to add some Baileys to it. And as soon as I indulged in one spoonful of this rich, smooth homemade pudding, my brain went into high gear and I immediately started jotting down other flavor ideas.
You know how much I love those miniature bottles of liqueur, right? The flavor possibilities to add to this chocolate pudding base recipe are endless!
Thickeners for Pudding
There are 2 primary ingredients that are used to thicken pudding: cornstarch and eggs. Some recipes, like this one, contain both. So you can be sure that this pudding definitely thickens nicely!
Recipes that don't include eggs and cornstarch may use other thickeners like tapioca, chia seeds, ground flax, and flour, which means the pudding may not be as smooth as one made with cornstarch and/or eggs.
If you're using cornstarch and eggs, you'll need to cook your pudding for 2 reasons. First, cornstarch will only act as a thickener when the liquid you're cooking it in reaches between 200 – 212 degrees F.
And second, cooking the eggs will help to thicken and also bind the pudding together, just as they do when you make pastry cream.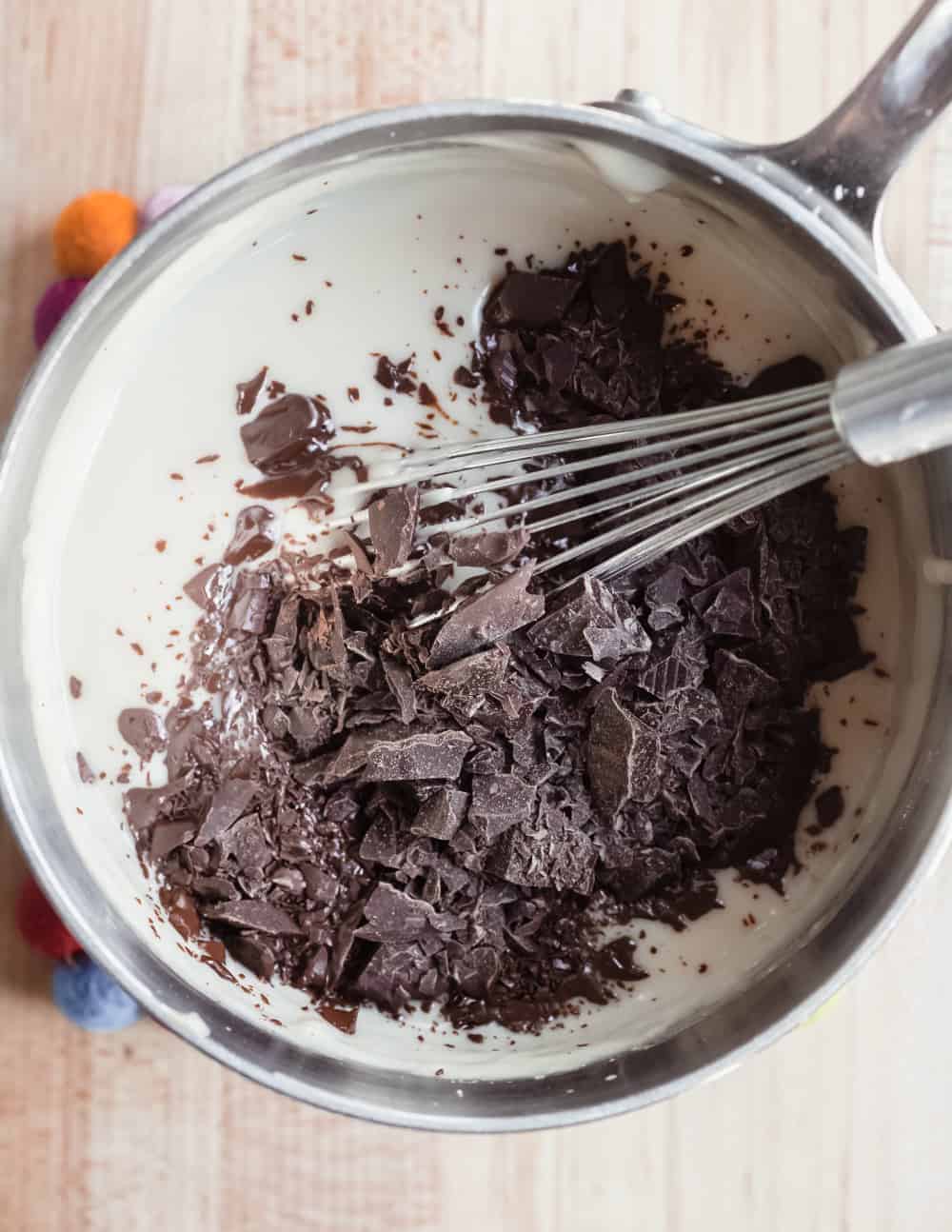 The Best Chocolate for Pudding
You can use any type of good quality bar chocolate to make chocolate pudding, whether it's milk, dark, or semi-sweet, like I used for this pudding recipe. They all give pudding a nice chocolatey flavor but be sure you consider how much sugar is in the recipe before you choose your chocolate.
Semi-sweet chocolate has a fair amount of sugar in it. For that reason, I chose to go light on the sugar in this pudding.
Too much added sugar plus a sweet chocolate will definitely ruin your pudding!
Try to stay away from using chocolate chips to make chocolate pudding because many brands coat their chocolate chips in a substance that helps the chips keep their shape when heated or baked. Great for chocolate chip cookies but not for chocolate pudding!
How to Make Chocolate Pudding from Scratch with Baileys (or any other liqueur!)
If you've never made pudding from scratch, you're in for a surprise because it's just so easy to make! Here's what you'll do:
Whisk the milk into the sugar and cornstarch in a medium pan. Then whisk in the egg and vanilla.
Bring the mixture to a boil to allow it to thicken and then take it off the heat.
Stir in the Baileys and vanilla.
Whisk in chopped chocolate until the pudding is completely smooth.
Pour the pudding into serving glasses or bowls and chill it for at least 2 hours before serving.
FIVE short steps! See, I told you it was easy!!
As for switching up the Baileys for another flavored liqueur, I say go for it!
It will be a 1 for 1 swap of whichever is your favorite liqueur. Khalua or peppermint Khalua would be great if you love coffee-flavored desserts. Or maybe some Grand Marnier for a chocolate-orange pudding? It's up to you!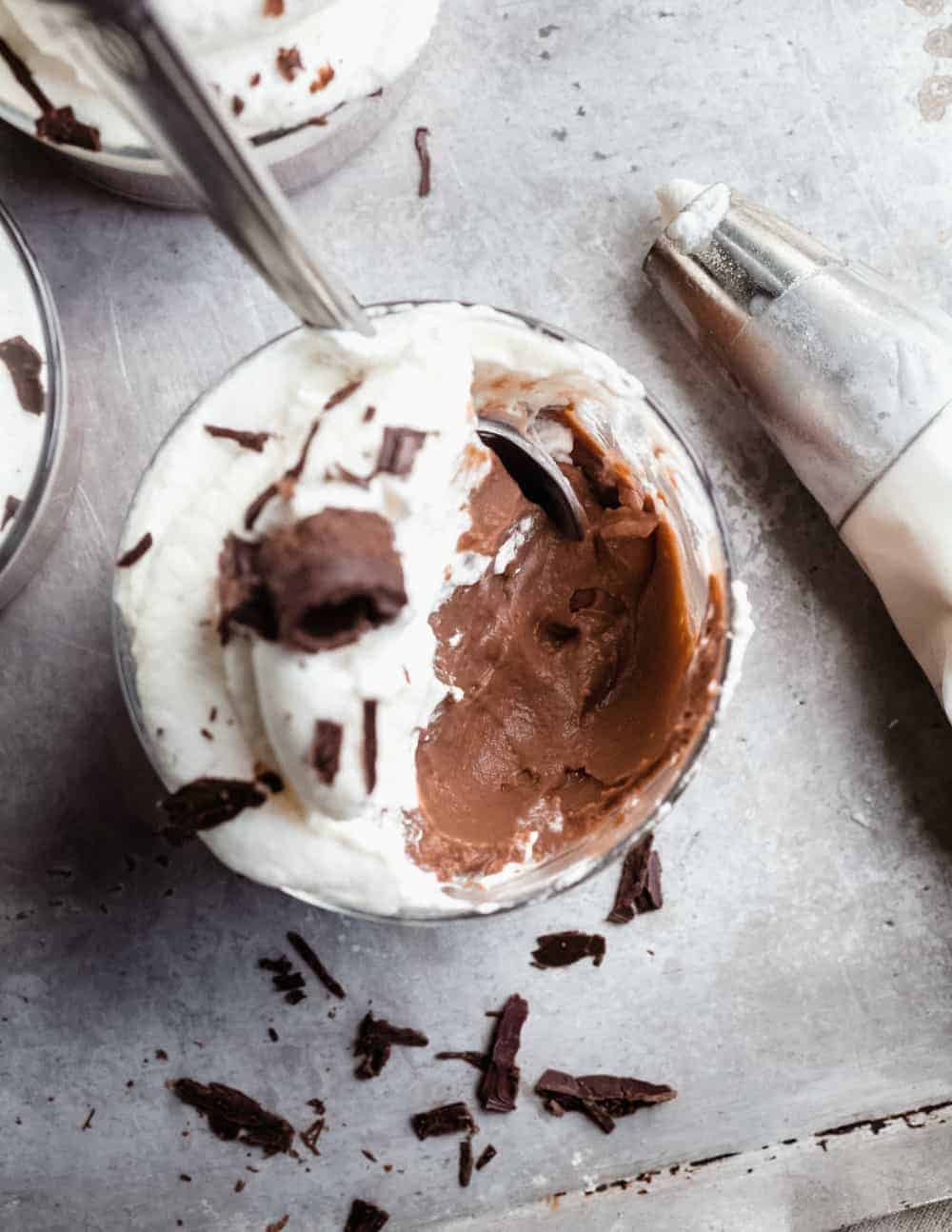 Serving Ideas for Pudding
Since having a kid in the house, I'm always looking for fun ways to serve food. And heck, the adults in my life love the different glasses I've served pudding in over the years, too!
I've served this chocolate pudding in small martini glasses and in the little glass cups you see in these photos. I always top this pudding with homemade whipped cream and chocolate curls to give it just a bit of elegance. Fancied-up Baileys pudding: what more could you ask for?
I'm also a big fan of tall shot glasses for pudding shots, where you can pipe beautiful swirls into the glasses, like I did for these rumchata cheesecake pudding shots and these s'mores pudding shots.
Short drinking glasses work great too, like for these pistachio pudding parfaits. Glass dessert cups are perfect for brownie dirt pudding and white chocolate tiramisu pudding cups where you want to show off all of the layers in the dessert.
And of course, you can always make your pudding into a full size or mini pudding pie! Because who doesn't love pie?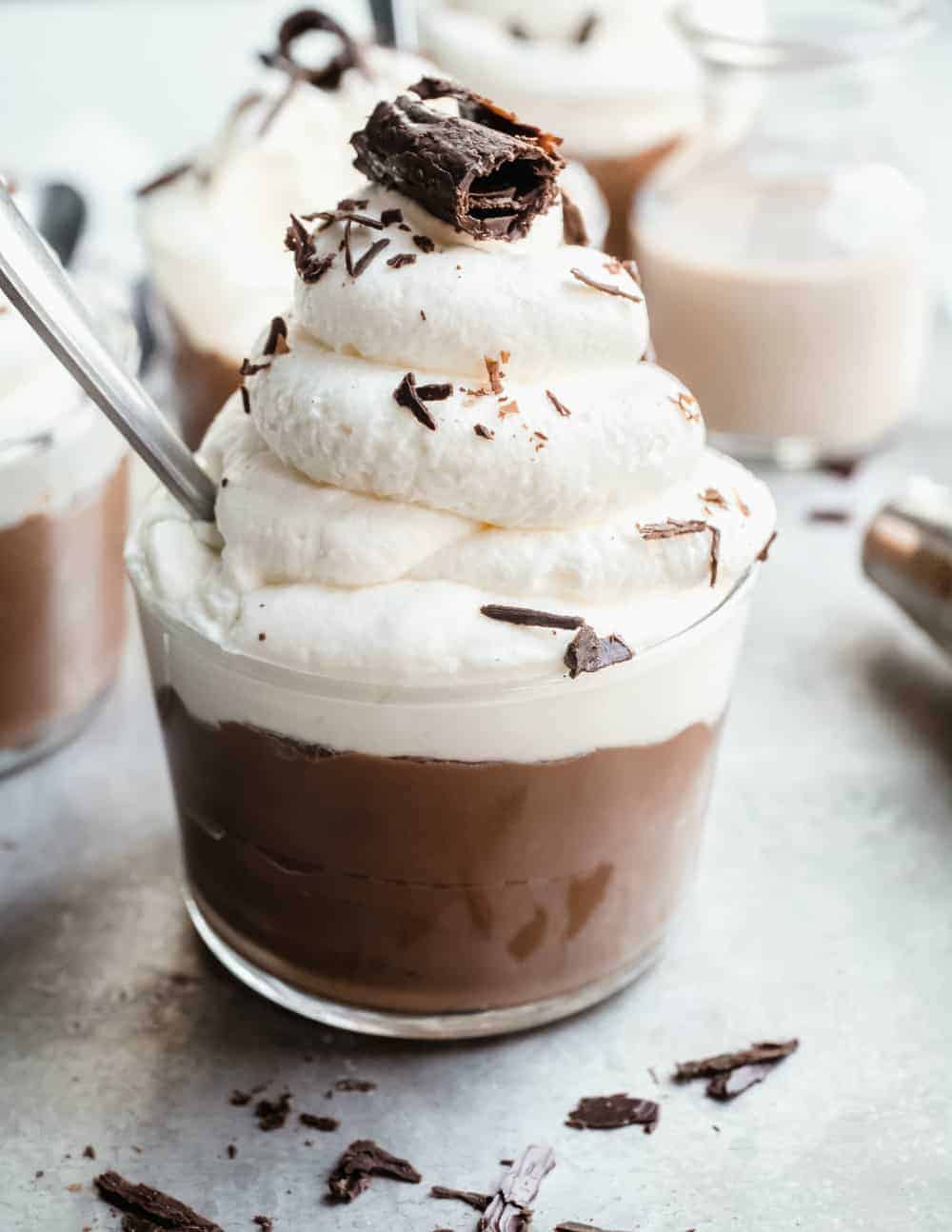 How Long is Homemade Chocolate Pudding Good for?
Homemade Chocolate Pudding definitely does not have the same shelf life as those little pudding snack packs. It is still a good dessert to make ahead of time, though.
Store your homemade pudding in an airtight container in the refrigerator with a layer of plastic wrap touching the top of the pudding. This will keep it from forming a skin on the top.
The pudding should keep for 2-3 days, although I'll be surprised if you don't eat it all before then!
Can Homemade Chocolate Pudding be Frozen?
As I was doing some research before sharing this recipe, I was surprised to see how many people ask if homemade chocolate pudding can be frozen.
The good news is yes! You can freeze homemade pudding. Just store it in an airtight, freezer-safe container and freeze for up to a month.
To thaw, just place the container in the refrigerator overnight.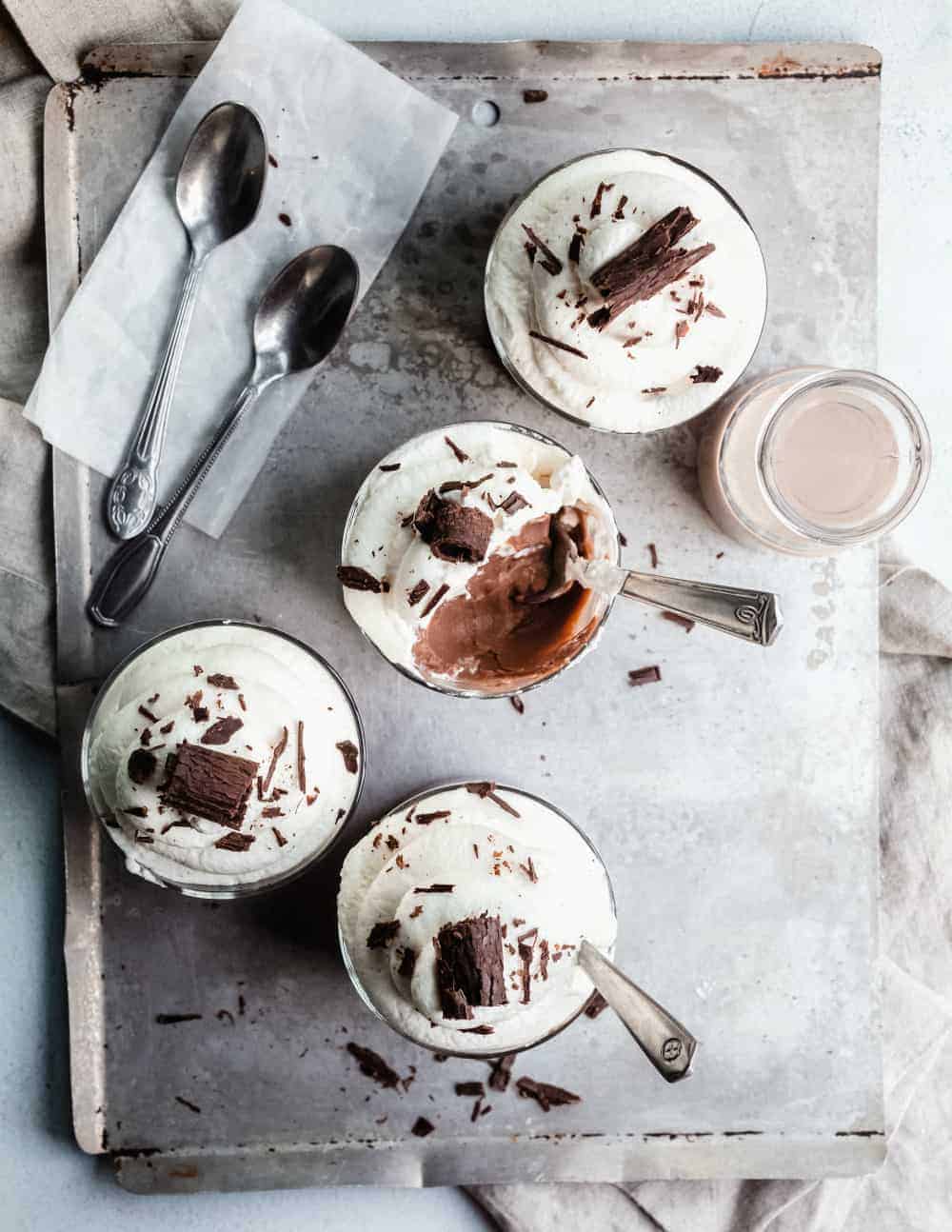 More Baileys Dessert Ideas
This chocolate pudding with Baileys is a fabulous treat all times of the year but as you may know, Baileys Irish Cream makes for a great St. Patrick's Day dessert flavor too. In fact, I've used it in a few other sweet St.
Patrick's Day recipes as well, like this Baileys Irish cream cheesecake, these Irish cream brownies, and this Irish cream fudge.
Needless to say, you can't possibly go wrong making this homemade chocolate pudding recipe with Baileys, no matter if you're celebrating the luck of the Irish or not!