Buttery, flaky croissants are piled high with softly scrambled eggs, cheese, ham, and bacon and finished with a honey-mustard spread for a hearty breakfast or brunch. Make these croissant breakfast sandwiches as written or use your favorite fillings to make them your own!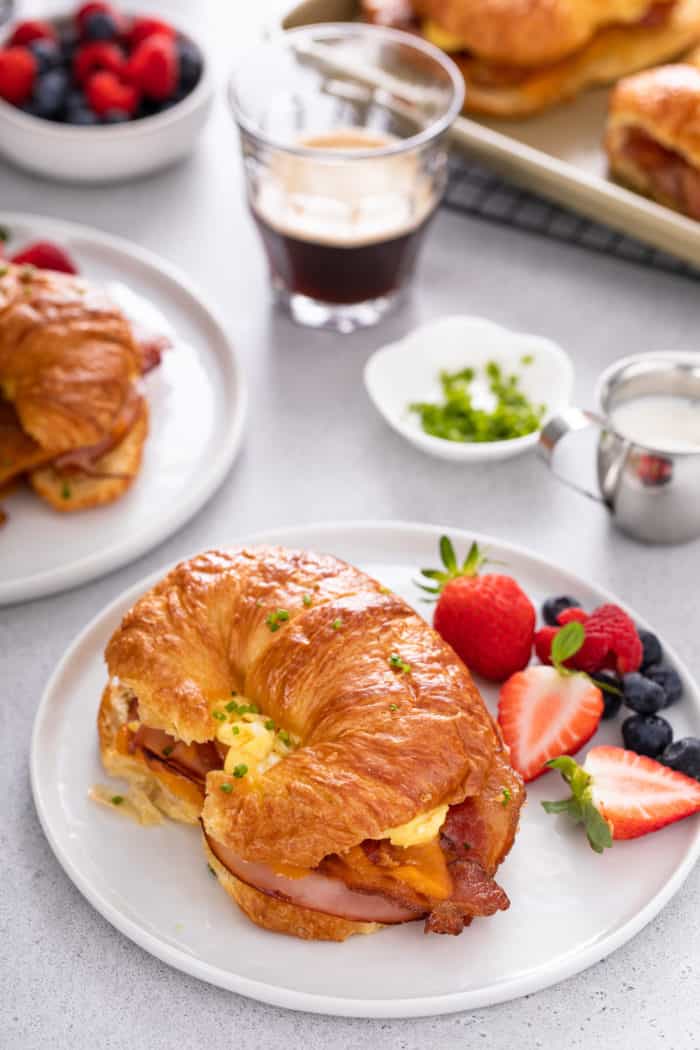 We are heading into brunch season and I can't wait.
Between Easter and Mother's Day and graduations, spring is totally the time for big weekend brunches. And who doesn't love a good brunch?
I'll take any excuse to stuff myself with make-ahead breakfast casserole, pecan sticky buns, and hash brown casserole. Give me a plate filled with both sweet and savory brunch foods and I am totally happy.
If you're planning on throwing a brunch this spring, you have to make room on your menu for these croissant breakfast sandwiches. They look beautiful, are easy to make, and are incredibly delicious – a real brunch winner, if you ask me!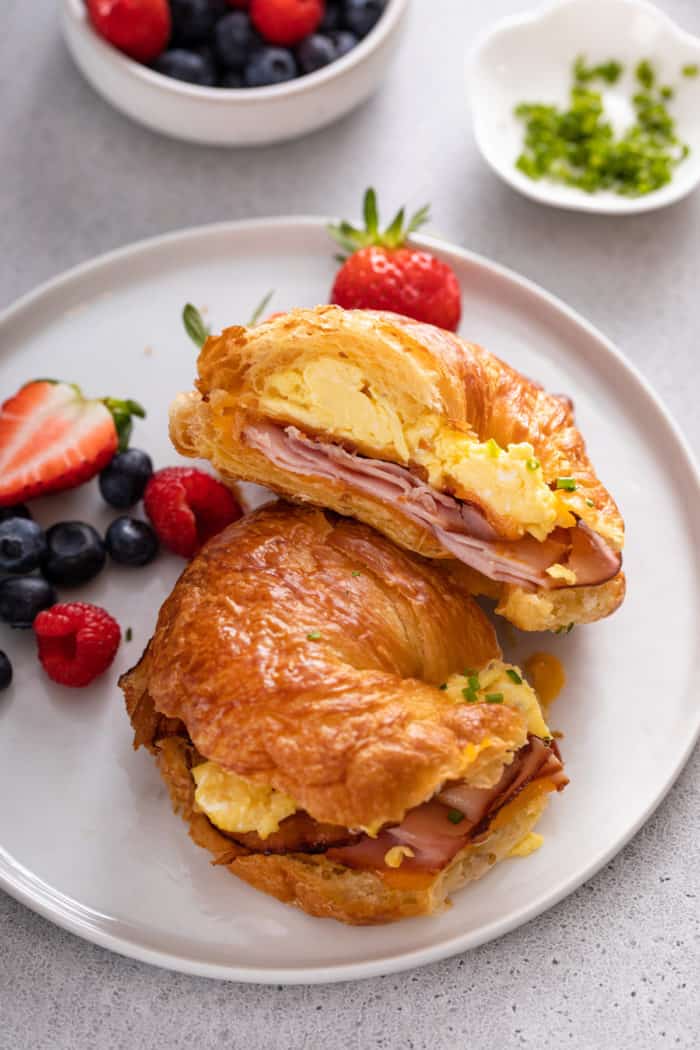 HEARTY CROISSANT BREAKFAST SANDWICHES
Do you ever find yourself in the Starbucks drive-thru and suddenly you're just craving a breakfast sandwich?
I don't know what it is about that place, but it's easy to convince yourself that you need one of their breakfast sandwiches – in spite of the price tag.
Sometimes I end up caving anyway, but sometimes I remind myself that it's so easy to make breakfast sandwiches at home, and they're better since you can top them with whatever you like best.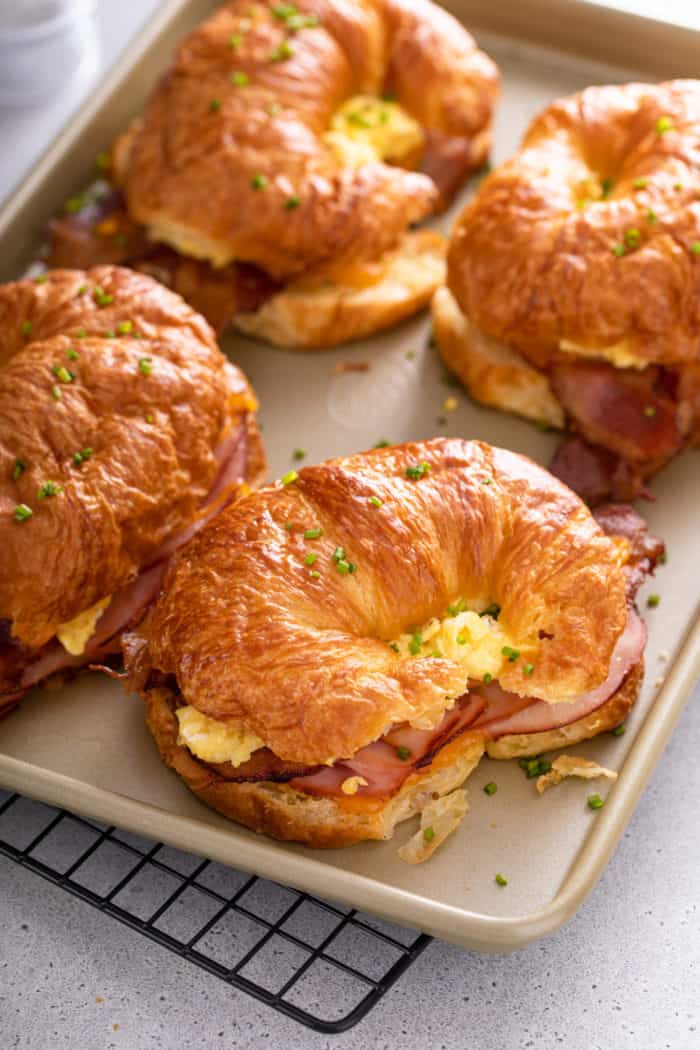 Plus, you can use whatever you like as the bread! Whether you actually make copycat Starbucks breakfast sandwiches using ciabatta rolls like they do or whether you go a bit off-script and decide to use croissants.
I mean, who doesn't want to bite into a big, buttery croissant filled with more of your favorite breakfast foods?
My croissant breakfast sandwiches are filled with softly scrambled eggs, ham and/or bacon, melty cheese, and are finished with a honey-mustard butter situation, making them extra savory and delicious. When you bake them in the oven, the tops of the croissants get extra crispy and flaky – it's so, so good.
These would make the perfect star of a springtime brunch, or you can throw them together for your family on the weekend or make them to reheat throughout the week. No matter what, you can't go wrong.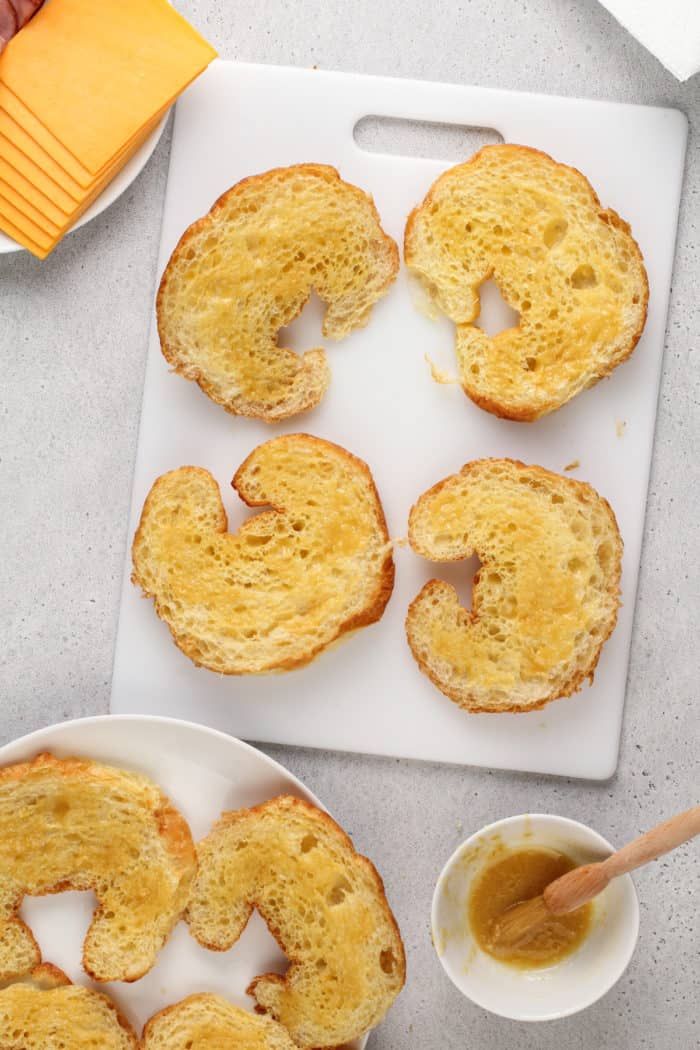 HOW TO MAKE THESE BREAKFAST SANDWICHES
These croissant breakfast sandwiches are easy to assemble and can be prepped ahead of time, so they're ready to go for a big brunch. Let's talk through it!
Ingredients you'll need
I like to make my sandwiches with a combo of eggs, cheese, ham, and bacon. (Scroll down to "changing up this recipe" for more/alternate topping ideas!)
For the scrambled eggs, you'll need:
5 large eggs
Splash of milk
Salt and pepper
1 tablespoon butter
I also like to brush the croissants with a sweet-and-savory butter. For that, you'll need:
2 tablespoons dijon mustard
2 tablespoons salted butter
2 tablespoons honey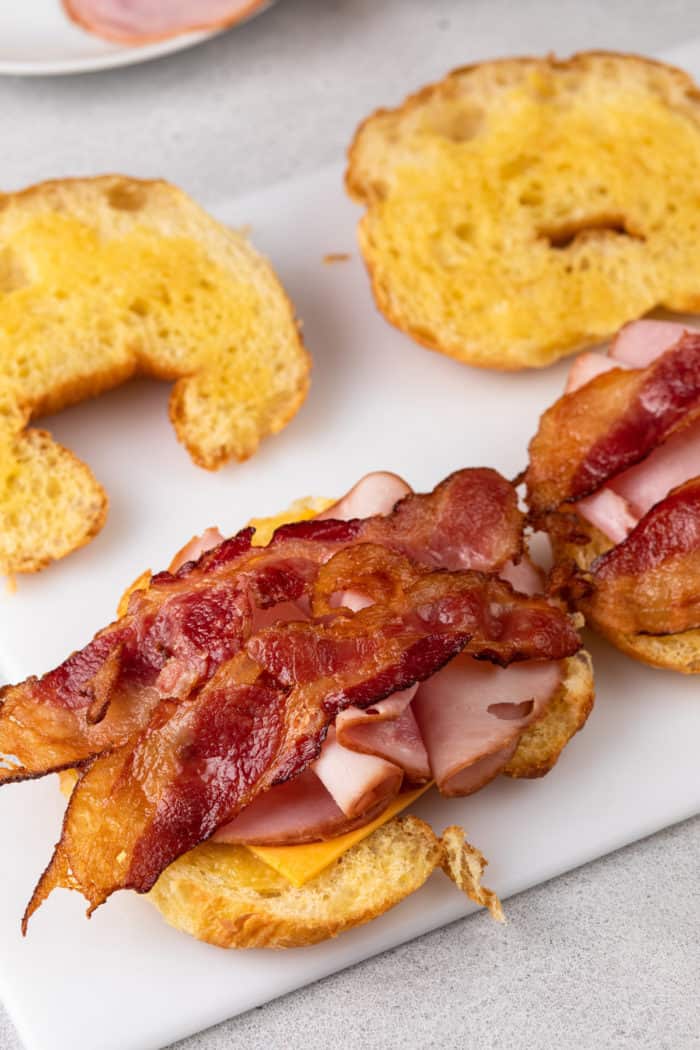 When it comes to cheese, you can use your favorite here! Just make sure it is something that will melt nicely. Some ideas include:
Gouda
Cheddar
Baby swiss
Havarti
And obviously, you'll need croissants! You can usually find some nice big croissants in the bakery section at most grocery stores. Costco is my favorite place to buy croissants for recipes like this and croissant breakfast casserole.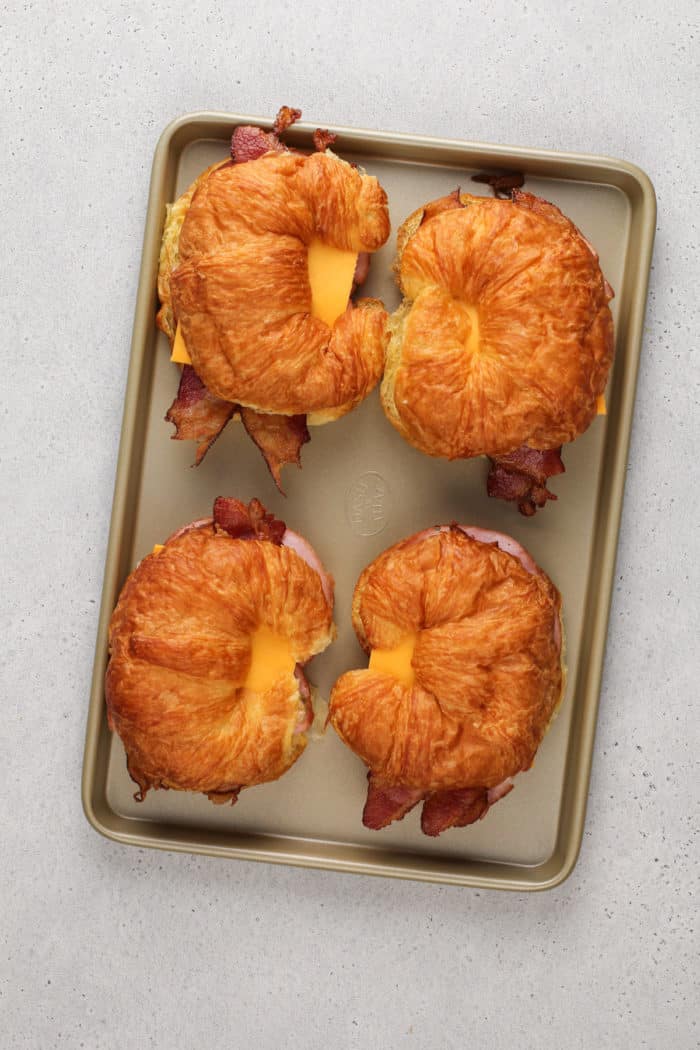 Making croissant breakfast sandwiches
One of the worst things in the world is over-cooked, dry scrambled eggs. Since these sandwiches are baked to melt the cheese and crisp up the croissants, I didn't want the eggs to over-cook in the oven.
To prevent this, I like to assemble the sandwiches and bake them without the eggs. While the sandwiches bake, I scramble up the eggs and then add them to the sandwiches once they come out of the oven.
To start making your croissant breakfast sandwiches, add the dijon mustard, butter, and honey in a small bowl. Microwave for about 20 seconds, just to melt the butter, and stir to combine.
Slice the croissants in half horizontally – you'll want to use a serrated knife to do this. Brush the butter mixture over the cut sides of the croissants.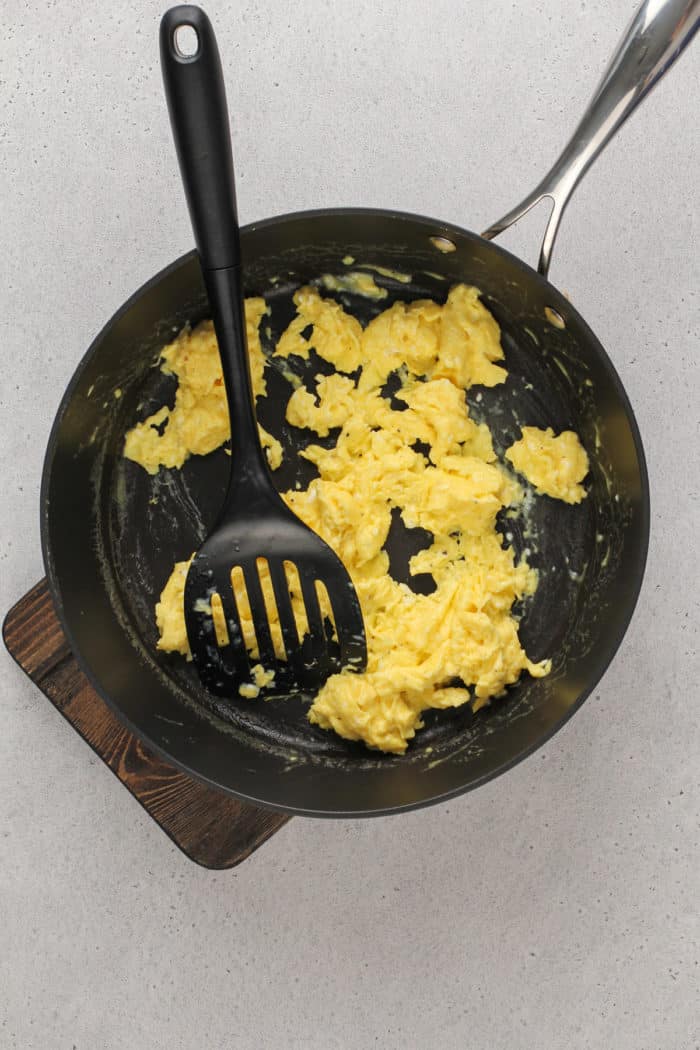 Now, onto the bottoms of the croissants, layer on a slice of cheese, some ham, some bacon, and a second slice of cheese. Finish with the tops of the croissants.
Line up the sandwiches on a baking sheet and bake for about 10-15 minutes. You want the cheese to be melted and the tops of the croissants to be golden and crispy.
While the sandwiches are in the oven, whisk together the eggs, milk, and some salt and pepper.
Melt the butter in a nonstick skillet over medium heat. Pour in the eggs and cook for about 2-3 minutes, stirring occasionally, until the eggs are softly scrambled.
Transfer the eggs to a bowl so they stop cooking. Once the croissants come out of the oven, remove the tops and divide the cooked eggs between the sandwiches. If you'd like, sprinkle on some fresh chives before adding the tops back onto the sandwiches.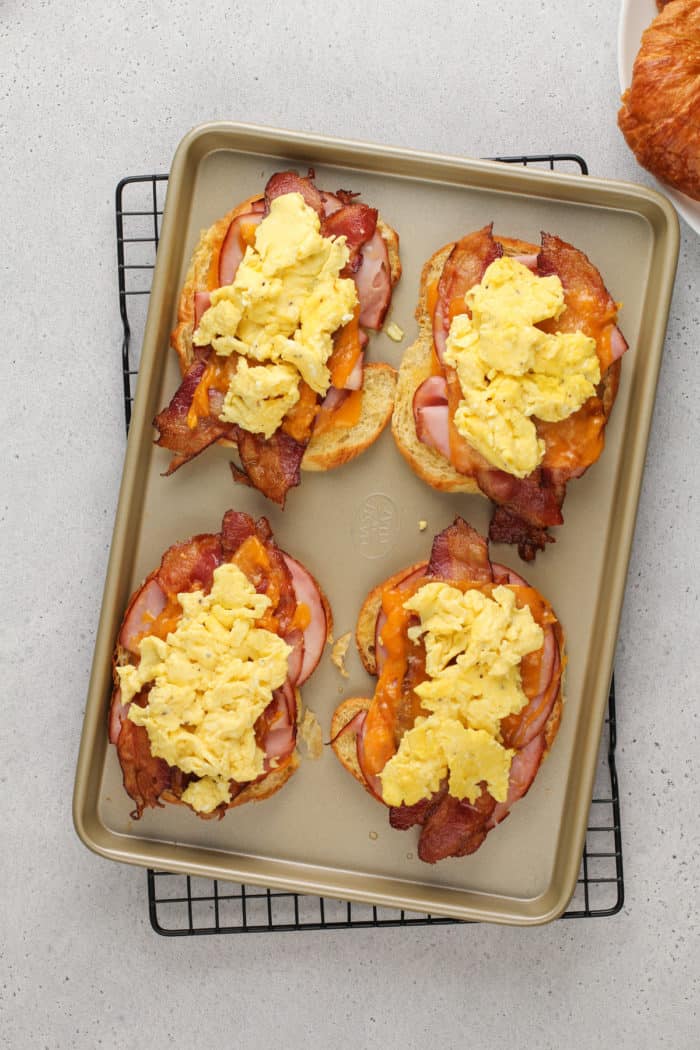 CHANGING UP THIS RECIPE
If ham and bacon aren't your thing, don't worry! You can totally make these croissant breakfast sandwiches your own with your favorite toppings.
Cooked sausage patties are great for anyone who loves a sausage, egg, and cheese sandwich.
Leave the meat out entirely for a vegetarian version! I would scramble at least 8 eggs in that case to make sure the sandwiches are still plenty filling.
You can even add slices of tomato or avocado. Just add them to the sandwiches after baking, when you add the scrambled eggs.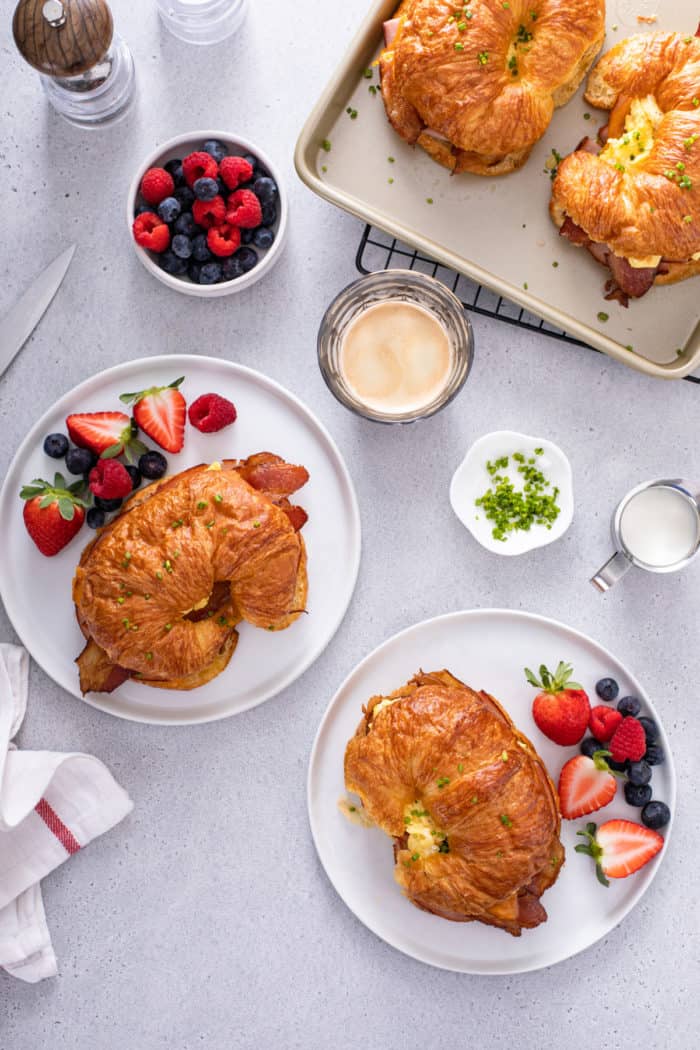 MAKE-AHEAD TIPS
If you're hosting a brunch, you can easily scale this recipe up to make 8 (or more) croissant breakfast sandwiches. You can also prep them ahead of time.
Just assemble the sandwiches without the eggs and place them on a baking sheet. Refrigerate until ready to bake, for a few hours or up to overnight.
While the sandwiches are baking, whisk together and scramble the eggs and proceed with finishing the breakfast sandwiches as written.
If you want to make these sandwiches to eat throughout the week, you can do that as well.
In that case, go ahead and assemble the sandwiches, but this time include the eggs. Just make sure that the eggs are very softly scrambled so you can avoid them over-cooking when you heat them later.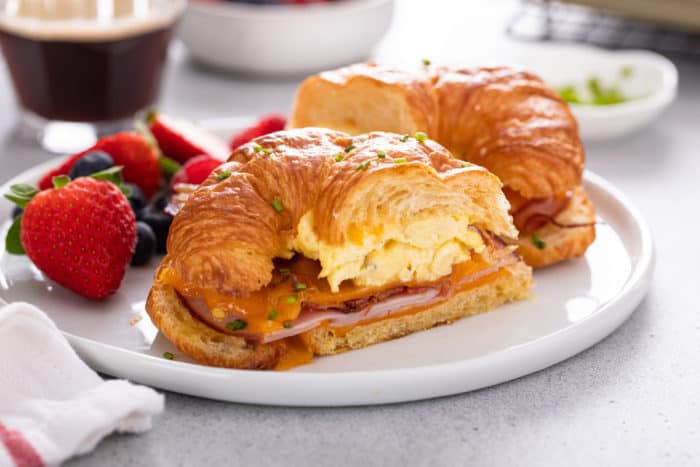 Wrap each sandwich in a layer of plastic wrap and store in the refrigerator for up to 3 days.
When you're ready to eat, place a sandwich on a baking sheet and bake for about 15 minutes at 350°F, until the cheese is melted and the sandwich is heated through.
You can also pop a sandwich into your air fryer and cook at 350°F for 10-15 minutes.
Can you freeze these?
If you want to freeze these croissant breakfast sandwiches, assemble them as described above with the eggs. Wrap each sandwich in a layer of plastic wrap and store them in a zip-top freezer bag. Freeze for up to a month.
Let the sandwiches thaw overnight in the refrigerator before baking or air frying as described above.