Easy Chocolate Pudding Pies made with JELL-O SIMPLY GOOD pudding are just the cutest little desserts. They take about 7 minutes, from start to finish too!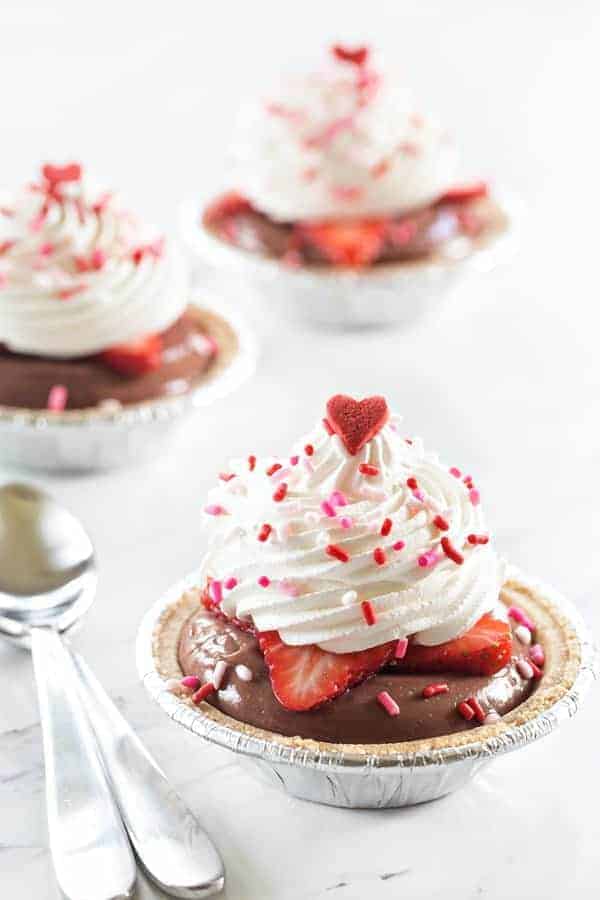 This is a sponsored post on behalf of JELL-O. All opinions are my own. Thank you for supporting the brands that make My Baking Addiction possible.
You guys.
How cute are these little pies?! Oh my gosh, Elle and I had so much fun making them.
Have you seen JELL-O SIMPLY GOOD gelatin & pudding mixes? I'm really digging that they're made using no artificial flavors, dyes or preservatives! And there are 8 different flavors to choose from.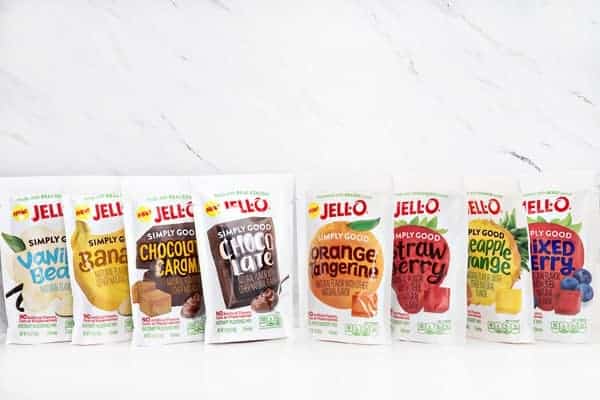 I'd be lying if I said I'm not crushing hard on the JELL-O SIMPLY GOOD Pineapple Orange. It is a pineapple-loving girl's dream come true in gelatin form.
While you can still get all your favorite JELL-O boxes, these JELL-O SIMPLY GOOD gelatin & pudding mixes come in pouches. They're found in the same part of the grocery store, right next to JELL-O boxes.
You'll probably find this funny, but we're not dessert-every-night eaters. That may seem strange for a baking blogger, but it's true. We do have something sweet after dinner most nights though; it's fresh fruit or pudding for Elle and me, cereal for Eric.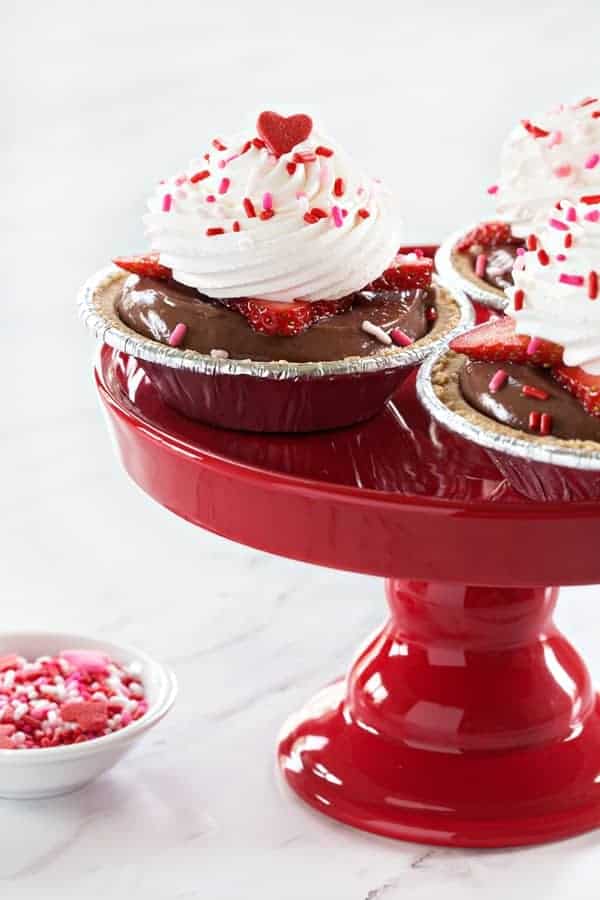 Sometimes though, it's fun to take your routine up a notch, especially with Valentine's Day looming on the horizon, and that's where these Easy Chocolate Pudding Pies come in.
I picked up a set of those premade mini graham cracker crusts at the grocery store on a whim, and some fresh strawberries. Then I was wandering past an endcap, just loaded with festive Valentine's Day sprinkles.
You know I wasn't walking past that without loading up the cart, right?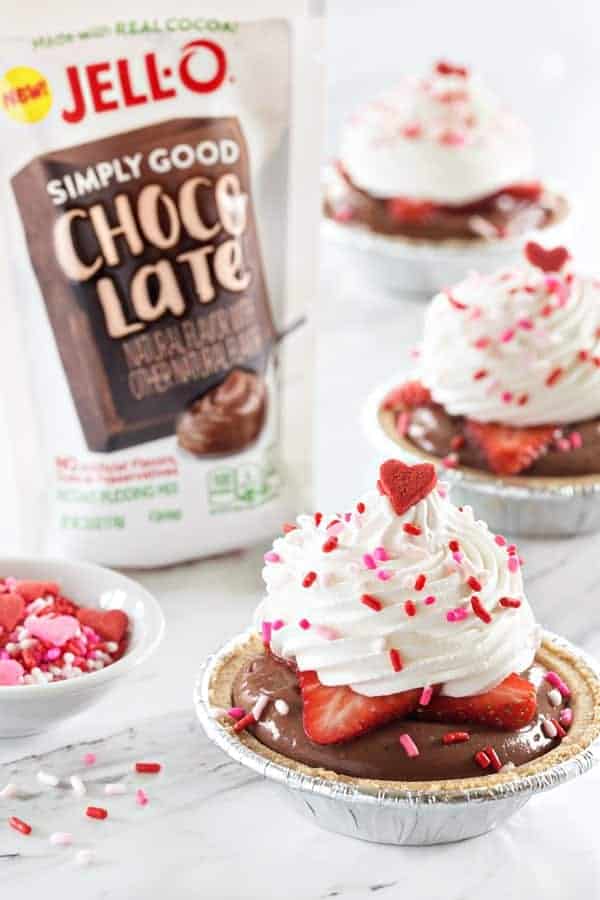 Chocolate and strawberry are the ultimate pairing when it comes to Valentine's Day flavors, so I decided to fill the mini crusts with dollops of rich, luscious JELL-O SIMPLY GOOD Chocolate Pudding.
But there are more flavors to choose from – Vanilla Bean, Banana, and whoa baby – Chocolate Caramel too. So use the pouch that floats your boat, because any of them would be magical in this recipe.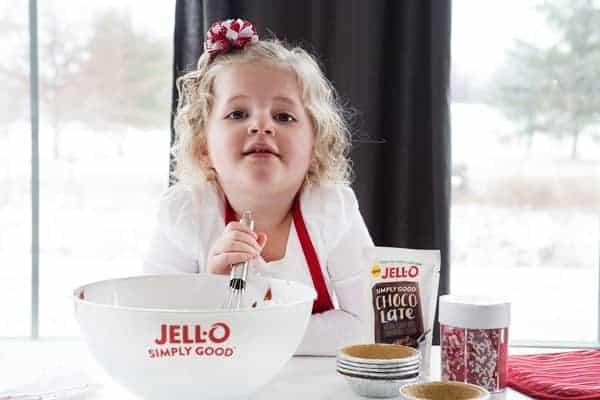 Elle and I both put on our aprons, and each grabbed a whisk. It was pretty much the cutest thing you've ever seen. I love recipes like this, because it's just so easy, Elle can basically do it herself from start to finish, and she feels so proud.
Literally open the pudding mix, pour it into a bowl, add 2 cups of cold milk, and whisk away for two minutes. Five minutes later, your pudding is soft set, and ready for its show-stopping addition to graham cracker pie crusts.
I cut strawberry slices while Elle whisked, and when the pudding was set, we worked together to top each newly-made pie. A little whipped cream (okay, a lot of whipped cream) and some festive sprinkles, and boom. Dessert is served.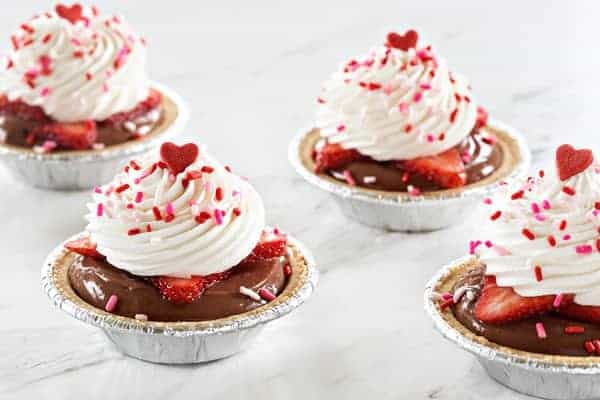 You should have seen the look on my sweet girl's face at our finished product. I can't believe she's officially three!
If you'd like to try the JELL-O SIMPLY GOOD line for yourself, click here to find them at a store near you.
There's even a coupon for you to save 75 cents off your purchase!
Give JELL-O SIMPLY GOOD a try and let me know your favorite flavor!