I subscribe to quite a few culinary magazines; however, I don't have a lot of free time, so they usually get filed into magazine organizers without much use. Sure I thumb through them and randomly mark pages with post-it notes, but inevitably the sit around and collect dust. For some reason, I just can't bring myself to cancel the subscriptions.
However, this month's issue of Food & Wine struck my fancy and I have since made three desserts from their delectable May recipe index. The first recipe that caught my eye were these Espresso-Shortbread Brownie Bars, so I decided to make them as a perfect ending to a family dinner of five-cheese manicotti.
The recipe is pretty straightforward and the espresso shortbread crust is a cinch to prepare in a food processor. When I first placed the shortbread crust into the pan, I thought there was no way I could get it to cover the entire bottom of pan. However, after a little patience and a lot of spreading, it worked out just fine. The only adjustment I made to this recipe was to use espresso powder as opposed to ground espresso beans, but my guess is they are pretty darn similar. I would definitely kick up the espresso powder amount as it was only slightly detectable in the finished product.
Although this recipe is not a new household fave, it is definitely a good recipe and a nice twist on traditional brownies. Brian prefers his brownies to be all ooey and gooey and these definitely do not fit that description. Personally, I was a big fan of the buttery espresso flecked shortbread crust.
Bottom Line? Are the decadent? Yes. Would I make them again? With so many other recipes out there to experiment with, I doubt I will give these a second try. I hope you have a delicious day and if you decide to give these a whirl, definitely come back and let me know your results!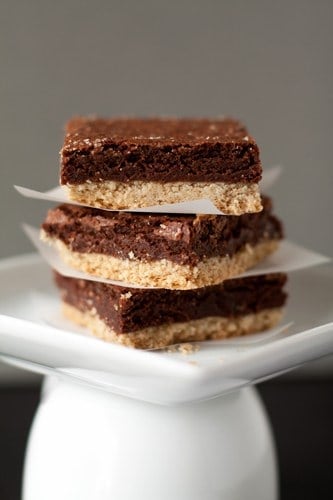 [pinit]