I subscribe to quite a few culinary magazines; however, I don't have a lot of free time, so they usually get filed into magazine organizers without much use. Sure I thumb through them and randomly mark pages with post-it notes, but inevitably the sit around and collect dust. For some reason, I just can't bring myself to cancel the subscriptions.
However, this month's issue of Food & Wine struck my fancy and I have since made three desserts from their delectable May recipe index. The first recipe that caught my eye were these Espresso-Shortbread Brownie Bars, so I decided to make them as a perfect ending to a family dinner of five-cheese manicotti.
The recipe is pretty straightforward and the espresso shortbread crust is a cinch to prepare in a food processor. When I first placed the shortbread crust into the pan, I thought there was no way I could get it to cover the entire bottom of pan. However, after a little patience and a lot of spreading, it worked out just fine. The only adjustment I made to this recipe was to use espresso powder as opposed to ground espresso beans, but my guess is they are pretty darn similar. I would definitely kick up the espresso powder amount as it was only slightly detectable in the finished product.
Although this recipe is not a new household fave, it is definitely a good recipe and a nice twist on traditional brownies. Brian prefers his brownies to be all ooey and gooey and these definitely do not fit that description. Personally, I was a big fan of the buttery espresso flecked shortbread crust.
Bottom Line? Are the decadent? Yes. Would I make them again? With so many other recipes out there to experiment with, I doubt I will give these a second try. I hope you have a delicious day and if you decide to give these a whirl, definitely come back and let me know your results!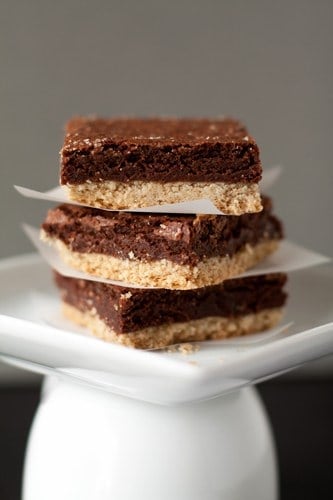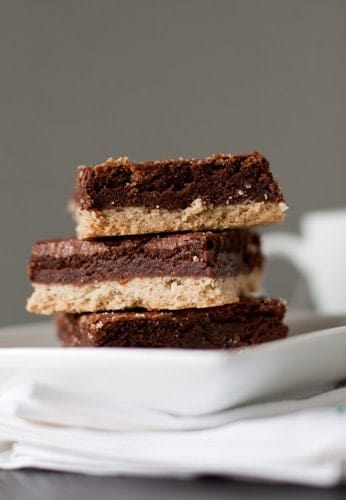 Espresso-Shortbread Brownie Bars
Total Time:
1 hour
15 minutes
Ingredients
1 stick plus 2 tablespoons unsalted butter, softened
1 1/2 cups all-purpose flour
1/4 cup sugar
1 tablespoon finely ground espresso beans (I used espresso powder)
1/2 teaspoon kosher salt
1 1/2 cups all-purpose flour
2 tablespoons unsweetened cocoa
1 teaspoon kosher salt
1/2 teaspoon baking powder
1 stick plus 6 tablespoons unsalted butter
4 ounces unsweetened chocolate, chopped
2 cups sugar
1 tablespoon pure vanilla extract
3 large eggs
Instructions
1. Make the Shortbread Crust: Preheat the oven to 350°. In a food processor, combine the butter with the flour, sugar, ground espresso and salt; pulse until coarse crumbs form. Press the crumbs into a 9-by-13-inch metal baking pan to form a crust; prick all over with a fork. Freeze for 5 minutes, until firm. Bake in the lower third of the oven for 30 minutes, until the crust is lightly browned and cooked through.
2. Meanwhile, Prepare the Brownie Topping: In a medium bowl, whisk the flour with the cocoa, salt and baking powder. In a large saucepan, melt the butter with the chocolate over low heat.
3. Remove the saucepan from the heat and stir in the sugar and vanilla, then stir in the eggs. Add the dry ingredients and stir until the brownie batter is smooth.
4. Pour the brownie batter over the shortbread crust, smoothing the surface. Bake for 30 minutes, until the brownie top is dry and lightly cracked around the edges; the center will still be a bit soft.
5. Let cool completely before cutting into bars.
Notes
- The bars can be stored in an airtight container at room temperature for up to 5 days.
[pinit]