Every year at this time, I have a pretty major freak out session. If you've read MBA for any length of time, you know that I'm a full-time middle school teacher. And at the start of every school year I panic because I have no idea how I possibly managed to maintain a classroom, blog, personal relationships and a household the previous year.
Inevitably, a few days later I calm down and my friends realize that despite the fact that I'm a typically a well-oiled machine, I too can come undone. The calming stage usually happens after a good crying/whining/baking session. So this weekend as I was making a mental list of things I'd never be able to do again such as sleep, watch tv, shop or take pictures in good light, I decided to bury my hands into some dough.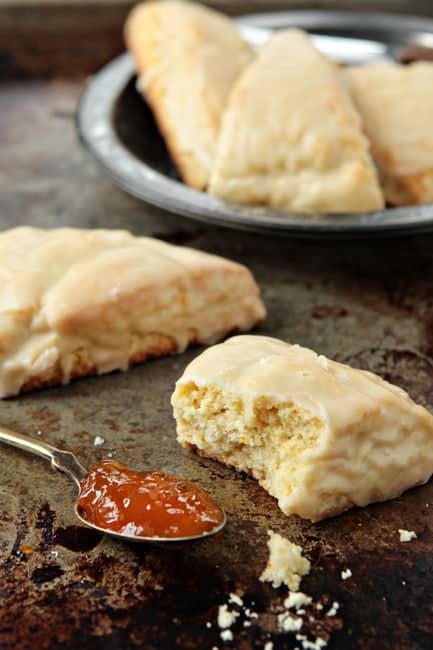 The very first scone I ever ate was a glazed orange scone from Panera and I've been smitten with scones ever since then. In my opinion, they're the perfect balance between biscuits and cake – I mean is it possible to go wrong with that textural combination? I think not.
These orange scones are especially flavorful and tangy thanks to the addition of sour cream. More specifically, the delicious lactose free sour cream made by Green Valley Organics. I was recently reacquainted Green Valley Organics and Redwood Hill Farm when I attended the Big Summer Potluck.
We're not particularly lactose free in our household, but lactose free products tend to last longer before going bad (Hooray – grocery shopping less often for me!), and this inspired Dairy Duo have a motto I can get behind: "Peace. Love. Dairy." Not only are all the products from GVO certified organic, products from both GVO and Redwood Hill Farm are certified Humane too.
What does this mean? It means the animals behind Green Valley Organics and Redwood Hill Farm "have ample space, shelter and gentle handling. They receive plenty of fresh water and a healthy diet free of antibiotics or hormones. And they will live and behave naturally, free of cages, crates or tie-stalls".
Now – who wants to skip school with me and go meet a cow? 'Cus I would be down with that right about now. Or we could just enjoy these Glazed Orange Scones together, solid in the knowledge that the sour cream they're made from is some of the best you can find.
[pinit]

Glazed Orange Scones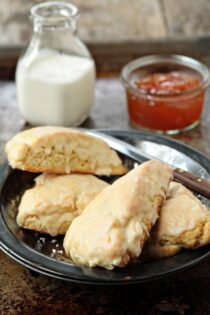 Ingredients:
For the Scones
1/3 cup sugar
zest of two medium oranges
2 cups all-purpose flour
1 teaspoon baking powder
1/4 teaspoon baking soda
1/2 teaspoon salt
8 tablespoons unsalted butter, frozen
1/2 cup Green Valley Organics Lactose Free Sour Cream
1 large egg
For the Glaze
3 tablespoons unsalted butter; melted
1 cup confectioners' sugar; sifted
1/2 teaspoon pure vanilla extract
2 tablespoons freshly squeezed orange juice
Directions:
Adjust oven rack to lower-middle position and preheat oven to 400 degrees. Line a baking sheet with parchment paper.
In a medium bowl, combine sugar and orange zest; mix with your fingertips until the sugar is moistened and fragrant. Add in the flour, baking powder, baking soda and salt and mix until combined.
Grate butter into flour mixture on the large holes of a box grater; use your fingers to work in the butter until the mixture resembles coarse meal.
In a small bowl, whisk the sour cream and egg until smooth.
Using a fork, stir sour cream mixture into flour mixture until large dough clumps form. Use your hands to press the dough against the bowl into a ball. The dough will be sticky first, but as you press, the dough will come together.
Place on a lightly floured surface and pat into a 7-inch circle about 3/4-inch thick. Use a sharp knife to cut into 8 triangles; place on prepared baking sheet, about 1 inch apart. Bake until golden, about 15 to 17 minutes. Cool for 10 minutes and prepare the glaze.
In a medium bowl, prepare the glaze by mixing together the melted butter, confectioners' sugar, vanilla and orange juice. Whisk until smooth. Dip the top of the scones into the glaze and allow the glaze to harden. At this point, you can leave them as is or go for the double dip. I glazed my scones twice.
Notes:
Scones store well in an airtight container for up to two days.
Follow Jamie on Instagram. We love to see what you're baking from MBA! Be sure to tag @jamiemba and use the hashtag #mbarecipes!
Disclosure
This is a sponsored post written by My Baking Addiction on behalf of Green Valley Organics and Redwood Hill Farm. The views and opinions expressed on My Baking Addiction are purely my own.