For a change of pace, try these honey sweetened gluten-free cranberry orange muffins! They stay soft for days, making them an ideal make-ahead breakfast.
It really felt like I was on something of a cookie diet in December, which was all fun and games until I stepped on a scale. So today I wanted to share something lighter, less sweet, and at least a little nutritious! Enter these gluten-free cranberry orange muffins.
I adapted this recipe from my whole grain cinnamon apple muffins. Instead of using whole wheat flour, like I did in the original, these cranberry orange muffins are made with oat flour for a gluten-free version. I've had some weirdly gummy and dense oat flour muffins in the past so I was a little shocked when using oat flour resulted in even softer and moister muffins.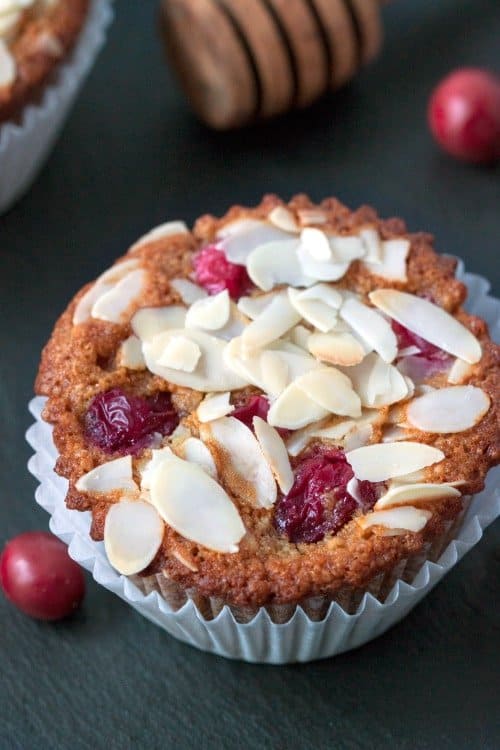 If you don't have oats to make oat flour, I recommend using white whole wheat flour for a non-gluten-free version. Either way, you end up with 100% whole grain muffins. I haven't tried them with all-purpose flour so if that's what you want to use, I think Jamie's cranberry orange mini bundt cakes look amazing!
These muffins are entirely honey sweetened and have a noticeable, but not overpowering, honey taste. At first I was a little leery of the cranberry, orange and honey combination but it worked out surprisingly well! They're pleasantly sweet, but not cupcake sweet. Instead of adding a glaze on top, I just tossed on some sliced almonds. They're mostly for decoration so you can leave them out if you don't have any on hand.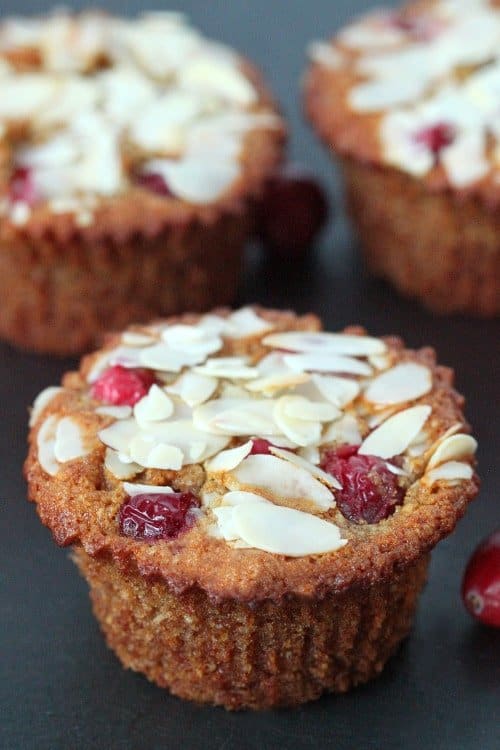 Fresh out of the oven, these muffins are pretty delicate but incredibly light and if you're like me, it'll be a struggle not to eat your way through half the batch. After they sit for 30 minutes, they're a little firmer, meaning they're easier to handle, but they still retain their soft and light texture for at least two more days.
Whether or not you're trying to eat a little more healthfully in this post-holiday period, these cranberry orange muffins are a great way to start your day!
Looking for more delicious gluten-free desserts?
Gluten-Free Mint Chocolate Chip Brownies