All througout elementary school, I was in the Girl Scouts but for some reason I can't really understand, my parents almost never bought Girl Scout cookies. When they did, I always begged for Samoas. They are, by far, my absolute favorite. Now that I live in Germany, if I want Samoas, I have to make them myself. It saves me a lot of money, which is great, but homemade Samoa cookies can be pretty time consuming! Especially if you're like me and feel compelled to fiddle with the topping of each and every cookie until it looks perfect.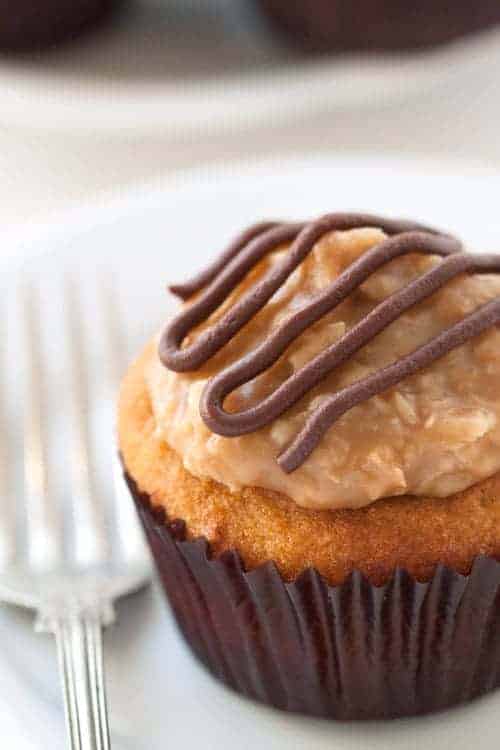 I'm thrilled to report that Samoa cupcakes are just as delicious and aren't quite as fussy! The cupcakes are coconut flour based and call for one cup of flour and 8 eggs. It sounds crazy but coconut flour absorbs more liquid and requires more eggs than other kinds of flour, meaning you really can't sub another type of flour in these cupcakes. If you have almond flour or meal on hand, a double batch of these grain-free chocolate cupcakes would be perfect. For those of you who don't need the cupcakes to be gluten-free, you can use any cupcake recipe you like but keep in mind that the topping is only enough for 16 cupcakes.
When I took the cupcakes out of the oven, I immediately tried one and was ready to throw them away due to what I thought was a funky texture. I decided to give them another try later on and I'm so happy that I did because once they're cool, they have a great texture! It's not exactly like a normal cupcake but for gluten-free? Pretty awesome. The brown sugar adds a little special something and the coconut flour complements the coconut caramel topping wonderfully.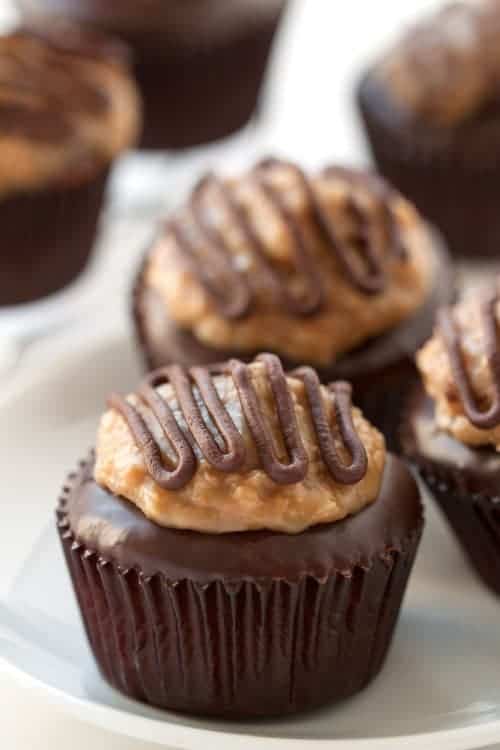 For the topping, I used the same caramel as in these gluten-free mini caramel pecan tarts. All of the other Samoa-inspired recipes I've seen use store bought caramels, but honestly, this homemade version takes you less time than unwrapping all those individual caramels! It's also ridiculously simple and hard to mess up.
I rarely make cupcakes because I'm just so terrible at decorating them. So I was pretty excited when I got the idea to just dip these Samoa cupcakes in chocolate ganache and mound some coconut caramel goodness on top. If you don't want to make the ganache, you could just throw some chocolate chips over the coconut caramel or just melt some chocolate chips and drizzle it over the coconut caramel. It's even simpler and would look great!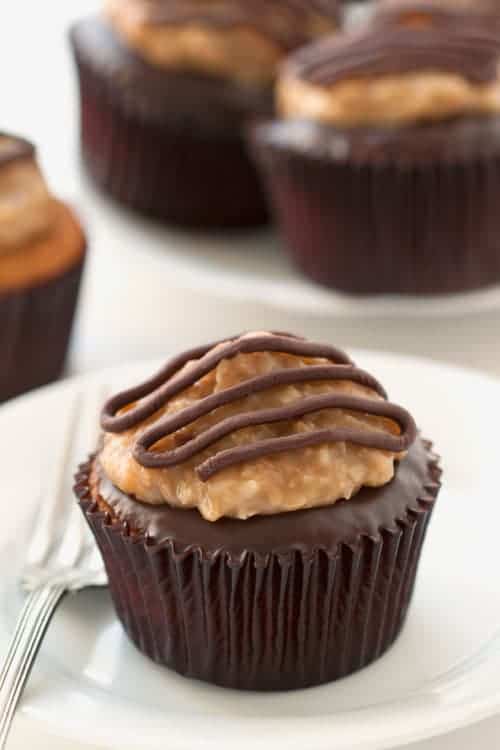 So what's your favorite homemade Girl Scout cookie treat? After making these Samoa cupcakes, I can't wait to try more!