Hasselback potatoes are crispy on the outside and creamy on the inside. These simple yet flavorful potatoes are a beautiful addition to your holiday menu.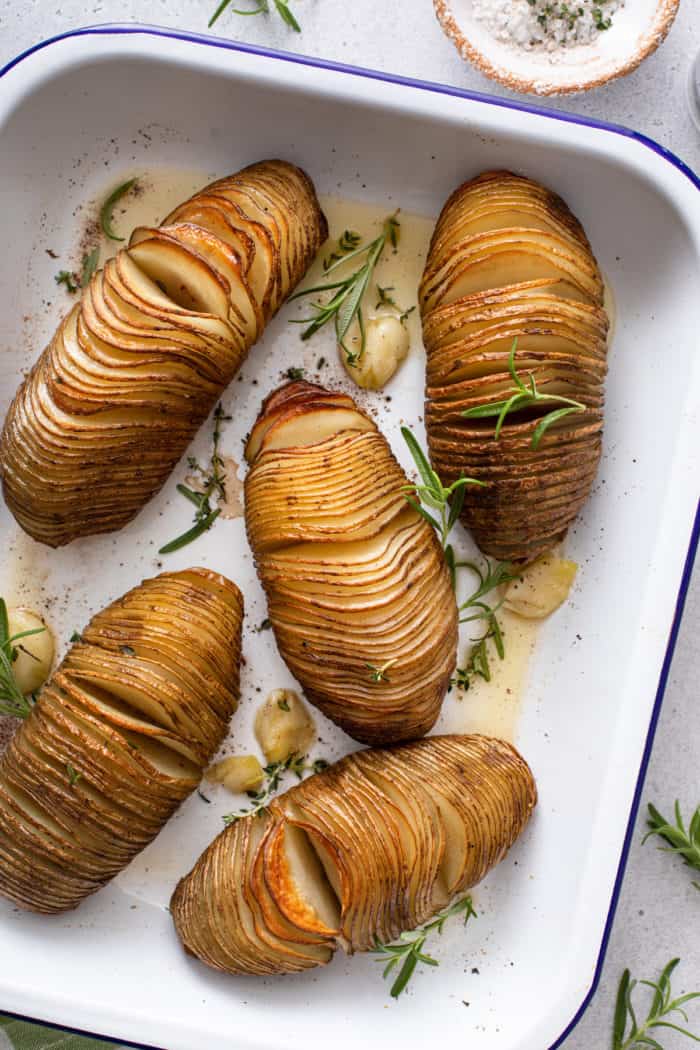 If you're like my family, then you don't think a holiday menu is complete without some kind of potato side dish.
Whether it's a bowl of garlic mashed potatoes, a platter of twice-baked potatoes, or a dish of piping hot scalloped potatoes, the potatoes are always one of the first things to disappear.
Even though I know some families have a certain potato dish they make every year, we love trying all different types of potatoes. It's always fun trying something new and it's good to know how to make different things!
If you've never had hasselback potatoes, you have to give them a try this year. They are crispy on the outside, soft and creamy on the inside, and look absolutely beautiful on your plate next to your turkey or glazed ham.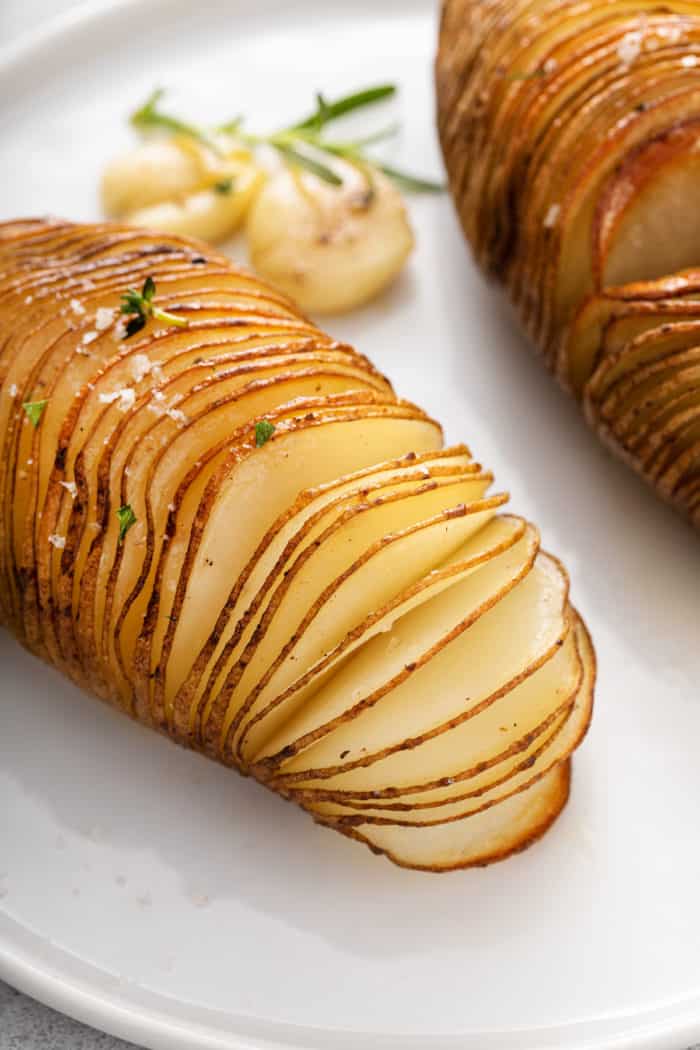 WHAT ARE HASSELBACK POTATOES?
If you've never had or seen a hasselback potato, you're probably wondering what I'm even talking about.
Hasselback potatoes are potatoes that have been cut into thin slices most of the way through. The potatoes are still held together on the bottom so that when they are baked, the slices fan apart and get crispy on the edges while staying soft on the inside.
There are lots of different ways to flavor hasselback potatoes. Today's recipe is for a very simple garlic and herb flavoring, but make sure you check out the "recipe variations" section for some more ideas on how to dress these up!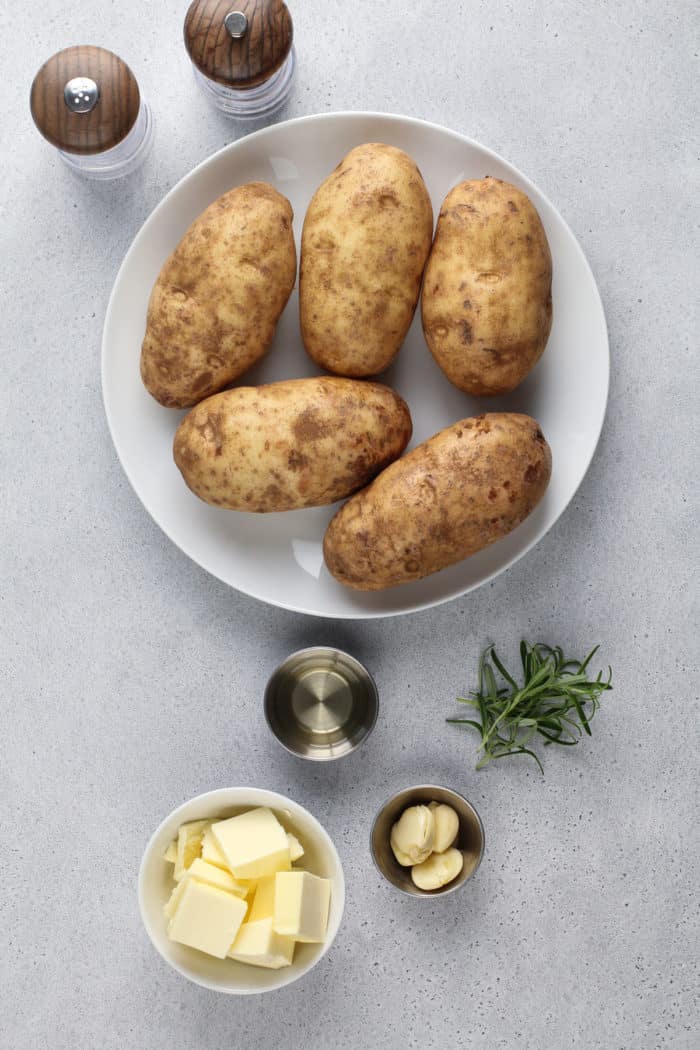 HOW TO MAKE HASSELBACK POTATOES
Even though these potatoes look really fancy once they are cooked, they are actually pretty easy to make.
In fact, even though they're pretty and flavorful enough to make for a special holiday dinner, they're simple enough that you'll want to make them all year round!
What potatoes should you use?
For this recipe, you will need 4-5 large baking potatoes. You can use russet potatoes, although I think that Yukon gold potatoes are the very best.
Yukon gold potatoes are semi-starchy, so the insides are really creamy when they are roasted. This makes for a really great texture that contrasts well with the crispy edges of the hasselback potatoes.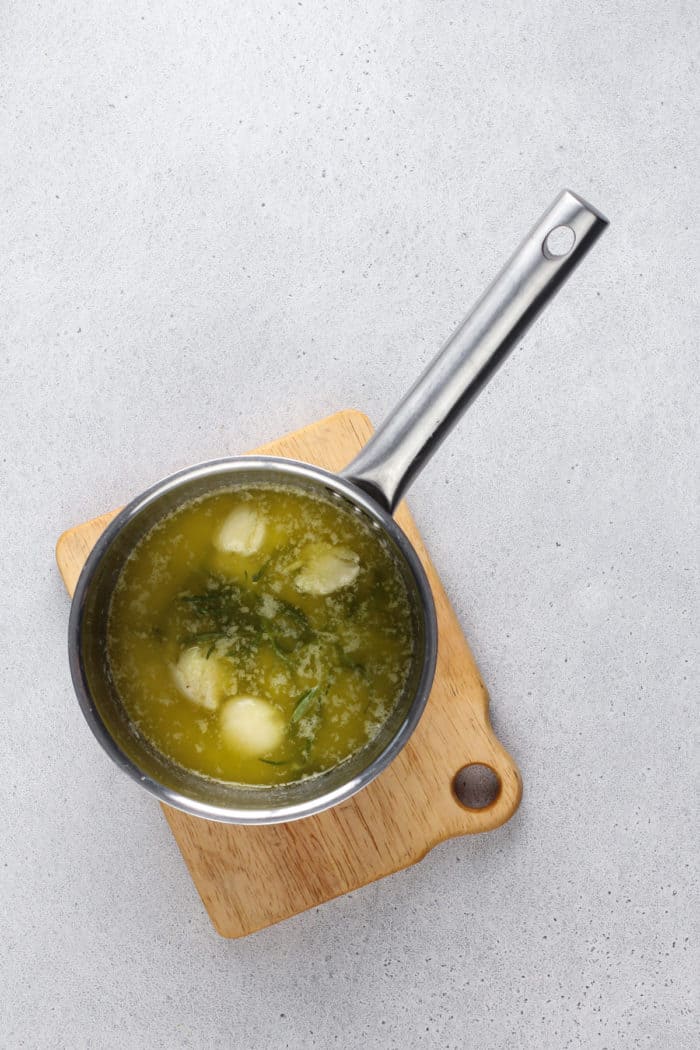 How to cut hasselback potatoes
The key to hasselback potatoes is making sure you don't slice the potatoes all of the way through, which sounds really difficult at first! But there's an easy way to do this.
Grab a set of wooden chopsticks or two wooden skewers. This is the perfect way to put to use that drawer full of takeout chopsticks!
Find the flattest side of each potato and place that side down onto the cutting board. Place a chopstick or skewer up along each of the long sides of the potato, making sure they are tight against the bottom of the potato and the cutting board.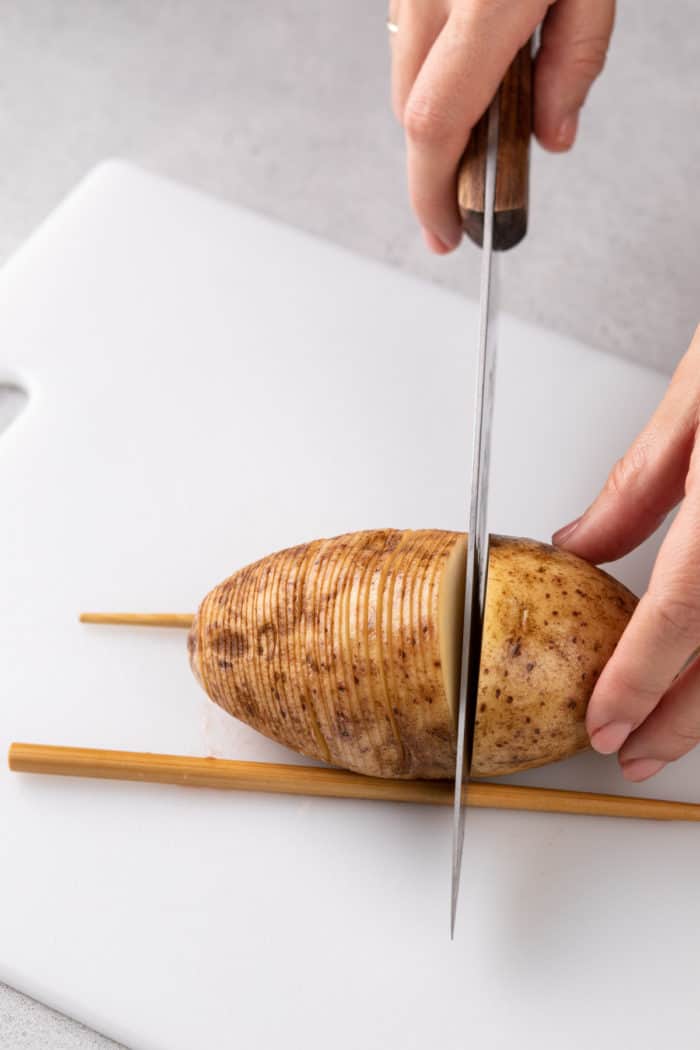 Doing this will help keep the potato from rolling around and will keep you from cutting all of the way through the potato when you start slicing.
Grab a large, sharp knife and slice the potato crosswise in ⅛-inch intervals. Stop when the knife blade touches the chopsticks or skewers.
Repeat this for each potato, then set the sliced potatoes in a baking dish with the sliced sides up.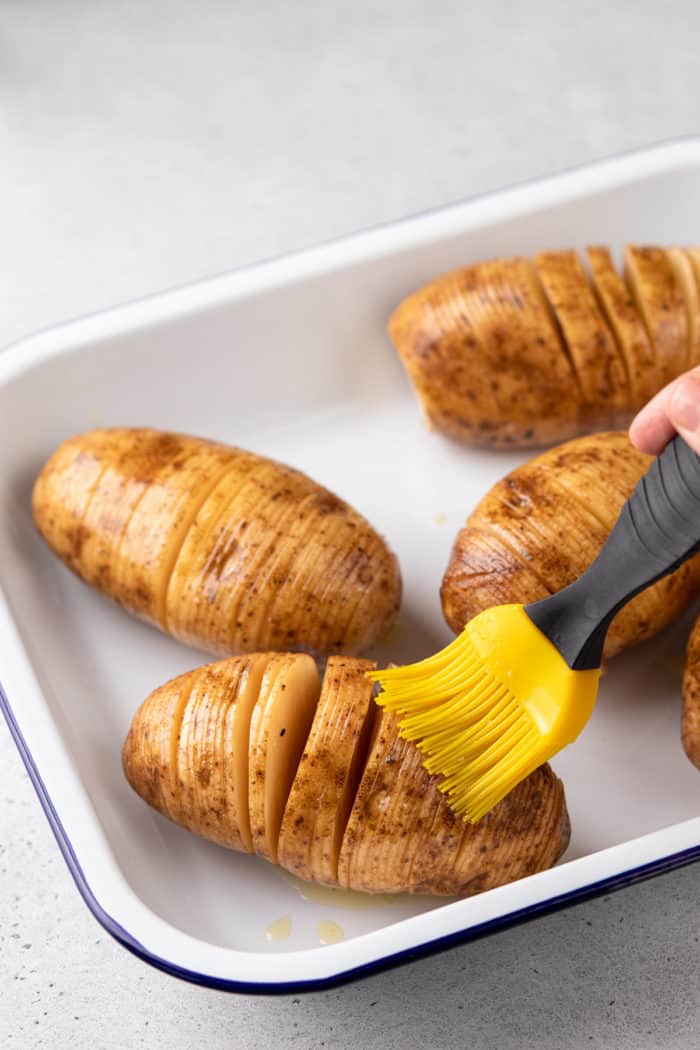 Making this recipe
To flavor our potatoes, we are going to baste them with garlic-herb butter as they bake.
Melt the butter in a small pot over medium heat. Add smashed garlic cloves and sprigs of thyme and/or rosemary along with a big pinch of salt and pepper.
Turn the heat to low and let the butter infuse while you slice and prepare the potatoes as described above.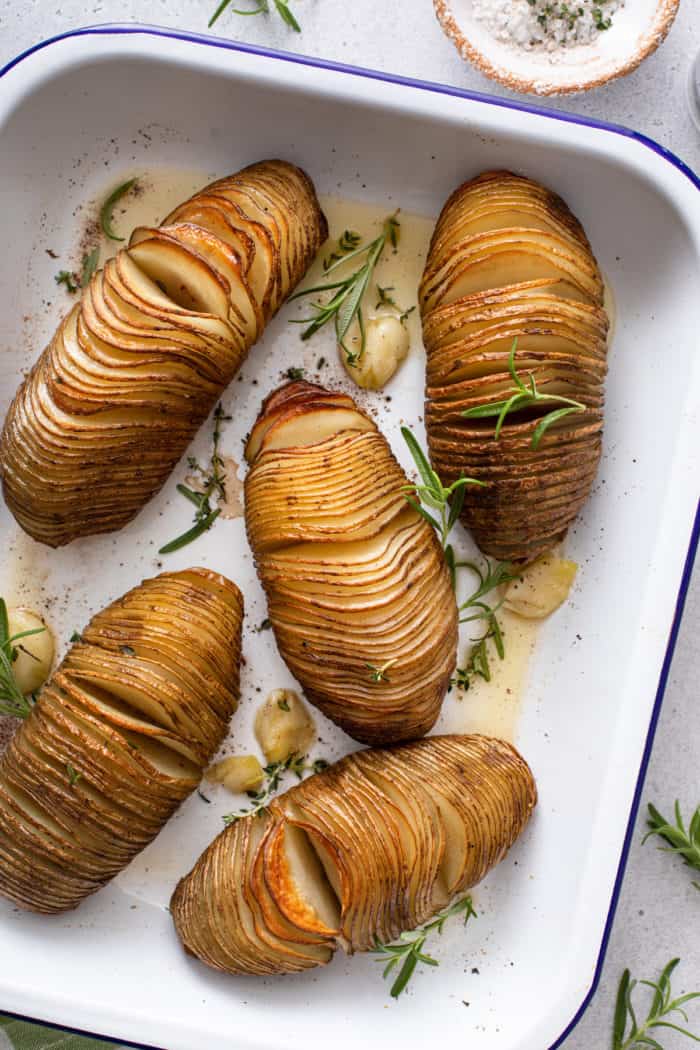 Use a basting brush or spoon to baste each potato generously with the garlic butter. Make sure you get butter between the slices – this will be harder when the potatoes are raw, but will get easier as the potatoes bake and the slices fan apart.
Season the potatoes with salt and pepper and pop the pan in the oven.
The potatoes will need to bake for about 1 hour total. As they bake, baste the potatoes with more of the garlic butter every 15-20 minutes.
The potatoes are done when the outsides are golden, the edges of the slices are crispy, and the centers are tender.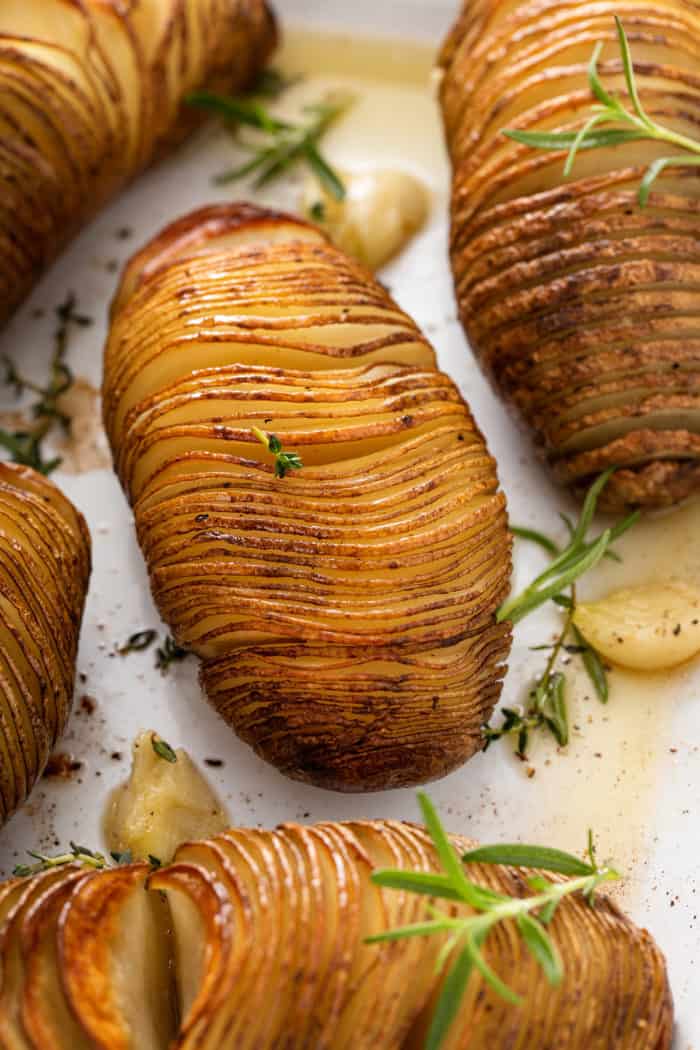 RECIPE VARIATIONS
The garlic-herb butter makes this recipe simple yet flavorful, but it's not the only way to prepare these potatoes!
My go-to for the garlic-herb butter is to use fresh thyme and sprigs of rosemary, but feel free to use your own favorite herbs instead: sage, marjoram, or oregano are all great options.
Try adding some finely chopped shallots to the infused butter, or even stirring in some dijon mustard before basting it over the potatoes.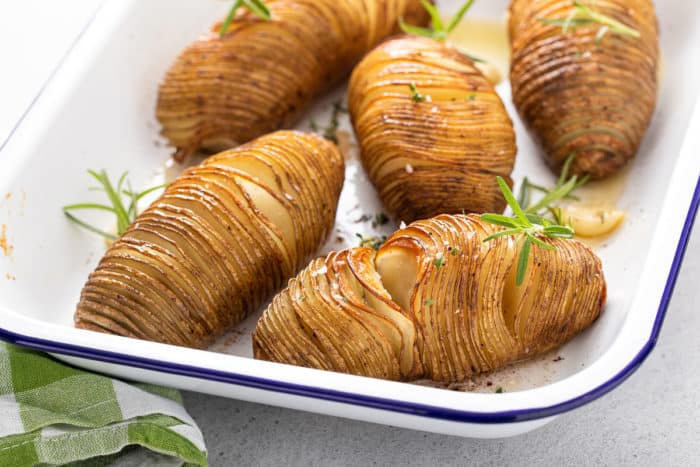 Or you could add toppings to the finished potatoes!
If you love loaded baked potatoes, try adding the same toppings to your hasselback potatoes.
A few minutes before pulling the potatoes from the oven, sprinkle them with some cheddar cheese. After they're out of the oven, add cooked and crumbled bacon, chives or green onions, and sour cream.
Or swap the cheddar cheese for parmesan cheese and/or gruyere and add some buttery, garlic breadcrumbs while the potatoes finish baking.
There are so many ways to enjoy hasselback potatoes; I hope you'll give these a try this holiday season!