If you're like me, you are always looking for a meaningful gift for your friend or loved one that seems to have everything.
Well, I have the perfect gift idea . . . at least for that special baker in your life.
As you may know, I posted a tutorial on how to make your own vanilla extract using the many varieties of vanilla beans that Beanilla has to offer. It is a simple, yet necessary project for those of you that enjoy the taste of true vanilla extract and know that there is no substitute.
For the holidays, Beanilla and My Baking Addiction wanted to provide our readers with a simple solution to your gift giving woes. Beanilla conveniently offers an amazing variety of quality vanilla beans and also stocks a fabulous selection of glass bottles for your vanilla extract bottling needs.
As an added bonus, the graphic designer for My Baking Addiction created holiday labels that can be downloaded and personalized. We jazzed up a simple Avery shipping label to create a unique and festive way to personalize your bottles of homemade vanilla extract. Add a holiday ribbon to the neck of your bottles and no wrapping is needed.
So, head over to Beanilla, purchase your bottles, download your labels and I am betting you can cross a few people off of your list. Stay tuned for a few more handmade gift ideas with corresponding labels in the upcoming weeks!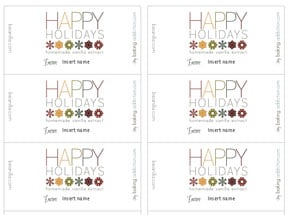 Click to download: HolidayVanillaExtract
Use Avery Label 8163 (White 2″ x 4″ Shipping Labels)
Where to Buy the Items in the Photo:
Homemade Vanilla Extract using Madagascar Beans from Beanilla
4 ounce Amber Bottles from Beanilla
8 ounce Amber Bottles from Beanilla
Download Labels and printed on Avery 8163 (White 2″ x 4″ Shipping Labels)
Red and White Baker's Twine from Martha Stewart purchased at Michael's