Chocolate, chocolate and more chocolate! With the holidays just around the corner, what better ingredient to bake with than Scharffen Berger Chocolate?
For this week's My Baking Addiction and GoodLife Eats Holiday Recipe exchange, I wanted to share a delicious holiday cookie full of chocolate flavor…the molten caramel center is simply a bonus!
After making my ever so popular Rolo Stuffed Chip Cookies, I knew I wanted to rethink the use of Rolo's. I stumbled this recipe from the 1990 Pillsbury Bake-Off and knew it would make the perfect addition to my holiday cookie list. Let me tell you, this cookies are absolutely amazing and will be a welcomed addition to any holiday cookie exchange!
If you are a chocolate lover and feeling inspired, check out Scharffen Berger's Chocolate Adventure Contest. Essentially you combine Scharffen Berger artisan chocolate with one or more of 14 adventure ingredients, from saffron to stout beer. Then create a winning cupcake recipe for a chance to win up to $10,000. Yes, you read that correctly, $10,000! You can read all about the contest and find out how to enter by heading over to the Chocolate Adventure Contest site.
Be sure to head over to goodLife Eats to check out Katie's recipe for Chocolate-Orange Bread, it looks amazing!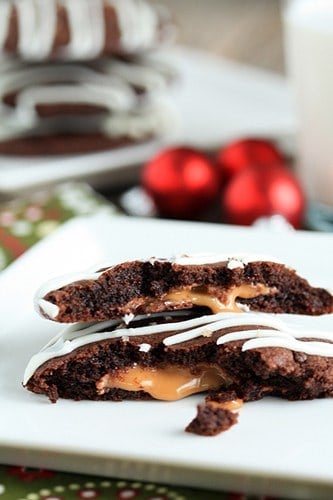 How To Participate
For a chance to win a $100 Scharffen Berger Prize Pack:
Write and post a recipe on your blog featuring CHOCOLATE.
Include "Come join the fun at the My Baking Addiction and GoodLife Eats Holiday Recipe Swap sponsored by Scharffen Berger." in your blog post.
Add your link to the widget on either GoodLife Eats or My Baking Addiction (we have the same widget code, so only add it on one site).
Submit your post before Dec. 11, 11:59 PM. On Dec. 12, 12:00 AM the widget will switch to voting mode. Be sure to encourage your readers to vote for you and/or vote for your favorites.
Anyone can participate in the link up, but the prize will ship to US residents only.
More detailed info, including buttons for your posts are available here.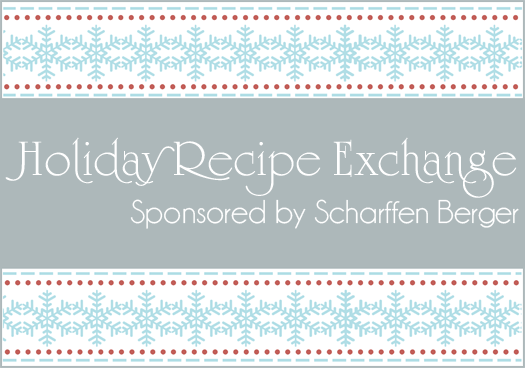 Link Up Your Recipes:
This Week's Prize:
$100 Scharffen Berger Chocolate Prize Pack (1 winner), provided by Scharffen Berger.

Recipe Theme Schedule:
We still have three weeks open for this Holiday season. If you would like to discuss scheduling a sponsored recipe exchange please contact Katie or Jamie to discuss availability and themes.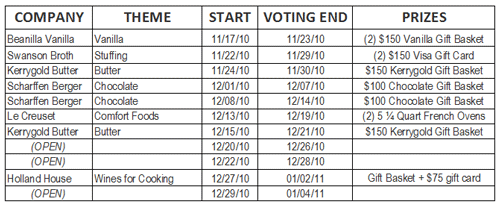 How To Promote:
Help us spread the word by letting your friends, family, and followers know about the contest. Email, Facebook, Tweet, Stumble…anything you want to do to promote this post is welcome.
Sample Tweet 1: Join @GoodLifeEats and @BakingAddiction for a Holiday Recipe Exchange. See how you can participate (and WIN) here: http://bit.ly/9YCFgA Pls RT
Sample Tweet 2: Enter CHOCOLATE recipes in @GoodLifeEats & @BakingAddiction Recipe Exchange 4 chance @ $100 @scharffenberger gift http://wp.me/p14Uvo-14V
Sample Tweet 3: Have a winning CHOCOLATE recipe? Share in @GoodLifeEats & @BakingAddiction Recipe Exchange 4 chance @ $100 GIFT http://wp.me/p14Uvo-14V
Sample Tweet 4: Vote 4 my CHOCOLATE recipe in @GoodLifeEats & @BakingAddiction Recipe Exch so I can win $100 @scharffenberger basket http://wp.me/p14Uvo-14V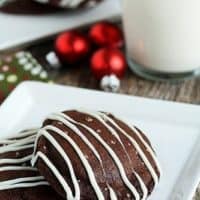 Rolo Stuffed Chocolate Cookies with vanilla fleur de sel
Yield:
about 4 dozen cookies
Ingredients
2 1/2 cups all-purpose flour
3/4 cup unsweetened Scharffen Berger Cocoa Powder
1 teaspoon baking soda
1 cup sugar
1 cup firmly packed brown sugar
1 cup butter, softened
2 teaspoons pure vanilla extract
2 eggs
48 Rolo® Chewy Caramels in Milk Chocolate; unwrapped
4 oz. vanilla-flavored candy coating, optional
vanilla fleur de sel; optional
Instructions
1. In medium bowl, combine flour, cocoa and baking soda; mix well.
2. In large bowl, combine 1 cup sugar, brown sugar and margarine; beat until light and fluffy. Add vanilla and eggs; beat well. Add flour mixture; blend well. If necessary, cover with plastic wrap; refrigerate 30 minutes for easier handling.
3. Preheat oven to 375°F. For each cookie, with lightly floured hands, shape about 1 tablespoon dough around 1 caramel candy, covering completely. Place dough balls 2 inches apart on ungreased cookie sheets.
4. Bake at 375°F. for 7 to 10 minutes or until set and slightly cracked. Cool 2 minutes; remove from cookie sheets. Cool on wire rack for 15 minutes or until completely cooled.
5. Melt candy coating in the microwave according to package directions. Drizzle over cookies and sprinkle with vanilla fleur de sel .
Notes
- If you do not have vanilla fleur de sel, you can simply substitute regular sea salt.
- If you are not fond of the sweet and salty combination, omit the salt completely.