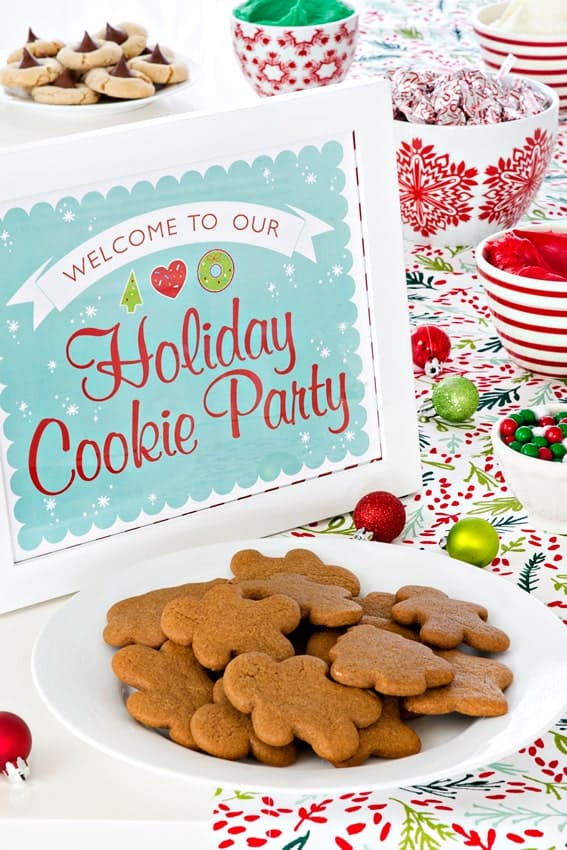 Host your own cookie decorating party for the little loves in your life. Sharing holiday cookies is a tradition everyone will enjoy for years to come.
I've partnered with EVITE® and Katie from GoodLife Eats to share some tips and ideas for hosting a fun and festive holiday cookie party for kids along with some great printables that EVITE created for you to use at your own party.
I'm all about group-effort holidays this year. I don't know if it's having an almost-2-year-old or what, but Mama is just tired. So if I can get a little help in the baking and making department? I am all for it.
Especially if it means we have a party at the same time. I love having our family over for the holidays. I can see with every minute that we're making memories Elle will have for the rest of her life, and well, not to get all mushy, but it totally makes my heart swell in that Grinch way. Just as big, just as tear-inducing, and all about the holiday cheer.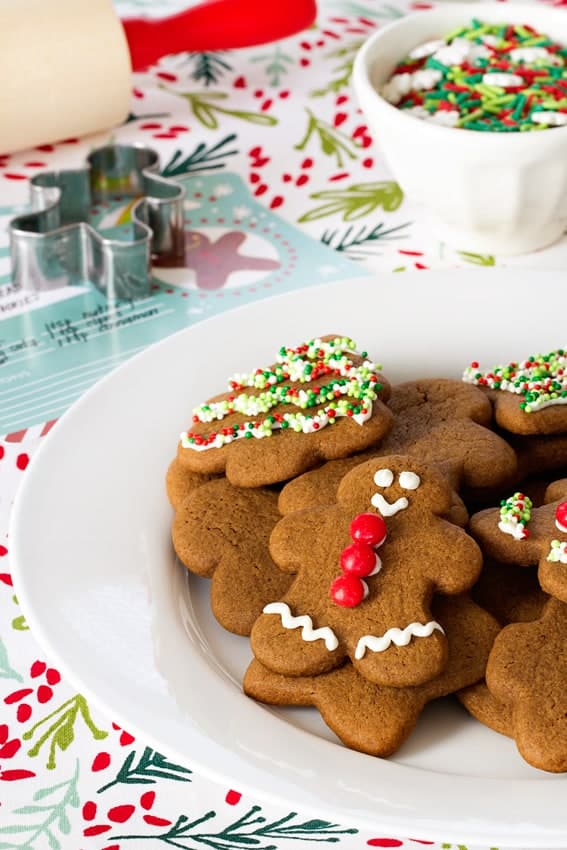 We decided it would be super fun to throw a cookie decorating party that ends with everyone taking their favorites home – a decorating and cookie swap at the same time. Using this adorable, free invitation from EVITE as the inspiration, I decided to plan a cookie decorating party just in time for the holidays.
We decided to make this party all about the kiddos, so we set up a decorating station with bowls of sprinkles and sanding sugar, and bags of frosting with just enough for little hands to handle easily, as well as a few bowls of festive red and green frosting with offset spatulas. Sure, it was a little messy, but boy, the smiles were worth it.

We started by sending out EVITE invitations to family and friends, making sure they knew to bring a dozen of their favorite holiday cookies.
It was super easy to keep track of RSVPs and who was bringing what, thanks to EVITE's tracking and notification services.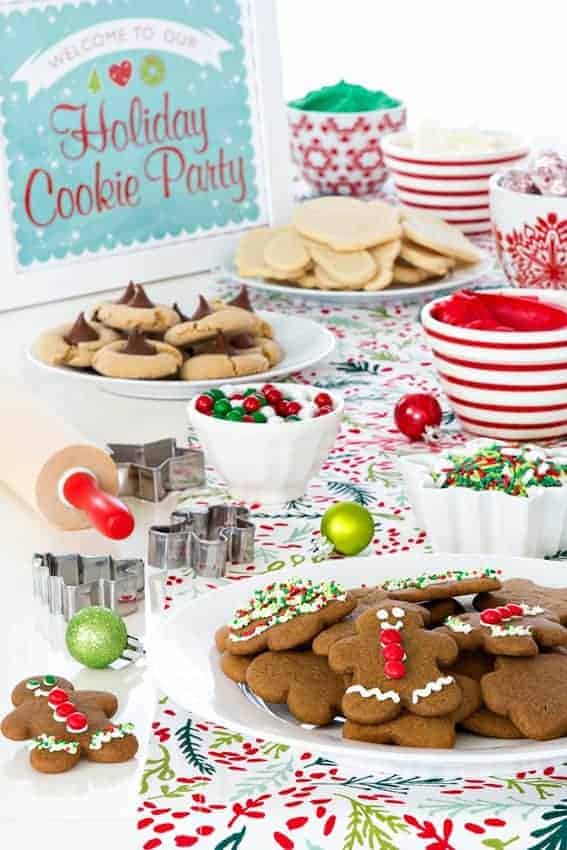 SIMPLIFY WITH EVITE
Since I'm a huge fan of coordinating party invitations with the decor, I was so happy to learn that EVITE also has a range of cheerful and free printables to match the cookie party invitation that I used as my inspiration. From festive gift tags and recipe cards to a merry welcome sign and banner, EVITE has you covered and will definitely take the guesswork out of the decor.
COOKIE IDEAS
Folks brought gingerbread men, simple drop sugar cookies, molasses crinkle cookies, and I whipped up peanut butter blossoms and sour cream cut out cookies so the littles could make melting snowman cookies. I put out different kinds of kisses and let each little one top their warm peanut butter cookies with their favorite kind – a huge hit! I'm so glad I made a double batch of both cookies, because whoa – they were all covered with layers of frosting, candy and sprinkles almost instantly!
DON'T STRESS
Let's face it, kids are messy, so I definitely recommend laying down an old tablecloth, newspaper or butcher paper like Katie recommends. Our table has a lacquered finish, so it's a breeze to clean up, but butcher paper would have been so much easier! I'm telling you, there will be sprinkles everywhere, but don't stress, it's all part of the fun. I'd just let the adults handle the nonpareils because those are a little tricky to clean up – even with a vacuum!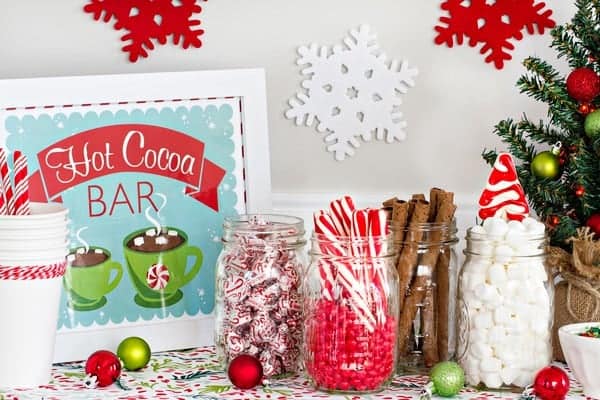 HOT COCOA BAR
Another easy treat for a party like this? Three words: Hot Cocoa Bar.
We put out every kind of mix-in you could imagine: candy canes, peppermint kisses, whipped cream, chocolate syrup, wafer cookies and of course – mini marshmallows!
Cute reindeer mugs for the adults and lidded paper cups for the kiddos filled with steaming hot cocoa just added to the festive feel of the whole crazy day. After a hot cocoa break, it was time to package up all the holiday cheer!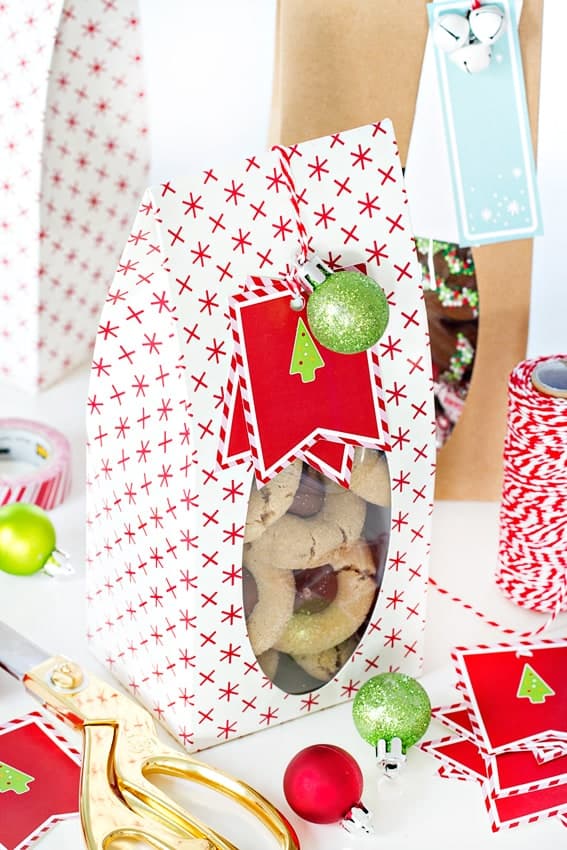 PACKAGING STATION
While I was sifting through our holiday decor, I found a bunch of cookie boxes and gift wrapping trimmings that I purchased last year on clearance, so I quickly gathered everything up and created a simple, but fun DIY cookie packaging station so the kiddos could take their creations home to share with family.
Cute boxes, bakers twine, small plastic bulbs and EVITE's free printable gift tags made the packaging station a huge hit. And their little take home packages were so much more festive than a plastic ziptop bag!
Start a new holiday tradition the kids in your life will be talking about all year long. We had an absolute blast, and I know you will too!