Low Carb Zuppa Toscana is packed with sausage, cauliflower, and kale for a lower-carb version of Olive Garden's Zuppa Toscana soup. This twist on the classic is one you'll want to make over and over!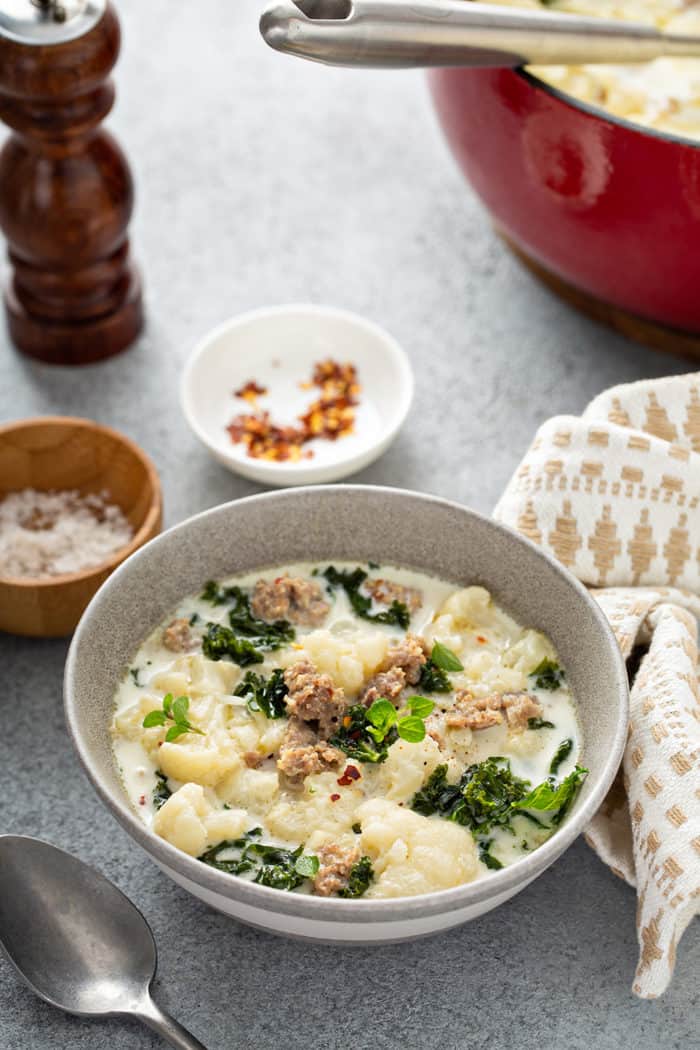 There are quite a few recipes that I love, but I only make for myself because Eric & Elle aren't really the biggest fans, and this Low Carb Zuppa Toscana is one of those recipes. Neither of them are cauliflower lovers, but it just so happens to be one of my faves.
I've been super into Olive Garden's Zuppa Toscana for years and back when I taught school, I'd eat it for lunch multiple times a week because Olive Garden is just around the corner.
The great thing about this Low Carb Zuppa Toscana is that it is super versatile. You can use hot sausage instead of sweet, baby spinach instead of kale and cauliflower instead of potatoes.
I love making a batch of this on the weekend, so I can eat it for lunch all week long.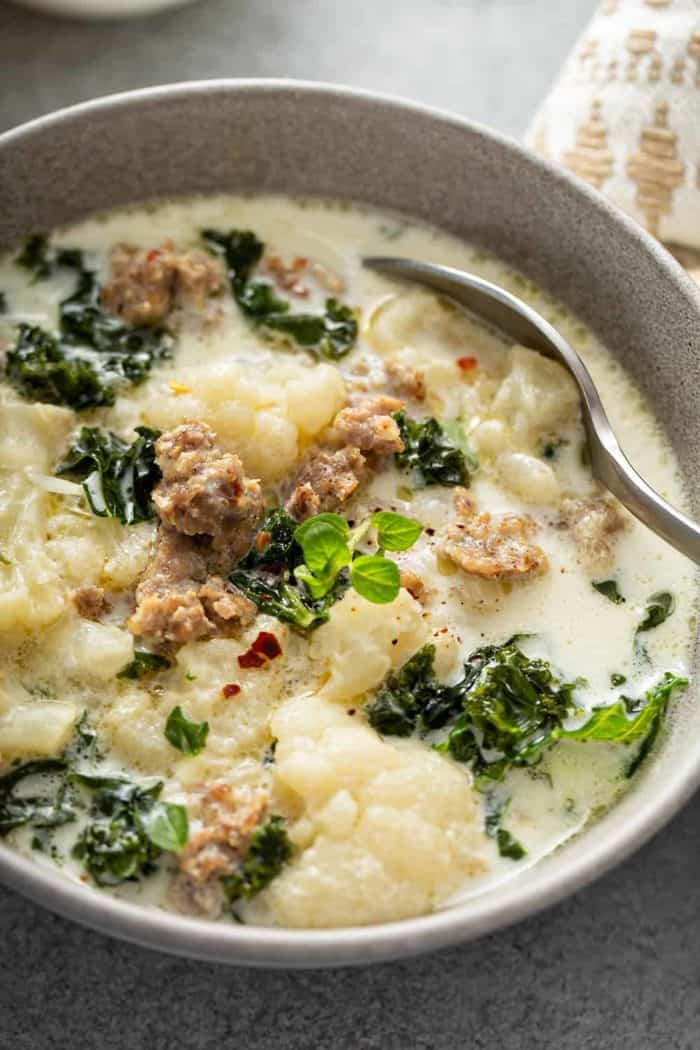 MY LOW CARB ZUPPA TOSCANA
You all know how much I love soup when the weather is below 75 degrees.
I may eat the most soup during the fall and winter months, but there is something about a cozy bowl of soup on a dreary, drizzly March day that warms me right up.
But as much as I love recipes like my Cheeseburger Soup or my Loaded Baked Potato Soup, I don't always love how they weigh me down.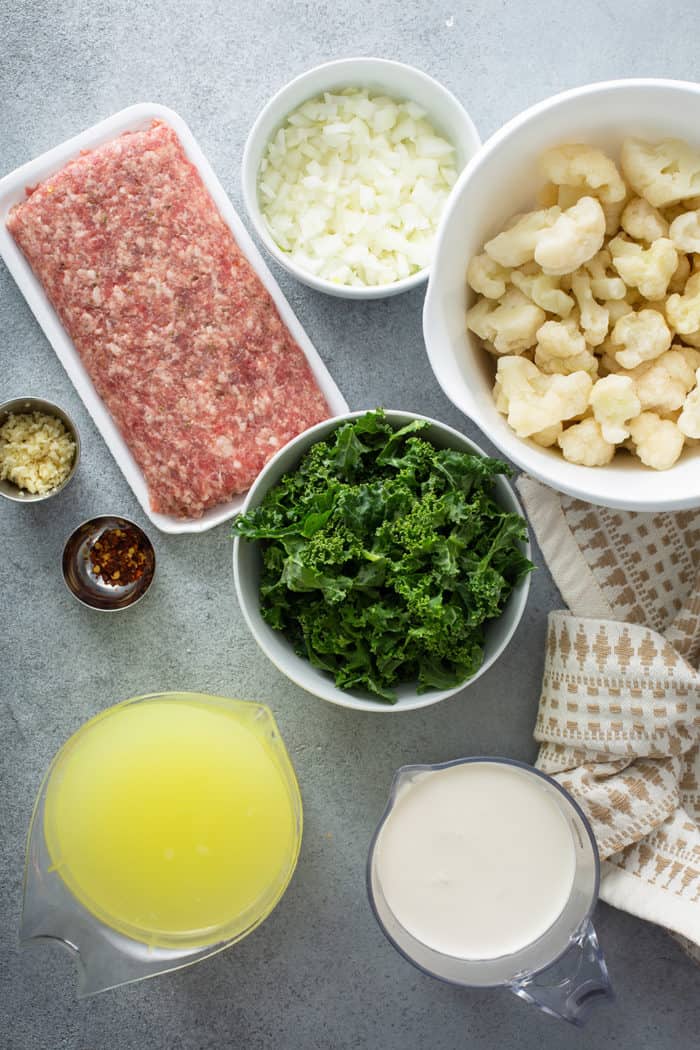 Some time ago I started making this lower-carb version of my homemade Zuppa Toscana. By swapping the potatoes for cauliflower, I get a soup that's just as filling but isn't quite as heavy.
Let me tell ya, you won't even miss the potatoes in this Low Carb Zuppa Toscana. It's even become my go-to over the original!
I like to serve classic Zuppa Toscana alongside Beer Bread or Soda Bread. But if you want to keep the whole meal low carb, try serving this version alongside Low Carb Almond Flour Bread or Keto Breadsticks.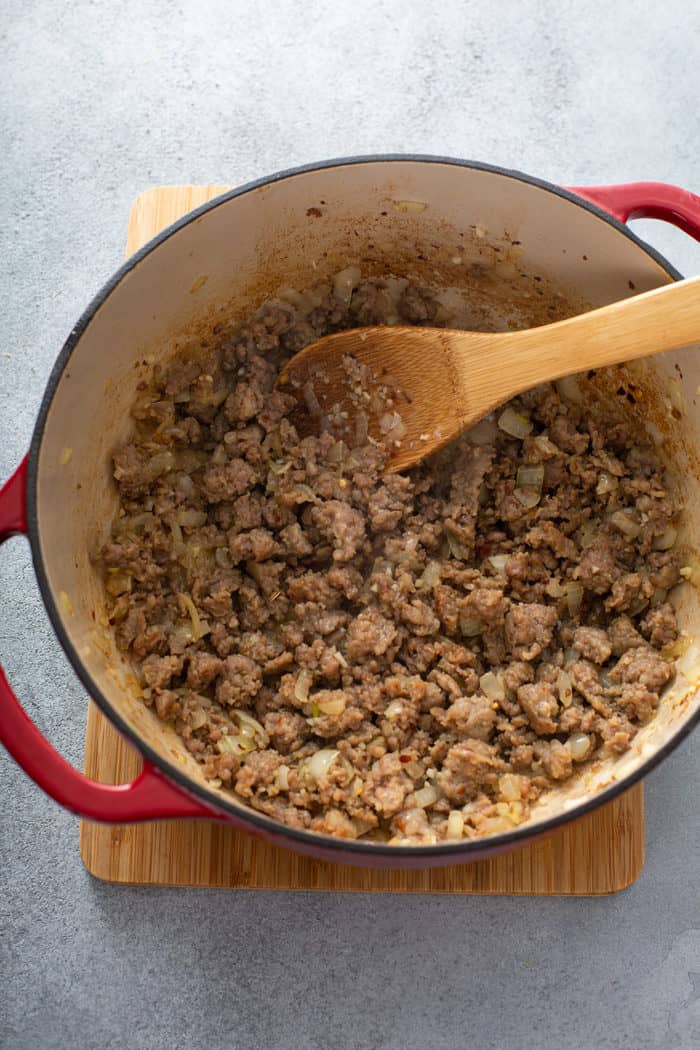 WHAT IS ZUPPA TOSCANA?
The name "Zuppa Toscana" just means "Tuscan Soup."
There are a lot of variations on a classic Tuscan soup, but the Olive Garden version is probably the most famous here in the United States. That version uses just a few ingredients for a rich and hearty soup:
Italian sausage
Onions and garlic
Red pepper flakes
Potatoes
Chicken broth
Kale
Heavy Cream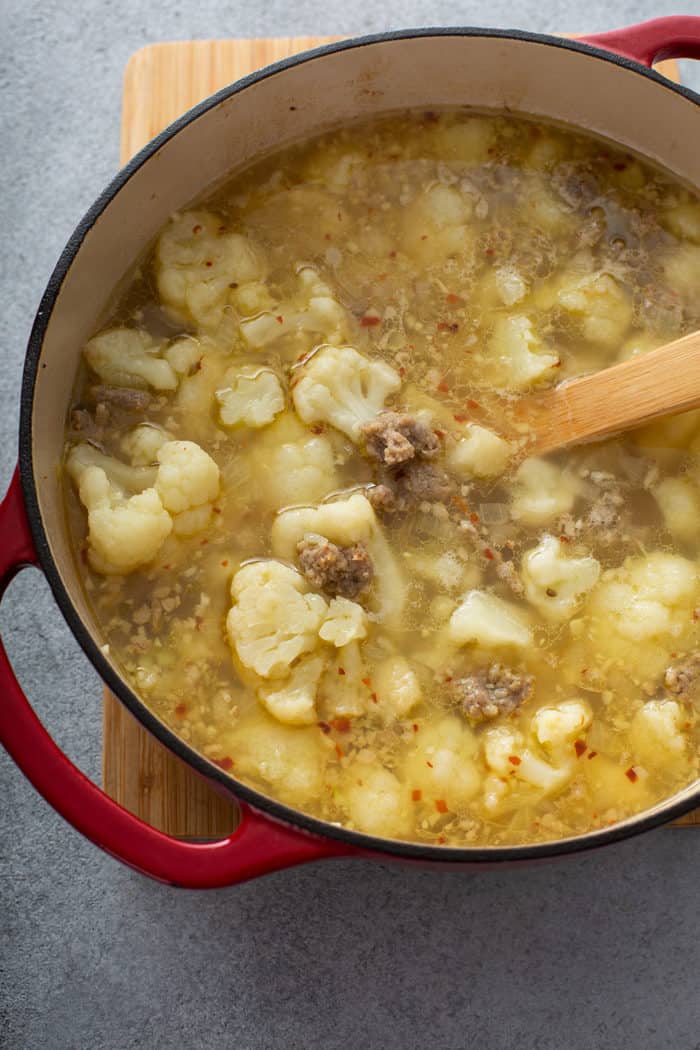 By making our Zuppa Toscana with cauliflower instead of potatoes, we're making it lower carb without sacrificing flavor – I promise!
You can make this soup with sweet or hot Italian sausage. I love spicy food, so you know that the version with hot Italian sausage is my favorite!
If you aren't a big fan of kale, you could always try this recipe with fresh spinach instead.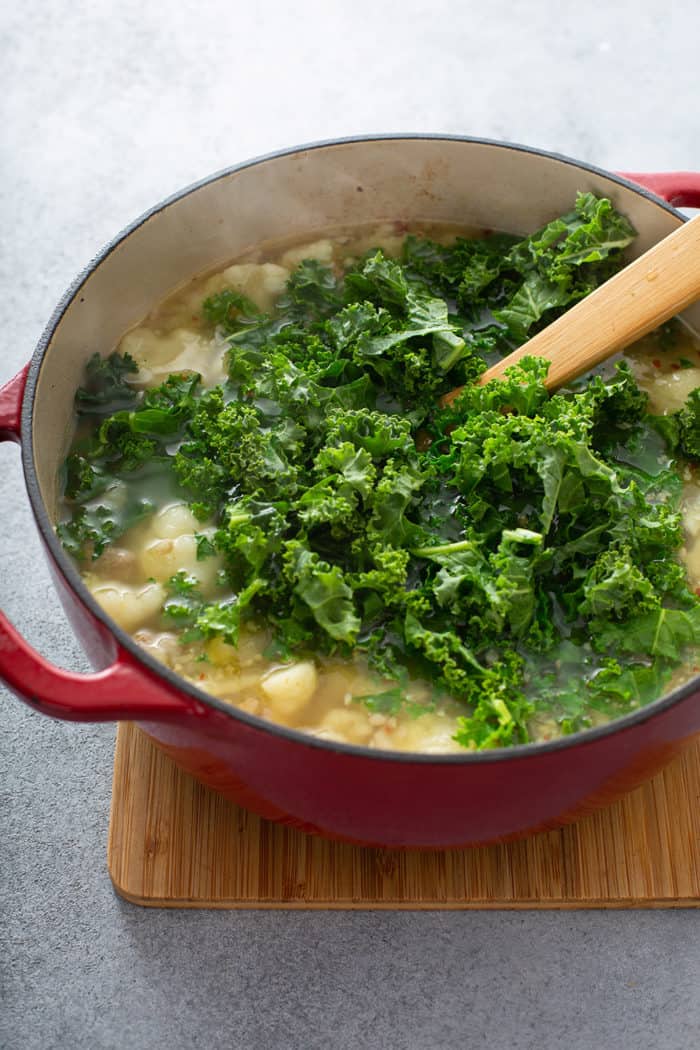 IS THIS RECIPE EASY TO MAKE?
This soup is one of the easiest to make! In fact, it only has 3 main steps:
Brown the Italian sausage with the onions, garlic, and red pepper flakes.
Add the cauliflower and chicken broth and simmer until the cauliflower is cooked through.
Add the kale and cream and simmer for another 10-15 minutes.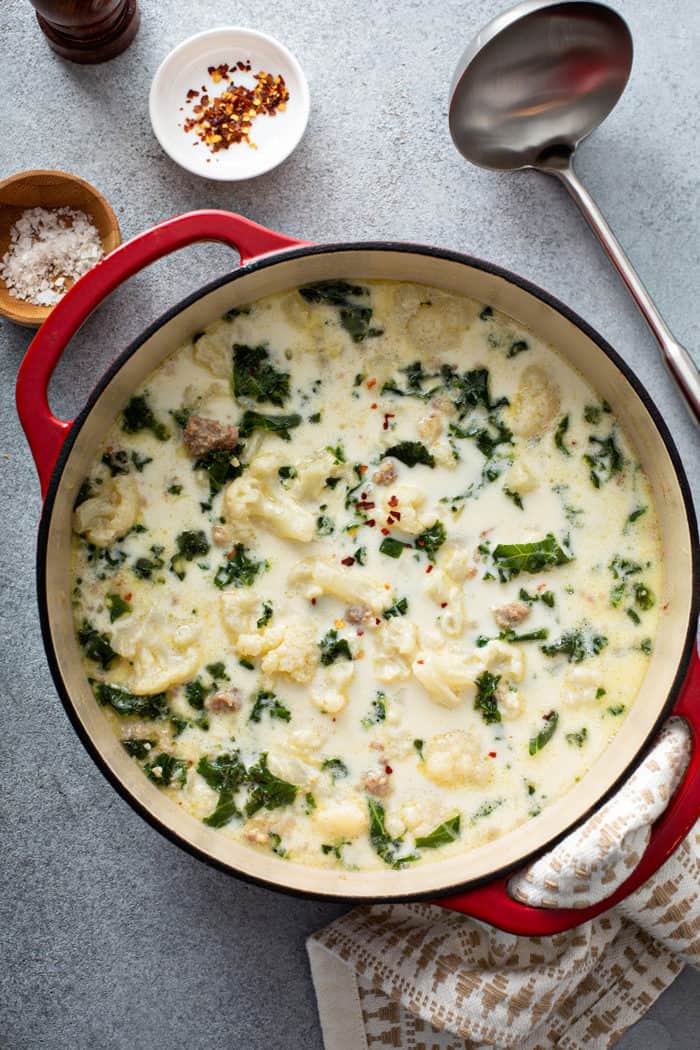 That's it! This really is a 30-minute meal, especially if you buy bags of cauliflower that has already been cut into florets.
In fact, sometimes I even buy bags of frozen chopped onions to keep on hand for days when I'm short on time and don't want to dice an onion for the meal I'm making. These little shortcuts can save you a few minutes and effort here and there and make the difference between actually cooking dinner or ordering takeout.
And I promise – this is a dinner you'll be glad you took the small amount of effort to make.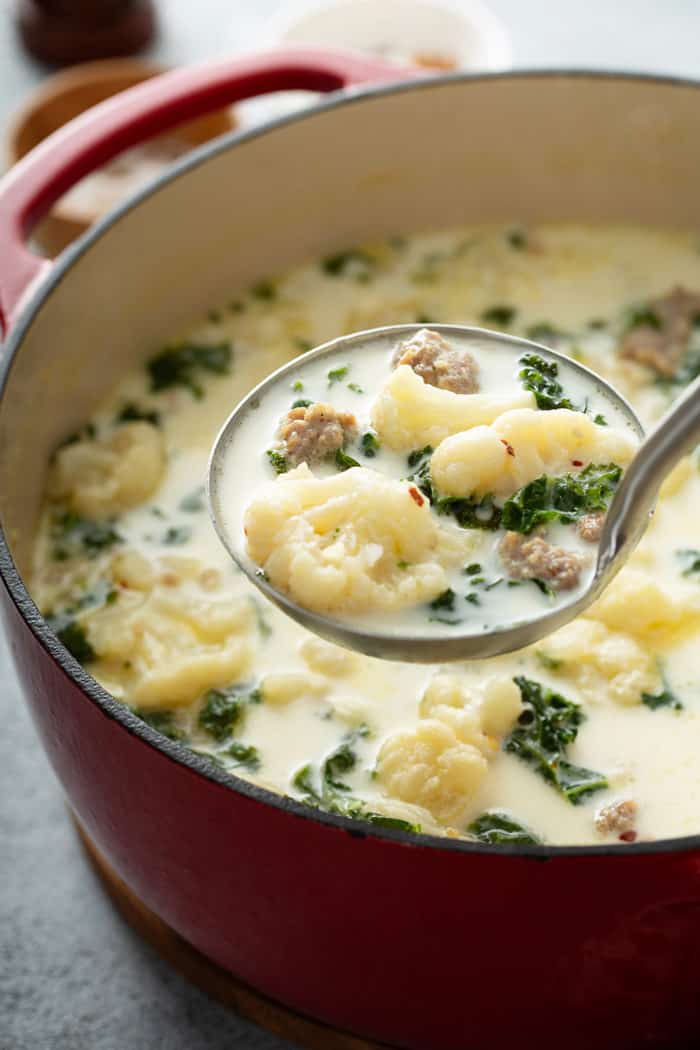 CAN YOU FREEZE THIS SOUP?
I don't typically recommend freezing soups made with a lot of dairy. They can sometimes change in texture or separate when thawed. No thanks.
There's still a way to freeze your Low Carb Zuppa Toscana, though. Prepare this soup up until the point of adding the cream and the kale. Let it cool, then freeze it in an airtight container.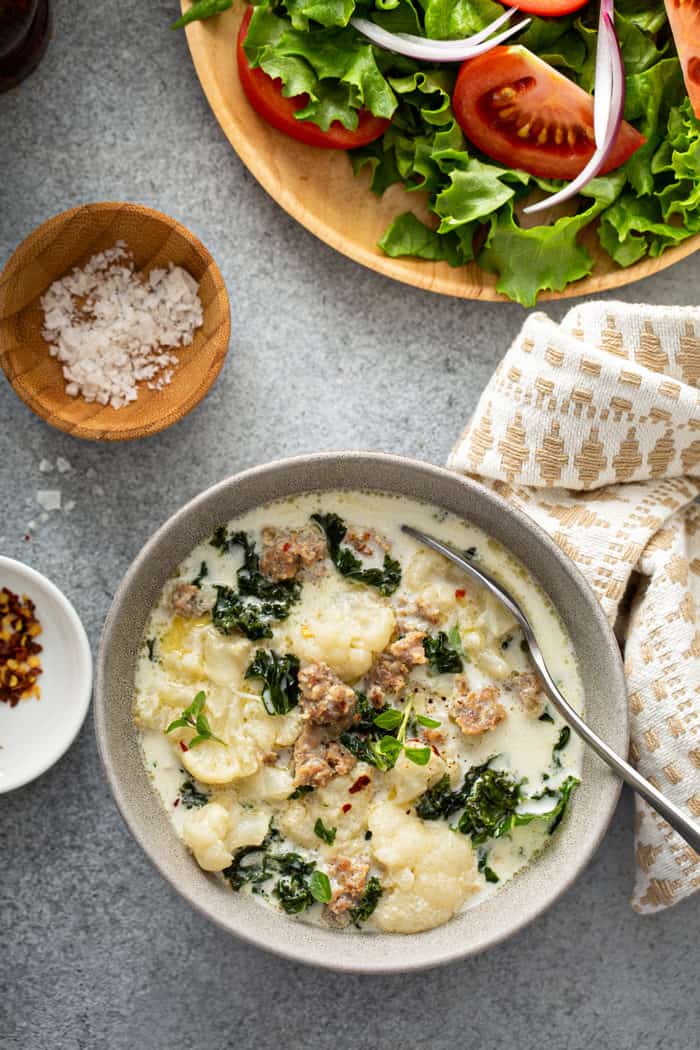 When you're ready for dinner, just bring the thawed soup to a simmer before adding the cream and kale and cooking for 10-15 minutes as noted in the recipe.
You'll still cut down on the prep time needed on the day you want to eat your soup, without having to deal with a weird texture when it's ready!