Maple Caramel Corn with marshmallows, chopped pecans, dried cranberries, and a decadent drizzle of white chocolate. THIS is the caramel corn you'll want to make and eat, all fall long.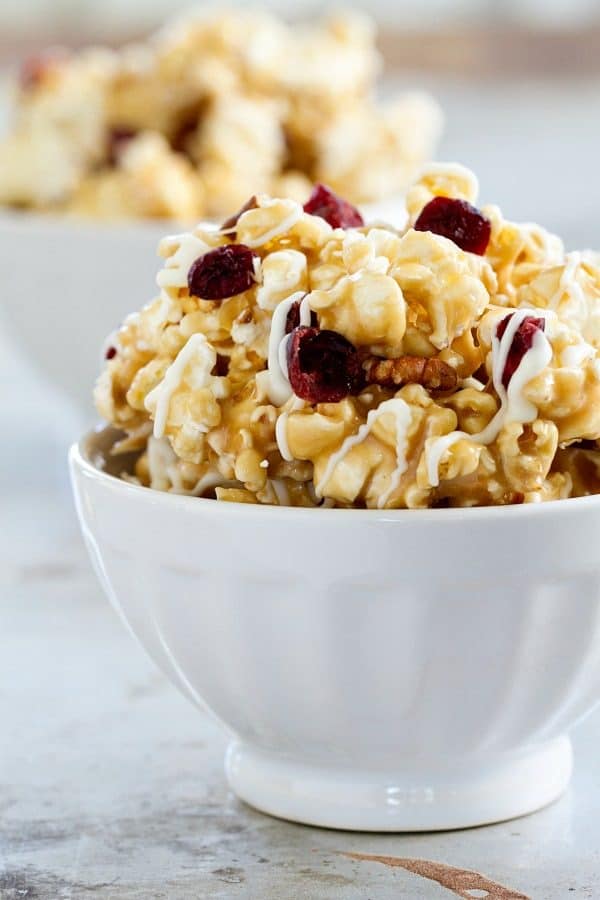 This is a sponsored post on behalf of Campfire® Marshmallows. All opinions are my own. Thank you for supporting the brands that continue to make My Baking Addiction possible.
I'm wondering lately if it's just me. This time of year, when the air turns crisp, and the fall colors start to pop out, all I want to do in the evening is cozy up with my little babe and hubby, a fun night of family TV, and snacks we'll all love.
That's where the inspiration for this caramel corn came from. I'm no stranger to boxes of Fiddle Faddle, but it had been years since I'd had any – or even seen a box. Something made me think of it, and then the craving would. not. go. away.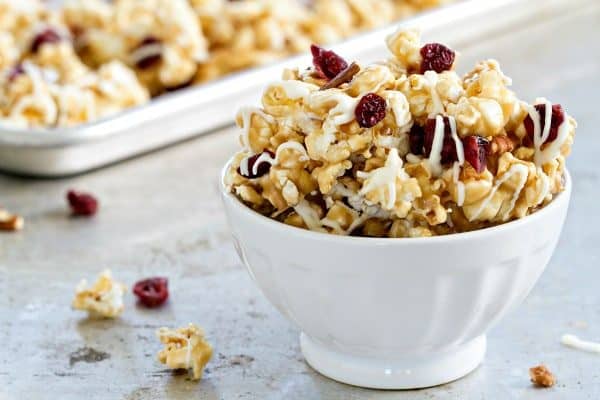 But this is just one of those things I think I could make better in my own kitchen, and I was right. This Maple Caramel Corn uses Campfire® Marshmallows' Maple Roasters to create a delectable maple-infused caramel that coats every popcorn kernel.
In truth, all the flavors in this caramel corn make it the perfect fall treat. Warm maple and tangy cranberries are balanced out with earthy pecans and creamy, sweet white chocolate. I mean, there's not much more you could ask for, right?
Don't be intimidated by making your own caramel corn. It's actually super simple to do. The only thing I recommend is having your baking tray lined with parchment or silpat in advance, so that you're ready to rock and roll as soon as your caramel is done.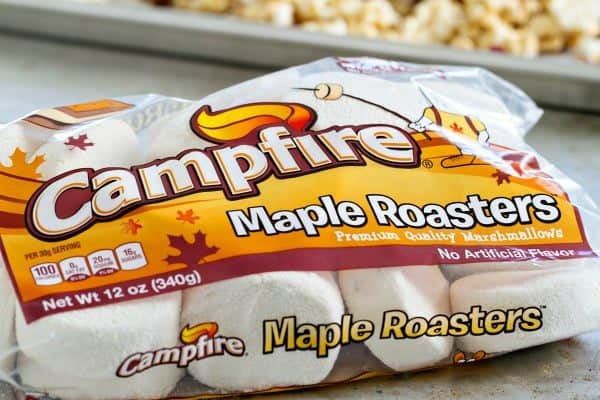 These Maple Roasters from Campfire® would be amazing all season long, in everything from s'mores to marshmallow cereal treats, but you've really got to make this maple caramel corn before you do any of those things. It is beyond good.
The use of marshmallows in the caramel creates a softer and chewier caramel corn, which I absolutely loved.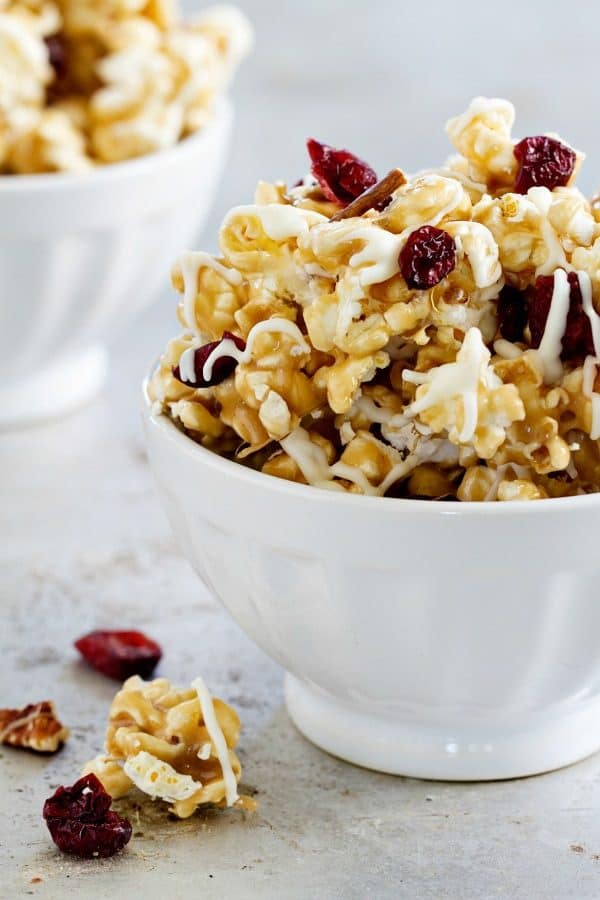 I've partnered with Emily from Jelly Toast and Campfire® Marshmallows to create recipes to share with you throughout the entire year.
We even created a Marshmallow Madness Pinterest board where we've pinning loads of delicious marshmallow recipes that are perfect for any occasion. Like this Ghostbusters™ Party Popcorn and No Bake S'mores Cheesecake.